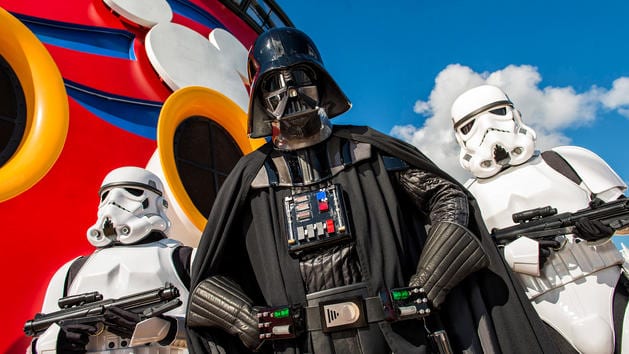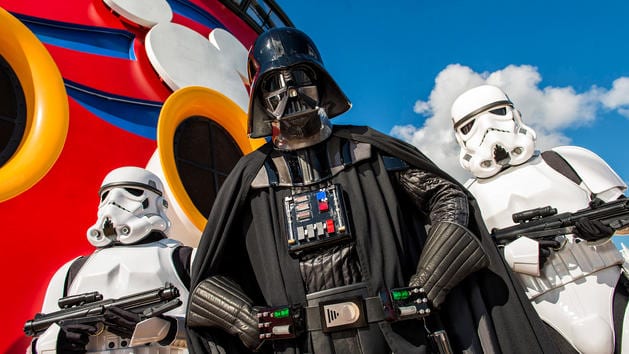 I have some great news for Star Wars and Disney Cruise fans alike. Get ready to be transported to a Galaxy far, far away, aboard a a ship far, far in the Caribbean, because the hugely popular "Star Wars at Sea" is back and better than ever. The 2018 Disney Cruise Line dates for Star Wars at Sea are out, and will give guests 15 chances to experience this one-of-a-kind event aboard the Disney Fantasy.
"The Force is stronger than ever onboard the Disney Fantasy, and we are excited to bring back Star Wars Day at Sea in 2018," said Karl Holz, president of Disney Cruise Line.
The event is a whole day full of Star Wars celebrations including a deck party with a fireworks display, meet and greet opportunities with some of your favorite Star Wars characters, tons of Star Wars-themed family and youth activities, and also unique Star Wars food and beverage offerings and merchandise.
Enjoying the whole day while being totally immersed in the interactive entertainment is a dream come true for young and older alike. Check out some of the amazing entertainment offerings:
A deck party featuring Star Wars Characters, music, dancing and fireworks
An on board version of the Jedi Training Academy similar to the Hollywood Studios version, where young Padawans learn the ways of the force and even experience up-close lightsaber duels.
Photo opportunities with your favorite Characters from the Stars Wars universe
Star Wars-themed games and activities in the Disney's Oceaneer Club and Disney's Oceaneer Lab
Viewings of the Star Wars films—including whichever the latest theatrical release is as well as episodes of "Star Wars Rebels"
Unique Star Wars food and beverage offerings
Exclusive Star Wars themed merchandise
Being on board and a part of all the fun will be an experience you will never forget!

Again there will be 15 opportunities to join in the fun exclusively aboard the Disney Fantasy, in select Eastern and Western Caribbean sailings. Here are the 2018 Star Wars Day at Sea Dates which will be from January to April.
2018 7-Night Western Caribbean Sailings
January 6, 2018
January 20, 2018
February 3, 2018
February 17, 2018
March 3, 2018
March 17, 2018
March 31, 2018
April 14, 2018
2018 7-Night Eastern Caribbean Sailings
January 13, 2018
January 27, 2018
February 10, 2018
February 24, 2018
March 10, 2018
March 24, 2018
April 7, 2018
If you haven't yet experienced a "Star Wars Day at Sea" then I urge to do book your cruise now. It's honestly one of the best Disney Cruise special events by far, and even if you aren't a huge Star Wars geek like me, you will still love it, trust me! I'll let you know of any more updates.
Your Thoughts:
I want to know what you think about the 2018 Disney Cruise Star Wars Day at Sea Dates. Have you already experienced a Star Wars Day at Sea event aboard a Disney Cruise? What was your favorite part? If not, would you like to? Let us know in the comments section below! 🙂
If you enjoyed this article, as always I appreciate it if you'd share it with others via social media. I work hard at making this website into a useful resource for you and your family to plan your visit to Walt Disney World, and I hope it can help you! Thanks 🙂
Photo Credit: Disney Cruise Line