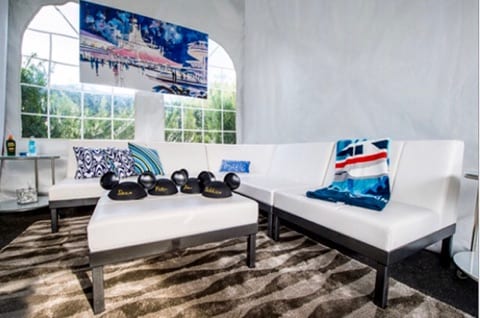 Finally I don't have to look at those horrible monstrosities any more in Tomorrowland, at least not anymore for the near future. That's right, Disney announced that the Magic Kingdom Cabanas are leaving the park on February 17th, which was the end of the original temporary trial period. They were introduced to the Magic Kingdom on November 27th but never really took hold like Disney wanted.
They were designed as a high-end retreat for guests while in the Magic Kingdom, so if they wanted to rest a bit, have a snack, a cold beverage, etc, everything would be right there for them. they also provided a reserved viewing area for fireworks and parades. The only problem was that they cost $649! I don't care what kind of view you give me or how many bags of Lays, it's not worth it. Recently they lowered the price to $450, but I don't think the response was still all that great and so now they are being removed. Besides all that they were an eyesore in imo, and I hated seeing big white tents throughout Tomorrowland, reminded me of an expo or something. Not the vibe I want in the Magic Kingdom.
Will they come back in the future? At this point I would say no as they weren't a smashing success, but with Disney you never know. Let's just be happy for now they will be gone.
Your Thoughts:
I want to know what you think about the Magic Kingdom Cabanas leaving. Are you happy to see them go? Did you like them or have any experience using them? Why did you or did you like/not like them? Let us know in the comments section below! 🙂
If you enjoyed this article, as always I appreciate it if you'd share it with others via social media. I work hard at making this website into a useful resource for you and your family to plan your visit to Walt Disney World, and I hope it can help you! Thanks 🙂
Photo Credit: Disney Parks Blog