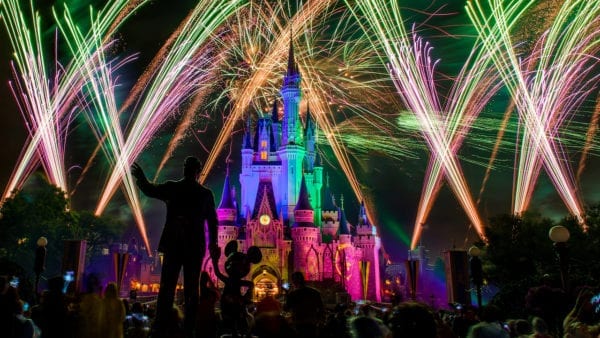 The end of an era comes to a close at Disney's Magic Kingdom as guests will have a chance to see the Wishes Fireworks final performance tonight at 9:00 pm EST. Yes this is really the end as hard as it may be to believe. After almost 14 years Wishes has been such a huge part in the lives of the literally hundreds of millions of people who have lined up in front of Cinderella Castle to see this nighttime spectacular, and tonight they will do that one last time.
Tip: Get to the Magic Kingdom early tonight and grab your spot as the crowds are expected to be huge.
Wishes: A Magic Gathering of Disney Dreams made it's debut in October 9th, 2013 and was only the second ever Nighttime Fireworks Show in the history of the Magic Kingdom. It was originally created as a replacement for the Fantasy in the Sky Fireworks which had the longest run of any Disney Nighttime Show at 32 years. It was also the first Disney World show choreographed by Walt Disney Creative Entertainments Vice President Steve Davison, who is known for his legendary shows at Disneyland Resort.
Wishes is a 12-minute show that at the time was revolutionary as far as the pyrotechnics and fireworks technology used. It utilizes 683 fireworks with the most well-known one being the famous "wishing star" that is periodically launched 100 feet above over Cinderella Castle in an arching spire. While throughout the show we hear from dozens of Disney's most well-known characters, the only one we actually see is Peter Pan's Tinker Bell who flies down from the castle's tallest spire.
It's had a few slight changes over the years, but has remained for the most part easily identifiable with the original. Its host Jiminy Cricket has always remained at the center of the show, narrating the music from all the classic Disney films.
You can watch one of my favorite Wishes versions here:
On Friday it will be replaced by "Happily Ever After", a brand new fireworks show billed as the most technologically advanced show in Disney's history, using more fireworks than ever before and brand new laser projection technology which will allow different scenes and characters from Disney movies to come to life on the castle's facade.
Even though technologically Happily Ever After will be more advanced, that's not what's on the minds of the fans. There are a lot of very upset people over losing Wishes as it's been such a big part of their lives. 'Millennials' are having the hardest time with the change as they've grown up with Wishes and it's essentially the only show they've ever known.
I don't think I'll ever forget Wishes, and it's going down as one of my all-time favorite Disney shows. I hope years from now I still find myself humming the Wishes theme song, it's catchy rhythm and lyrics ringing in my head. We're not really losing Wishes, it's something that will stay with each and every one of us as it's been impressed our minds and in our hearts forever. It's taught us to hope, to dream and that sometime Wishes really do come true!
The debut show for Happily Ever After will be broadcast in Live Streaming on Disneyparksblog.com at 8:55 pm EST. You can also find it on Twitter with the handles #DisneyParksLIVE and #HappilyEverAfter.
Your Thoughts:
I want to know what you think about the Wishes Fireworks Final Performance. Are you sad Wishes is getting replaced by Happily Ever After? Are you going to be at the Magic Kingdom tonight to see the final performance? Let us know in the comments section below!
If you enjoyed this article, as always I appreciate it if you'd share it with others via social media. I work hard at making this website into a useful resource for you and your family to plan your visit to Walt Disney World, and I hope it can help you! Thanks 🙂