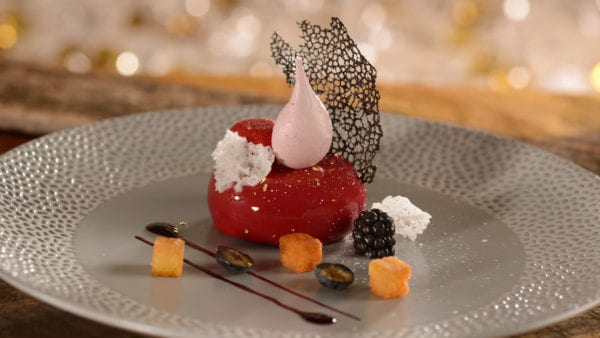 I always knew there was a reason I loved eating sweets in Walt Disney World so much, and now I know why! Two Walt Disney World Pastry Chefs, Stefan Riemer and Olivier Saintemarie, have been recognized among the Top 10 Best Pastry Chefs in American by Dessert Professional Magazine and were invited to showcase their amazing desserts in New York City on June 5th.
Riemer, who is the Executive Pastry Chef on the Culinary Development team for Walt Disney Parks and Resorts, learned his craft as he was classically trained in Europe and later joined the Disney Culinary team in 1999 after traveling the world as a certified master pastry chef. Now in his role as one Walt Disney World Pastry Chefs he develops and implements pastry menus and also creates new pastry brands such as Amorette's Patisserie and The Ganachery at Disney Springs. He also has been selected by leaders and peers for the prestigious Walt Disney Legacy Award, which is recognition for outstanding achievement.
"I am so honored to be recognized, but a chef is nothing without a great team and the influence of the people surrounding him," said Riemer.
Saintemarie is the Executive Pastry Chef for Chefs de France restaurant in the France pavilion at Epcot World Showcase. Like Riemer, Saintemarie was also classically trained in Europe after a year in the French Navy, he relocated from Paris to London, and in 1999 he joined Disney Cruise Line where he was executive pastry chef. In 2014, he moved to the French pavilion at Epcot and was in charge of the new bakery and production kitchen, where he currently oversees bread and pastry production for Les Halles Boulangerie-Patisserie, Les Chefs de France, Monsieur Paul and L'Artisan des Glaces.
"Stefan and I met when we both joined the Disney company in 1999, and it was such an honor to be there together in New York receiving the award, in the company of such notable chefs," said Saintemarie.
It's such an honor for these two Walt Disney World Pastry Chefs to be recognized, and they surely deserve it! Now it's all making sense, and as long as these two are in Walt Disney World I'm going to have a hard time lowering my waistline! 😉
Your Thoughts:
I want to know what you think about the Walt Disney World Pastry Chefs winning this award. Do you think they are deserving? Where is your favorite place for dessert in Walt Disney World? Let us know in the comments section below! 🙂
If you enjoyed this article, as always I appreciate it if you'd share it with others via social media. I work hard at making this website into a useful resource for you and your family to plan your visit to Walt Disney World, and I hope it can help you! Thanks 🙂