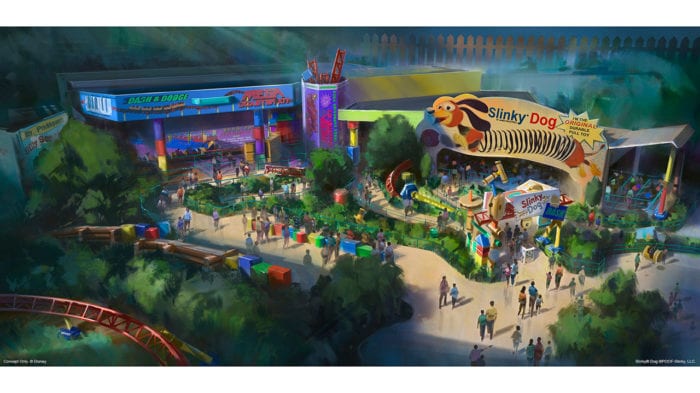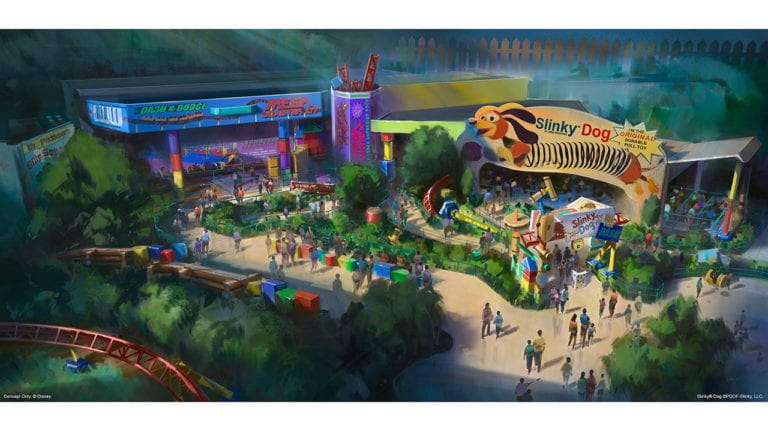 Of course you all know that Toy Story Land is coming both to Hollywood Studios and Shanghai Disneyland. There weren't many Toy Story Land updates at the D23 Expo, but what we did get was great. Yesterday Bob Chapek, Chairman of Walt Disney Parks & Resorts announced what we already assumed, that the land will open next summer in 2018.
We got some nice looking concept art for Toy Story Land, where you'll find yourself shrunk to the size of a toy to explore the world of Andy's backyard with your favorite Toy Story characters, including Woody and Buzz. There will also be 2 new attractions:
Slinky Dog Dash will be a family coaster attraction where you'll zip, dodge and dash around many turns and drops that Andy has created to really make Slinky and his coils stretch to his limits. From the new image the coaster is much more covered than previous concept images. It's almost like most the ride will be inside. I think this is great because it should add some awesome theming to the coaster instead of it just being a normal one.
Alien Swirling Saucers will also be a new attraction at Toy Story Land. It's designed as a toy play set that Andy got from Pizza Planet, inspired by the first "Toy Story" film. Aliens are flying around in their toy flying saucers and trying to capture your rocket toy vehicle with "The Claw."
We got to see a cute video also which showed the green army men from Toy Story on a secret mission spying out both construction projects. One thing noticed from the video is that Shanghai seems to have a coaster too, but theirs is different from the one in Hollywood Studios as the track just goes up and down in a U-shape. I think the Hollywood Studios one looks much better! Stay tuned for more updates…