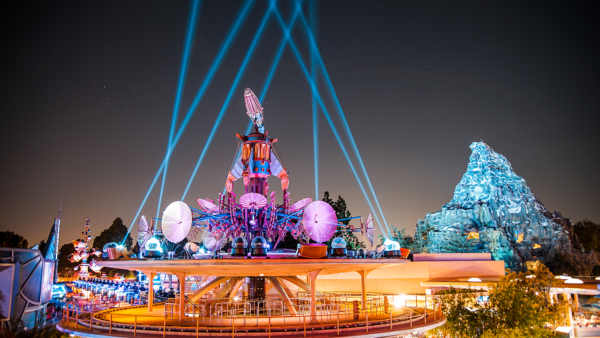 Just a few days ago we learned about the Tomorrowland Skyline Lounge coming to Disneyland park May 26th. Basically it's going to be a place where you can go to relax, enjoy a snack and watch the "Remember…Dreams Come True" fireworks (on the nights it's happening of course) from a unique perspective, without having to worry about waiting for a spot.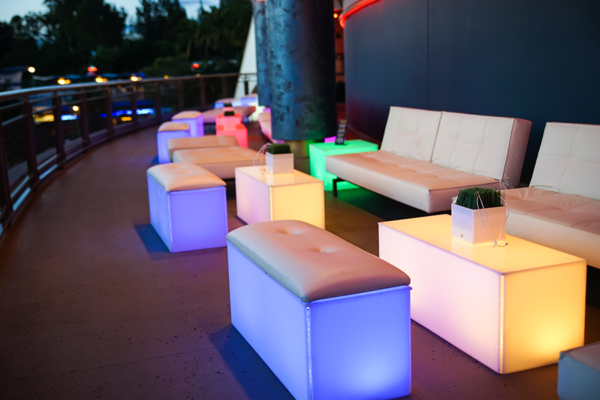 Today Disney gave us a bit more info on this experience showing some photos of the snacks and of the lounge itself. The lounge will be open from 8-10pm. There will be hot and cold non-alcoholic beverages served as well as your Interstellar Snack Box which includes:
Mickey Cloud Cake: Cream-filled sponge cake
Chocolate Eclipse: Cream-filled chocolate cake drenched in chocolate
Coconut Comet: Coconut-strawberry iced sponge cake filled with cream
Planetary Pie: Mini cherry-filled pie
Moon Rocks: Boursin herbed cheese, cream cheese, shredded cheddar and jack cheese, chives, pimentos, bacon
So now that we have a better idea of what the Tomorrowland Skyline Lounge actually includes, the question comes back whether or not it's worth it. I like the overall design of the lounge, it's at least a little futuristic looking, and it's in a great location with a good view.
However, after seeing the snack box, again for me it doesn't seem very impressive. You're paying $45 (per person age 3 and up) for a few snacks and a good view of the fireworks. I much rather pay for one of the Dessert Party experiences for a few $ more but get way more stuff included.
If you absolutely have to see the fireworks and don't feel like waiting for a spot then I guess it could be worth it, but bringing a family of 4 to something like this gets awful expensive fast!
Reservations are now open, and can be booked by visiting Disneyland.com/dining or by calling 714-781-DINE.
Your Thoughts:
I want to know what you think about the Tomorrowland Skyline Lounge. Do you think it's worth the cost for your family? What do you think could make it more appealing? Let us know in the comments section below!
If you enjoyed this article, as always I appreciate it if you'd share it with others via social media. I work hard at making this website into a useful resource for you and your family to plan your visit to Walt Disney World, and I hope it can help you! Thanks! 🙂
Photo Credit: Disney Parks Blog