We're really looking forward to the new Gran Destino Tower at Disney's Coronado Springs Resort, and you can now make your dining reservations (ADR's) at the new rooftop restaurant: "Toledo – Tapas, Steak & Seafood."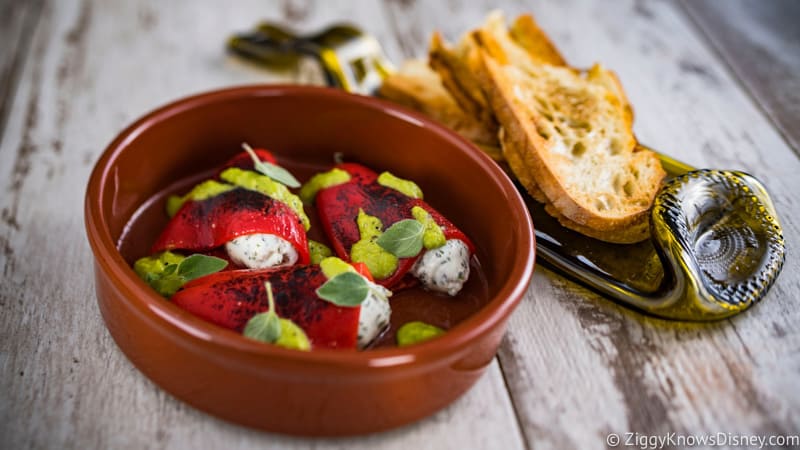 Set to a Spanish style 1930's avant-garde, Toledo – Tapas, Steak & Seafood is located all the way at the top on the 15th floor of the new construction and will be incredible for watching the fireworks. There are so many things to like about "Toledo – Tapas, Steak & Seafood," the atmosphere, the view, but most of all the FOOD!
The on-stage tapas kitchen serves small plates, charcutería, and cheeses. Some of the delicious entreés include aged, hand-cut Spanish chuletón for two (32-ounce bone-in ribeye steak) or any of the delicious, sustainable seafood offerings—oven-roasted shrimp, scallops, tilefish, and Spanish olive oil-braised octopus. Toledo has on hand Spanish and California wines with over 75 choices hand-selected by our Master Sommelier, as well as handcrafted cocktails, beers, and ciders.
Here are some amazing photos of some of the food you can expect to find:
Drinks:
Lots of great beverage choices here featuring Spanish and California wines with over 75 selections hand-selected by our Master Sommelier. There are other specially handcrafted cocktails such as the "Gin Tonic" with house-made saffron tonic and sangria as well as beers and ciders from Spanish and American Craft Breweries, a selection of non-alcoholic artisanal cocktails, and dinner beverages showcasing Spanish coffees, brandies, and dessert wines.
Appetizers:
Of course since the name of the restaurant has the word: Tapas in it, you can expect the kitchen to know how to makes good ones! You'll even be able to watch the tapas get made with an on-stage tapas kitchen in view of the guests. Expect to find charcuteríá and cheeses as well as pintxos (small plates) and cazuelas (soups). House boards include a cured meat selection, an artisanal manchego cheese selection, and a grand platter of signature artisanal meats and mixed cheeses.
The pintxos selections feature an array of items like Salt Cod-stuffed Piquillo Peppers with goat cheese and toast, Olive Oil-poached Tuna, and Tortilla de Día wrapped in jamón serrano. Cazuelas include options such as Shrimp Pil Pil, Charred Octopus with romesco and chimichurri, and Rioja-braised Chorizo with field onions..
There are some larger appetizer choices too including Heirloom Tomatoes with stone fruit and farmer cheese, Jamón Serrano with compressed melon, and Savory Churros.
Entrees:
For the entrées, guests can enjoy a balanced selection of both meat and seafood. Wine-braised Chicken, Hanger Steak with crushed new potatoes or the Manhattan Filet. There's also the Rib-Eye For Two – an aged, hand-cut 32-ounce Spanish chuletón for two which round out the meat options.
For seafood the choices are equally as tempting and Toledo – Tapas, Steak & Seafood will serve 100% sustainable seafood.
Options include: Scallops with hummus, olives, and roasted carrots and Golden Tile Fish with petite potatoes and cauliflower and a creative plant-based take on a seafood platter that includes mushroom scallops, calamari, and ceviche as well as hearts of palm crab cake.
Dessert:
For dessert, continue to relax in Spanish decadence with an elegant array of tempting delicacies and they are all so unique sounding:
You have to try one of the unique signature desserts created by Disney's Master Pastry Chef: Classic Crema Catalana with Valencia oranges and chocolate tuile, "Café con Leche" Choux with dark chocolate mousse and vanilla "nata montada," and "The Toledo Tapas Bar" – a progressive bite-sized sweet tasting, tapas style, featuring a crunchy chocolate bar with bite-sized flavors of Spanish coffee mousse, chocolate cake, "frambuesa" raspberry mousse, and lemon curd. Kids can also enjoy Mickey-shaped raspberry mousse topped with yummy strawberries.
Here they are in photos:
There's even a plant-based dessert option on the menu. The Chocolate Avocado Mousse with strawberry-basil sorbet and coconut crumble is a decadent option that you definitely won't want to miss out on.
Disney lists the prices for Toledo – Tapas, Steak & Seafood at ($35 to $59.99 per adult). They also accept the Disney Dining Plan and it's going to be a 1 Dining Credit Meal which should be a pretty good deal as it looks to be high quality food.
Overall it looks like Toledo – Tapas, Steak & Seafood is going to be a must-try location in 2019, again it will be really awesome because much like the California Grill, it will be a great place to see the fireworks (both in Epcot and Hollywood Studios.)
We can't wait to try it out and let you know how it is! Stay tuned for more menu choices soon.
Make your reservations for Toledo – Tapas, Steak & Seafood now on the Walt Disney World Website. Reservations are now open for the Gran Destino Tower, so book ahead before it sells out.
Your Thoughts:
I want to know what you think about the Toledo – Tapas, Steak & Seafood menu…
Are you looking forward to trying it?
Which item looks most yummy to you?
Let us know in the comments section below!
If you enjoyed this article, as always I appreciate it if you'd share it with others via social media. I work hard at making this website into a useful resource for you and your family to plan your visit to the Disney Parks and I hope it can help you! Thanks 🙂