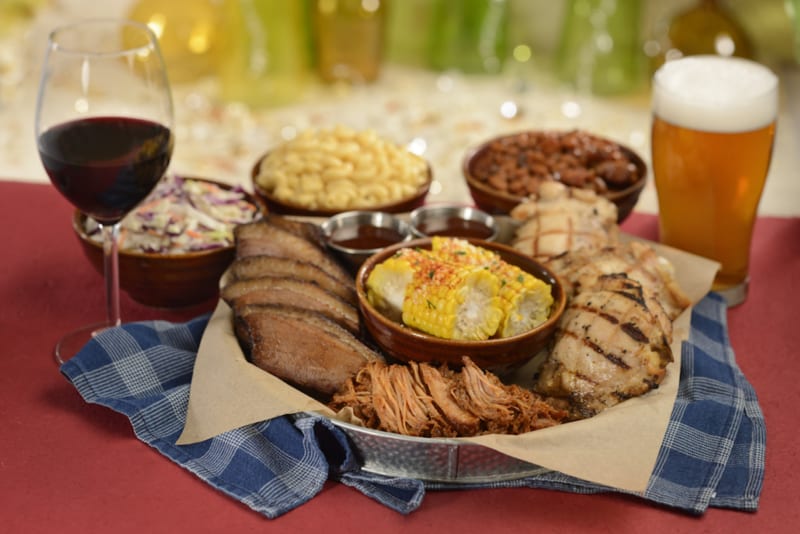 Not usually having the greatest reputation as being one of the most disappointing restaurants in Walt Disney World, things could be changing as there's a new menu coming to The Diamond Horseshoe in Disney's Magic Kingdom starting May 23rd. The Diamond Horseshoe is located in Frontierland and for the most part is open seasonally and is a Quick Service restaurant for Lunch and a Buffet at Dinner.
Let's dive in to see all the items on the new menu:
First for lighter options we have the Mixed Green Salad with cucumber, tomato, onion, and honey shallot vinaigrette. If you want to you can even add your choice of any meat to top it off:
There are a variety of sides on the new menu including: Potato Salad with grilled onions and a serrano dressing or Creamy Coleslaw with red and green cabbage; a fresh House Salad or Watermelon Salad; Jalapeno Cheddar Corn Bread with honey chipotle butter, Mac and Cheese, Corn on the Cobb with cheese, Corn Fritters, paprika, lime, and cilantro, and BBQ Baked Beans.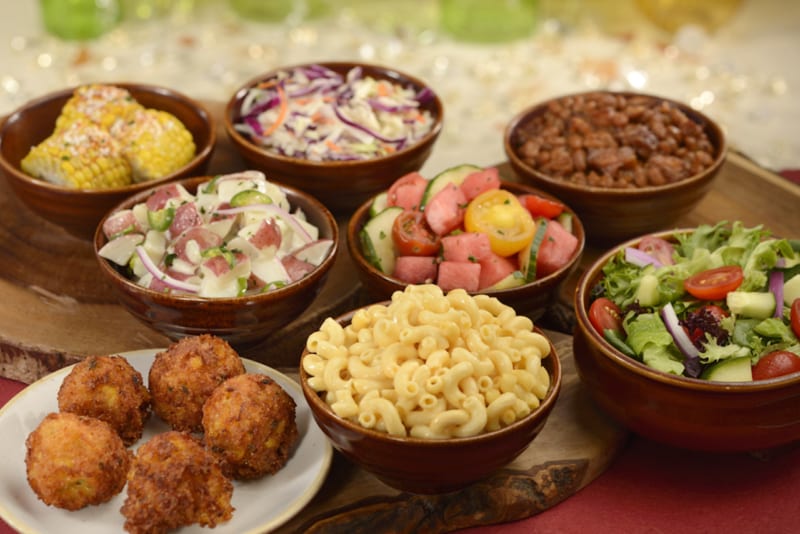 There are a bunch of new sandwiches now available at The Diamond Horseshoe too including a Creamy Turkey Salad Sandwich served on multigrain bread with lettuce and tomato, or the Grilled Chicken Thigh Sandwich with BBQ mayo, lettuce, tomato and onion served on a Kaiser roll: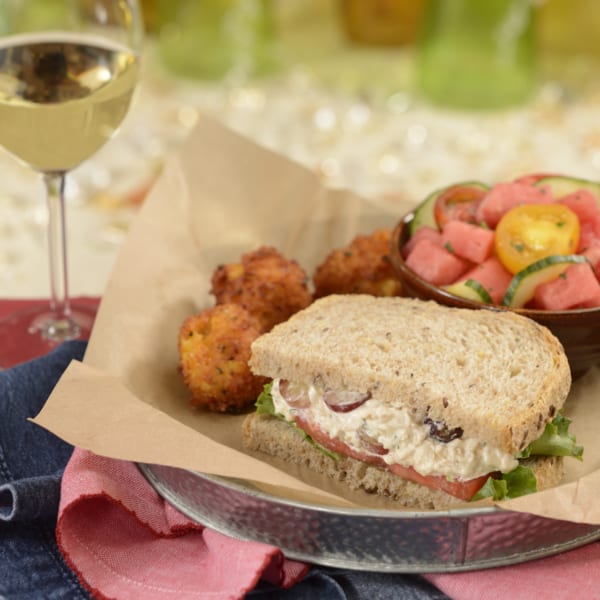 This next one caught my eye right away and it's the BBQ Pulled Pork Sandwich with mac and cheese (yes with Mac and Cheese) and crispy onions served on a brioche bun: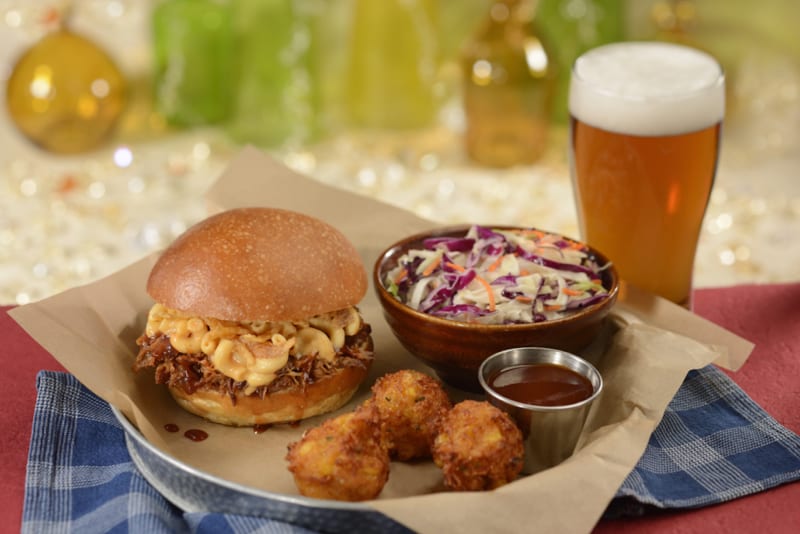 Or if you don't want the sandwich you can just get the Mac and Cheese with BBQ Pulled Pork, crispy onions, and green onions: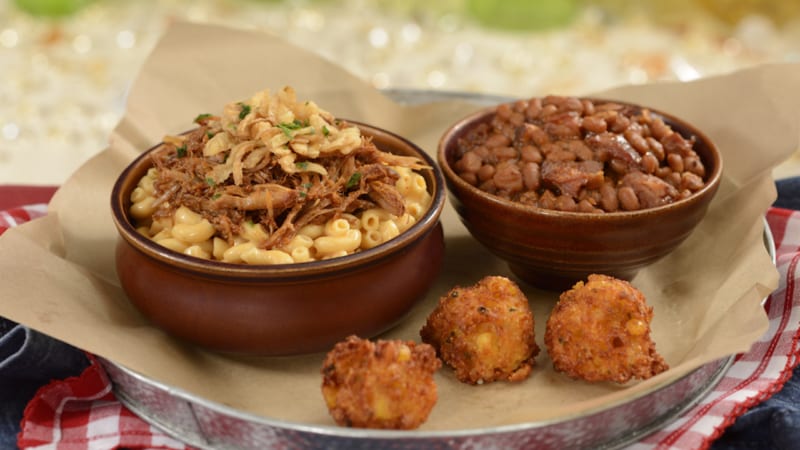 The Carved Beef Brisket Sandwich with creamy coleslaw served on a brioche bun is also another tasty looking option: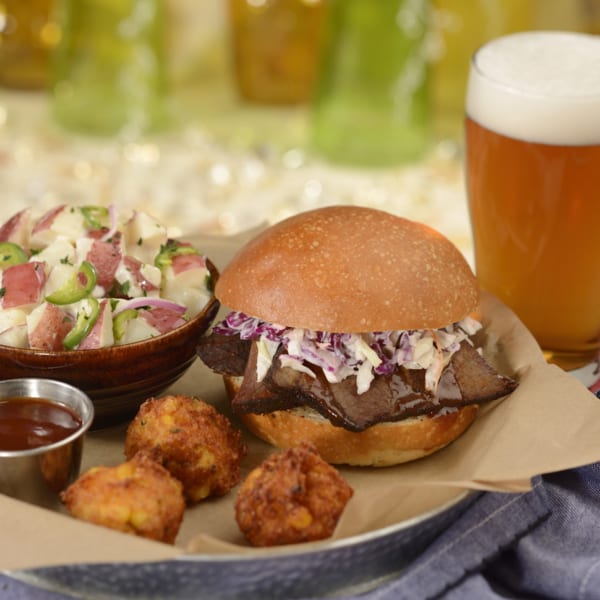 Besides the sandwiches there are also some new platters served with two sides, cornbread. These include: the Carved Beef Brisket Platter, the Smoked BBQ Pulled Pork Platter, the Grilled Chicken Thighs Platter, and even a Vegetable Platter with a choice of four sides: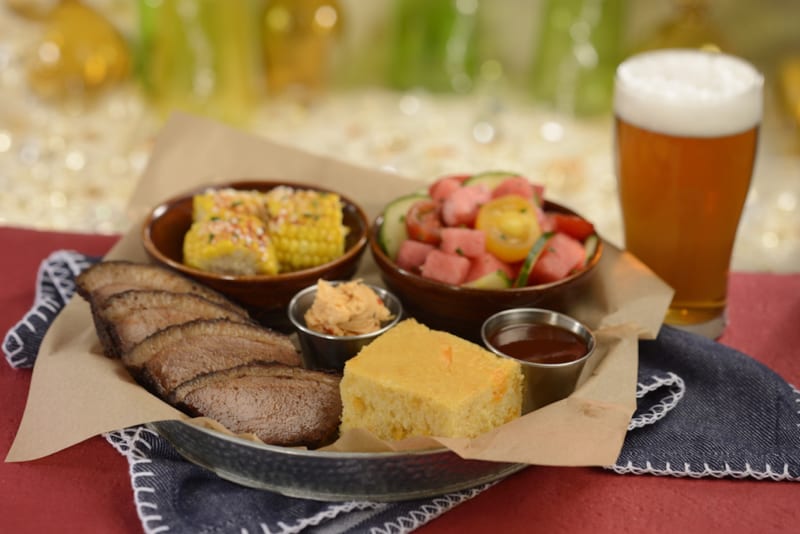 Of course for guests 21 and older you can pair all these foods with classic American beers and wines like traditional lager style beer or a robust Pinot Noir
Don't forget to save room for dessert after! The Diamond Horseshoe has 3 New Desserts to choose from including: Peaches and Cream Cheesecake with streusel topping: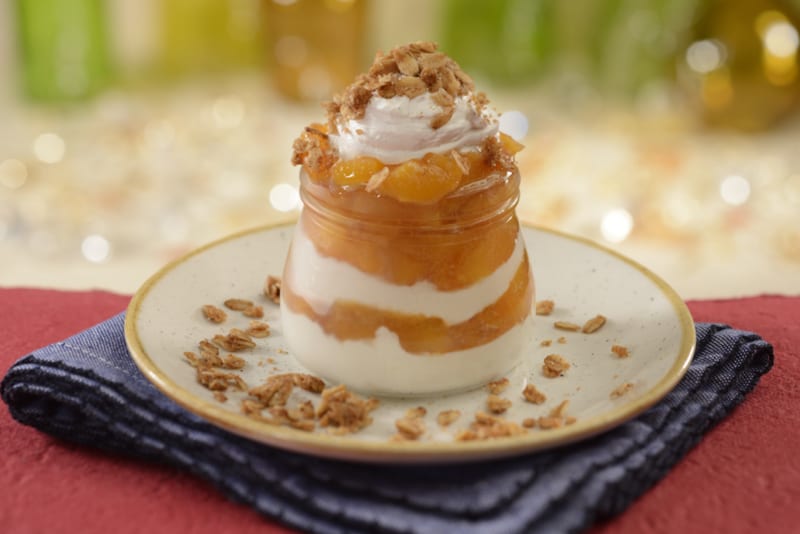 Buttermilk Chocolate Cake with bourbon glaze: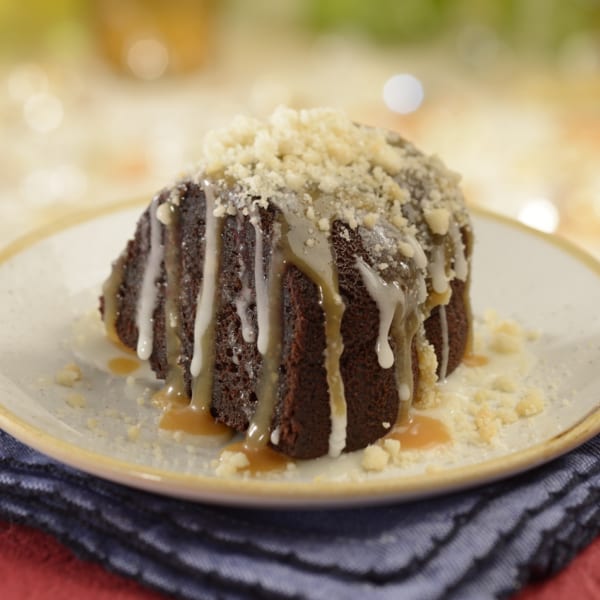 and a Blueberry Cobbler with lemon and mint cream and oat topping:
Besides the A La Carte Menu though, The Diamond Horseshoe has new All-You-Care-To-Enjoy appetizer, entrée, and dessert platters.
First you start Start out with the Appetizer Platter with Mixed Green Salad, Watermelon, Cucumber, and Tomato Salad, Potato Salad, and Jalapeno Cornbread: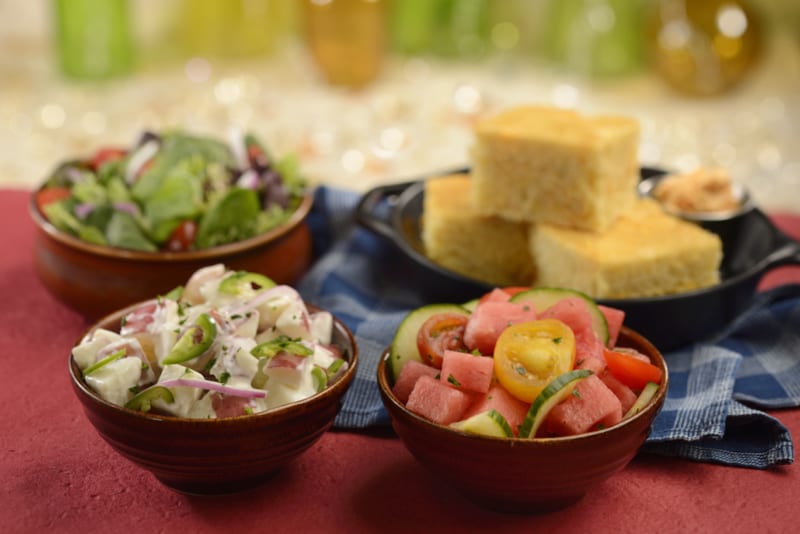 The for the Entrée Platter, you can enjoy hearty helpings of Carved Beef Brisket, Smoked BBQ Pork, and Grilled Chicken Thighs accompanied with Mac and Cheese, Corn on the Cobb, Creamy Coleslaw, and BBQ Baked Beans: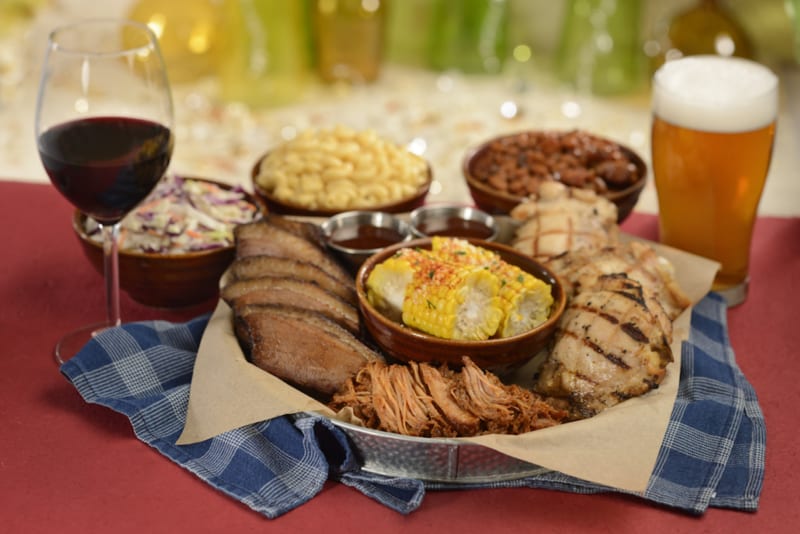 And lastly if you still have room, The Dessert Platter will fill right up with: with Buttermilk Chocolate Cake, Peaches and Cream Cheesecake, and Blueberry Cobbler: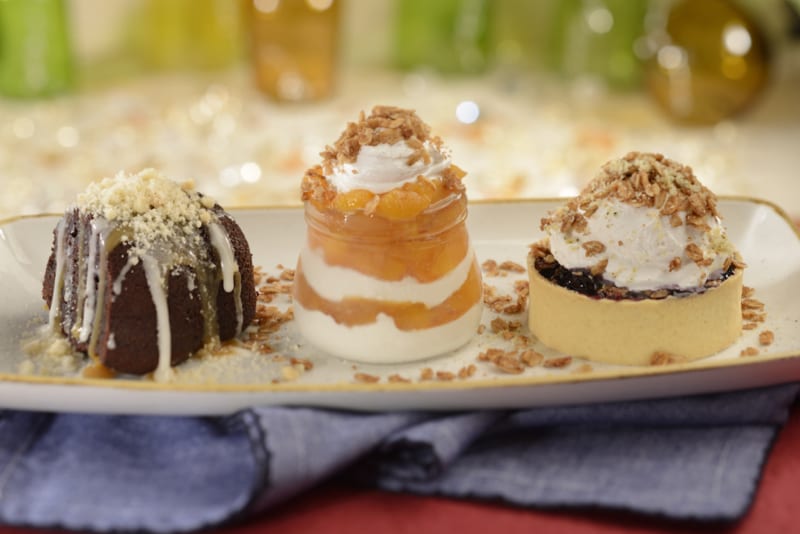 Again we have never been fans of The Diamond Horseshoe, it's always been pretty disappointing and we've actually been thankful for its seasonal hours, but we're willing to give it another try with this new menu. It looks like it has some potential so I'll be carefully optimistic about it.
The New Menu for The Diamond Horseshoe starts May 23. The Diamond Horseshoe is open daily for lunch and dinner from 1 p.m. to 7 p.m. Be sure to make your reservations today online or by calling (407) WDW-DINE or (407) 939-3463.
Your Thoughts:
I want to know what you think about the New Menu at The Diamond Horseshoe Restaurant in Disney's Magic Kingdom.
Do you like the new options?
What are you most looking forward to trying?
Let us know in the comments section below!
If you enjoyed this article, as always I appreciate it if you'd share it with others via social media. I work hard at making this website into a useful resource for you and your family to plan your visit to the Disney Parks and I hope it can help you! Thanks 🙂
New Source: Disney Parks Blog
Meet the Author of Ziggy Knows Disney!
My name is Ziggy and I love Disney, everything Disney! I grew up on Disney and it has and continues to be a huge part of my life. I started young when my parents took me to Disney World when I was 18 months old. Little did they know that would be the first of an uncountable number of trips we would take. I have so many amazing memories going to Disney with my family and friends and it has been interwoven into my DNA.