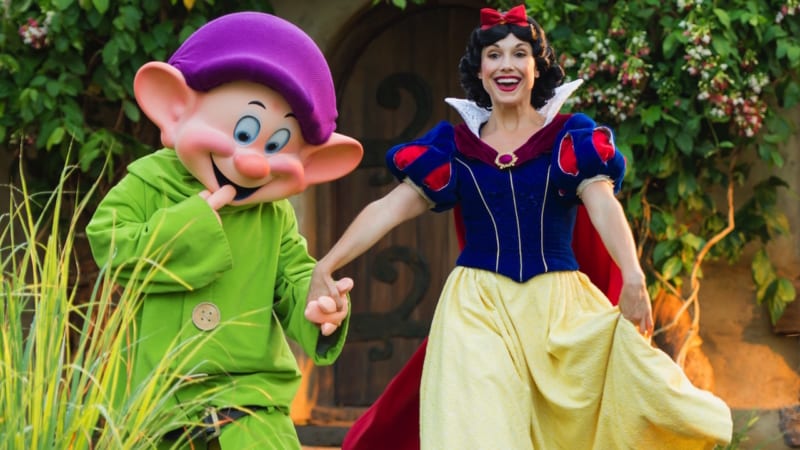 back in August we found out that a whole new dining experience, Storybook Dining is coming to Artist Point in Disney's Wilderness Lodge. Storybook Dining gives guests a chance to enter into an interactive dinner ambiance inspired by "Snow White and the Seven Dwarfs," and you'll also have an encounter with the evil queen too. Reservations are now available for Storybook Dining at Artist Point and we get our first look at the delicious menu!
Storybook Dining at Artist Point is starting December 16, 2018. Much like the new Be Our Guest Fixe Prix menu in Disney's Magic Kingdom, guest will get a choice of one appetizer, one entrée, and one dessert as well as their choice of non-alcoholic fountain beverage. If you want an alcoholic beverage that will cost extra. Pricing is $55 for adults and $33 for children ages 3-9 (tax and gratuity not included), again exact pricing as Be Our Guest. I'm thinking the experience will be somewhat similar with some of the characters making their way through the dining room like The Beast does, and then guests will go to a private room once their finished with dinner for a photo opportunity with Snow White, the Dwarfs and The Queen.
Now let's take a look at the menu coming to Storybook Dining at Artist Point:
Drinks:
Storybook Dining looks to have a good variety of specialty cocktails and some non-alcoholic options for the kids too. Some of the Cocktails include:
Enchanted Apple with citrus vodka, sour apple, and white cranberry juice.
The Smoking Mirror with scotch, wildberry, lime, and rosemary smoke.
Evil to the Core with silver tequila, habanero, blackberry and orange juice.
A variety of beers are also available along with a selection of highly-rated wines from Oregon and Washington State.
These are all pretty cool ideas and go along with the theming of Snow White which is expected.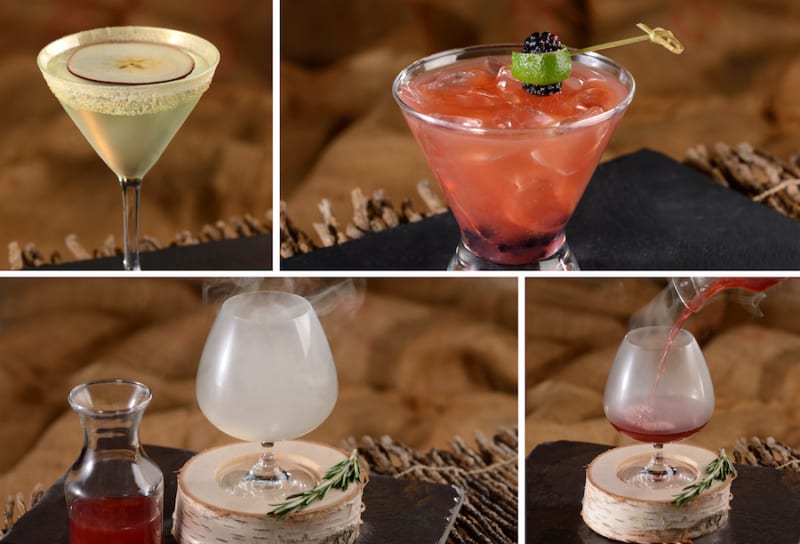 There are also Non-alcoholic options for the kids including the Transformation Potion with sparkling lemonade and the Stone Fruit and Berry Breeze with herbal tea infusion. I think I'll be trying those too, they sound good!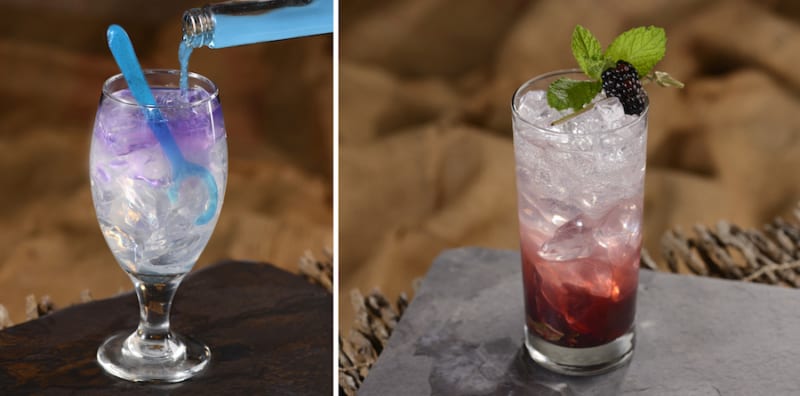 Appetizers:
Now on to the food:
Playful presentation continues with the food and appetizer choices include:
Hunter's Pie with chicken, black truffle, and stone fruit preserve.
Winter Squash Bisque with caramel loli and granola served in an adorable black cauldron.
Wicked Shrimp Cocktail with soy, miso, avocado, thai chili, and greens.
From the Garden, an array of fruits, vegetables, cheese, and create-your-own honey butter.
This isn't good news for any of the Smoked Portobello Bisque fans like myself who consider that to be the best soup on WDW property. Let's just hope it continues to get served at the Territory Lounge or I'll riot…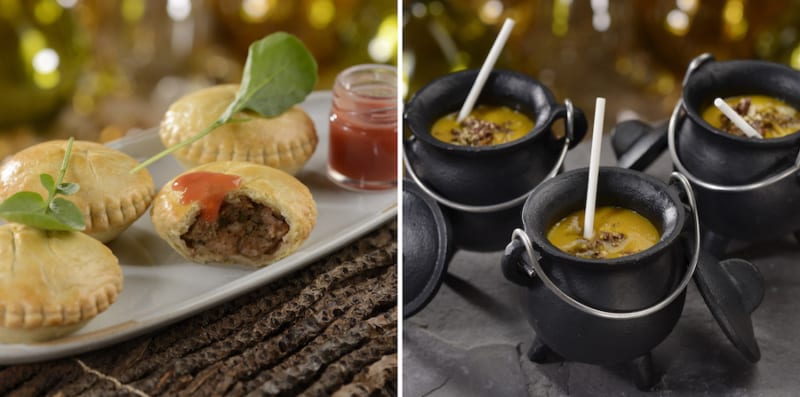 Entrees:
Entree choices include:
Royal Prime Rib Roast with horseradish mashed potato, hay-smoked carrots, popover, and jus.
Magic Mirror Slow Braised Veal Shank with mashed celery root, wilted winter greens, and jus.
Seafood Stew with shrimp, bay scallops, mussels, tomato, and fennel.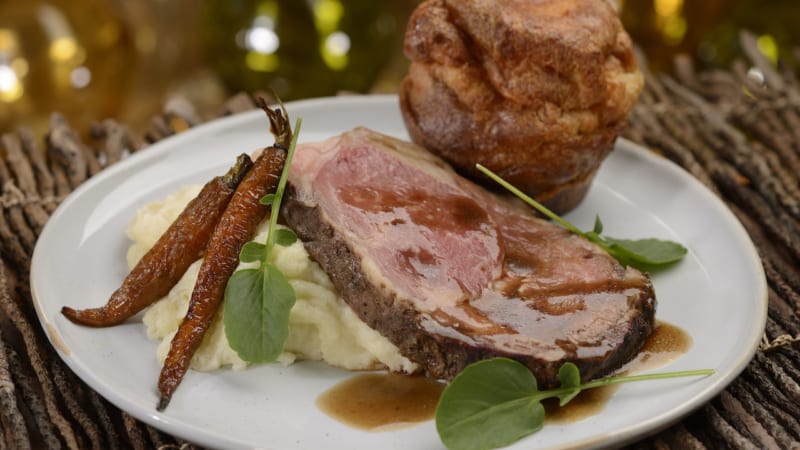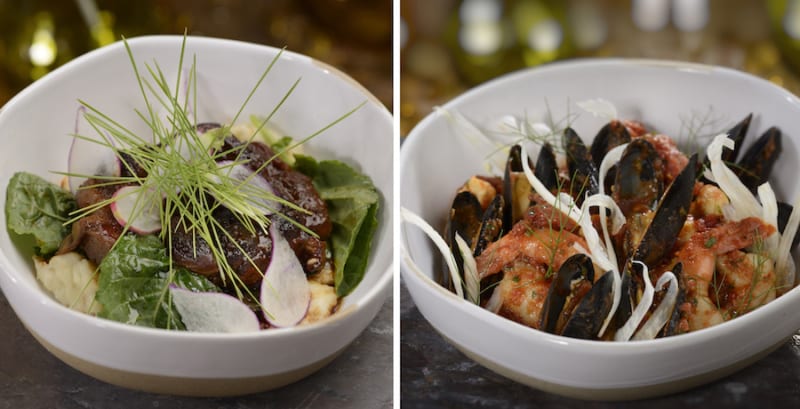 Kids' Menu:
Kids can enjoy Grumpy's Grub. On the Kid's Menu they have the same appetizers and desserts as the adults, with their own entree choices.
Kid's entrées include:
Princess Pasta (with your choice of red sauce or cheese sauce)
Vegetarian Steam Bun (with crip shiitake, hoisin, pickles, and cilantro)
Royal Prime Rib Roast
Grilled Chicken (both served with roasted potatoes and broccolini)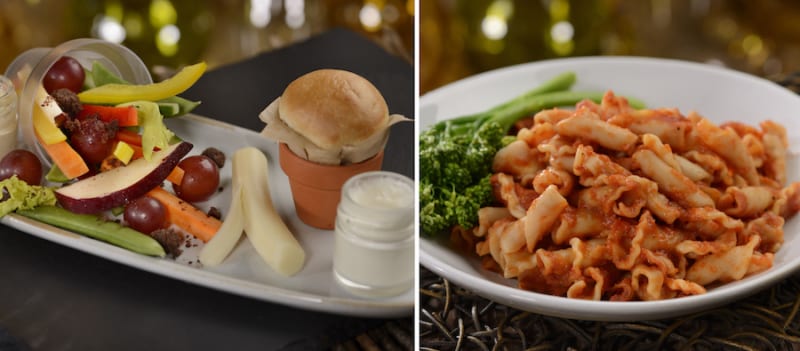 Dessert:
Lastly you can't leave Storybook Dining without Desserts. Desserts include:
The Miner's Treasure made up of sponge cake, chocolate gems, and buttercream icing.
Fairy Tale Gooseberry Pie with meringue.
"Poison" Apple made of white chocolate apple mousse with a sour center.
The Hunter's Gift to the Queen is just the thing with crackled maple popcorn and ganache hearts.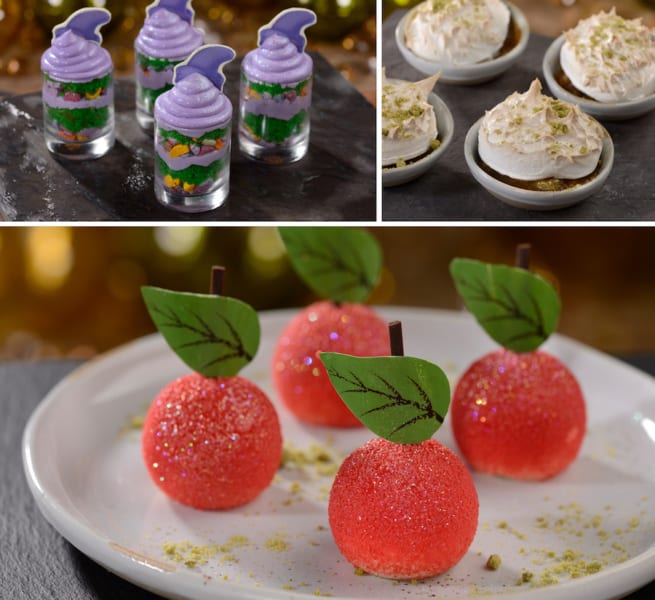 I like the idea of Storybook Dining, but have a few thoughts about it the more I think about the idea. First off, I know they both take place in the forest, but I'm not sure how Snow White and the Seven Dwarfs made it all the way to the Pacific Northwest? ? I love immersive themed dining experiences as much as the next guy, but it feels a little forced to me at Artist Point. Couldn't they have found a better place for it? Because Artist Point wasn't hitting their sales numbers, the quickest and most profitable thing to do was add character dining. We anticipate a breakfast experience being added once Disney sees its profitability.
It's also sad because it means another Deluxe Resort without a true signature restaurant (Polynesian the other) and I don't like that trend. I think if Storybook Dining at Artist Point is executed well, then it will become a must-visit dining experience like Be Our Guest, I'm just sad that Artist Point had to go away to make it happen and they couldn't add it in another venue.
My other concern is that a lot of what makes Be Our Guest so special is the environment, that's probably the most immersive restaurant on WDW property. From the website it looks like Artist Point is closing only for about one month before launching Storybook Dining, I can't imagine they will be able to transform Artist Point into something as thematically immersive as Be Our Guest, which is ultimately what this will get compared to.
If you are interested though in dining at Storybook Dining, then I suggest you make reservations as soon as possible. Lots of dates are already filled up, and once word gets around it will be one of the biggest restaurant draws in Walt Disney World. It won't get quite to the levels of Be Our Guests just because it's much harder to get to Wilderness Lodge than Magic Kingdom, but be prepared to fight for a table anyways. To make a reservation visit the Walt Disney World Resort website or call (407) WDW-DINE (407 939-3463).
Your Thoughts:
I want to know what you think about the new Storybook Dining at Artist Point menu…
What looks best to you?
Are you happy to see the change from Artist Point?
Let us know in the comments section below!
If you enjoyed this article, as always I appreciate it if you'd share it with others via social media. I work hard at making this website into a useful resource for you and your family to plan your visit to the Disney Parks and I hope it can help you! Thanks 🙂
News Source: Disney Parks Blog
Need Help Planning Your Disney Vacation? Show You the World Travel is Here to Help!
Just fill out the form below and someone will contact you for all your Disney Vacation Planning Needs….