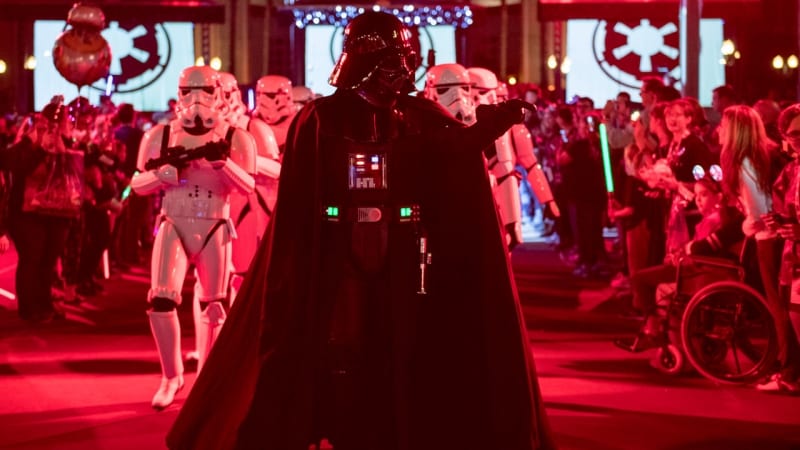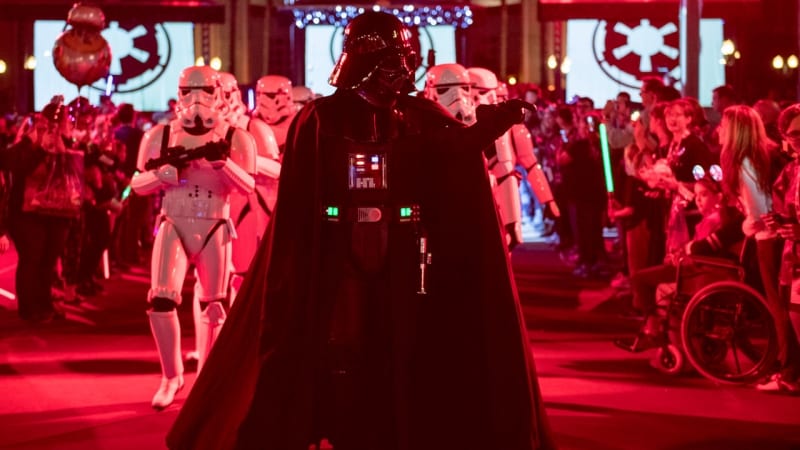 When we heard Star Wars: Galactic Nights would be coming back again to Disney's Hollywood Studios in May we were super happy! Today Disney just announced new Galactic Night details including guest experiences, photo opportunities, merchandise and Star Wars themed food you will only be able to get during Star Wars: Galactic Nights. And it's all happening May 27th, 2018 from 7pm-12 Midnight!
Let's take a look at what you'll find:
Star Wars: Galactic Destinations Projections Transform The Hollywood Tower Hotel– Watch the Hollywood Tower Hotel transform using stunning projection technology to showcase familiar locations from across the galaxy. And at this Star Wars Galactic Nights, there will be a new planet debuting too so keep your eyes peeled! Favorite film moments, special effects, lighting, and of course the stellar Star Warscinematic score supports each galactic location moment all night long. It's hands down the best part of Galactic Nights!
Existing Star Wars Entertainment Will Debut New Enhancements – The park's existing Star Wars: A Galactic Spectacular fireworks and the Star Wars: A Galaxy Far, Far Away stage show will both debut new saga elements for the first time during Star Wars: Galactic Nights.
Special Photo Ops – This was one of my favorite parts from the last Galactic Nights event. You can step right into immersive and iconic scenes from your favorite Star Wars films in a series of incredibly detailed photo locations. These special photo ops will only be available during Star Wars: Galactic Nights
Character Encounters – Meet a variety of Star Wars characters from throughout the galaxy who are only in Hollywood Studios during Galactic Nights including: Rey, Captain Phasma, the 7th Sister, AWR Stormtroopers, Darth Vader and even EWOKS. Guests will also be able to view an Imperial Stormtrooper March with Darth Vader.
Fan-made-Droids are coming. Droid Builders, the international community of Star Wars fans who build their own replica robots from the Star Wars galaxy returns with new droids to surprise guests.
Exclusive Food & Beverage offerings – Try lots of Star Wars inspired food and beverage offerings made just for Galactic Nights. These treats come from the stories and iconic characters of Star Wars, these tasting-sized sips and bites bring a delectable addition to this event. Some offerings include: loaded red curry duck fries inspired by the Battle of Crait and dueling gazpacho inspired by the famous lightsaber duel between Jedi Master Qui-Gon Jinn and Sith Lord Darth Maul.
Enjoy park attractions – Of course most of the attractions in Disney's Hollywood Studio will be open, and it's a great time to ride as most guests will be preoccupied with the Star Wars stuff you might get a chance to almost walk-on to some of the parks' most popular attractions. And look out for some of them putting a special "Star Wars twist" on things!
Each guest will also receive a special Star Wars: Galactic Nights Poster
Limited Edition Star Wars Merchandise, including art from the upcoming Solo: A Star Wars Story.
The Seize the Saga Scavenger hunt returns with a new immersive photo location. Guests who collect all the clues will be rewarded with exclusive artwork that will enhance their event credentials.
UPDATE 5/15/18 – We now know that there will be new info about Star Wars: Galaxy's Edge during the panel for Galactic Nights. It will be filled with Disney Imagineers and other Special Guests.
Park access and all activities will be exclusive to Star Wars: Galactic Nights ticket holders.
I can't wait for this Star Wars Galactic Nights event in May and I can see this becoming a semi-annual event from now on. Prices for Star Wars Galactic Nights are: $129 for adults and $124 for children ages 3-9 (discounts available for annual passholders and Disney Vacation Club members). Those prices are slightly higher than last year, but that's to be expected as all the after-hours events in Disney World are super expensive and the Galactic Nights is one of the most popular.
Tickets can also be purchased online at Disneyworld.com/galacticnights.
Your Thoughts:
I want to know what you think about a Star Wars Galactic Nights Special Event Coming in May. Have you been to Galactic Nights before? What was your experience? Let us know in the comments section below! 🙂
If you enjoyed this article, as always I appreciate it if you'd share it with others via social media. I work hard at making this website into a useful resource for you and your family to plan your visit to Walt Disney World, and I hope it can help you! Thanks 🙂
Photo Credit: Disney Parks Blog