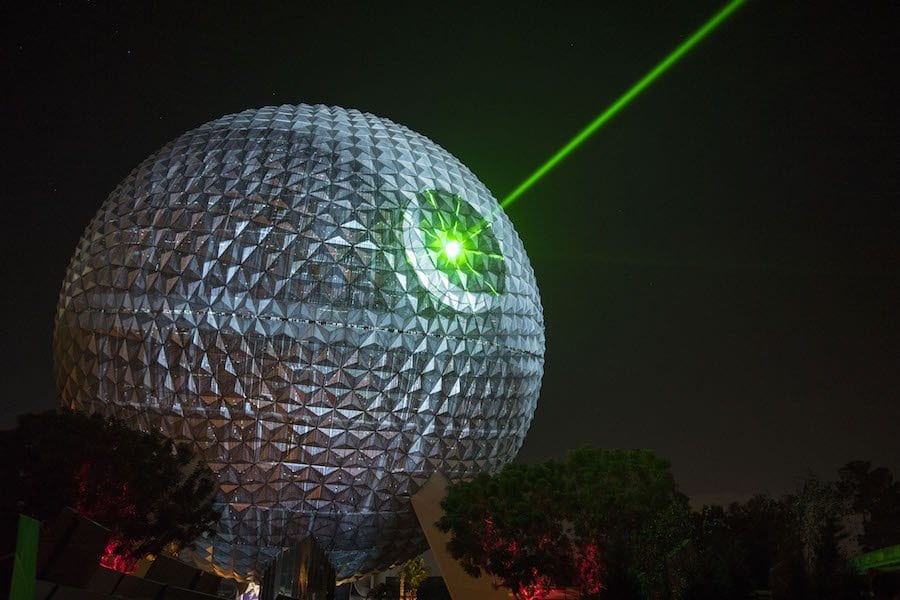 Last night, Spaceship Earth at Epcot transformed into the Death Star from Star Wars. It was an awesome sight, one of the coolest I've ever seen at a Disney Park. In celebration of next week's release of Rogue One: A Star Wars Story there was a special Disney Parks Blog Event where they made some exciting new announcements about the future of Star Wars in Hollywood Studios. It was here that this fantastic transformation happened. There were laser projections on Spaceship Earth that made it look like it was even firing its planet-destroying super weapon! So stinking cool!!
Many people before the event were complaining, saying that it wasn't right to have it change to the Death Star, like there was some moral quandary that Disney was causing, that the beauty of Epcot would be forever ruined because of this. Those people need to chill out a bit and realized how awesome this was! I too am traditionalist and love Spaceship Earth how it is, but for one night?? Nothing happened people, it was so sick to see, like all my childhood dreams come true! 🙂 Obviously I don't want permanent changes to Spaceship Earth, but every once and a while for something cool like this I think it's a great idea!
Watch the whole Video here:
During the event there was a surprise visit by Mads Mikkelsen (who plays Galen Erso in Rogue One: A Star Wars Story) and he answered a quick Q&A session. Mads talked about the character he's playing and shared what it was like to be part of a Star Wars film.
Star Wars fans and Disney Parks Blog readers experienced the once-in-a-lifetime transformation of Spaceship Earth at the park as well as online on the "Inside Disney Parks-LIVE" coverage of the event.
The new AWR Troopers even made an appearance at the event, and they look absolutely frightening! Some of the new experiences will take place right away, including new Rogue One props heading over to the Launch Bay, Star Wars: A Galactic Spectacular coming back this month, and new info on special guided Star Wars Tours in Hollywood Studios.
It's a great time to be a Star Wars fan, and Rogue One is getting great response from the few who have already seen it, better than expected. I can't wait till next week already!!
Rogue One: A Star Wars Story opens in U.S. theaters on December 16, 2016.
If you enjoyed this article, as always I appreciate it if you'd share it with others via social media. I work hard at making this website into a useful resource for you and your family to plan your visit to Walt Disney World, and I hope it can help you! Thanks 🙂
Your Thoughts:
I want to know what you think about Spaceship Earth transforming to the Death Star. What did you think of the transformation? Would you like to see this happen more in the future? Let us know in the comments section below! 🙂
Photo Credit: Disney