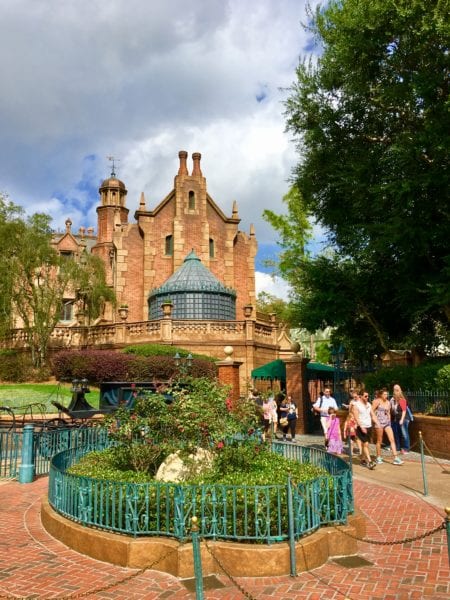 Among the flood of Disney Park rumors lately is one that seems a bit more far-fetched but I wanted to comment on anyways, that is a possible Haunted Mansion Restaurant Coming to Magic Kingdom. This news was shared by the often reliable WDW1974 who says it's a sure thing that at some point we will see a Haunted Mansion Restaurant. Just to be clear this is only a rumor and nothing is official at this point but the idea seems possible, yet with some major problems to hurdle if true.
First off, where would a Haunted Mansion Restaurant go?
There's not a ton of real estate close to the HM for a restaurant if you aren't making some serious changes to the existing structures. Some have suggested it could go where the Columbia Harbour House currently is, I really hope not. The Columbia Harbour House is one of the best quick service spots in MK and I would hate to see it go honestly. For fish it's #1. Even if you put a Haunted Mansion restaurant there, it's a long distance from the Haunted Mansion and would throw off the theming of Liberty Square imo. At that point why not just rename the whole square?
I don't think an expansion of the mansion itself is possible, and many feel it ruins the story having 2 haunted mansions. How could you explain the dining room in the Haunted Mansion and another one in a Haunted Mansion Restaurant? While I understand that thinking, I think one place it could potentially go is to the back left of the existing HM structure. You could make a line queue to the left of the existing attraction line that wraps around the building and have some other structure there, like a guest house or something I guess. Something like this:
Would it be a quick service option or table service?
My guess is probably something along the lines of what you have at Be Our Guest…an elaborately decorated environment in a fast casual setting where perhaps at times it could be table service or others more like quick service. The problem is I don't think the Haunted Mansion environment is best suited to when you're eating. I mean who wants spiderwebs falling down on your head while eating, or skeleton hands crawling into their plates? No thanks. I know HM is extremely popular with WDW guests, but I have a feeling many would get the same impression.
Disney has tried other attraction-based restaurants before besides Be Our Guest, like for example the Skipper Canteen Restaurant which was put in a year and a half ago, which has had mediocre success if that. Now that's not because Skipper Canteen is a bad place, it's actually themed excellently, their failure for the most part is trying to keep a unique menu fit for the jungle cruise while at the same time appease the normal theme park crowd that only wants chicken tenders and pizza. They've had 2 menu overhauls already and Skipper Canteen is consistently one of the lowest occupied restaurants in the Magic Kingdom.
Also it just seems a bit too forced. Yes I know HM is very popular, by why kill something that works? Do we have to squeeze out every last bit from each attraction, movie, etc that Disney does, just to make a few extra bucks? We've seen that lately with Disney re-booting every classic film in its vault into a remake. I get the feeling that Disney is just chasing every dollar and a sloppy presentation of the Haunted Mansion would be a terrible idea. They shouldn't add stuff just to add stuff, but only if it really adds value to the current attractions/movies/etc. But since there is another Haunted Mansion movie coming out (didn't they learn anything when the first one flopped?), it wouldn't surprise me if Disney tries to force it.
Don't get me wrong, I think if done properly it could be a success, but it just doesn't seem necessary to me. Instead why not focus on some new originally themed attractions and restaurants? That's always when Disney is at its best, when it comes up with fresh new ideas, characters and stories, not when it rehashes the same stuff.
When would this all happen? Walt Disney World has its 50th anniversary in 2021 so if this is really in the works then expect it before then. WDW1974 expects it in 2020 which sounds like a reasonable bet. What do you think?
Your Thoughts:
I want to know what you think so far about a potential Haunted Mansion Restaurant Coming to Magic Kingdom. Would you like to see it happen? Where would you put it and what would it be like? Let us know in the comments section below!
If you enjoyed this article, as always I appreciate it if you'd share it with others via social media. I work hard at making this website into a useful resource for you and your family to plan your visit to Walt Disney World, and I hope it can help you! Thanks 🙂