The Refreshment Port is one of the strange Food and Wine marketplaces that is actually around all year round.  Thing is, the menu gets totally changed up once Food and Wine rolls around and this year is adding: Poutine, Poutine and more Poutine!  Let's check it out in my Refreshment Port Review at the 2018 Epcot Food and Wine Festival!
Refreshment Port Marketplace:
The Refreshment Port is always located in the same place on the right heading from Future World towards Canada.  It doesn't look like much, but trust me, it packs a punch!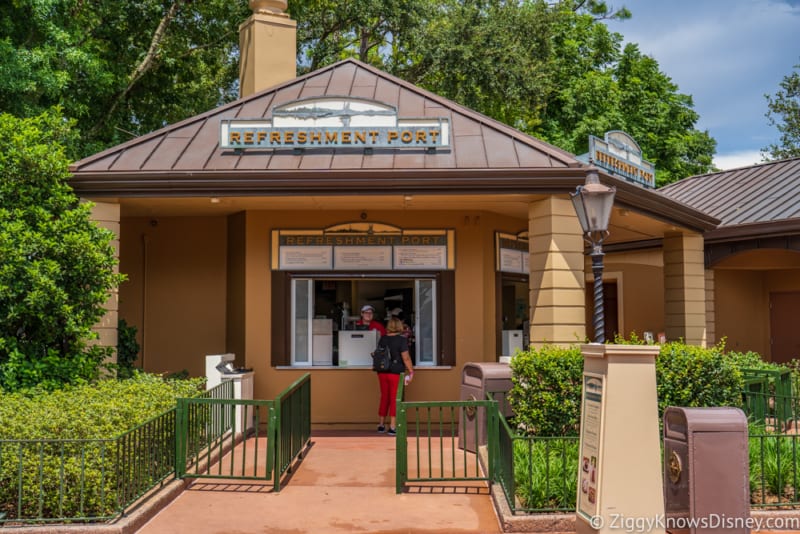 Refreshment Port Menu:
2017 Menu: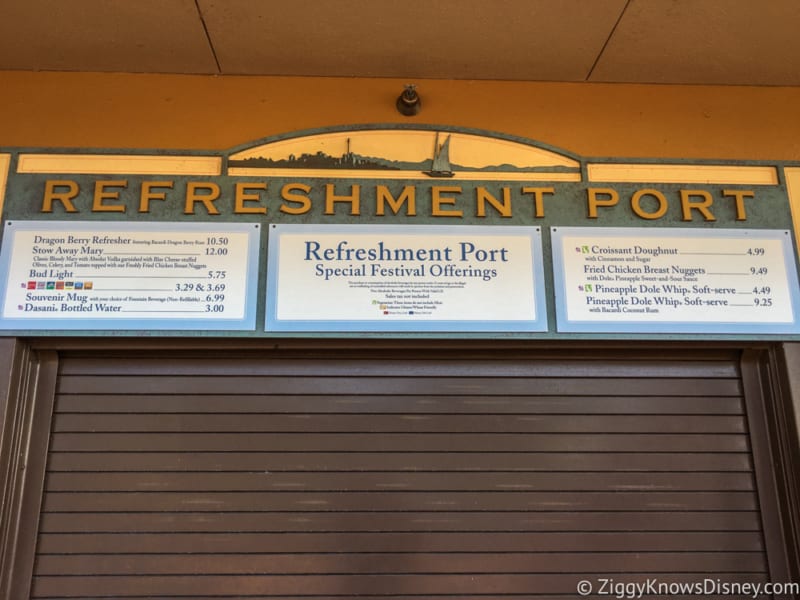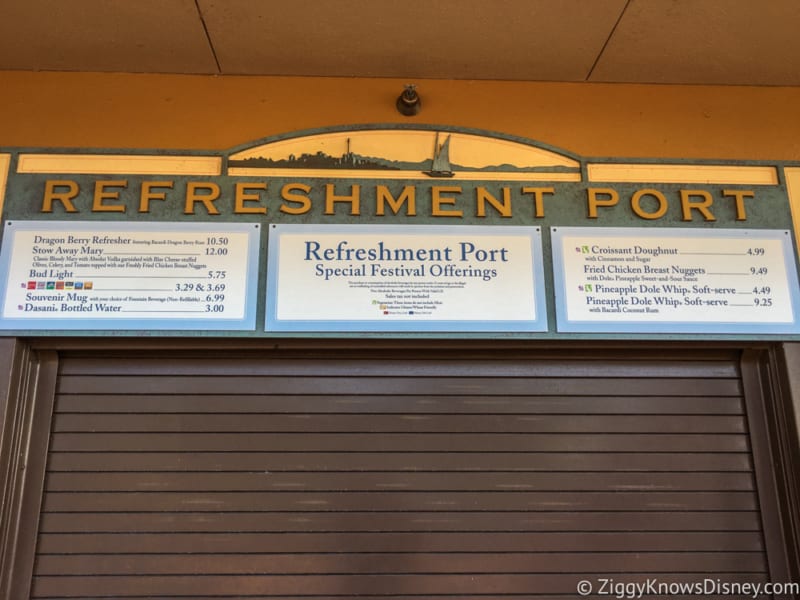 2018 Menu:
So Refreshment Port has totally changed from last year to this year.  Before it only really offered some drinks and the Dole Whip.  This year is different though and they've added Poutine!  There are 3 kinds: Traditional Poutine, Beef Brisket Poutine and Sweet Potato Poutine: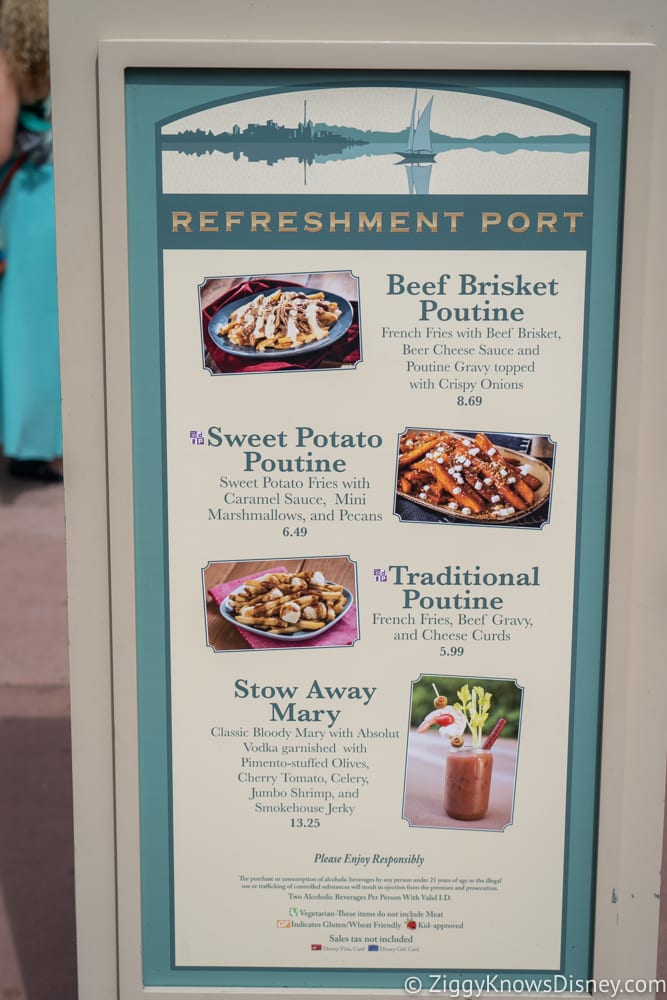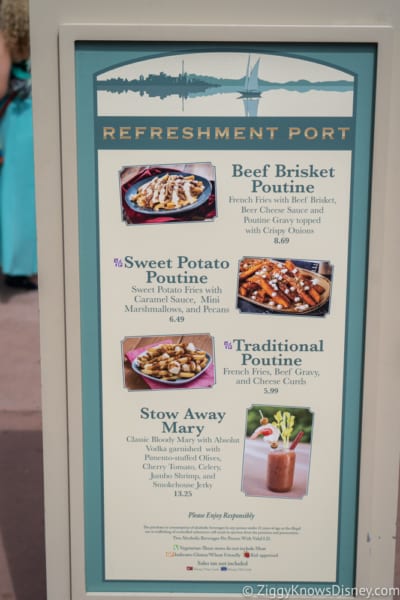 Food:
Beef Brisket Poutine: French Fries with Beef Brisket, Beer Cheese Sauce and Poutine Gravy topped with Crispy Onions ($8.69)
Sweet Potato Poutine: Sweet Potato Fries with Caramel Sauce, Mini Marshmallows and Pecans (V) ($6.49)
Pineapple Soft-Serve Ice Cream (V) ($5.99)
Pineapple Soft-Serve Ice Cream with Bacardi Coconut Rum ($13.25)
Beverages:
Dragon Berry Refresher featuring Bacardi Dragon Berry Rum ($10.75)
Stow Away Mary ($13.25)
Menu Review:
Beef Brisket Poutine ($8.69):
So if you don't believe in "love at first sight", maybe you'll give "love at first taste" a try, because this is the real deal!  These aren't standard poutine for anyone who's familiar with the poutine in Canada, but equally delicious.  The portion is absolutely HUGE and easily split by 2 or 3 people.  Really one of the biggest portions of anything we bought at Food and Wine this year.  They fries are standard, which isn't a bad thing, and nice and crispy on the outside.  They pile up tons, of the shredded beef brisket on top of the fries, which is super moist and flavorful.  So as if that couldn't get any better, drown it in warm cheese sauce!  I actually prefer this over "real" poutine as the fries stay crisp and don't get soggy.  This even rivals the Smoked Corned Beef on Crispy Potatoes at Flavors from Fire.  DON'T SKIP the Beef Brisket Poutine whatever you do!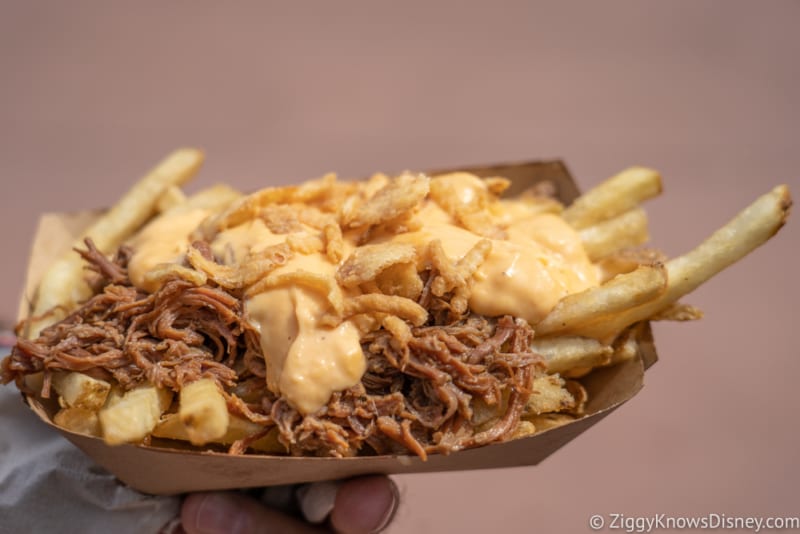 Sweet Potato Poutine ($6.49):
This is another spin on the poutine, getting even more adventurous than the Beef Brisket version.  If you like sweet potatoes then you will love it.  It's sweet potato fries topped with a caramel sauce, crushed pecans, and get this….mini marshmallows!!  I'm not a huge sweet potato guy usually, but these were exceptional and I loved the mix of all the different ingredients together.  Definitely sweet and more like dessert, but really worth trying!

Pineapple Soft-Serve Ice Cream ($5.99):
I can't say anything and about Dole Whip, it's arguably my favorite Disney Snack of all-time!  If you are one of the 3 people in the world that hasn't tried Dole Whip yet, it's a pineapple soft-serve with an absolutely amazing rich pineapple flavor and very refreshing.  Perfect for taking around World Showcase.  The only thing I'll say though is that it's pretty expensive here at Food and Wine, $1.50 more than the Magic Kingdom version, and it's a smaller portion to boot.  Not a good value, but I can also understand if you just have to fill your Dole Whip fix!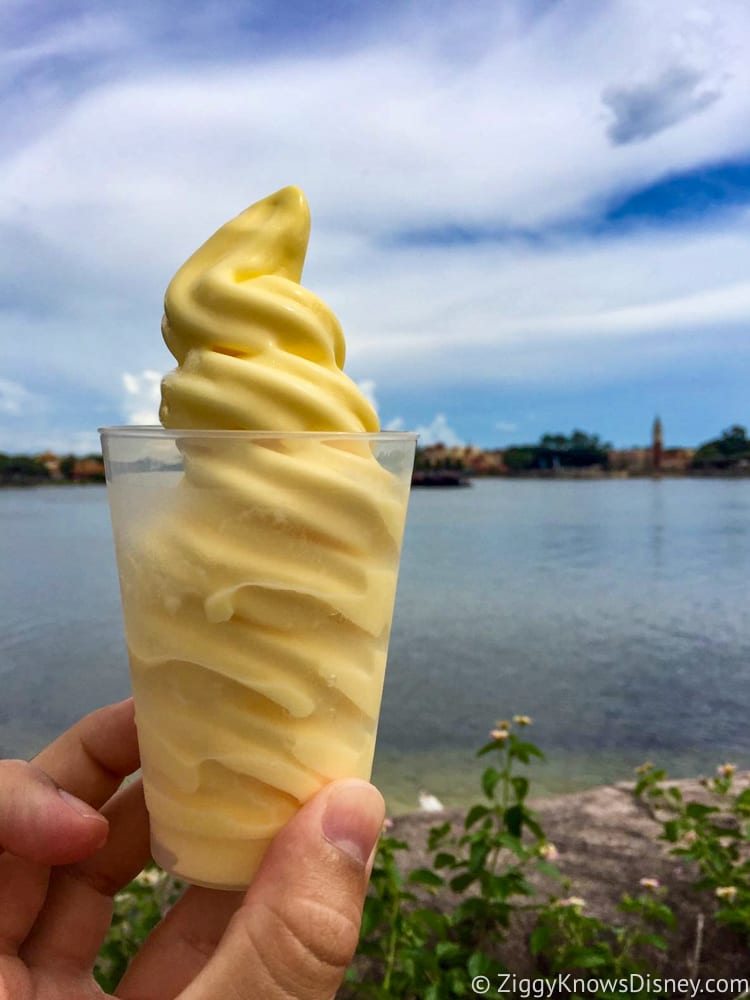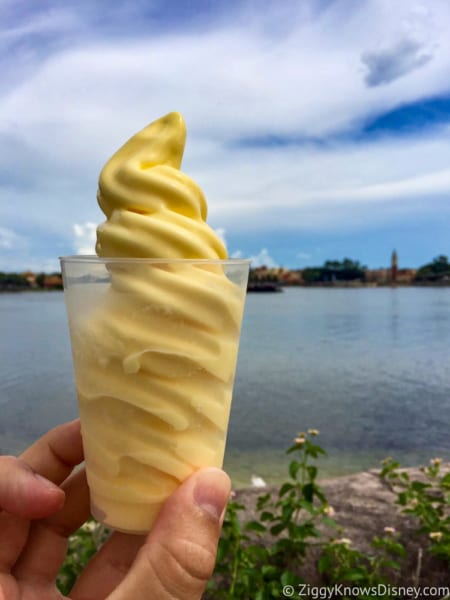 Pineapple Soft-Serve Ice Cream with Bacardi Coconut Rum 
($13.25):
Dole Whip and Rum??  Where do I sign up??  Pineapple and coconut is a practically unbeatable combo imo and gives your Dole Whip a kick.  While we thought this was incredibly delicious, $13.25 for the tiny portion they give you is almost highway robbery and I can't recommend shelling out that kind of money when there are so many more options around Food and Wine.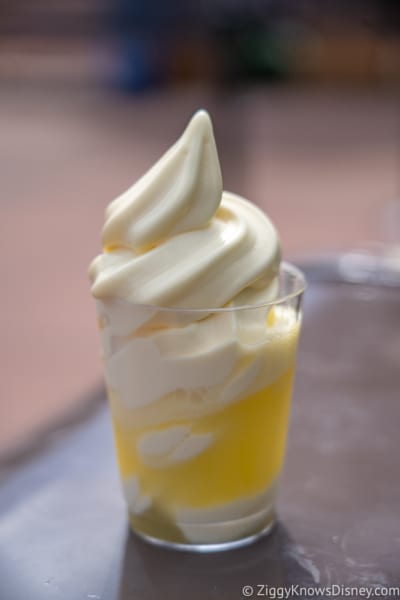 Booth Summary and Grade:
I have to say Refreshment Port is much improved over last year when it was essentially just a passing thought and often skipped over for almost everything else at Food and Wine.  This year though with the addition of the different poutine available it turned into an absolute must-try marketplace.  Come for the Poutine, and then come back for the other varieties.
If you have to get just one thing:

Beef Brisket Poutine



Refreshment Port Review

Overall Grade -

8.5/10
I want you to be able to have the best info on the Festival so you have a great time and don't waste your time!  Take a look at all of my 2018 Epcot Food and Wine articles including:
Your Thoughts:
I want to know what you think about the Refreshment Port Review at the 2018 Epcot Food and Wine Festival…
Which is your favorite item?
Which do you still want to try?
Let us know in the comments section below!
If you enjoyed this article, as always I appreciate it if you'd share it with others via social media.  I work hard at making this website into a useful resource for you and your family to plan your visit to the Disney Parks and I hope it can help you! Thanks 🙂
Need Help Planning Your Disney Vacation?  Show You the World Travel is Here to Help!
Just fill out the form below and someone will contact you for all your Disney Vacation Planning Needs….
[rainmaker_form id="19792″]