Ok so I probably should have done a whole review on the Brewer's Collection, but I thought that this one item deserved its own review. You see everyone, love at first taste only comes around ever so often, so when it does you need to treat it in a special way. Yes it's that incredible ladies and gentlemen, I kid you not. It even made my Best NEW Item list for the 2017 Epcot Food and Wine Festival! But how does it compare to the Grapefruit version? Let's have a taste and see in the Pomegranate Beer Review: Brewer's Collection – 2017 Epcot Food and Wine Festival….
Brewer's Collection Booth:
The Brewer's Collection is a booth next to Germany focusing on mainly, yes beer. It's an obvious stop for most Food and Wine goers as it offers up some of the best beers at the festival.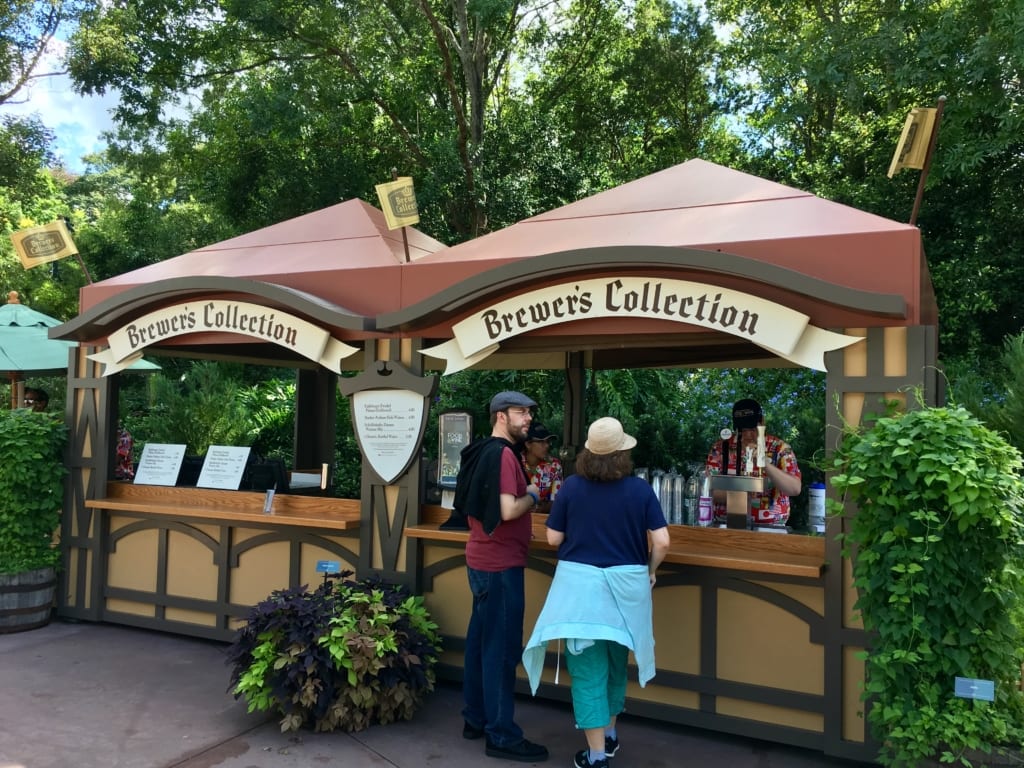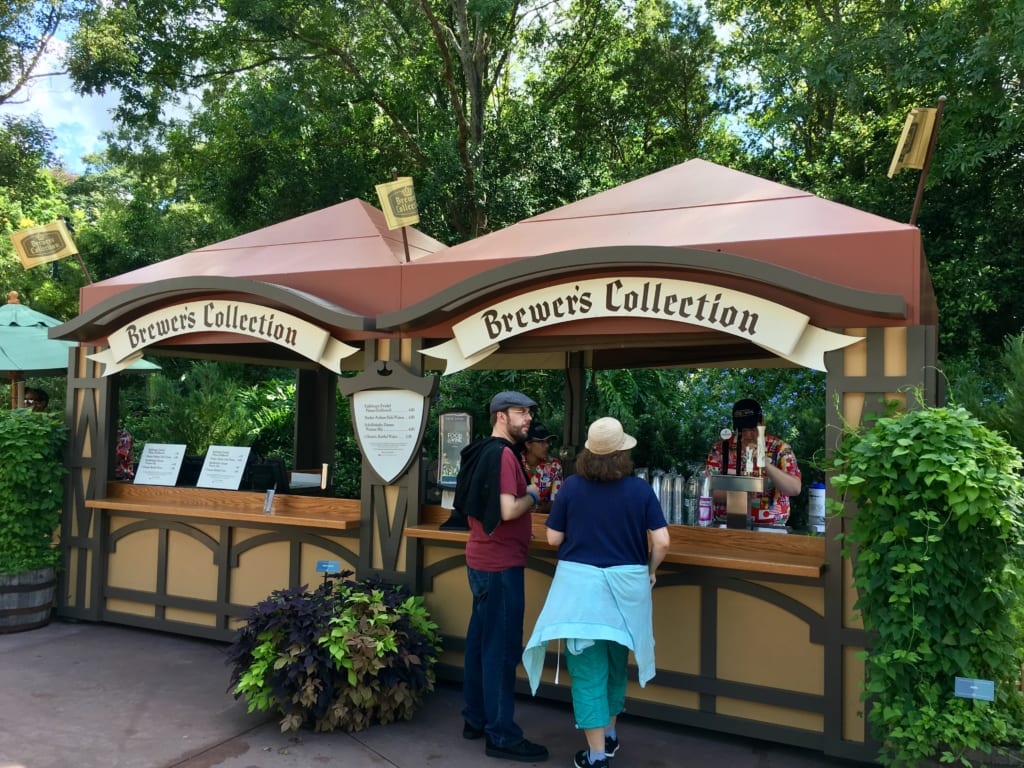 Brewer's Collection Menu:
The 2017 menu is a bit different from last year. First of all they added a Gingerbread Heart to the menu which is nice to see something to munch on while drinking your beer. But of course the one we're excited for is the Schöfferhofer Hefeweizen Pomegranate Beer. Additionally the Beer Flight includes all 3 which is a decent bargain at $9, instead it would be $12 for all three otherwise.
Food:
Lebkuchenherz: Decorated Gingerbread Heart – $7.00
Beverages:
Schöfferhofer Hefeweizen Pomegranate Beer – $4.00 *Ziggy Recommended
Hacker-Pschorr Hefe Weisse Naturtrub – $4.00
Radeberger Zwickel Pilsner (Unfiltered) – $4.00
Beer Flight – $9.00
Schöfferhofer Hefeweizen Pomegranate Beer Review:
So right away I have to be upfront with you that beer isn't my favorite drink in the world, the Pomegranate beer really won me over.
Pomegranates are my absolute favorite fruit, so I honestly never had a chance here…
It's very similar to its cousin the Schöfferhofer Hefeweizen Grapefruit Beer, which is also lip-smackingly delicious:
It's made from a mix of wheat beer, soft drink, and pomegranate juice. It's not too strong with only 2.5% alcohol content.
As you can see the size is pretty small, the standard Epcot Food and Wine beer size, which in real-world standards isn't a good value for $4, but for Disney isn't bad. You can see it fits in your hand easily:
Honestly it's so good they could charge just about whatever they wanted and there will be a line for it. Look at that deep, dark red color. Just beautiful. Doesn't have a lot of foam, as you can see it whatever foam there was disappeared quick, so if you are into those real thick and frothy beers, this isn't for you. This is light and refreshing, and you can really taste the pomegranate flavors in there. It even has a hint of what seems like raspberry too, which I loved. Again very similar consistency to the Grapefruit which they sell in the Germany pavilion.
Even though they use soft drink in the mix, there are some bubbles but it's not what I'd call too fizzy, I don't like when they are too fizzy. I think it had just the right texture, and what I was expecting.
Even the smell is incredible too. Even though it's only 1% concentrated pomegranate juice, you get an aroma of it.
So which is better the Schöfferhofer Hefeweizen Pomegranate Beer or Grapefruit??
Honestly it's really tough. Maybe because I'm nostalgic or because I tried it first, but I think I'd still give the slight edge still to the Grapefruit. I think it has a bit more tartness which I love and the taste it leaves in your mouth stays a bit longer. It's also available in a big glass which makes me very happy! But honestly the Pomegranate is fantastic and let's just say that while the Grapefruit is my first love, I have a thing on the side with the Pomegranate! 🙂
Booth Summary and Grade:
If you have to get just one thing:

hahaha, what a question!!!



Grade:

10



Take a look at all of my 2017 Epcot Food and Wine articles. I have a 2017 Epcot Food and Wine Info Guide with a complete Index of the Food and Wine Menus, The Top NEW Items for 2017, Top Food and Wine Booths and more…I want you to be able to have the best info on the Festival so you have a great time and don't waste your time!
Your Thoughts:
I want to know what you think of my Pomegranate Beer Review for the 2017 Epcot Food and Wine Festival. Do you prefer the Grapefruit of Pomegranate? What's been your favorite drink from the Epcot Food and Wine Festival? Let us know in the comments section below!
If you enjoyed this article, as always I appreciate it if you'd share it with others via social media. I work hard at making this website into a useful resource for you and your family to plan your visit to Walt Disney World, and I hope it can help you! Thanks 🙂