I'm tempted to only write as a review the words: Crispy Pork Belly and just let you look at that first photo. Because when I think Epcot Food and Wine, this is probably the first dish that gets me salivating. But Brazil is so much more than only Pork Belly, and it's a perennial favorite to win Best Booth of the Festival. Last year it finished #2 to only China. Can it pull out ahead this year? Let's have a taste and see in my Brazil Review: 2017 Epcot Food and Wine Festival….
Brazil Booth:
Brazil is right next to Belgium and France, and is always one of my favorite marketplace areas. Look at how beautiful the booth is! No need to rush as it's one of the best spots in the festival, to just sit and relax because of the garden area with tables. Really puts you in a festive mood!
Brazil Menu:
The menu hasn't really changed since last year, only a new beer and wine, and a standard price increase of 0.25 cents. Unlike at Belgium though I'm not complaining because this menu is perfect…except for the missing dessert still. 🙁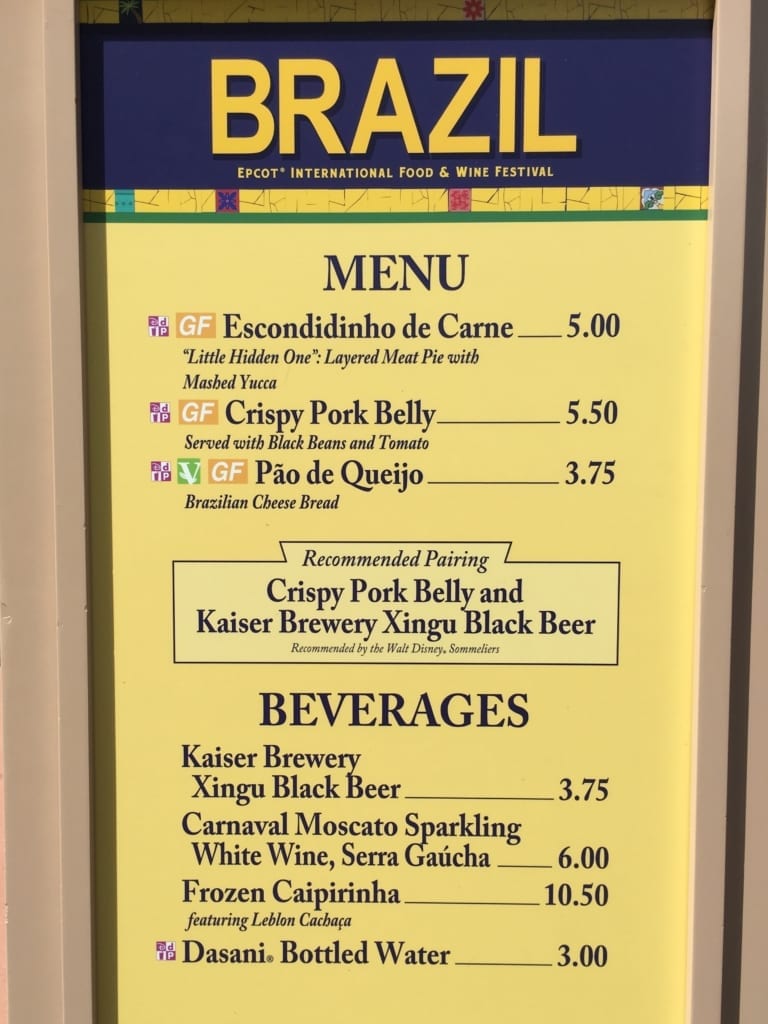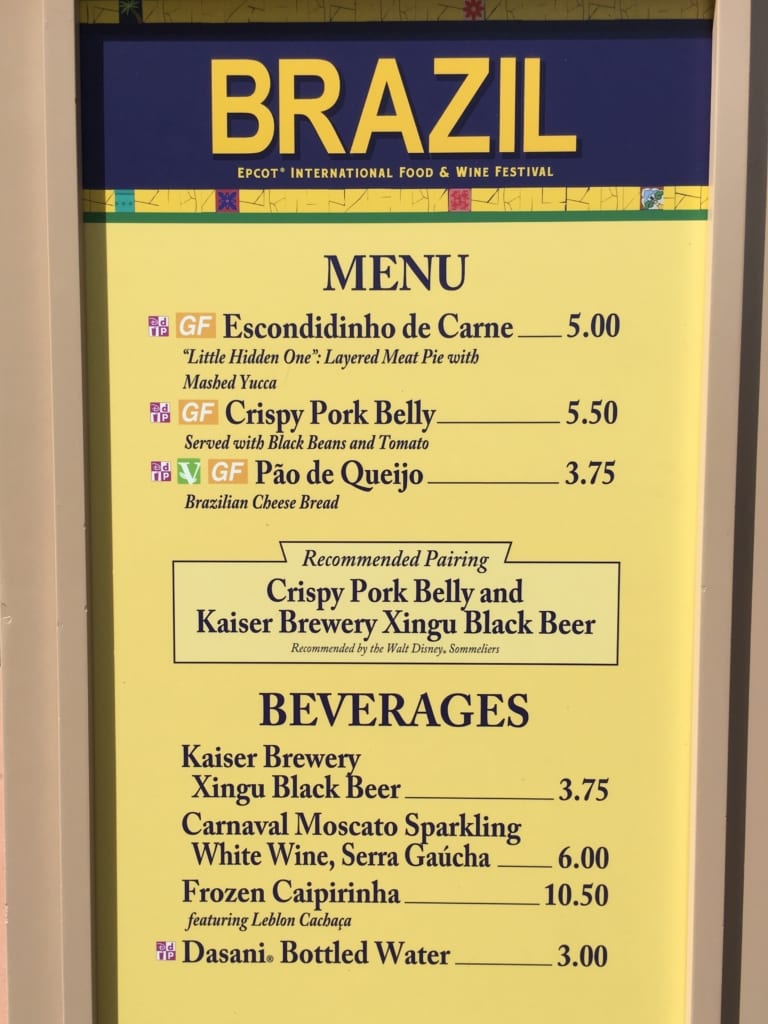 Food:
Pão de Queijo: Brazilian Cheese Bread

(Gluten-Free)

– $4.00, DDP Snack Credit

*Ziggy Recommended



Crispy Pork Belly with black beans, tomato and onions

(Gluten-Free)

– $5.75, DDP Snack Credit

*Ziggy Recommended



Escondidinho de Carne: Layered Meat Pie with Mashed Yucca

(Gluten-Free)

– $5.00, DDP Snack Credit

Beverages:
M.I.A. Beer Company Barbosa Black Beer, Doral, FL – $4.25
Lidio Carraro Chardonnay – $5.00
Frozen Caipirinha featuring LeBlon Cachaça – $11.00
Menu Review:
First on the menu is the Escondidinho de Carne or Layered Meat Pie with Mashed Yucca. For a hot day it's not the best idea as it is substantial, but mmmmm is it delicious! Don't let the word yucca scare you off, it's essentially mashed potatoes which are a little sweet. Texture was very similar, and they were nice and creamy. Then when you mix in the meat it's downright awesome!
I really like the tomato based sauce the meat is cooked in and then throwing cheese on top is just making it irresistible for me. You can see a look at it here:
Layered Meat Pie was excellent and filling!
Next up of course was our Crispy Pork Belly. I've been waiting all year for this thing and it didn't let me down. Still served basically the same way as last year, with black beans underneath and fresh tomatoes and onions on top, this baby is a work of art! It doesn't just have presentation though, it's also packed with taste. Occasionally I've had it a little too crispy and a little dry, this one was not like that at all…super moist and tender. I'm pretty positive it's turned a few vegetarians over to the dark side! ?
But wait, it gets better. My mom didn't want the accompanying sides so instead of only one piece…..they gave her 3 pieces of pork belly!! So if you're not into veggies, or just feel like pigging out a bit(no pun intended) you might want to give it a try!
You can be sure this is staying on my Best Dishes of the Food and Wine Festival list! I mean what more is there really to say but you HAVE TO get this!
Lastly we had another one of my all-time favorites…the Brazilian Cheese Bread! Again, is an explanation to its greatness really needed? What is there not to like??
This stuff is so ridiculously good it's insane! It's not even like bread, it's so denssssse, and filled with cheese. Super gooey and cheesy. I'm convinced it's not even bread at all just some amazing cheese they put on the grill! You know what to do….
If you're looking for something tasty to wash all this good food down with, then the Frozen Caipirinha is your best option. A classic Brazilian cocktail, It's usually served on the rocks with muddled sugar and limes, cachaça, lime juice and simple syrup with ice. This one however is served frozen, which I love even more. Super refreshing! Highly recommend this too!
Booth Summary and Grade:
Basically Brazil is amazing and if you are going there then I have some real serious doubts about you honestly. Everything here is great. Again the Cheese Bread and Pork Belly are two of the absolute Must Try Dishes at Food and Wine, and Brazil as a whole is tinkering on the brink of #1 to be quite honest. The only small complaint is again a lack of dessert. If they could fix that I'd give them a perfect 10, so until then this will have to do:
If you have to get just one thing:

Crispy Pork Belly and Brazilian Cheese Bread

(let's be honest here, I know you're getting both! 😉

Grade:

9.5



Take a look at all of my 2017 Epcot Food and Wine articles. I have a 2017 Epcot Food and Wine Info Guide with a complete Index of the Food and Wine Menus, The Top NEW Items for 2017, Top Food and Wine Booths and more…I want you to be able to have the best info on the Festival so you have a great time and don't waste your time!
Your Thoughts:
I want to know what you think of my Brazil Review 2017 Epcot Food and Wine Festival. Do you love the Pork Belly and Cheese Bread as much as me?? Let us know in the comments section below!
If you enjoyed this article, as always I appreciate it if you'd share it with others via social media. I work hard at making this website into a useful resource for you and your family to plan your visit to Walt Disney World, and I hope it can help you! Thanks 🙂