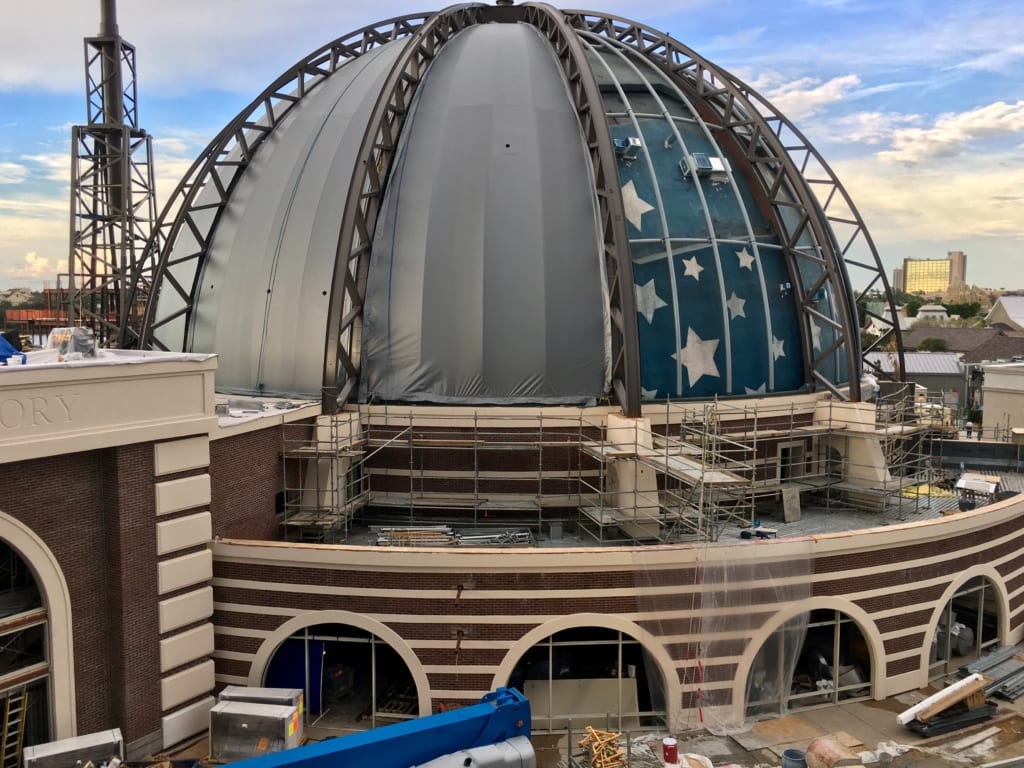 As I reported about a couple weeks ago, Planet Hollywood Observatory is getting ready to open up in Disney Springs before the end of the year. The existing restaurant is getting a $25 million complete overhaul both of the building design and theme itself and also it's menu. The celebrity chef and TV personality Guy Fieri has been brought in and is adding his own personal touch to parts of the menu, including signature sandwiches and decedent desserts. Now we have some Planet Hollywood Observatory Menu details, and some of the first-looks have been eye-catching to say the least…
"We've spent an enormous amount of time developing new menu offerings for Planet Hollywood Observatory and striking a balance with keeping our favorites in place," said Robert Earl, Founder and Chairman, Planet Hollywood International. "We're excited to offer even more options for our guests, ranging from appealing starters, to light and healthy salads, to indulgent steak and lobster—and everything in between. And they really must save room for dessert—I always do!"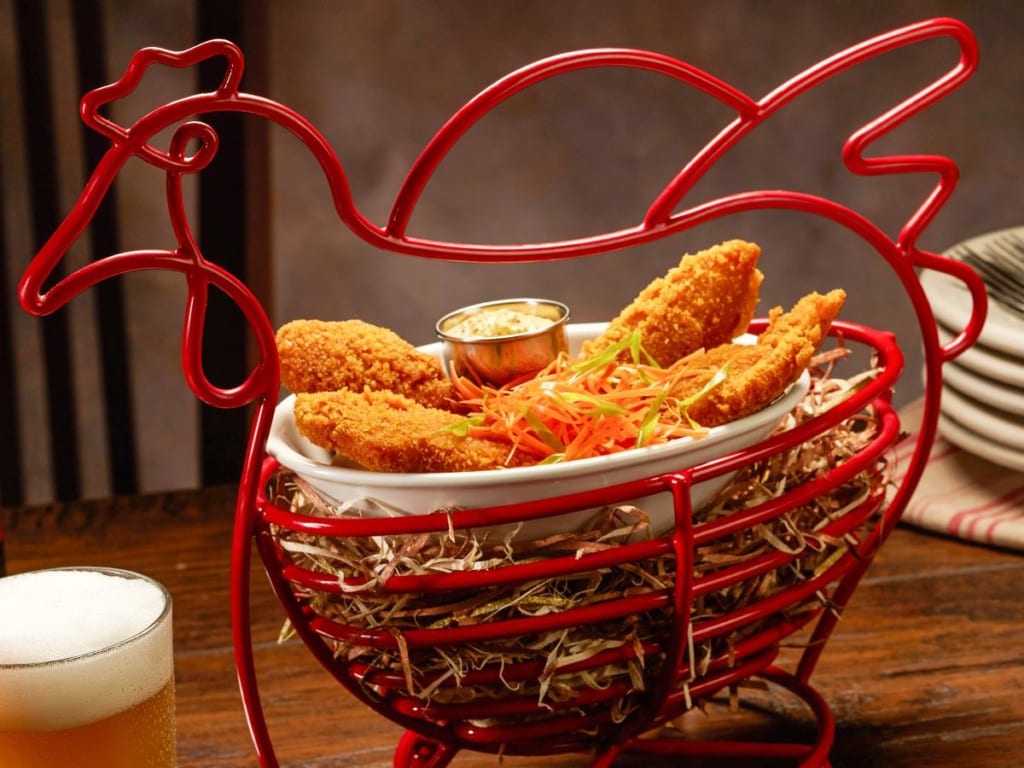 Some long-time classics are returning in the World Famous Chicken Crunch with Creole mustard sauce playfully plated in a chicken-shaped dish; Nachos Grande piled high with chipotle chicken, cheese and black bean sauce, cruda salsa verde, pico de gallo, queso fresco and sour cream; L.A. Lasagna a fried take on this comfort food favorite with Bolognese sauce, roasted garlic cream and tomato basil sauces; and the awesome High Roller Platter, which is a combo appetizer platter served on a unique Ferris-wheel dish and comes with the Chicken Crunch, Texas Tostados, Buffalo Wings, Cheesy Spinach Dip, Peri-Peri Shrimp.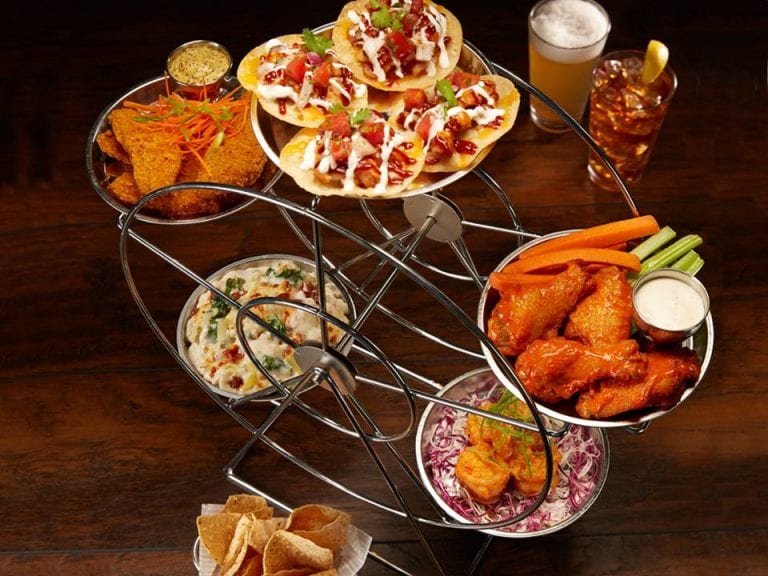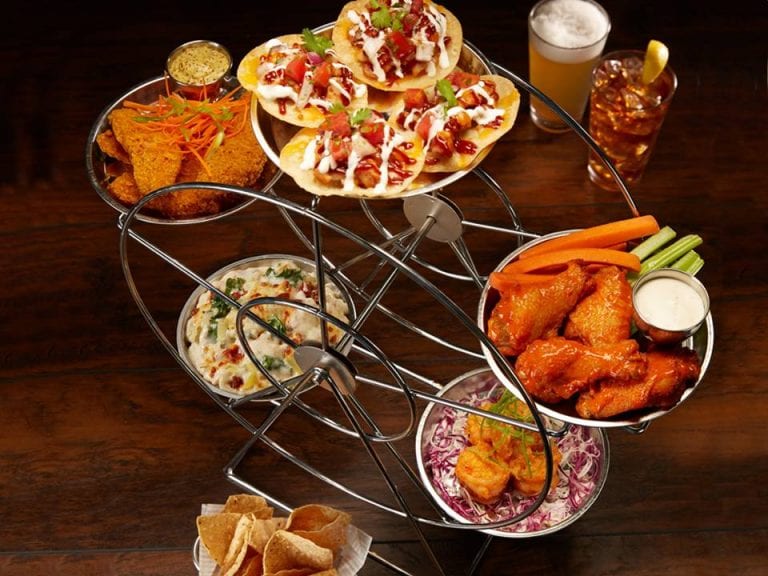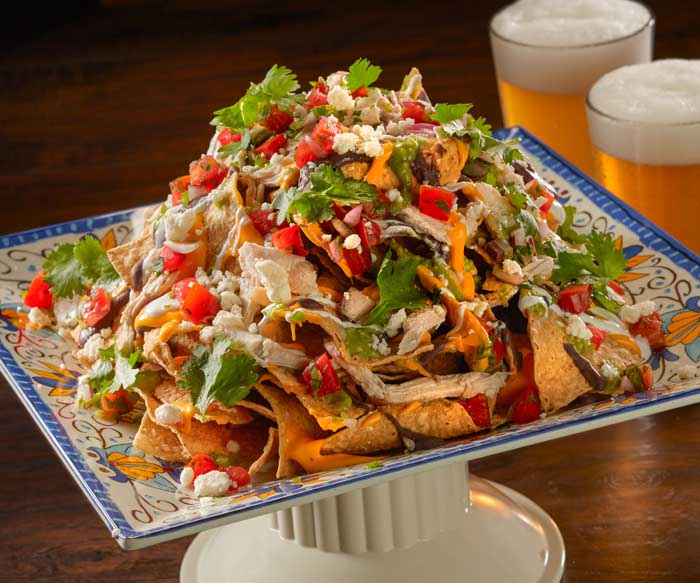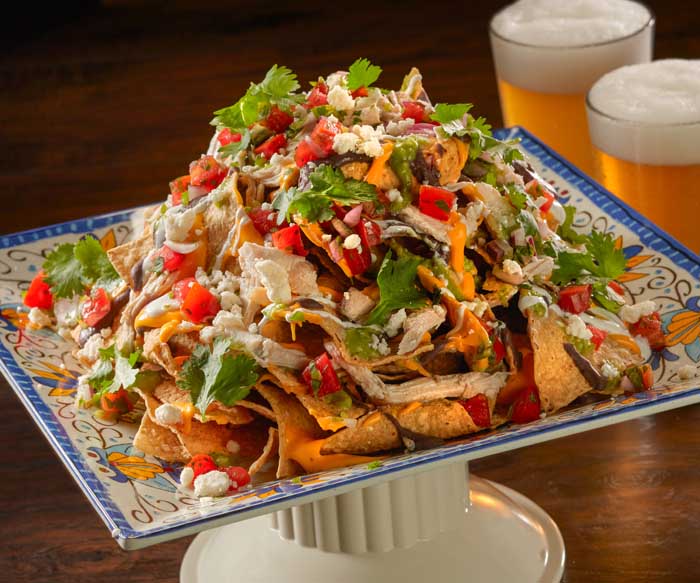 There are some amazing new dishes also, ones created and designed by Guy Feiri himself such as the new "Big Bite Burgers" and "Knuckle Sandwiches." There are a whopping six burger choices, including: Fieri's award-winning Bacon Mac-N-Cheese with applewood smoked bacon, six-cheese mac-n-cheese, cheddar, lettuce, tomato, onion, pickle, crispy onion straws, Fieri's signature Donkey Sauce, garlic-buttered brioche bun; The Mayor of Flavortown seasoned pastrami, swiss cheese, caraway slaw, pickles, Dijon mustard and Donkey Sauce on a garlic-buttered pretzel bun; and the Prime Time American Kobe with American-style kobe beef, smoked gouda, cheddar, caramelized onion jam, lettuce, tomato, onion, pickle, crispy onion straws, Donkey Sauce, garlic-buttered brioche bun.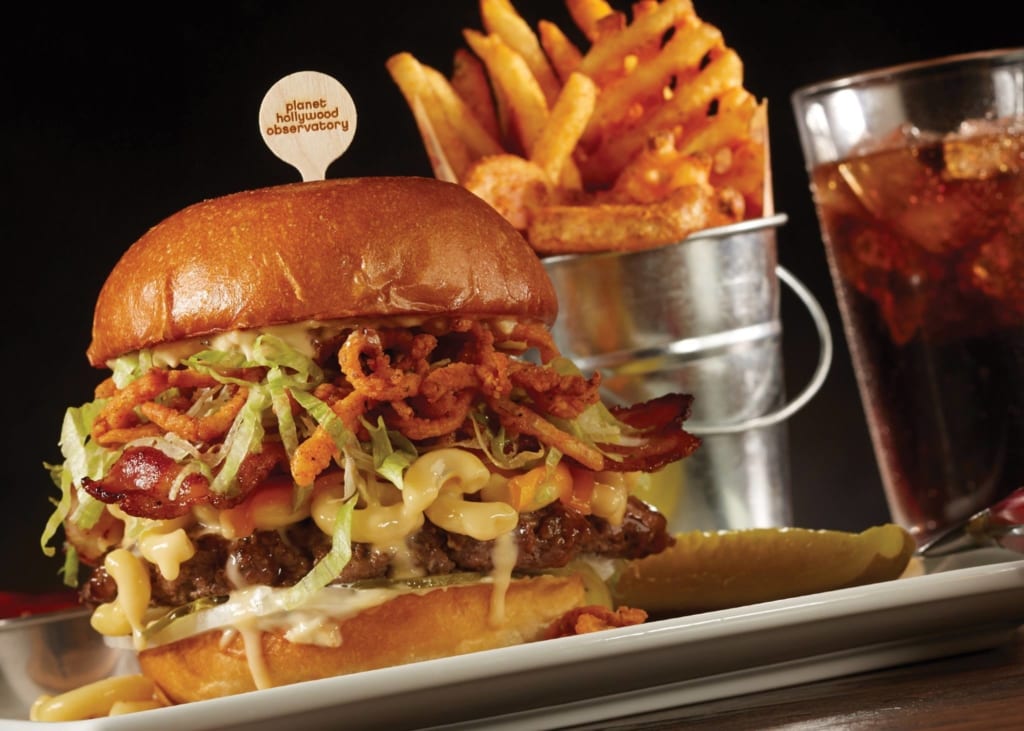 Vegetarians will be happy too because Vegetarians there will be a freshly-made Morgan's Veggie, a burger of black and white beans, chickpeas, oats, artichokes, roasted red pepper with cilantro aioli, lettuce, tomato, onion, pickle, toasted wheat bun and a Pimento Grilled Cheese six-cheese mac-n-cheese, pimento cheese, garlic-buttered sourdough. My mouth is watering and I'm a meat-lover!! 😉
Also on the menu will be some richer more upscale offerings such as Lobster Fra Diavolo, a spaghetti favorite served in a whole lobster shell and a Sesame Ginger Salmon with cilantro rice are two of eight gussied-up specialty offerings. Steak and Rib selections – including the 20 ounce, bone-in NY Strip Steak for two served with roasted garlic and herb butter, steak fries and green bean blend – can now be upgraded to "surf & turf" status with the accompaniment of a whole steamed lobster.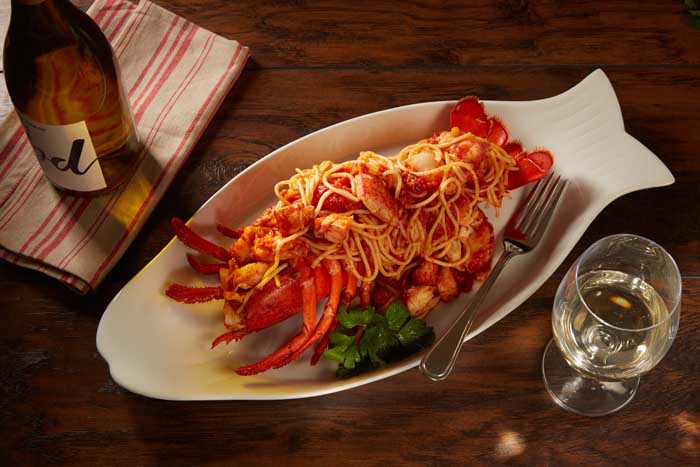 Right now your arteries are probably beginning to close, so don't worry, there will be healthy options for guests including a selection of five fresh salads like the Citrus Kale, a combination of kale, julienned broccoli, slivered Brussels sprouts and cabbage, feta, grapefruit, oranges, cranberries, sunflowers seeds, agave dressing; and Spinach & Berries with candied walnuts, bleu cheese crumbles and balsamic vinaigrette.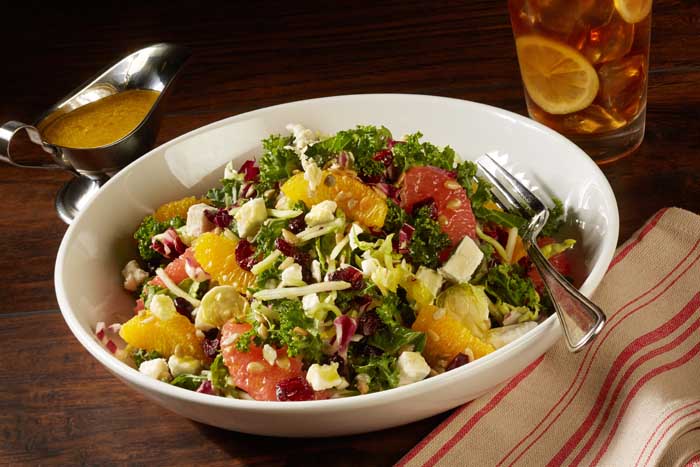 Last but not least we can't forget Dessert!!!
The new extreme milkshakes seem to be all the rage right now, and the new Paddlefish restaurant in Disney Springs looks like it has something similar, and these look outstanding!! "Hand-Dipped and Whimsical Milkshakes" include Chocolate Comet and Strawberry Borealis. Look at all the candy pieces and stuff just falling out of the milkshake glasses…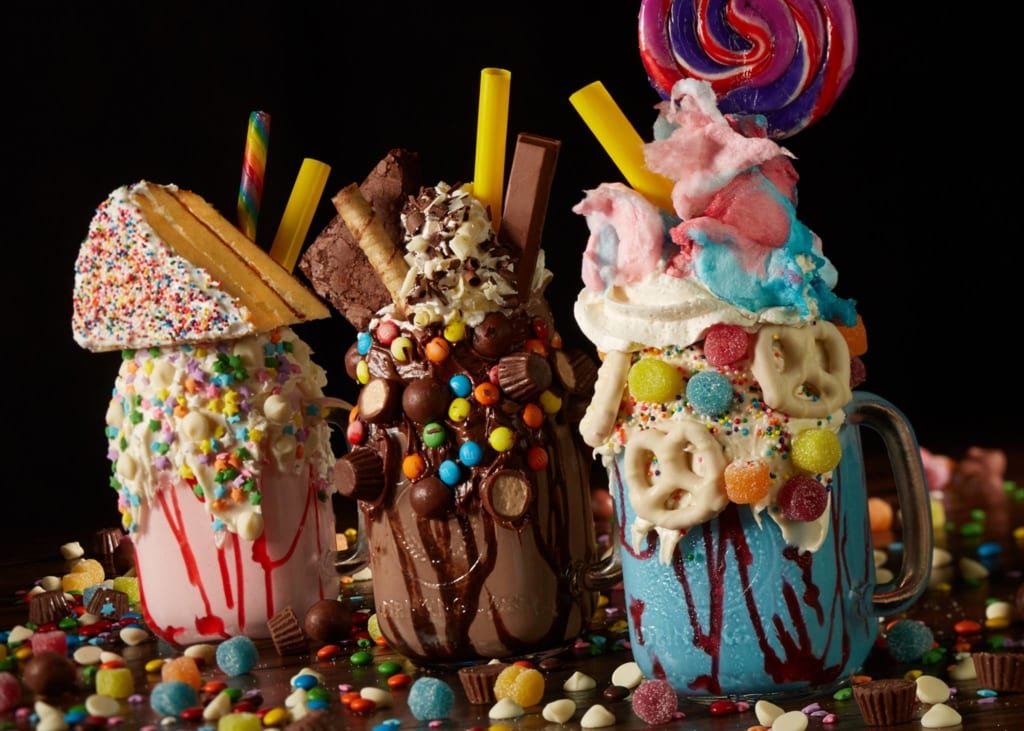 The Cosmic Cream Challenge is a blind tasting of 12 flavors of house-made ice creams and sorbets…sign me up please!!!
Planet Melt Down which is a chocolate hardshell dome, melted tableside by hot chocolate sauce to reveal double chocolate fudge cake, fresh strawberries and whipped cream; and Brownie Sundae Martini, 12 decadent chunks of freshly baked brownies layered with six scoops of vanilla and chocolate ice cream with toppings.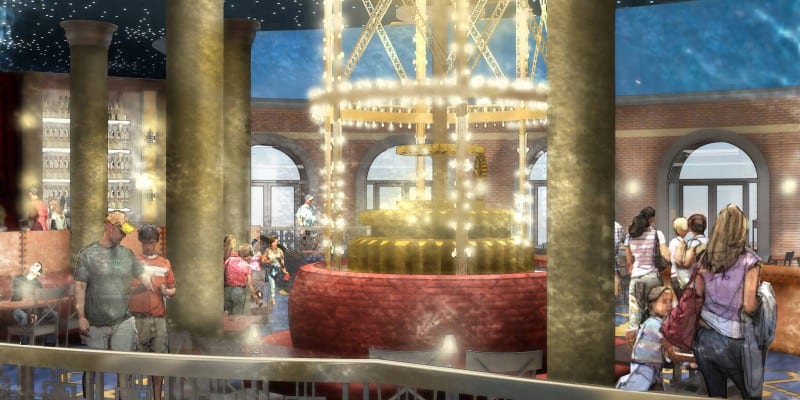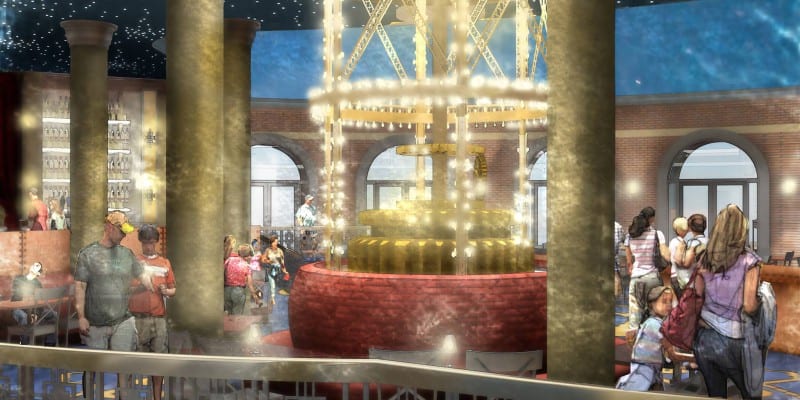 Also a great new feature of Planet Hollywood Observatory, is just what it says in the name it self…"Observatory" The Stargazers lounge will be decorated like you are in an observatory, relaxing, looking up at the stars while sipping on your beverage of choice. There will be live music to listen to while you're in there too!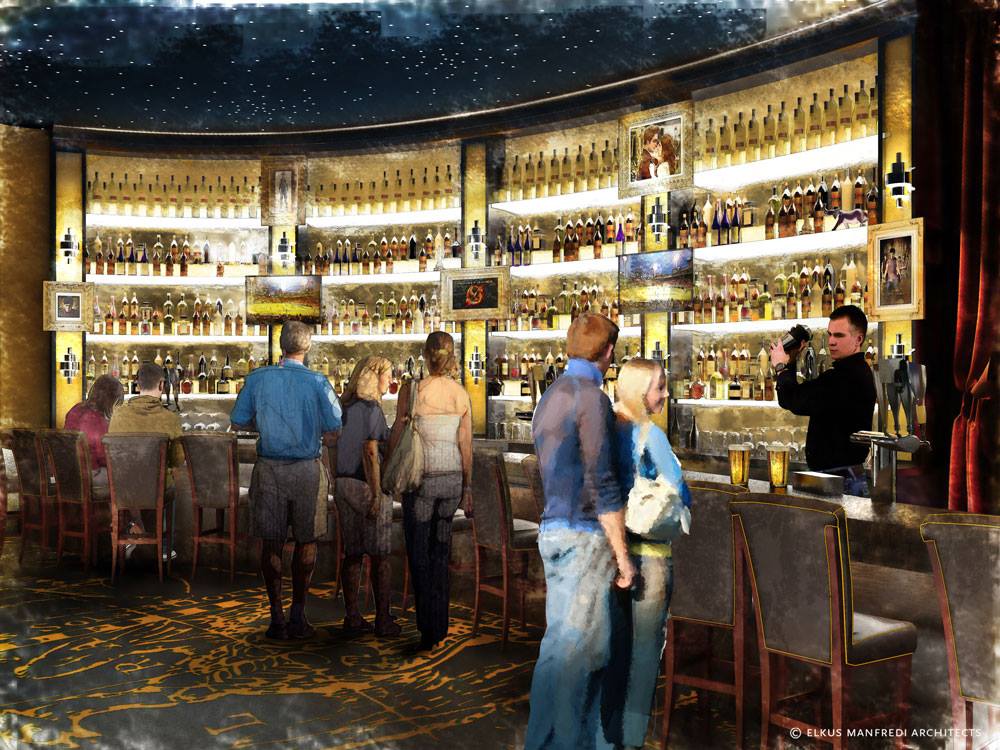 There will be a dedicated menu focused on Florida craft beers from breweries like Funky Buddha, Bold City, Cigar City and Swamp Head and has hand-crafted cocktails made with local fresh ingredients, like the Cosmic Mule New Amsterdam vodka, Limoncino Bottega & Real ginger-infused syrup. Many of the drinks will be served in whimsical huge signature glasses to keep in theme with the observatory, including the Halley's Comet served in a 45 oz. Planet-bowl and the Planetary Punch Monkey served in a 21 oz. Comet Glass.
Overall Planet Hollywood Observatory is looking like it's going to be a smash hit, and I can't wait to book a table when it opens up!
Reservations can be made as early as December 15th so really it's right around the corner. Keep on the lookout for more Planet Hollywood Observatory Updates
If you enjoyed this article, as always I appreciate it if you'd share it with others via social media. I work hard at making this website into a useful resource for you and your family to plan your visit to Walt Disney World, and I hope it can help you! Thanks 🙂
Your Thoughts:
I want to know what you think about the new Planet Hollywood Observatory menu details. What do you think of the new menu? What would you add or take away? Let us know in the comments section below! 🙂
Photo Credit: Planet Hollywood's Facebook Page