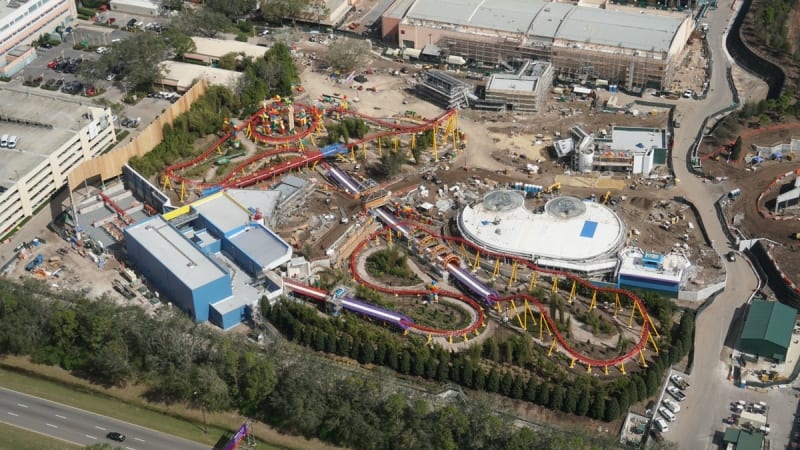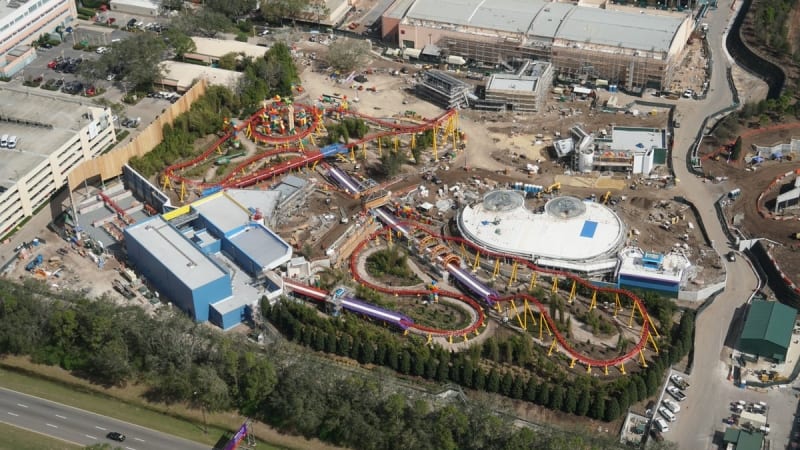 This is a Toy Story Land Construction Update for February 2018. We now know that Toy Story Land will open June 30th!! Toy Story Land construction is now going into overdrive and everyday it seems like some new details are visible. We know you don't get to visit Hollywood Studios everyday, so we're bringing you this Toy Story Land update so you can see what's happening for yourself!
A whole lot of stuff has been finished since our December construction update, and visible progress is being made on Slinky Dog Dash Coaster, Alien Swirling Saucers, Toy Story Midway Mania and the quick service location Woody's Lunch Box. Thanks to @biorecontruct on Twitter, we were able to take a bird's eye view of Toy Story Land and see what construction progress is happening.
Here's the current state of Toy Story Land in Hollywood Studios. Let's start with where you'll be going first when it opens, The Entrance:
So here is the entrance to Toy Story Land as seen currently from Pixar Place: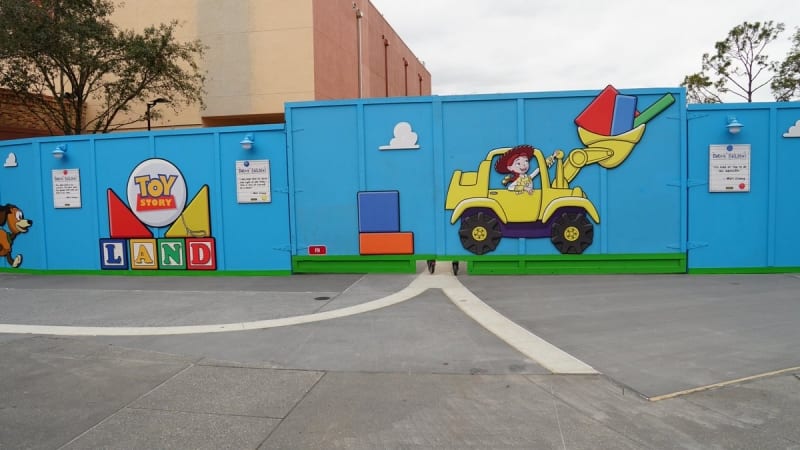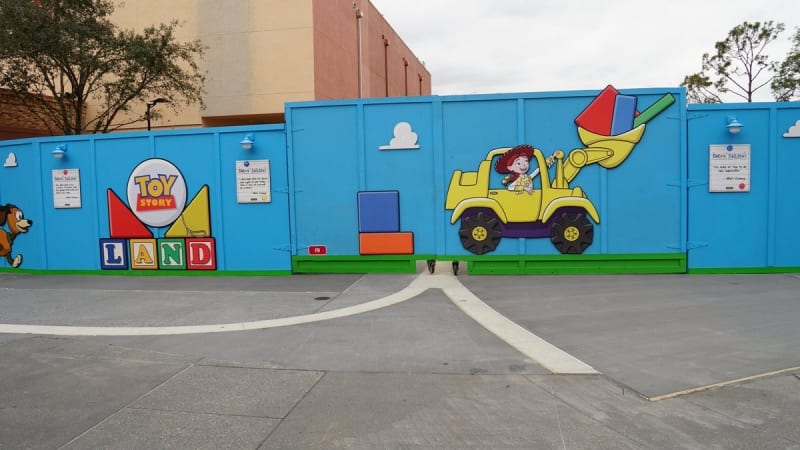 You'll notice changes in the pavement and also that the fence separating us from Toy Story Land has been moved forward: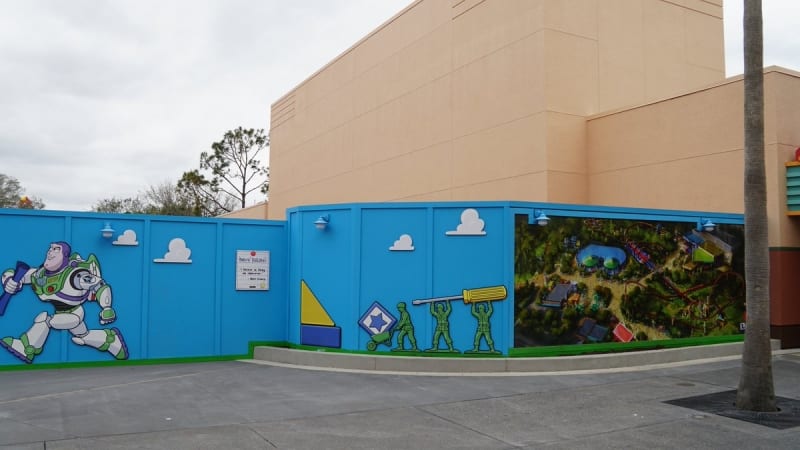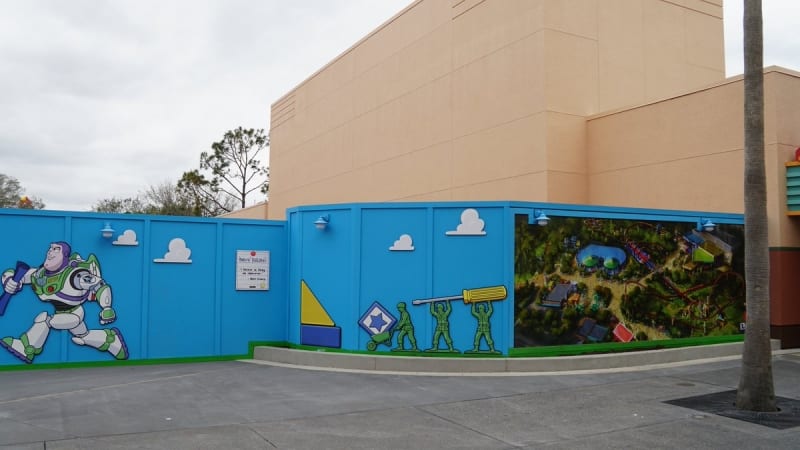 This shot gives you a bird's eye view of the fence, but from this angle you're behind the fence, located in the top middle of the picture. That empty walkway will be where guests come into Toy Story Land: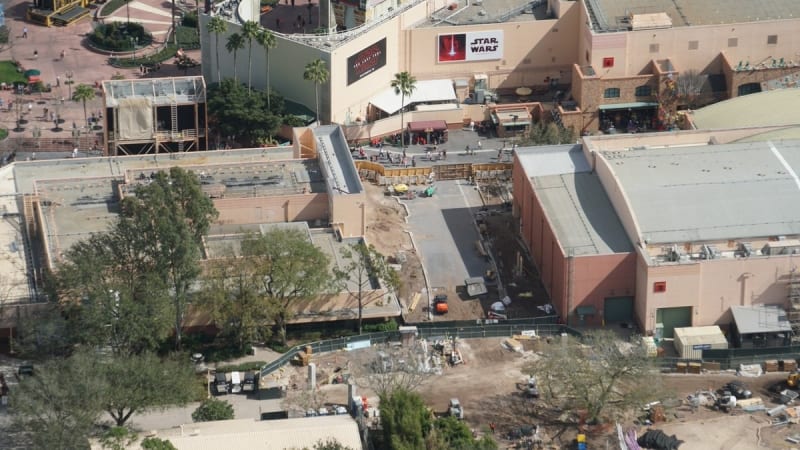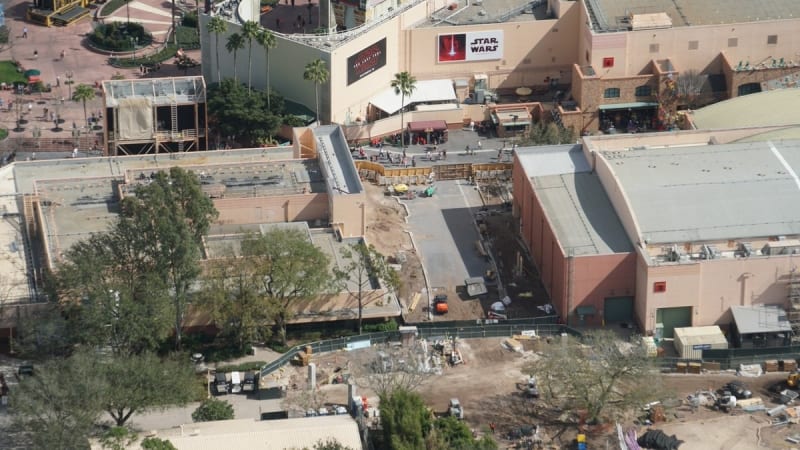 In this view you are still looking at where the entrance will be along side the Toy Story Midway Mania building. Notice the yellow arrow on the right which is pointing at a post put in the ground: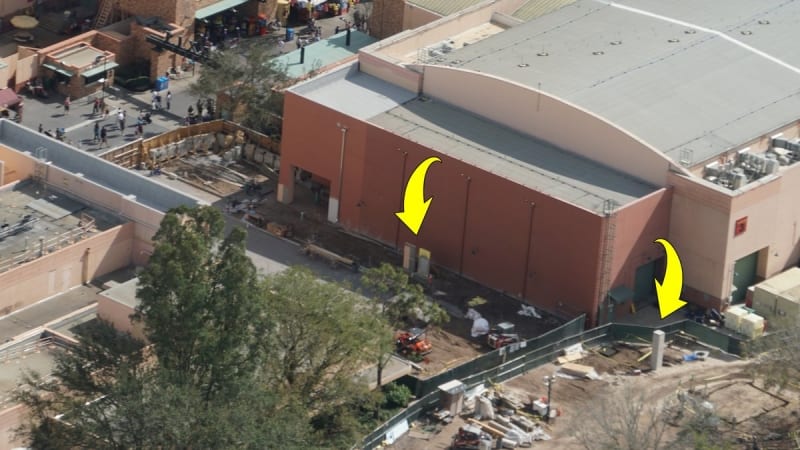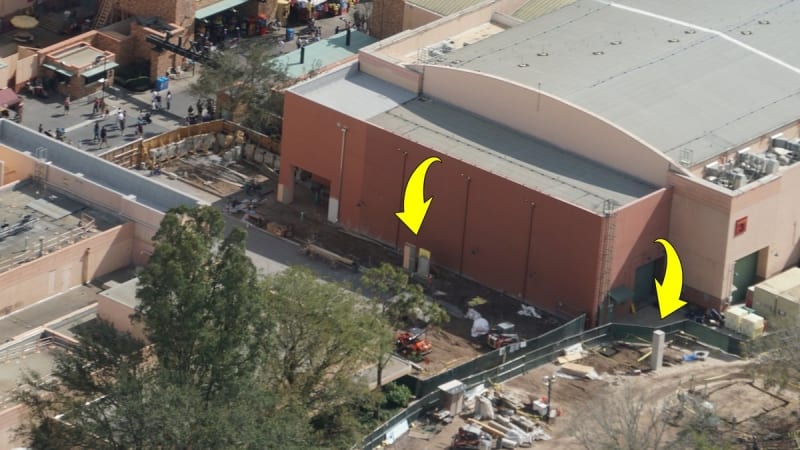 That post will be part of a backstage gate which you can see indicated in the model on display in Disney's Hollywood Studios in the Walt Disney Presents attraction: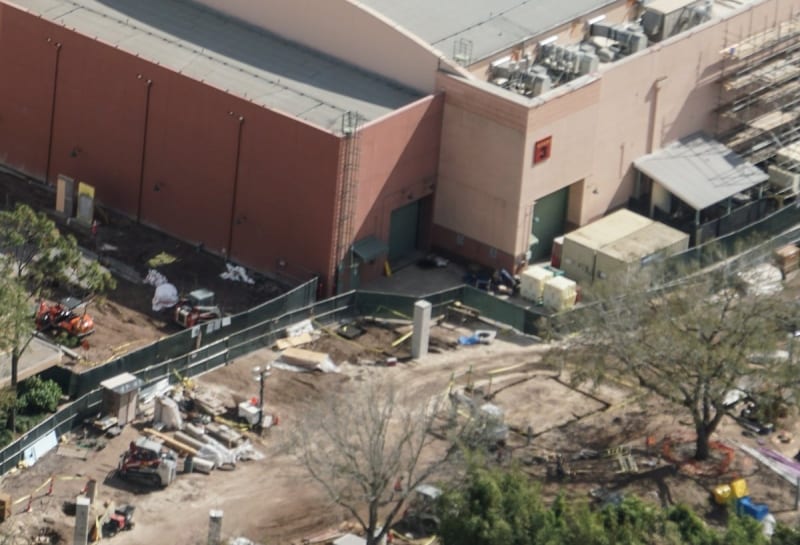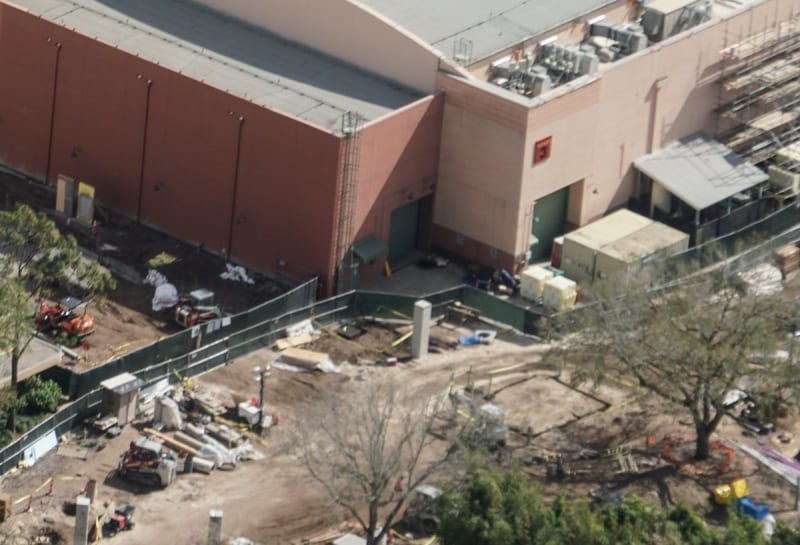 Here it is in the model: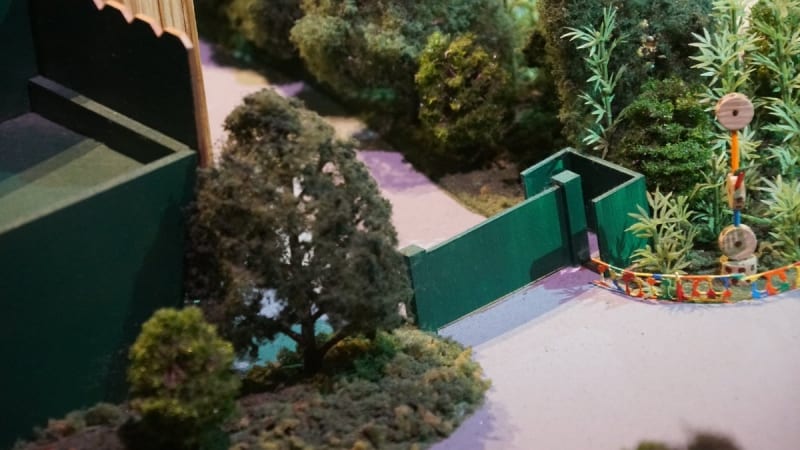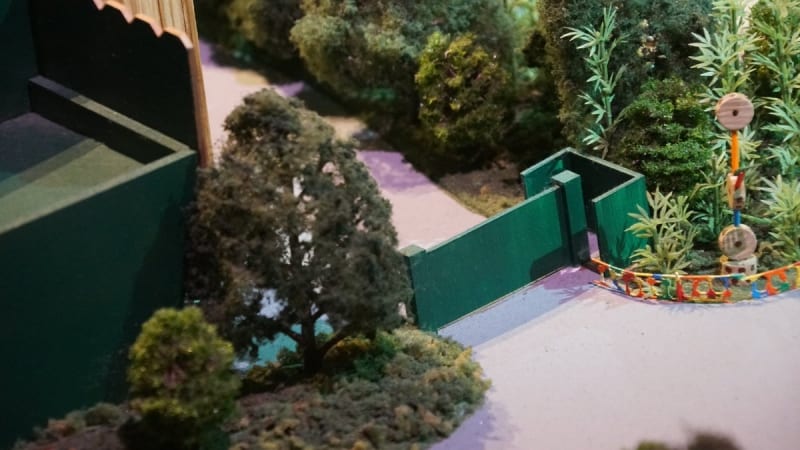 Speaking of Toy Story Midway Mania, here is a good aerial shot of the side that will sit in Toy Story Land at the top of the photo. You can see Slinky Dog Dash Coaster at the bottom and Woody's Lunch Box in the middle right: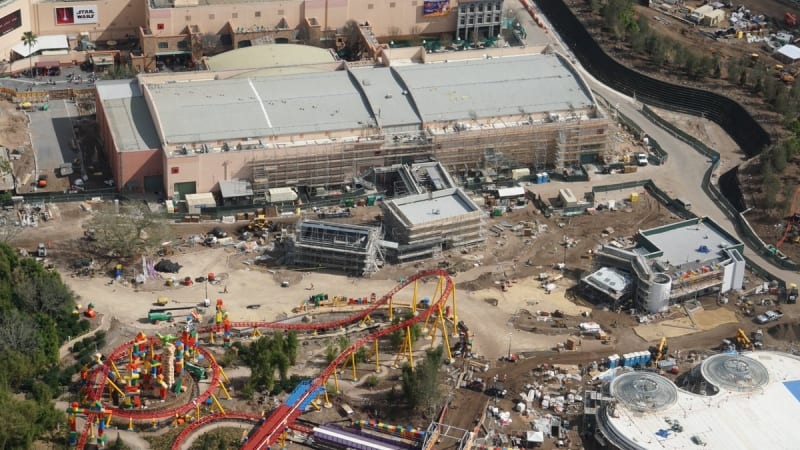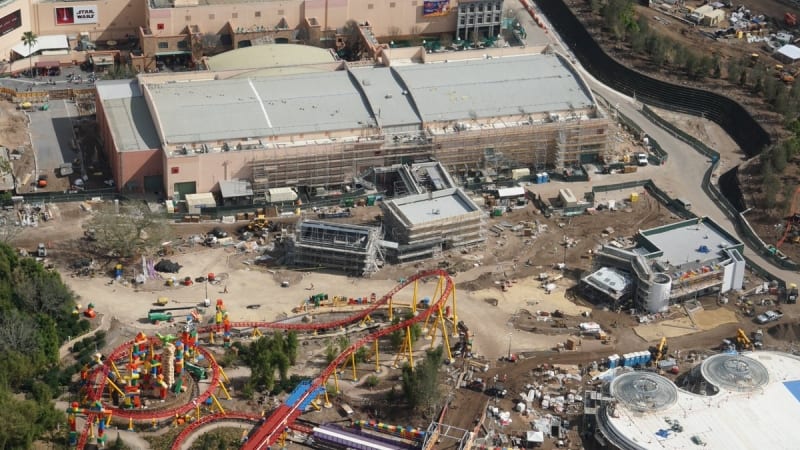 One thing I wanted to point out before moving on was on the Toy Story Land Main Entrance. We noticed is the difference in the way the Toy Story Land Entrance has evolved since the earlier concept art. Here is a shot of the entrance in the early concept art first, the notice how much more detailed it was than the second concept art which will be the final result:
It's disappointing to see the difference in the entrances, the first version looked much more engaging and interactive. Look at the big difference with Slinky Dog Dash Coaster too. The other one was almost half-underground and looked way cooler from an ambiance standpoint. That's what happens in the U.S. Disney Parks unfortunately though. Cost-cutting is king and when it runs out, something has to go. Why can't the U.S. Disney Parks be more like Japan??
Disney recently announced that Midway Mania will not be giving FastPass+ Reservations in April and May and the attraction will be stand-by only. That's because the tracks will be closing one at a time while a brand new interactive attraction queue which you see below is being put in: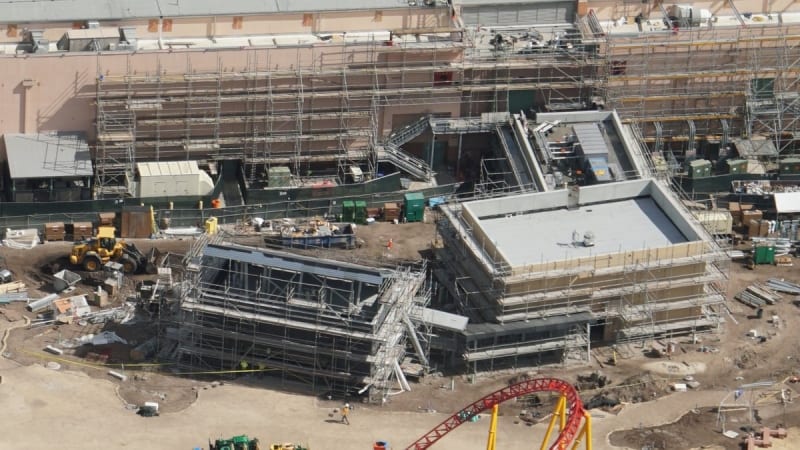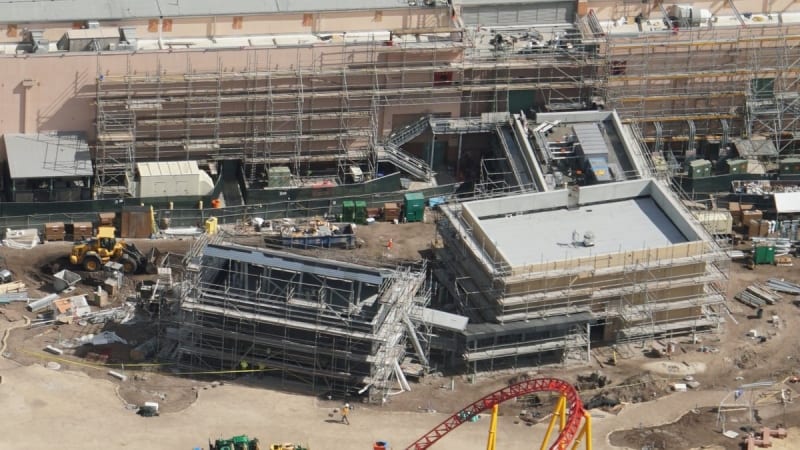 Progress on the Quick Service location Woody's Lunch Box is moving at light speed: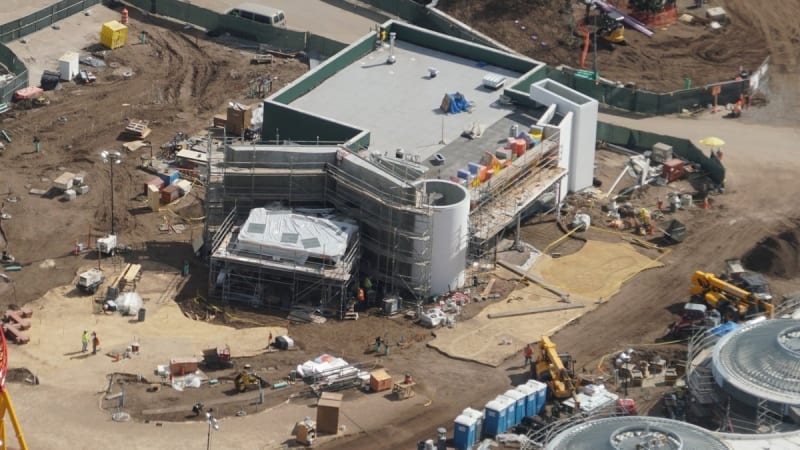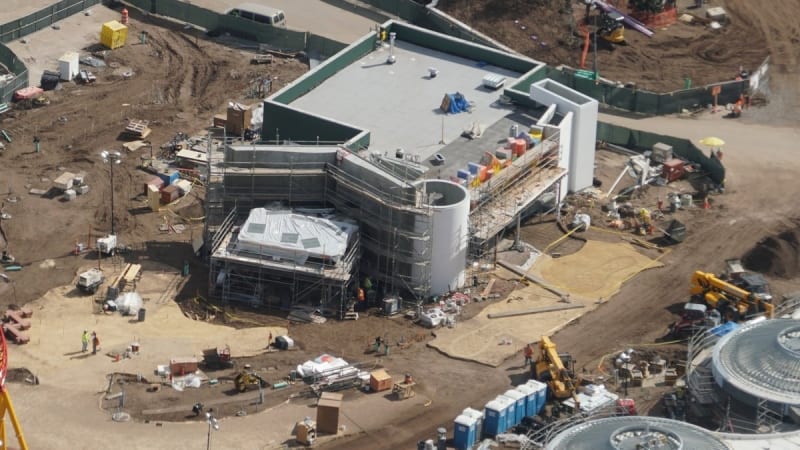 Here's what it will look like when it's finished: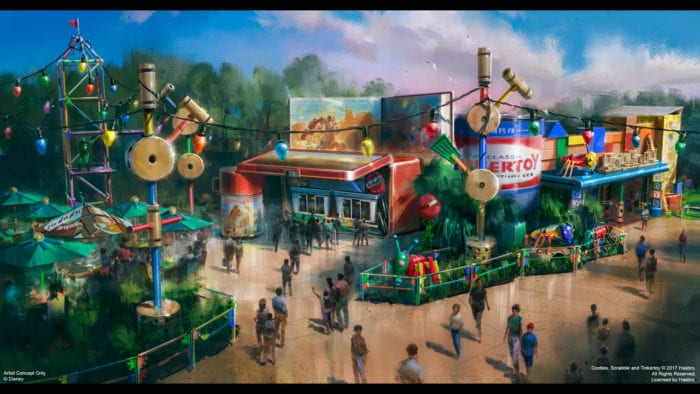 In this shot you can see the South end of Slinky Dog Dash at the bottom and Alien Swirling Saucers at the top. Trees and other greenery is really starting to sprout around the coaster and it looks like it's pretty close to completion: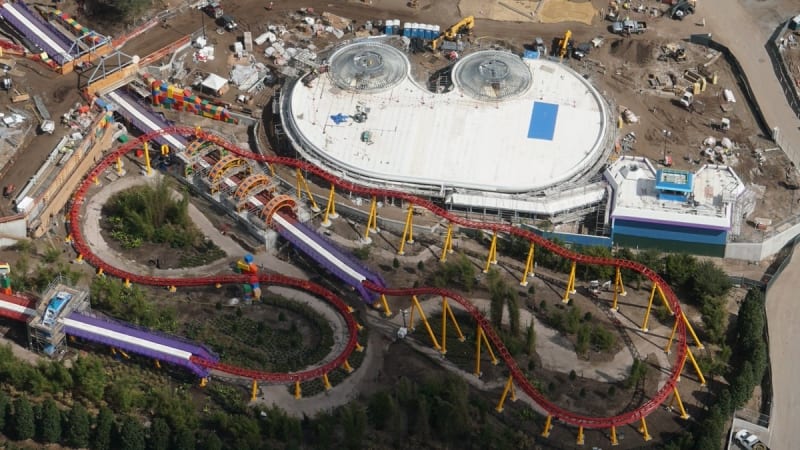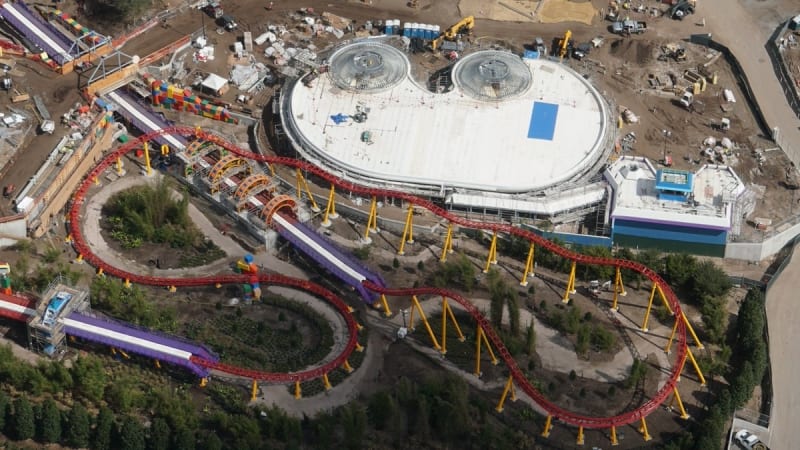 Speaking of Alien Swirling Saucers, we got a look at some new concept art for the attraction last week which looks like a Toy Story version of Mater's Junkyard Jamboree in Disney California Adventure: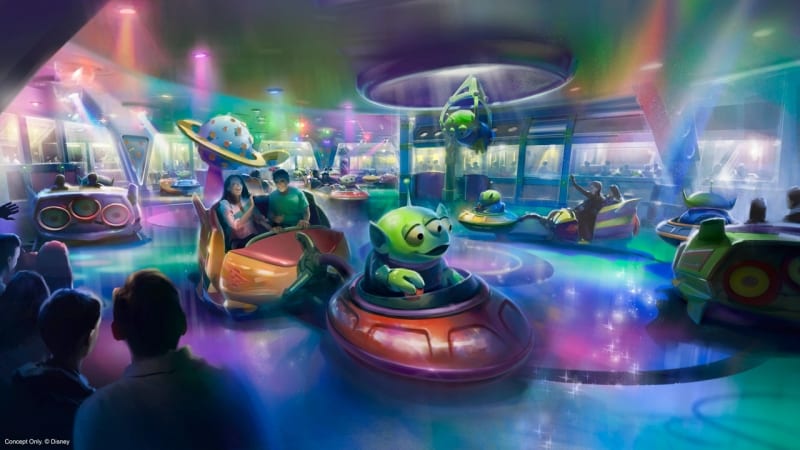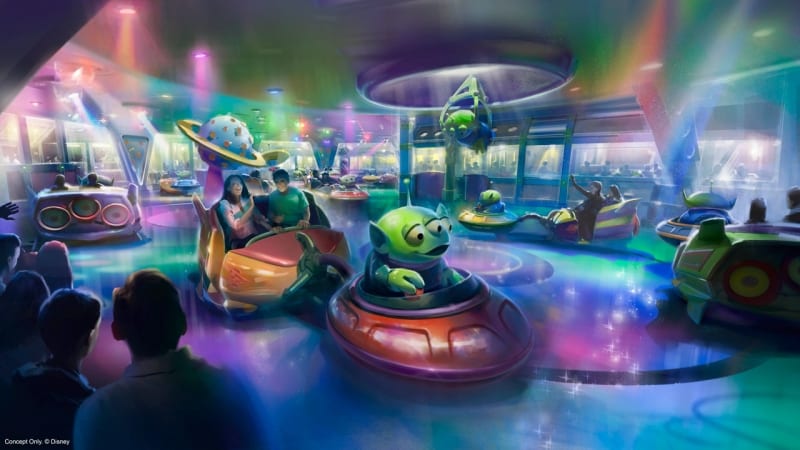 Scaffolding is still up around the Power Boost Rings, but it looks mostly like final details. We learned recently that Slinky Dog Dash will have an on-ride photo, will this be the location as you're going through the power rings?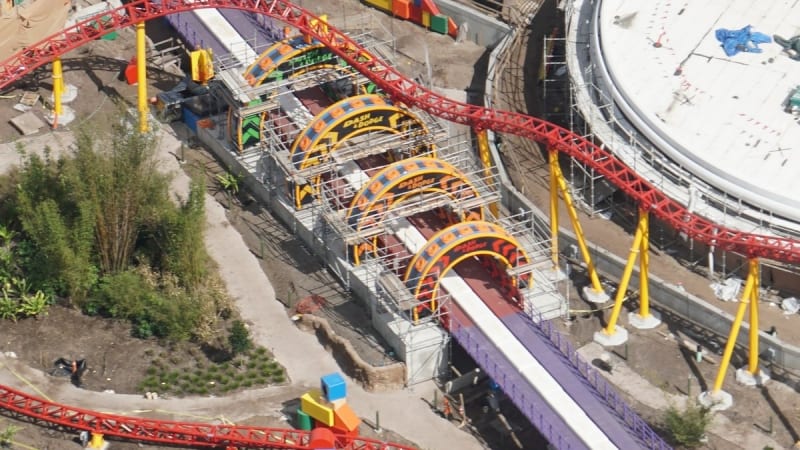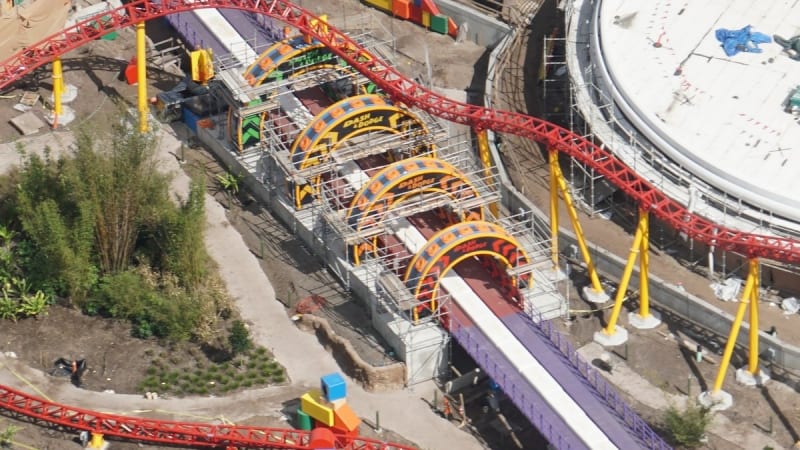 Here's a side shot of the Power Boost Rings at the top and where the arrow is you can see one of the Green Army Men right above the return to the station: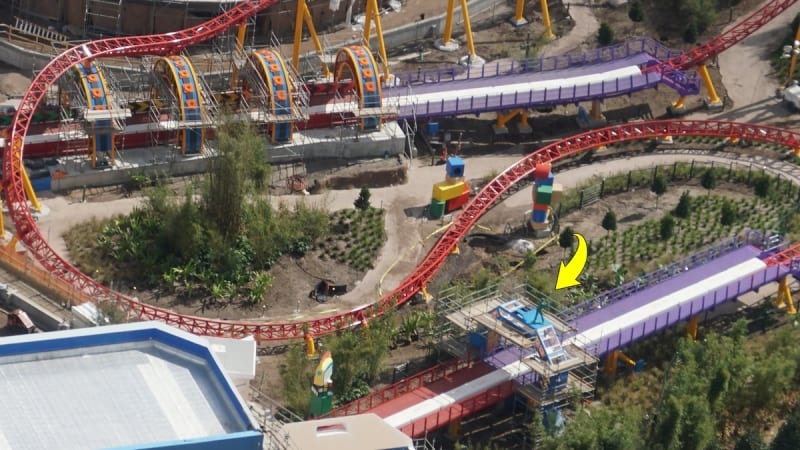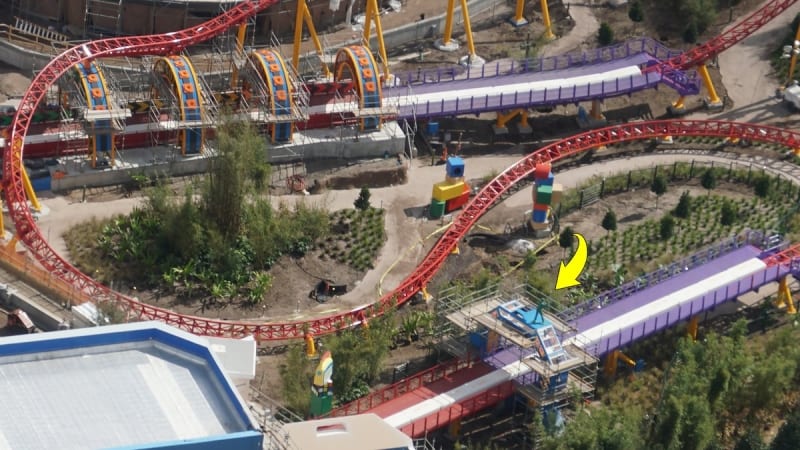 Now to the North end of Slinky Dog Dash you can see the curvy part where the track loops around Rex and Jessie. Also at the bottom left you can see the train holding area: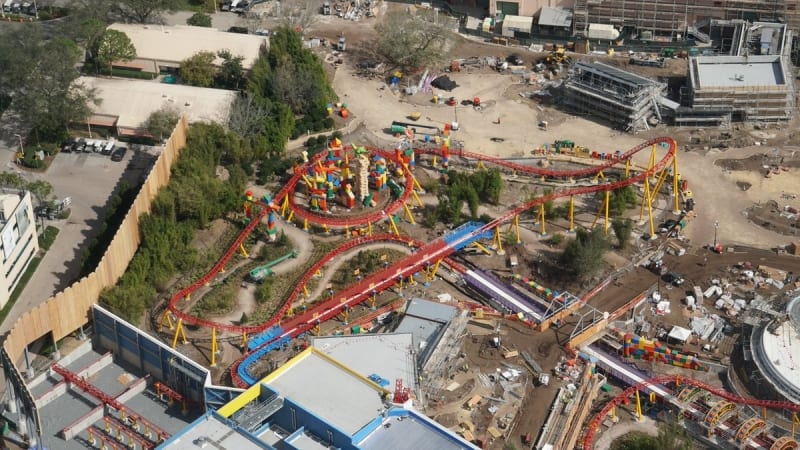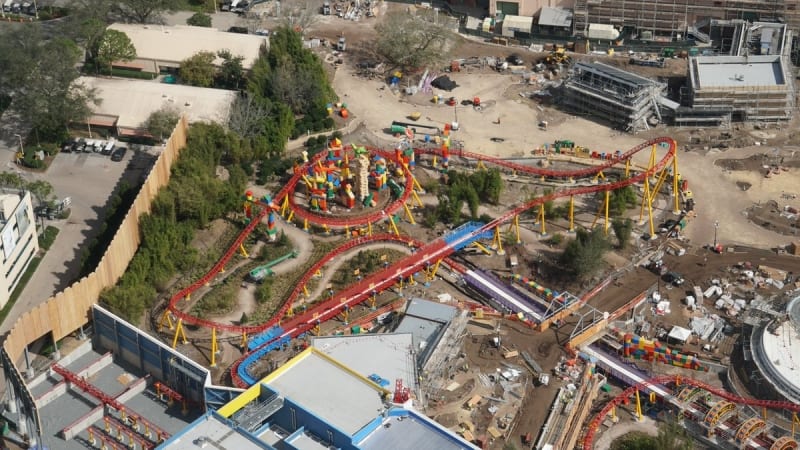 Close up of Rex and Jessie. All the blocks around them really look awesome and Jessie is lassoing Rex with a string of lights: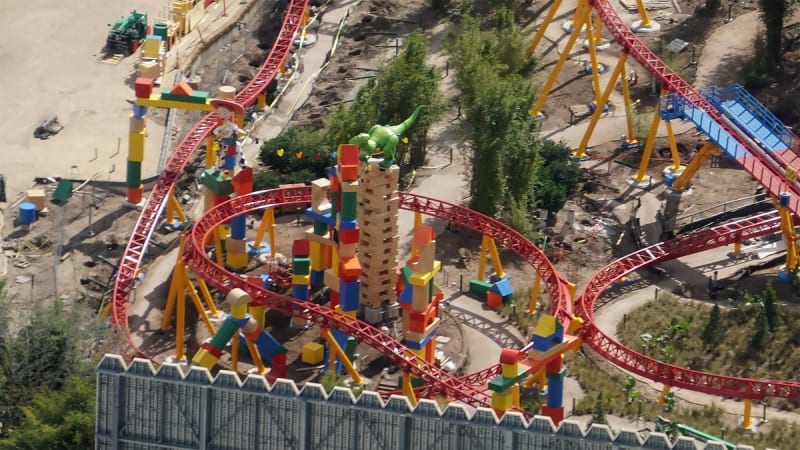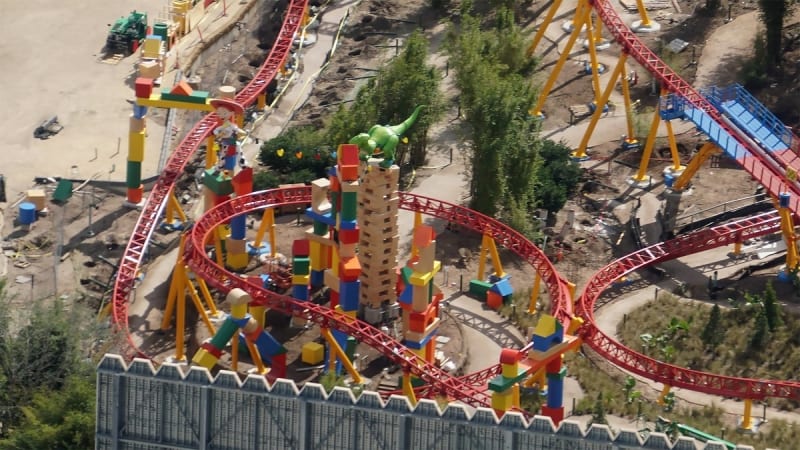 In this final shot you can see Toy Story Land to the bottom and Star Wars Galaxy's Edge on the top right. Where the arrow is is where the entrance linking these two new lands will be located. Expect enough theming around the entrance and between the lands to hide your view from one land to the other: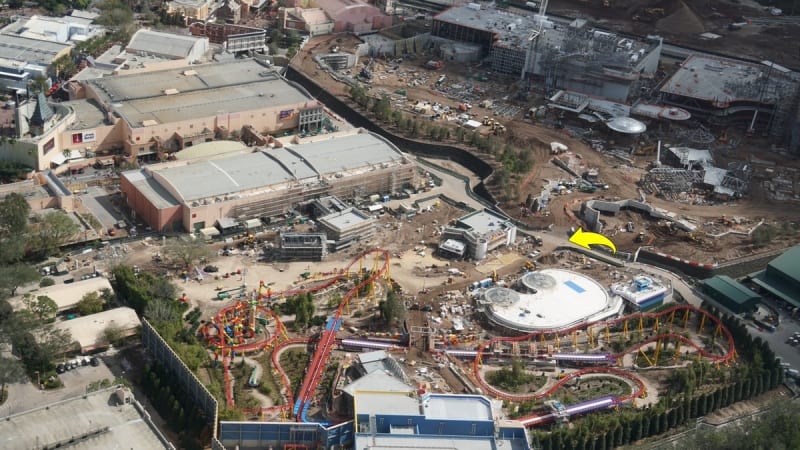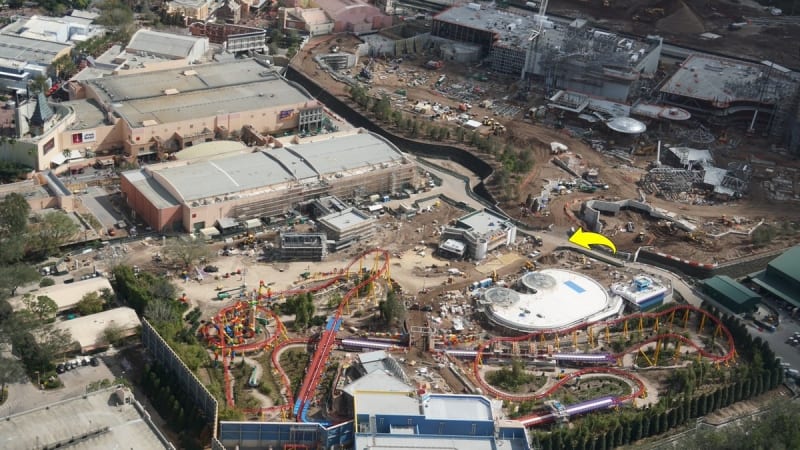 Disney announced that Toy Story Land will be opening June 30th, so we only have about 4 months left until the opening of Toy Story Land, so expect things to move at an even more rapid pace soon.
Don't forget to check out my Star Wars Galaxy's Edge Construction Update and Disney Skyliner Construction Update too!
Your Thoughts:
I want to know what you think about this Toy Story Land Construction Update February 2018. Are you excited for Toy Story Land? What are you most looking forward to? Let us know in the comments section below!
If you enjoyed this article, as always I appreciate it if you'd share it with others via social media. I work hard at making this website into a useful resource for you and your family to plan your visit to Walt Disney World, and I hope it can help you! Thanks 🙂
Photo Credit: @Bioreconstruct