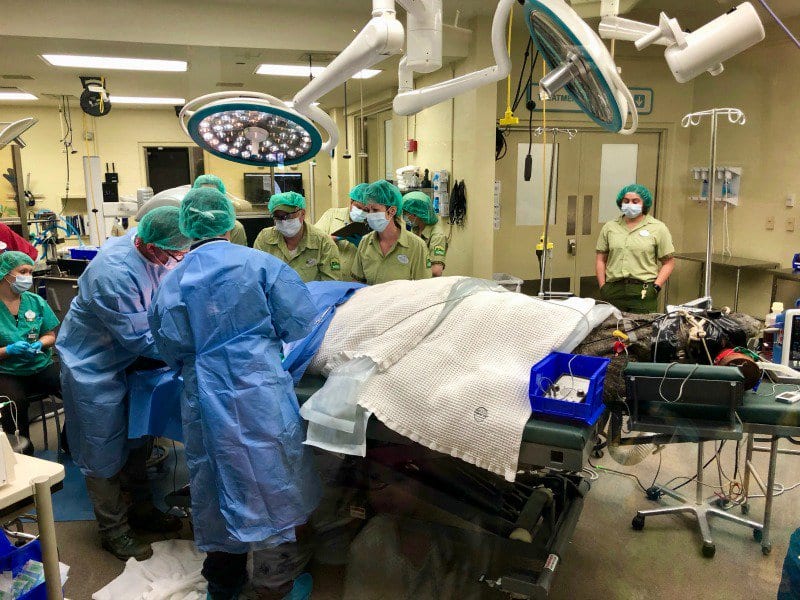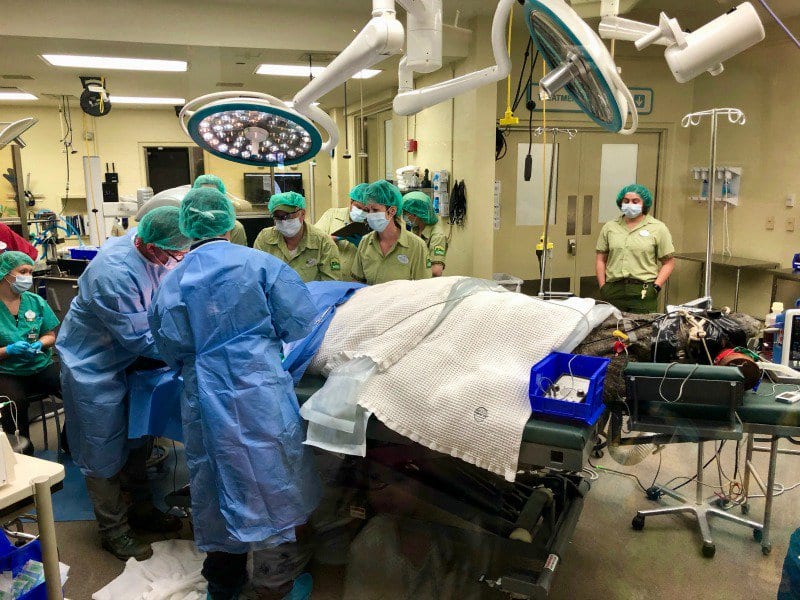 It's not everyday you get to see this. A 20+ year-old Nile Crocodile had emergency amputation surgery in Disney's Animal Kingdom because of injury he suffered getting into a fight with another crocodile. Is it a coincidence this happened on Valentine's Day? Could he have been fighting for the affection of another lovely reptile?
All kidding aside, this was a serious event for the crocodile who has lived most his life in Disney's Animal Kingdom, and was even there for the opening in 1998. This crocodile is a big boy, at 15ft long, which usually means a weight of around 1,000 pounds or more.
His foot was damaged beyond repair by another crocodile from the fight he got into, and the veterinary team at Conservation Station in Rafiki's Watch made the decision to do the amputation surgery. The surgery started at 11:30 am and the foot was gone by 1:00 pm. These types of injuries are not uncommon among Nile Crocodiles and he's expected to make a full recovery once his wound heals.
The veterinarians at Conservation Station said amputating the foot was his best chance of survival, as having a maimed foot would only make him weaker when put back in with the others. He's actually quite young as Nile Crocodiles go, as they have a life expectancy of between 70-100 years. So here's hoping he makes a full recovery and you get to see him next time out to the Animal Kingdom.
It's amazing what these veterinarians at the Animal Kingdom can do, and it's another reason to make a visit out to Conservation Station the next time you're in Disney's Animal Kingdom. You have an awesome opportunity to learn about so many of the wonderful creatures here in the park and if you show up at the right time you may get to witness another animal brought in for surgery. Truly fascinating stuff and a much over-looked place in Walt Disney World.
Your Thoughts:
I want to know what you think about this Toy Story Land Construction Update February 2018. Are you excited for Toy Story Land? What are you most looking forward to? Let us know in the comments section below!
If you enjoyed this article, as always I appreciate it if you'd share it with others via social media. I work hard at making this website into a useful resource for you and your family to plan your visit to Walt Disney World, and I hope it can help you! Thanks 🙂
Photo Credit: WDWInfo