Last week when we got our first glimpse of Toy Story Land at night we knew it would soon be one of our favorite places to visit in Walt Disney World. We were able to check it out and do a photo tour walkthrough of Toy Story Land in the day, but we were even more excited about seeing it all light up at nighttime. Since Toy Story Land has opened we've stayed till the very end and closed down it which gave us the perfect opportunity to get some good night shots of the land.
Here's why we like it so much…
Walking up the entrance you see Woody as normal, greeting guests: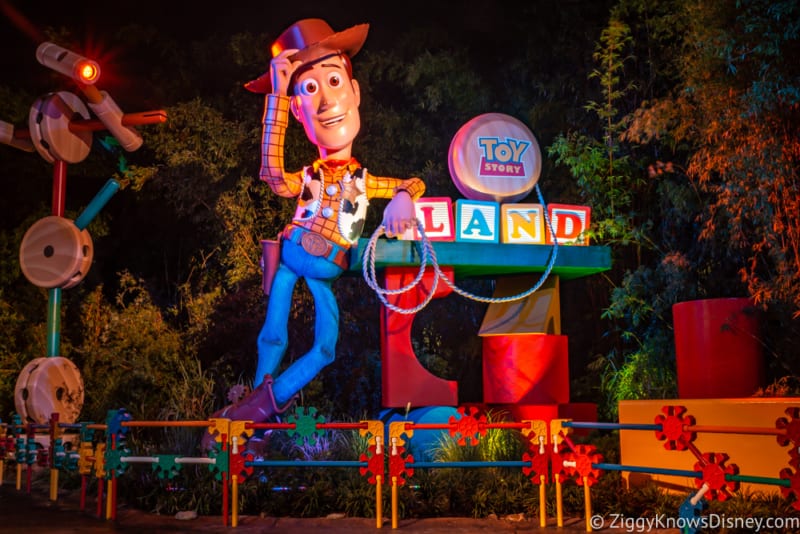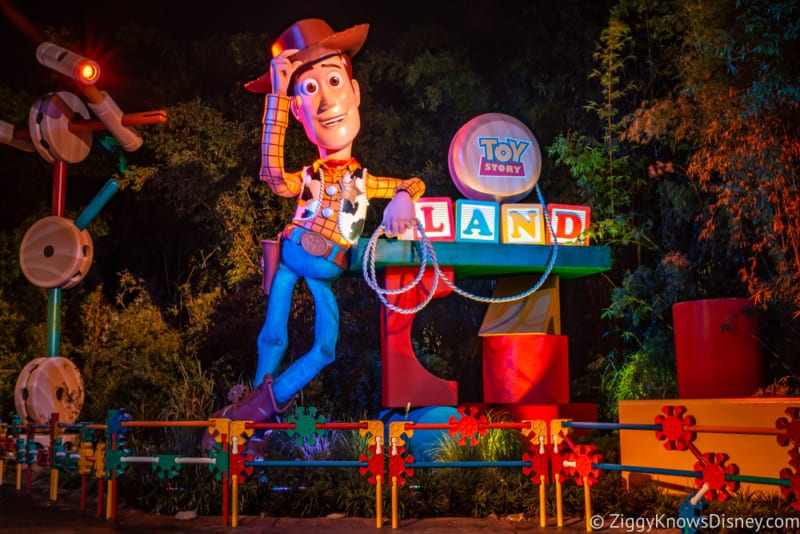 Right when you come around the corner you can see Toy Story Land is abuzz with action: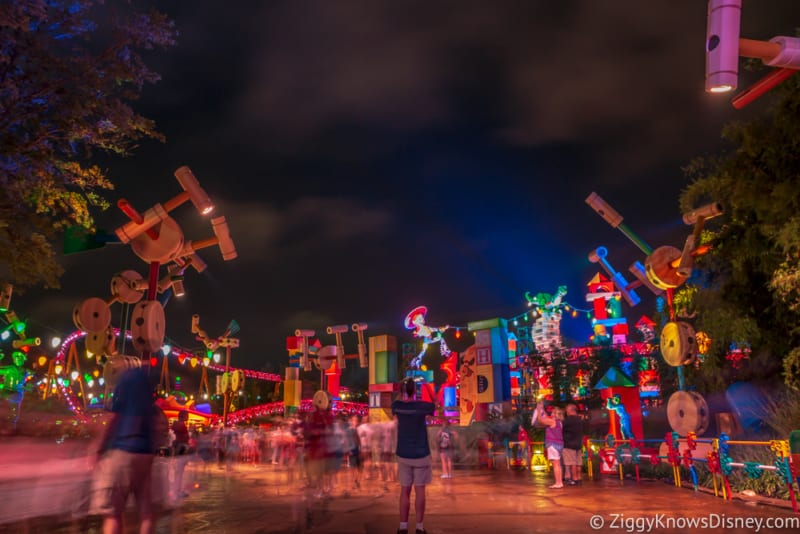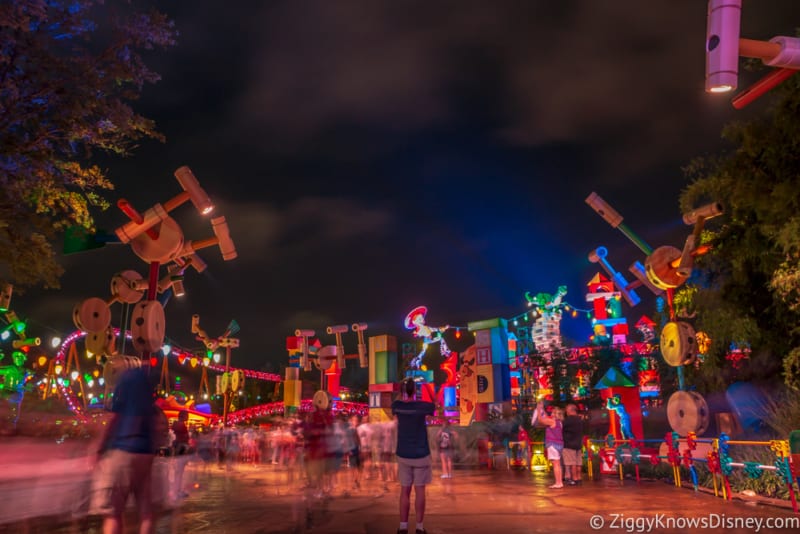 The lights hanging over the walkway are like magic: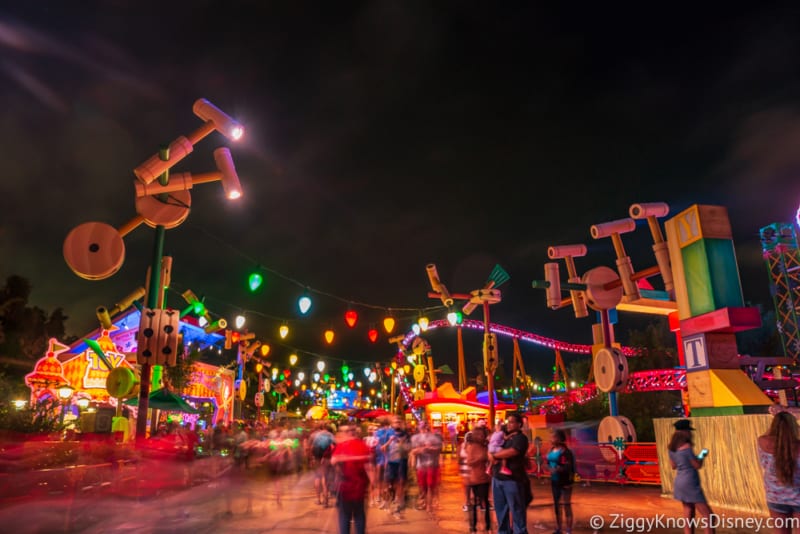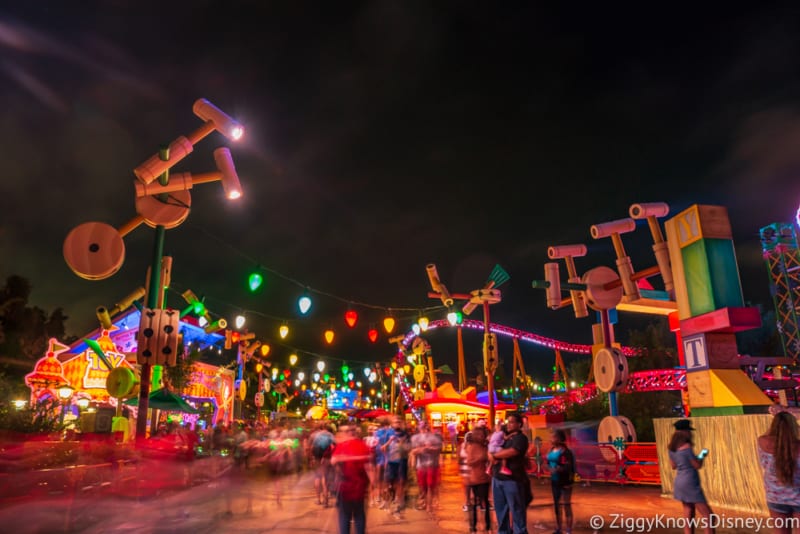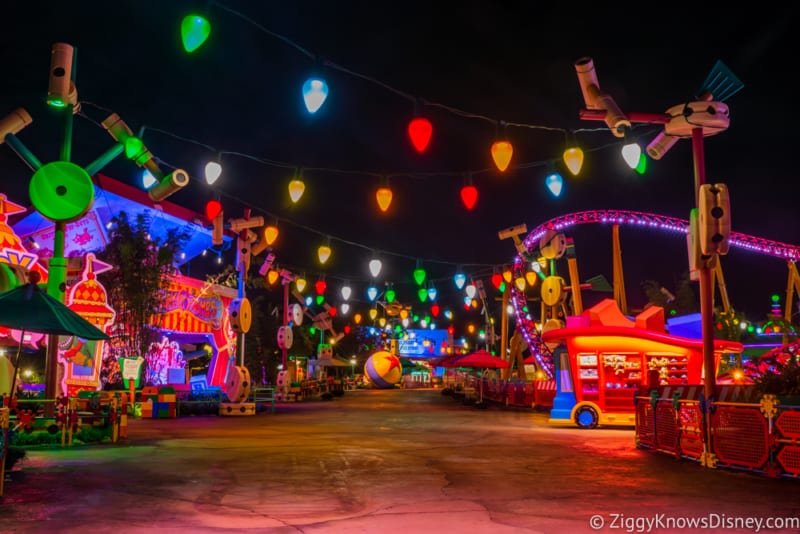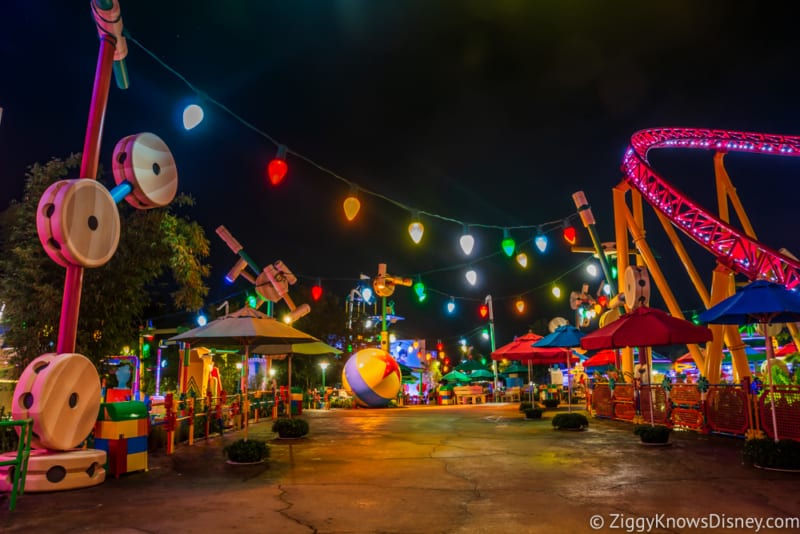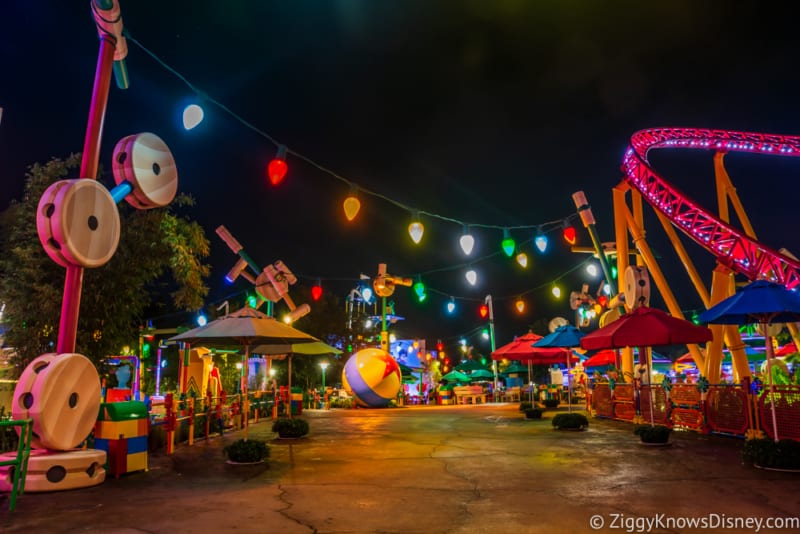 Another great thing about Toy Story Land at night is that is much cooler and much less crowded. There aren't many shaded spots during the day but now that doesn't matter!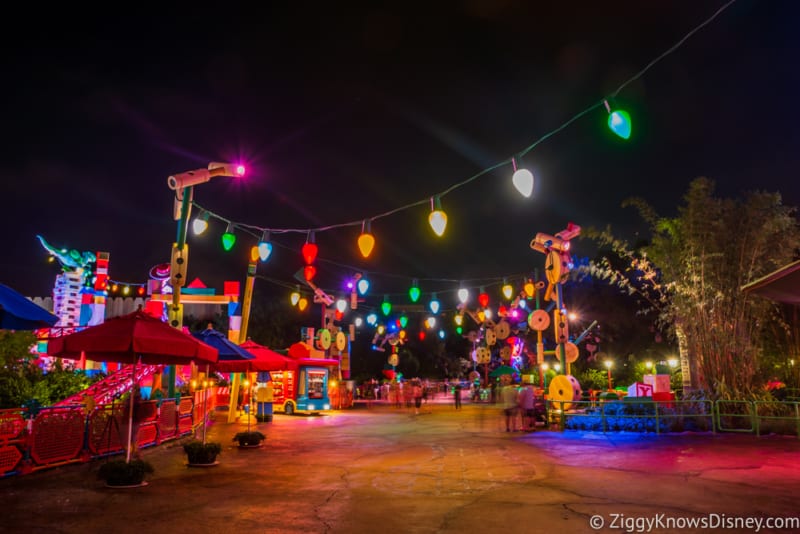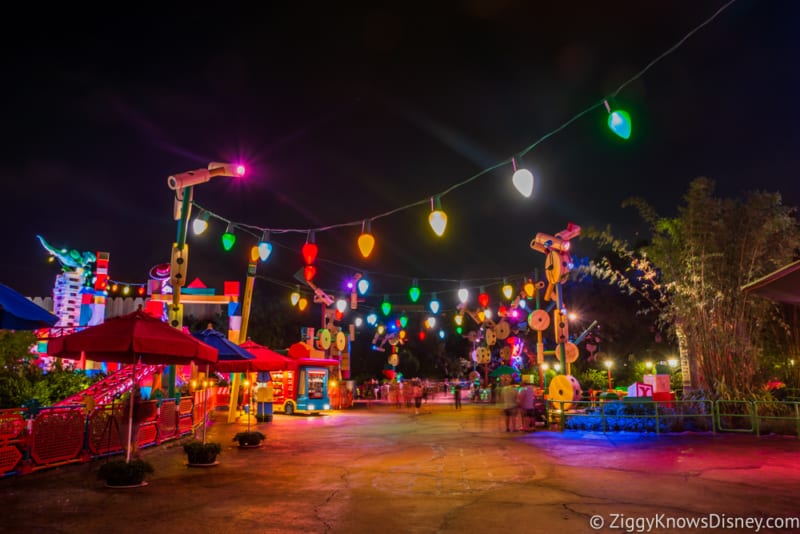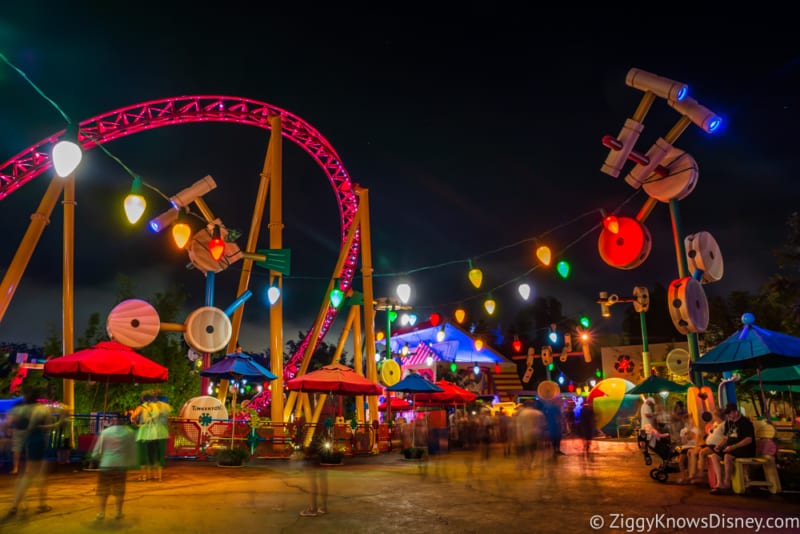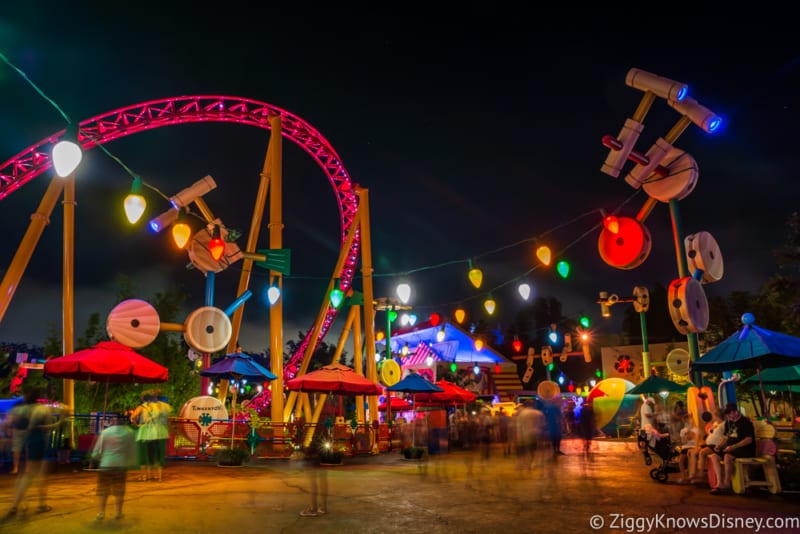 Luxo ball!!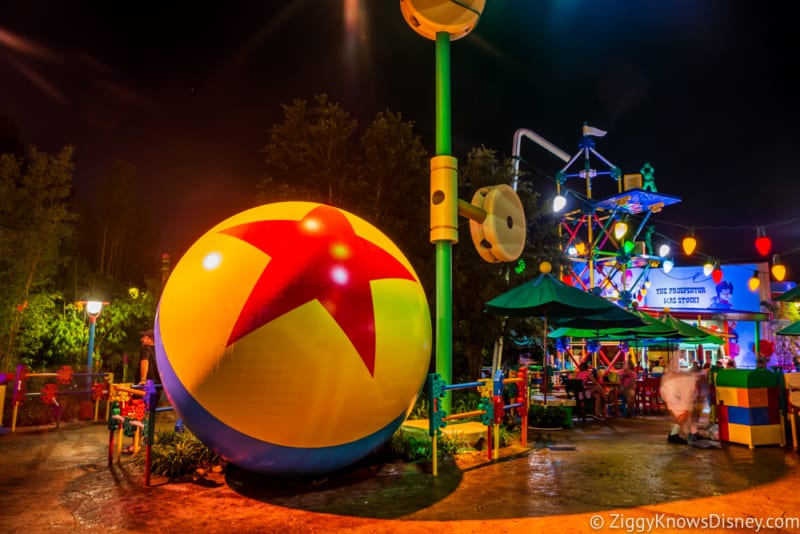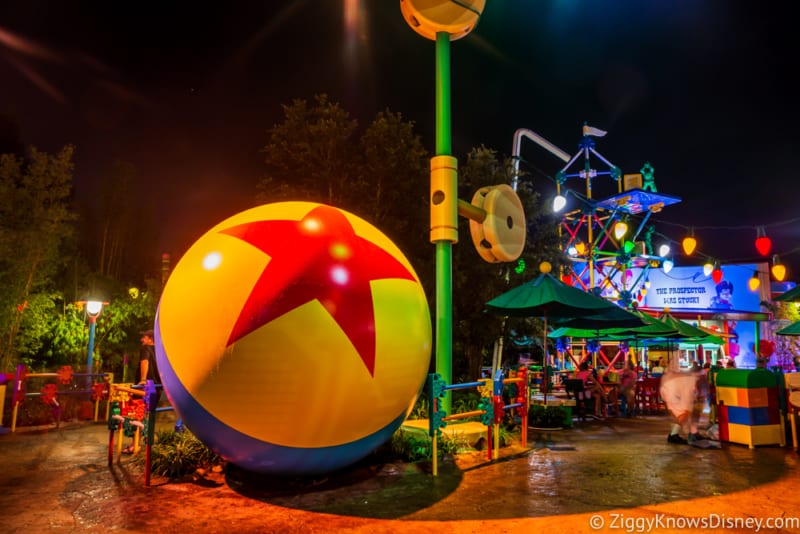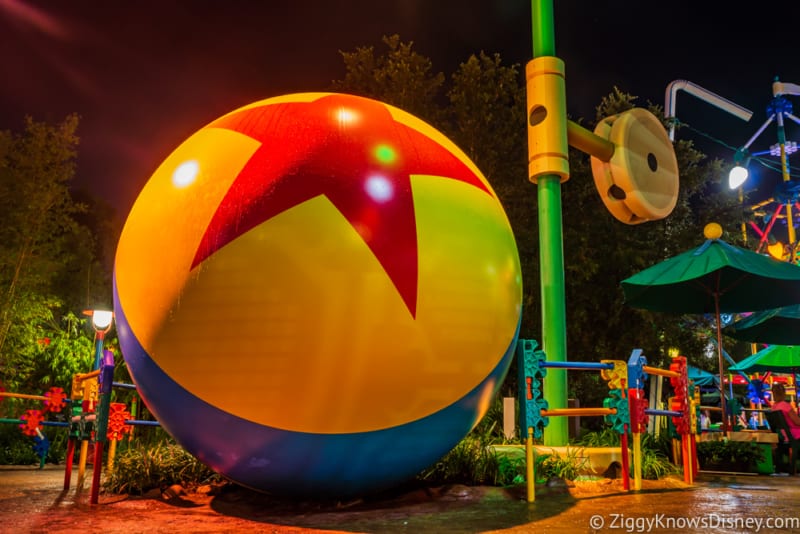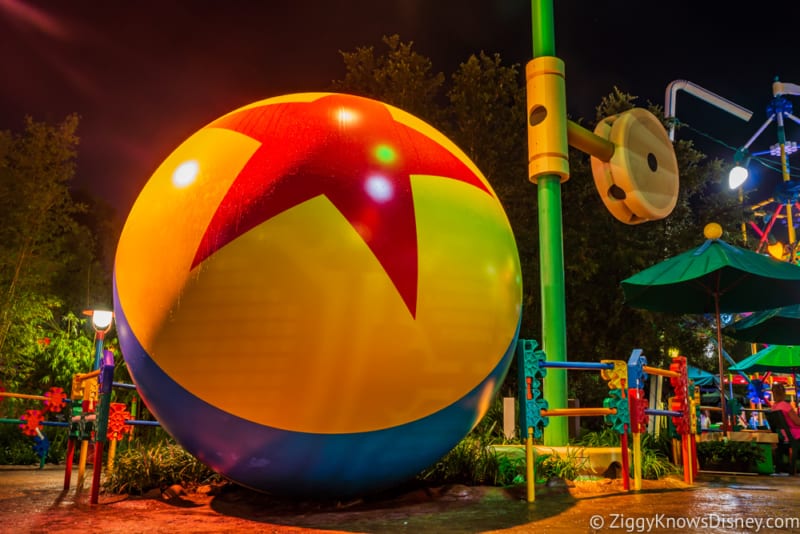 Woody's Lunch Box is our new favorite spot in Hollywood Studios and we love it just as much at night!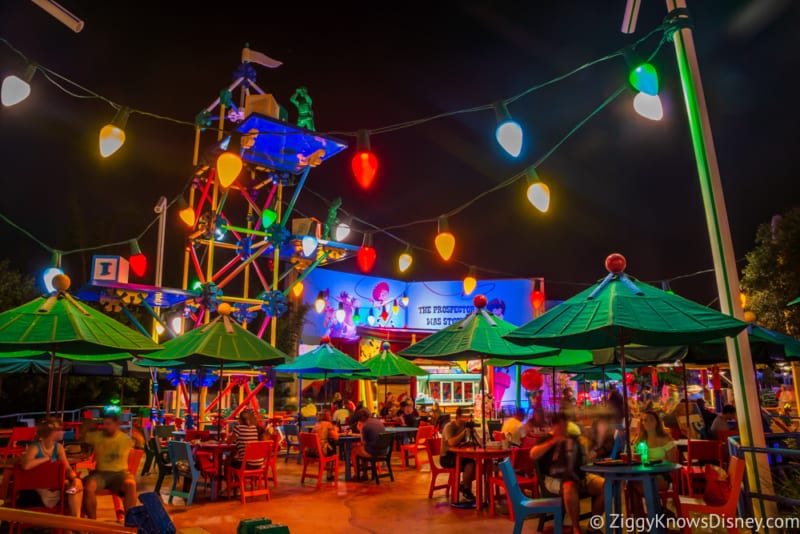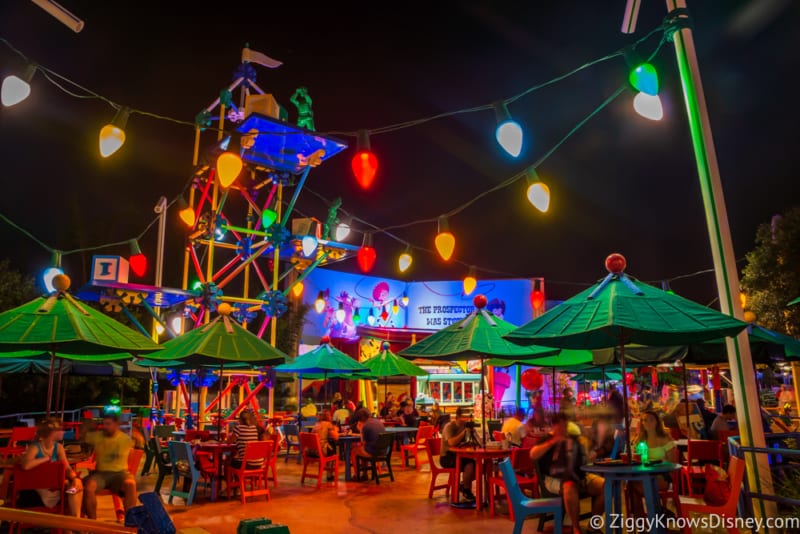 Here's one of the merchandise carts: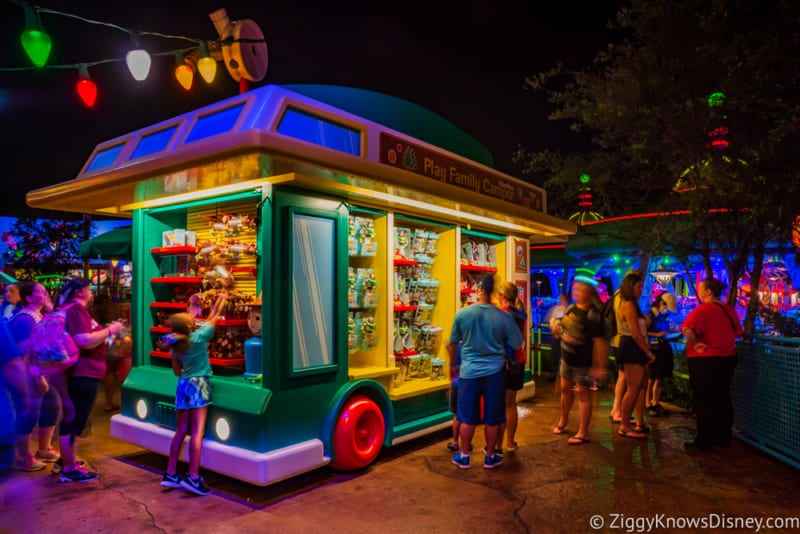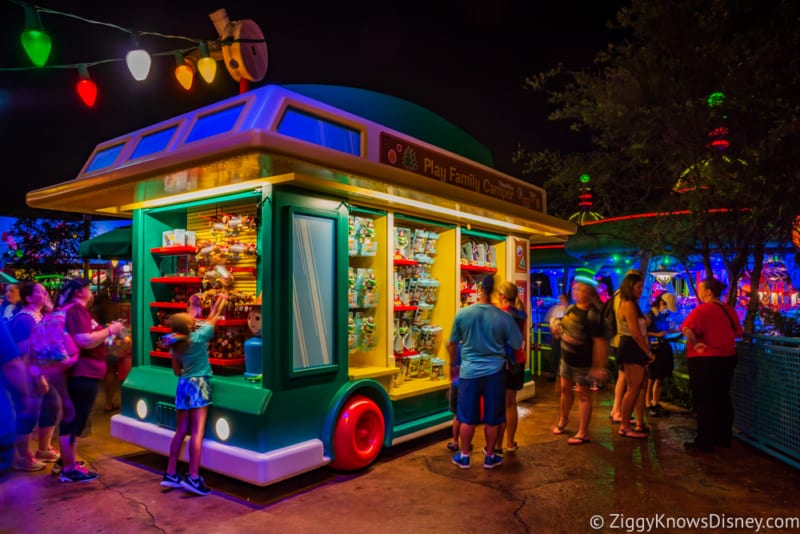 Toy Story Mania entrance: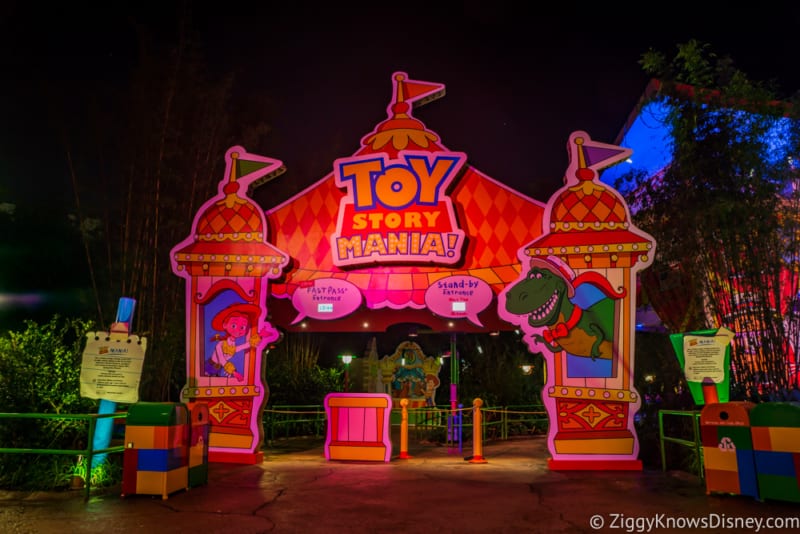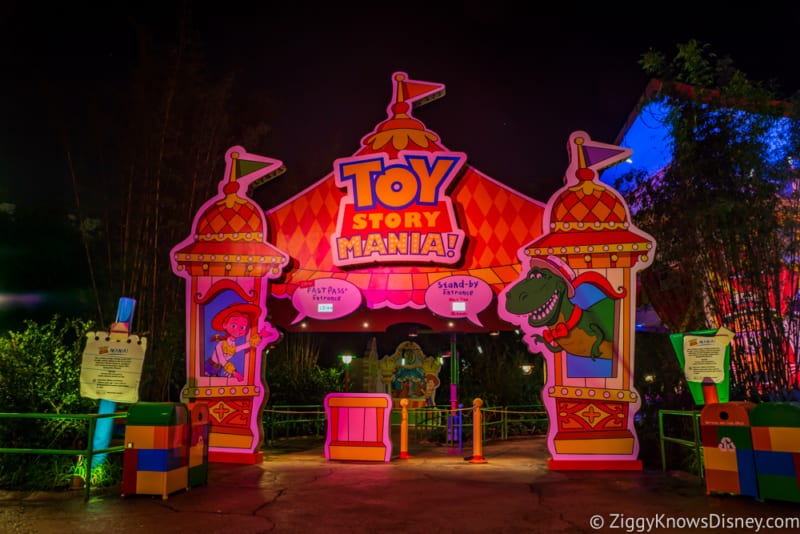 In front of the Toy Story Mania facade is a great photo spot too: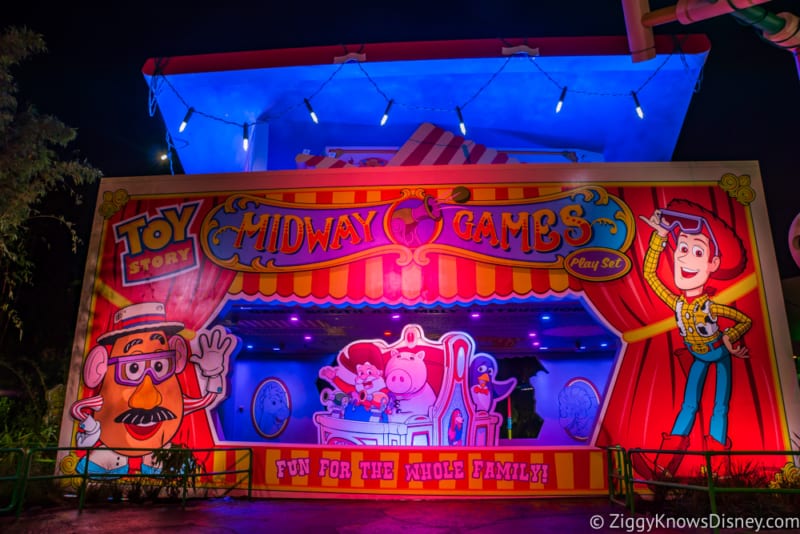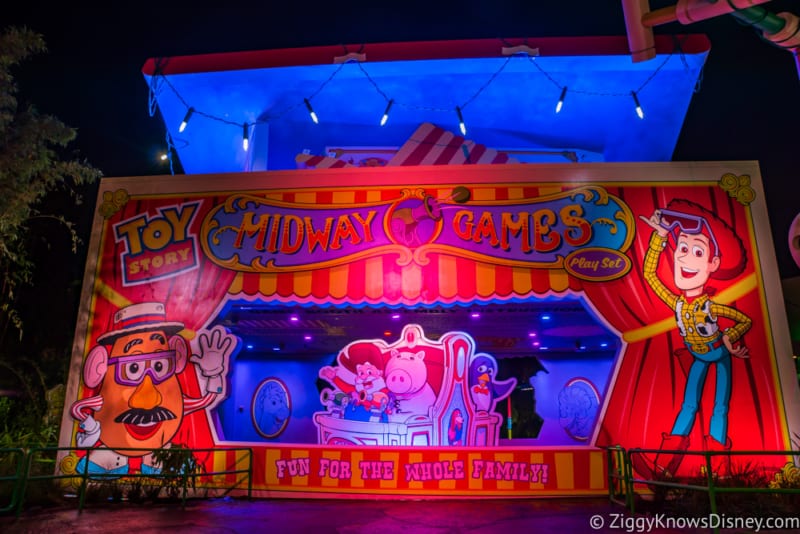 Here's a look at part of the new queue, the outside part: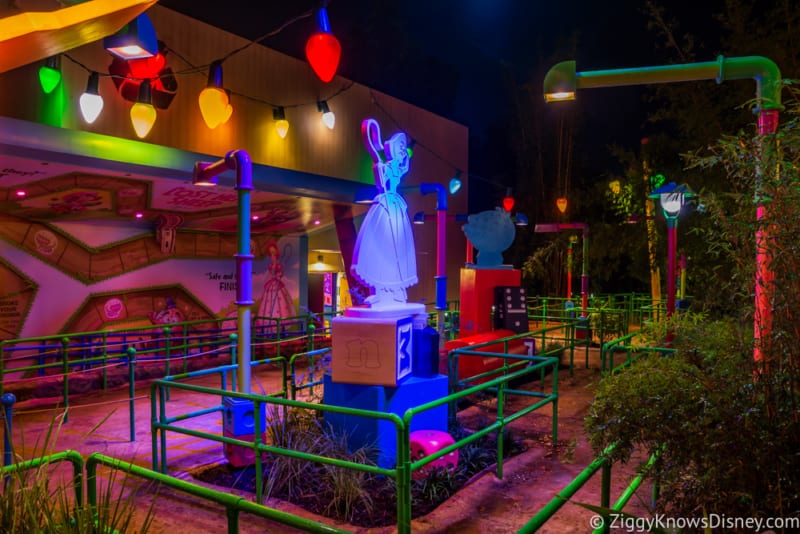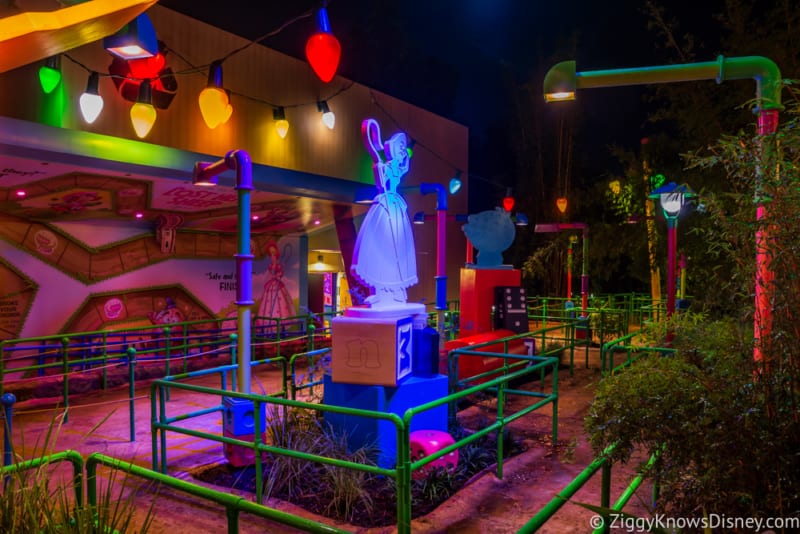 Look close cause you're not likely to see this any time soon, Slinky Dog Dash without a line! That looks much more inviting than some of the lines we saw opening weekend: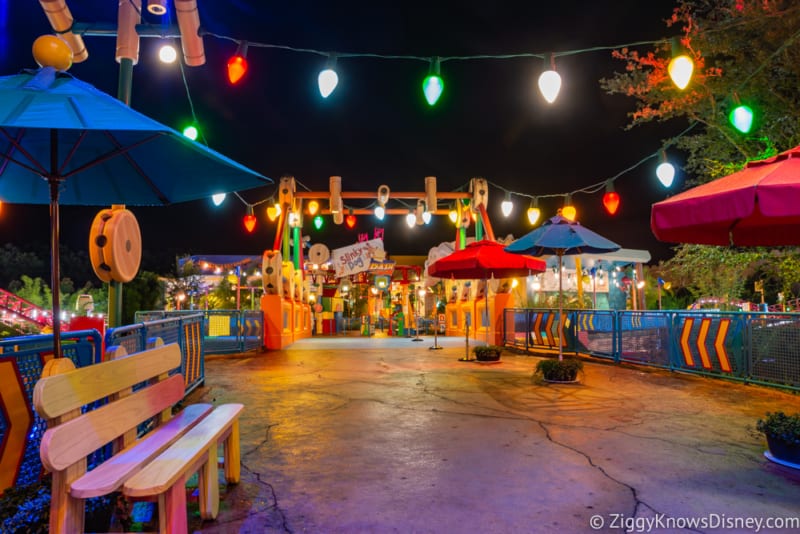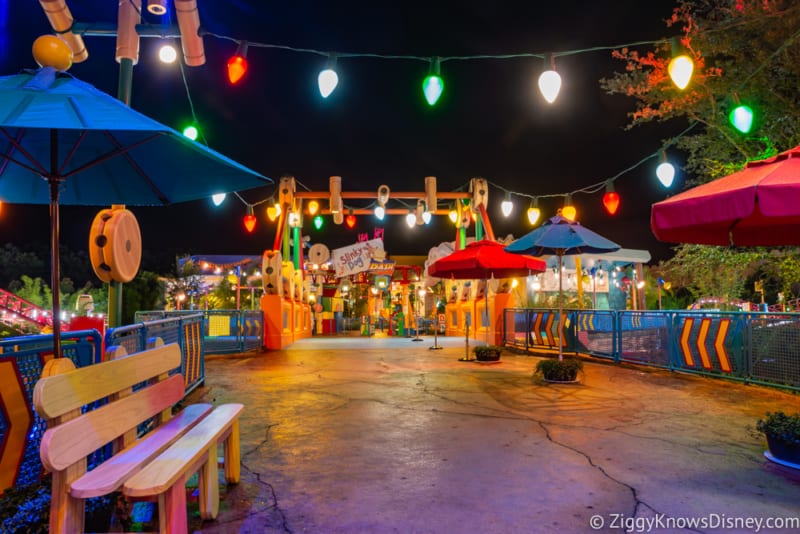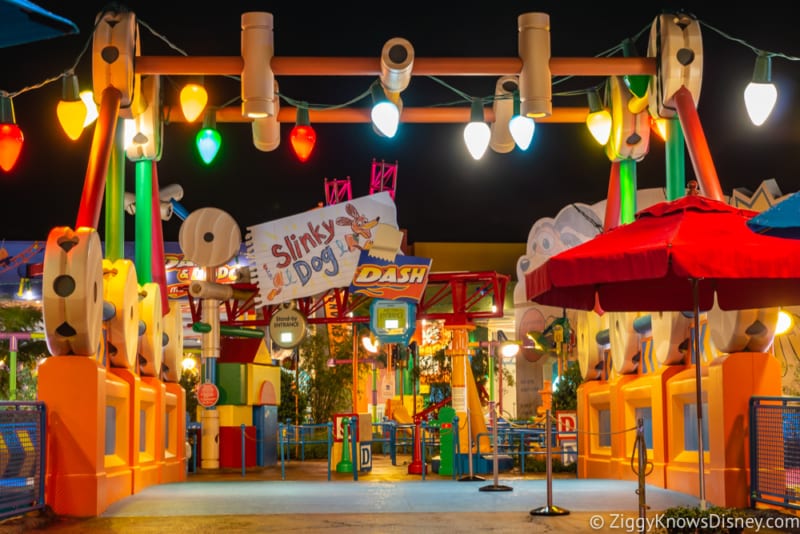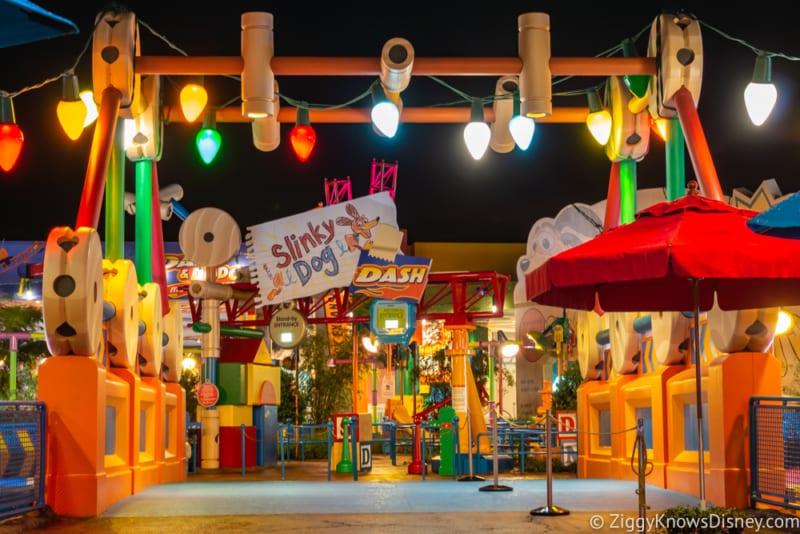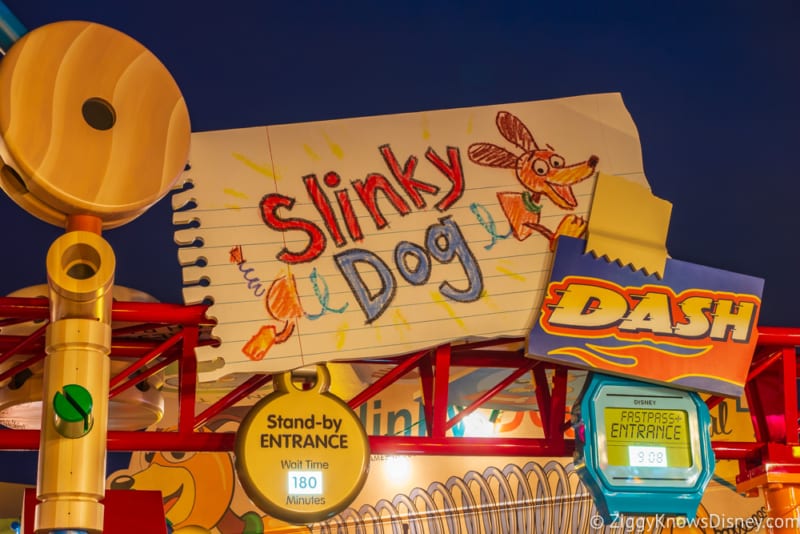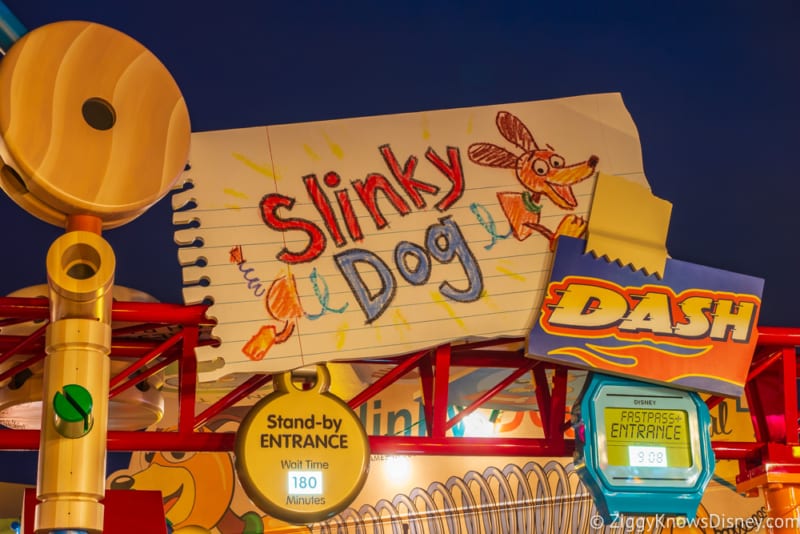 Let's check out the Rex and Jessie figures on Slinky Dog: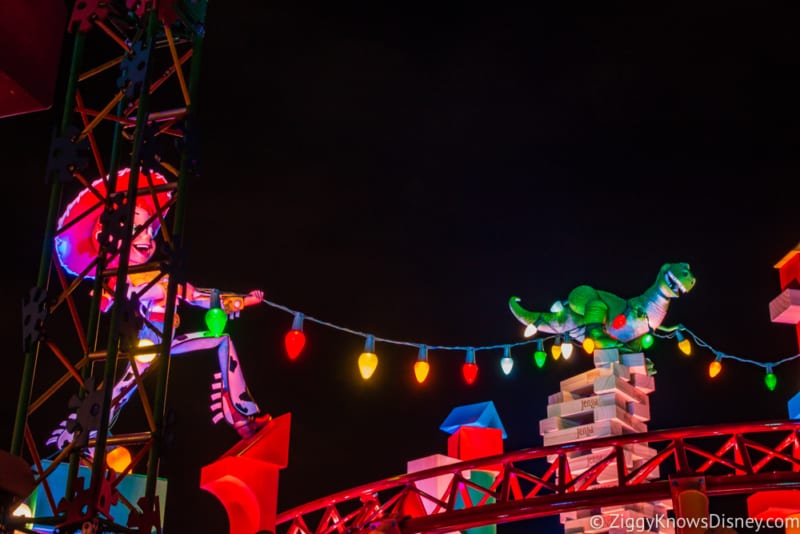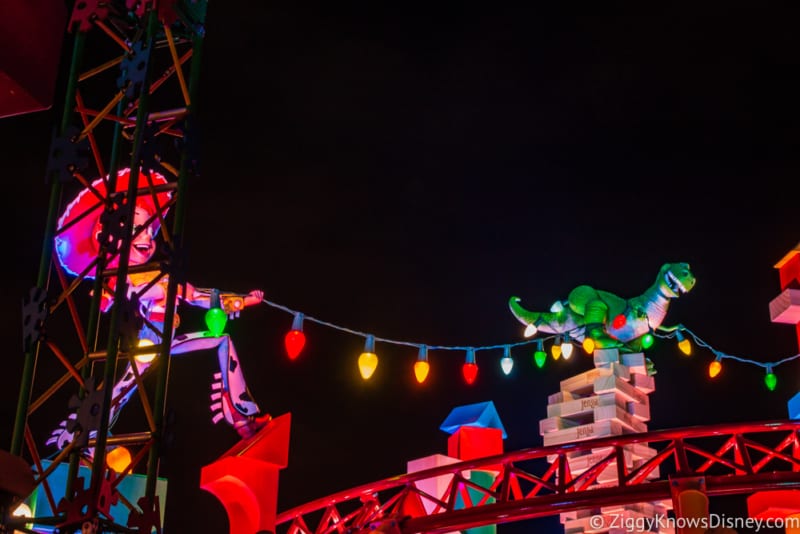 It adds so much more character to the ride and they seem to come to life!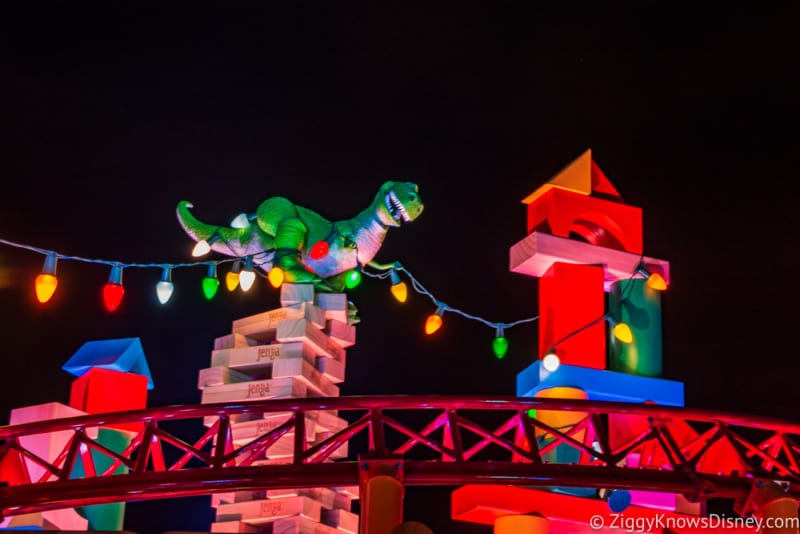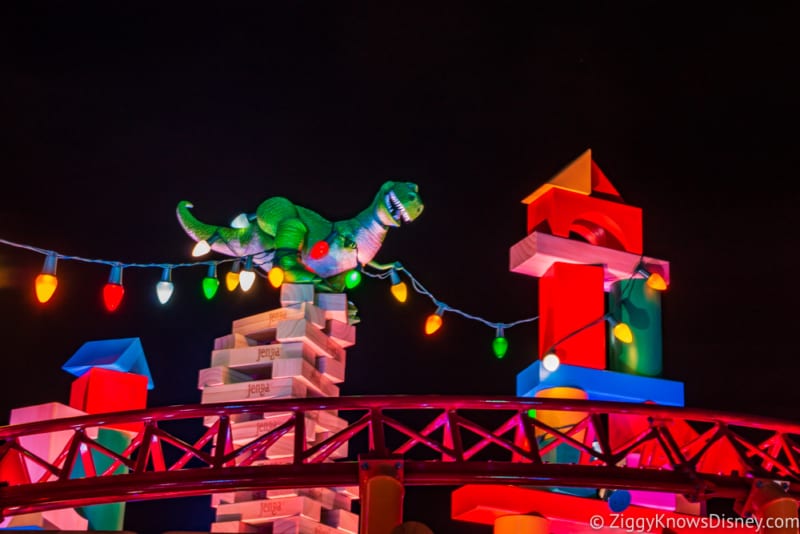 Love the lighting effects on the track at night!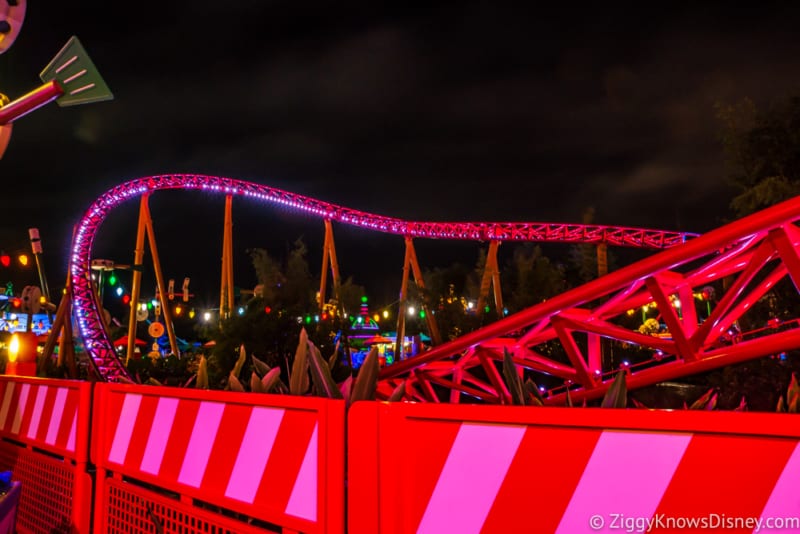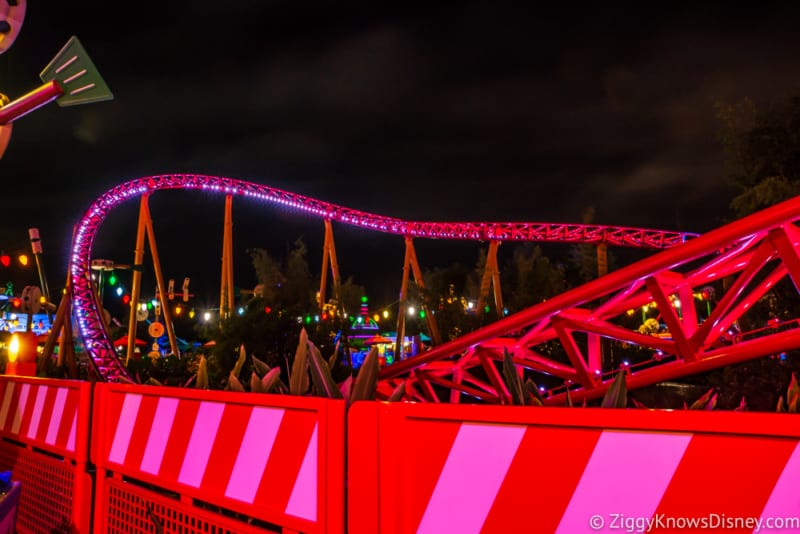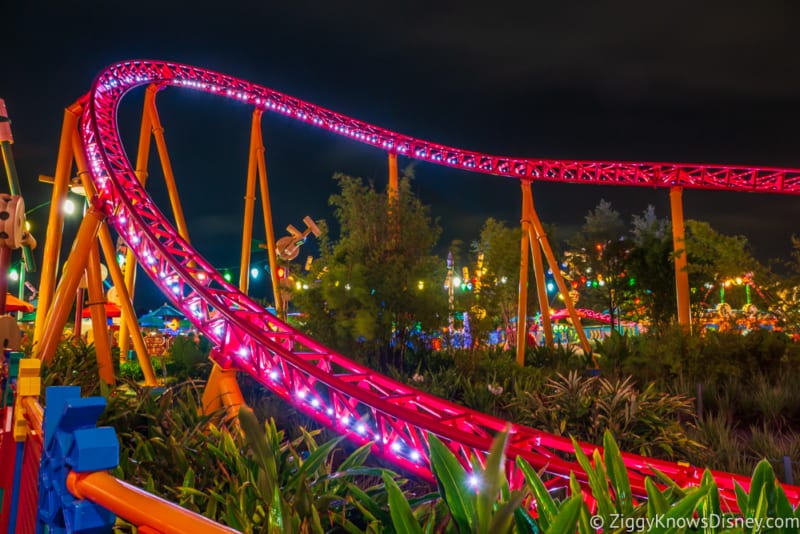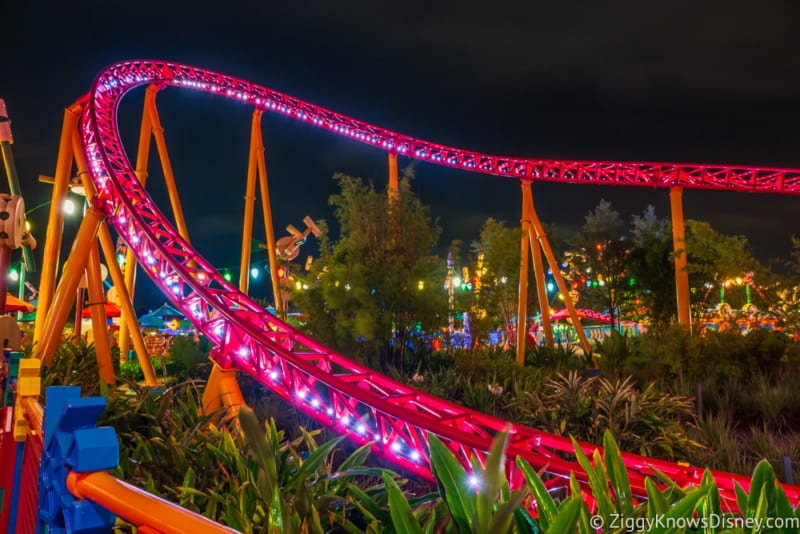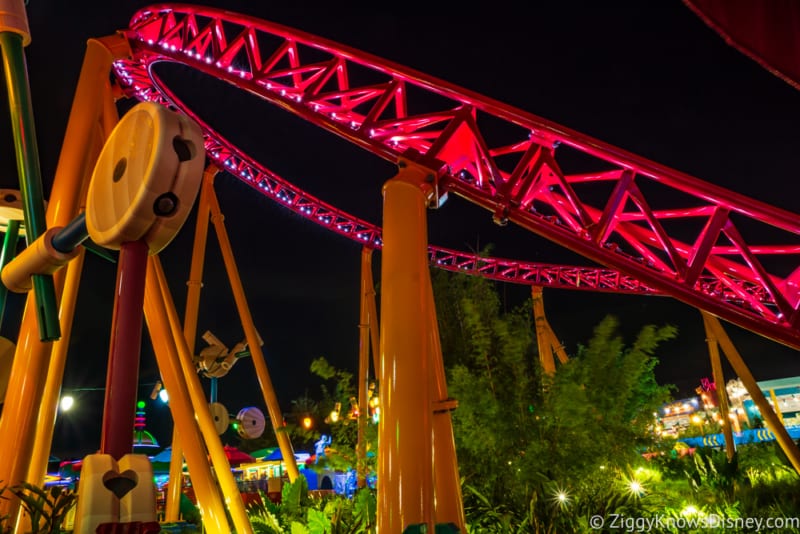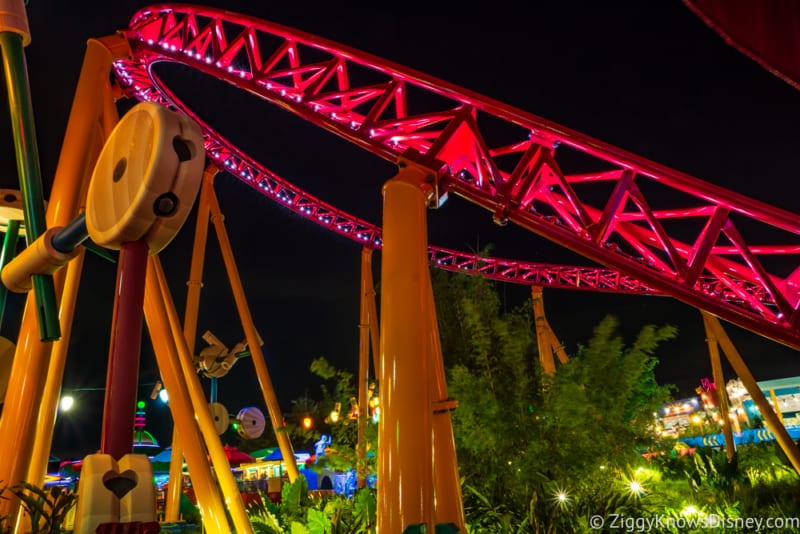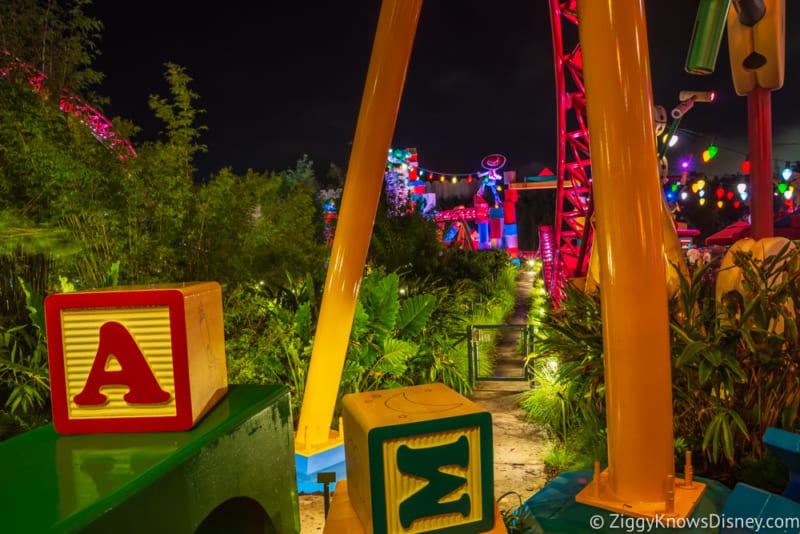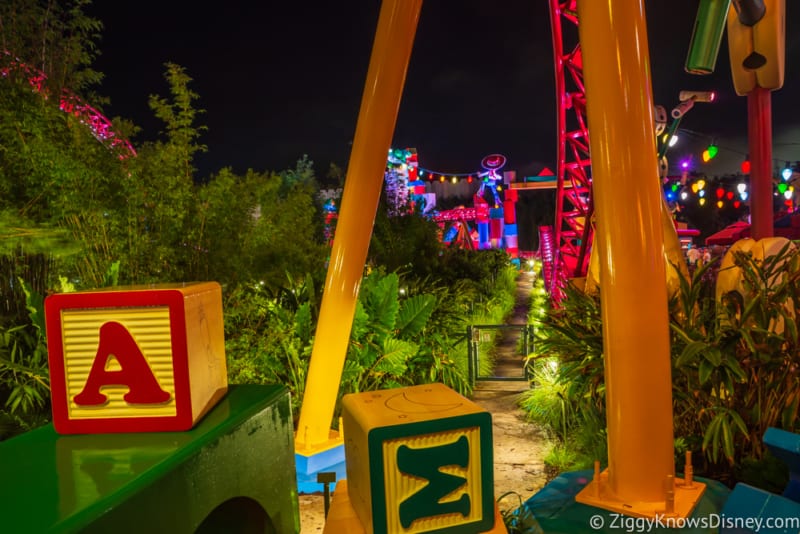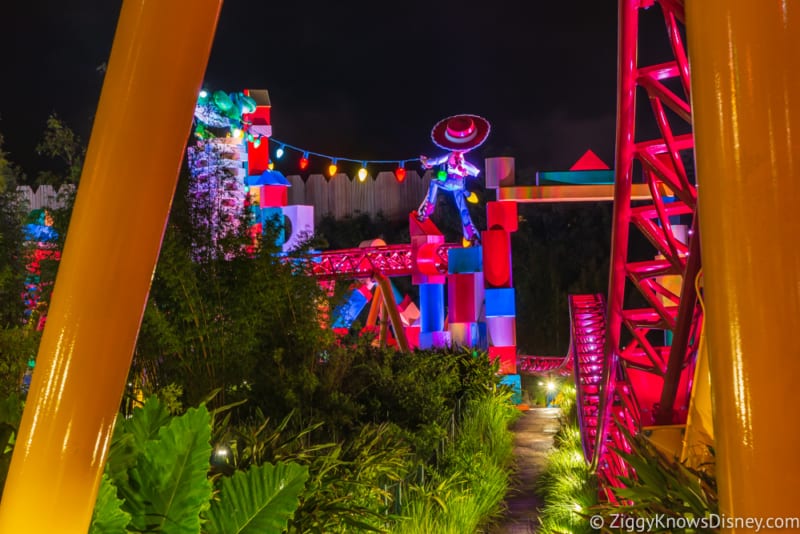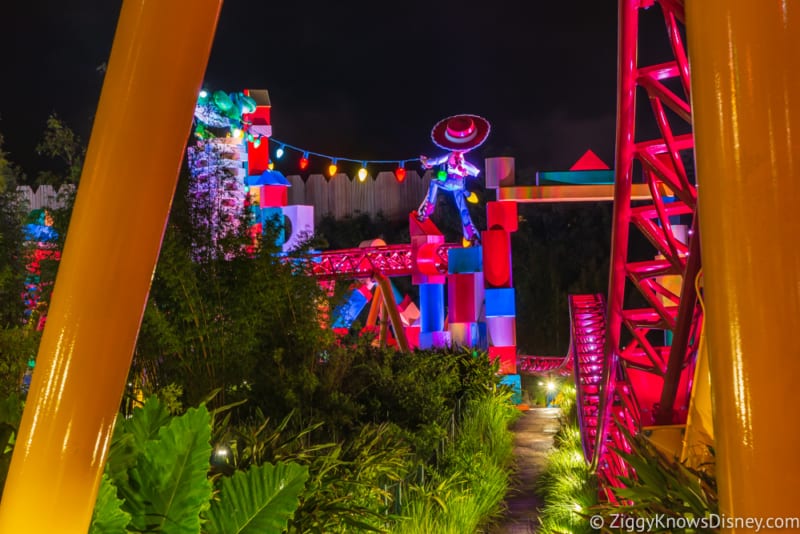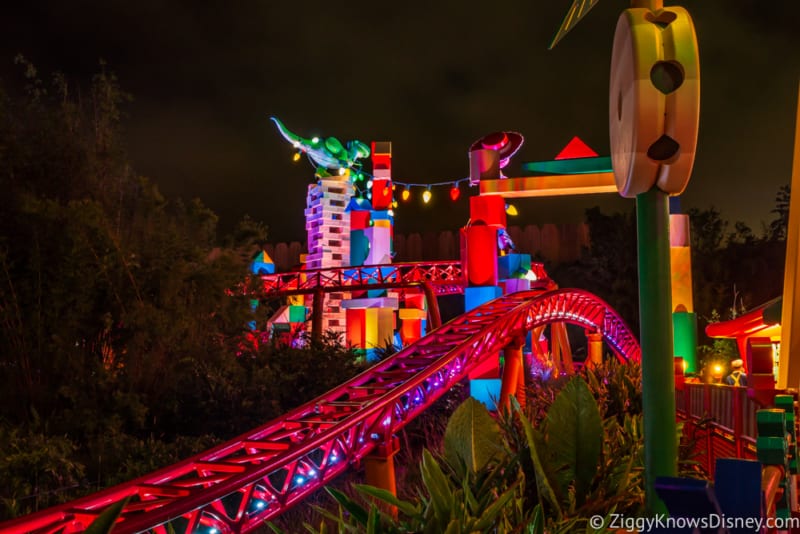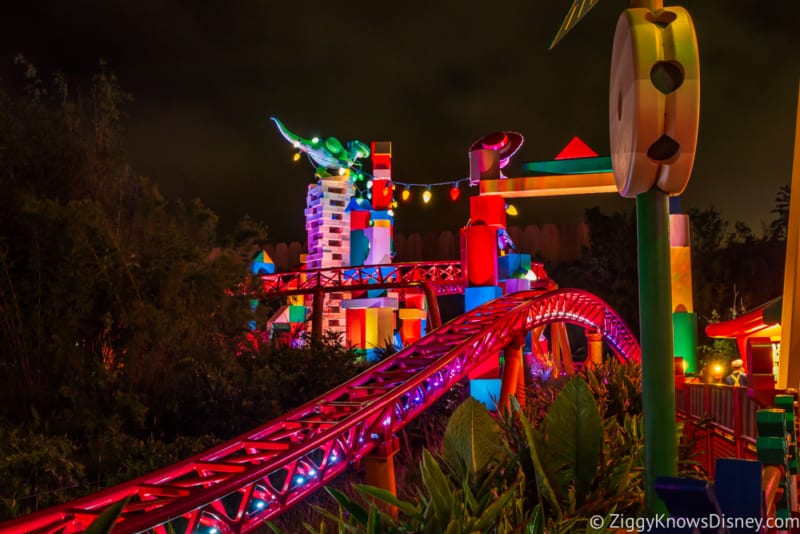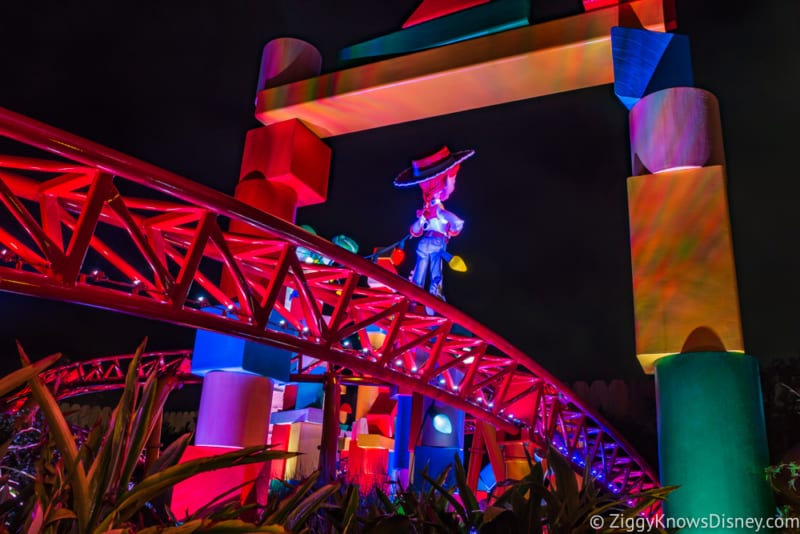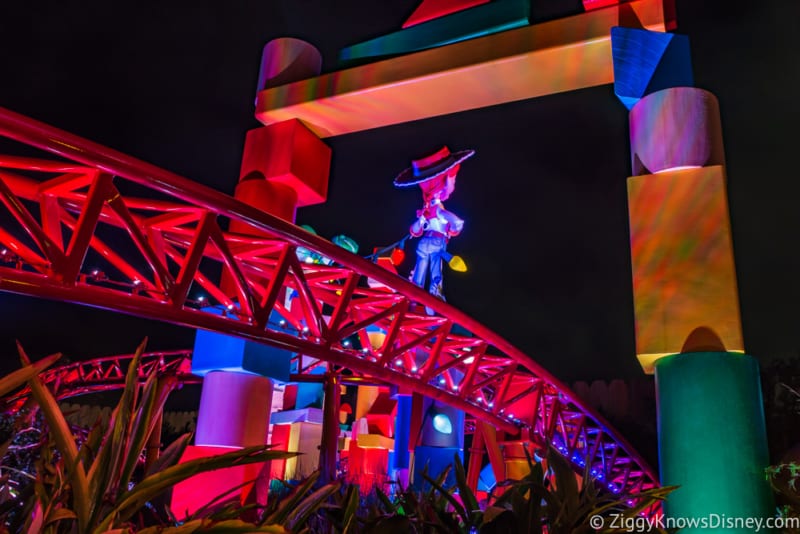 One of the absolute highlights of Toy Story Land at night is just parking yourself in front of the launch area on Slinky Dog Dash and watching the trains arrive…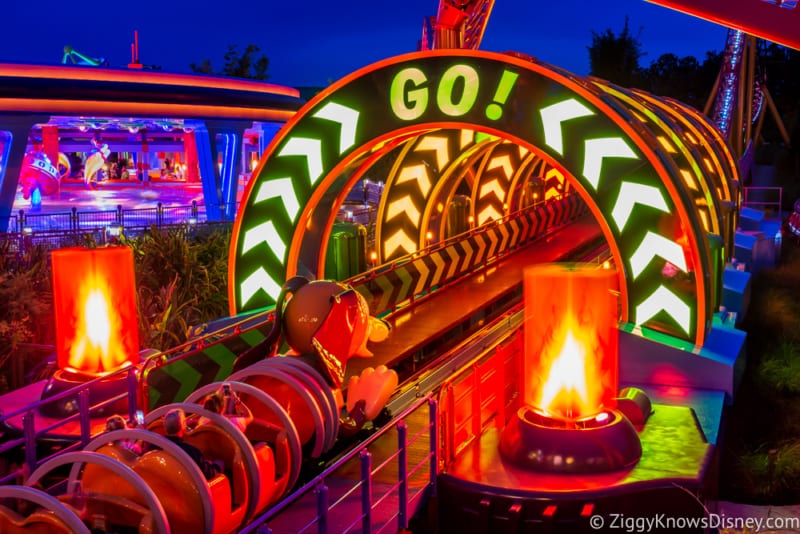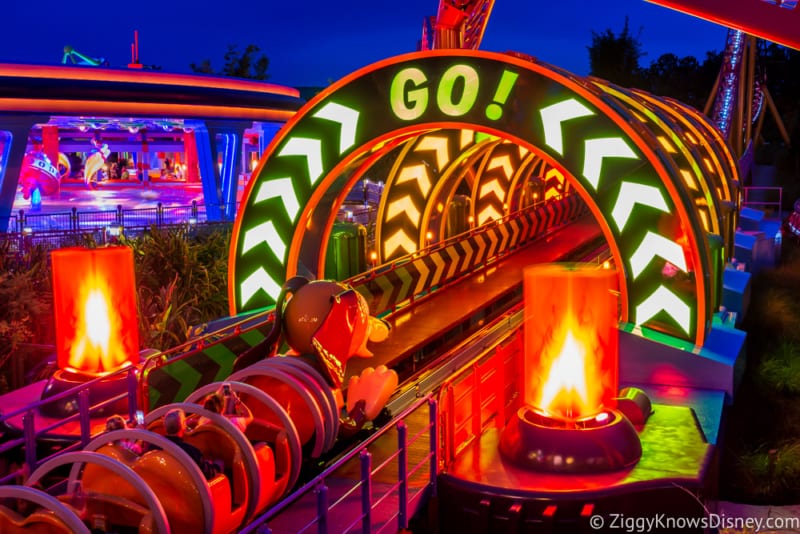 and then blast off!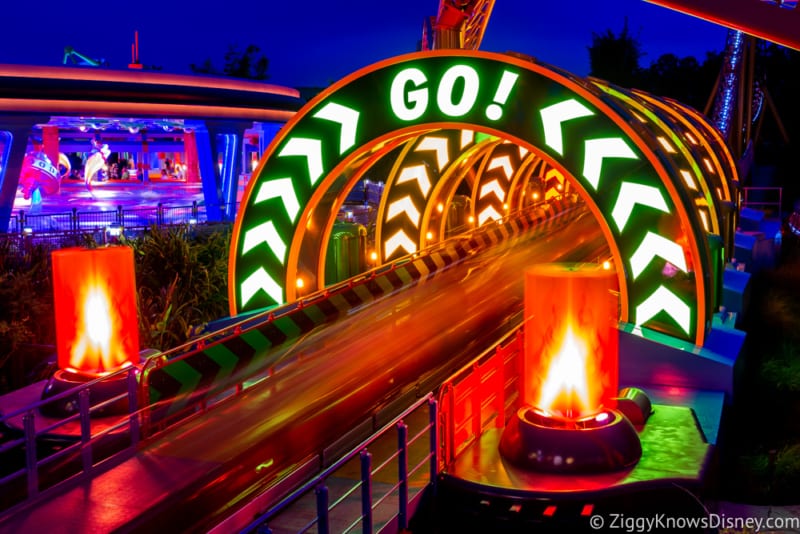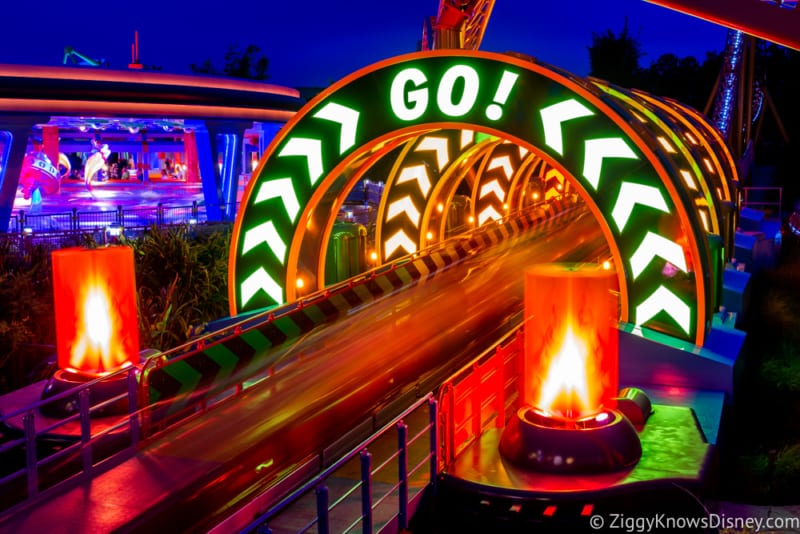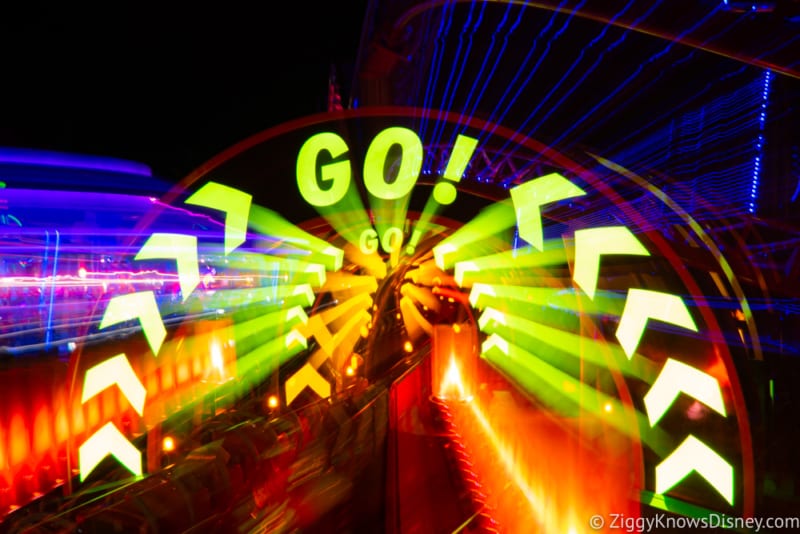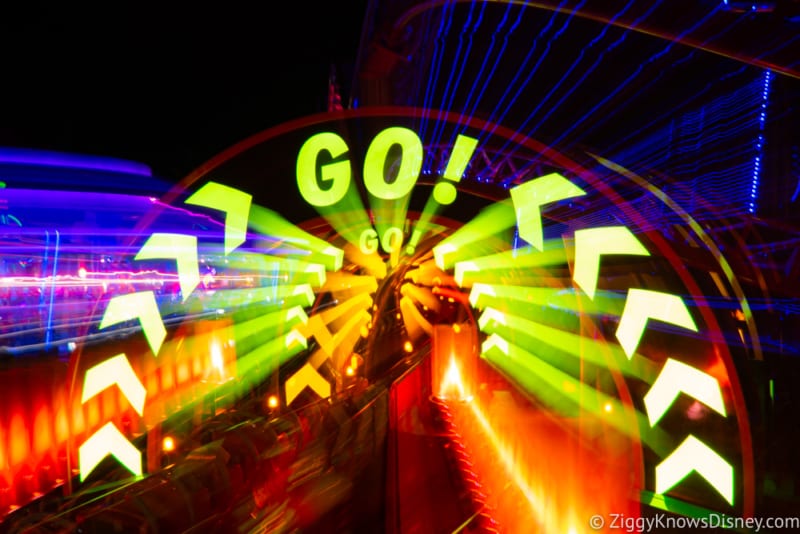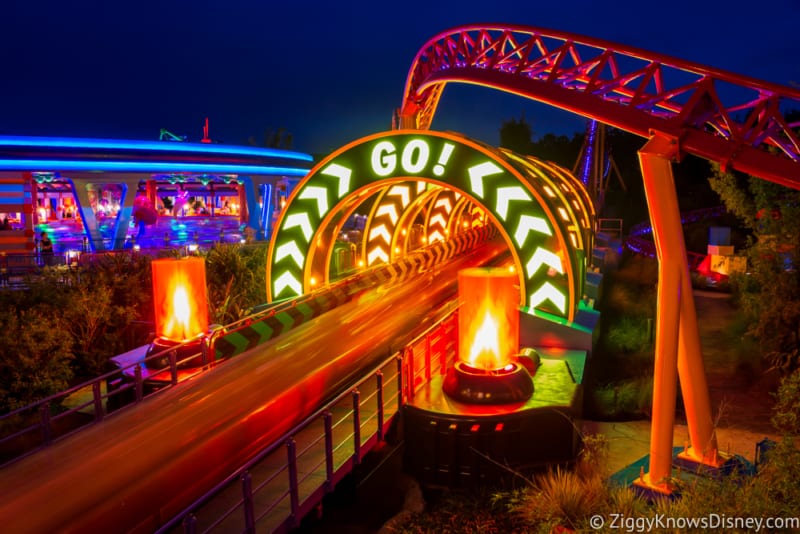 Once they make it up the hill they come wizzing back around…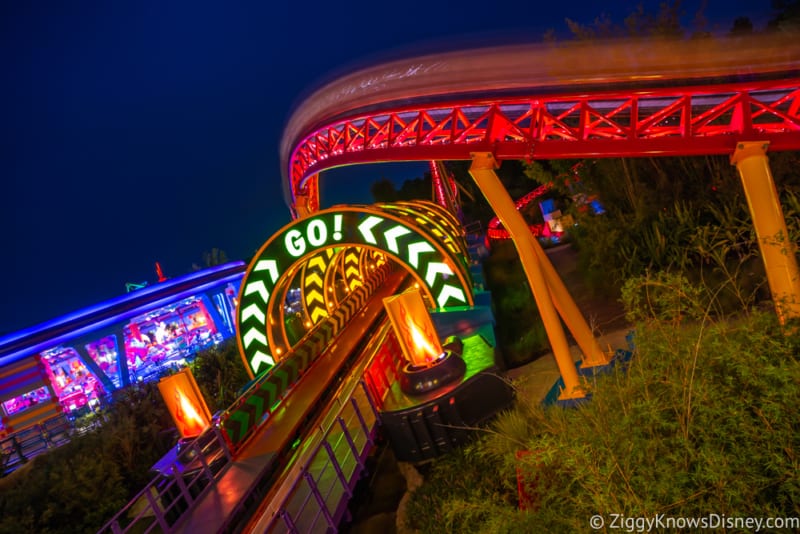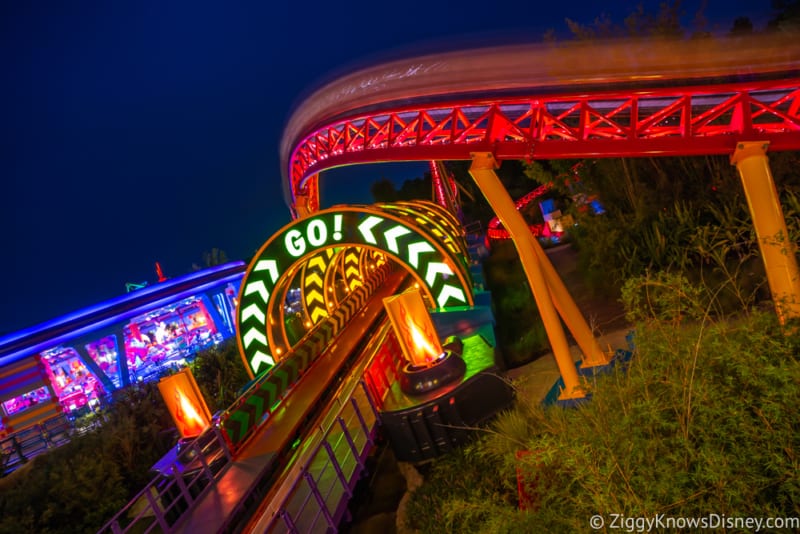 Another awesome spot with great lighting at night is Alien Swirling Saucers: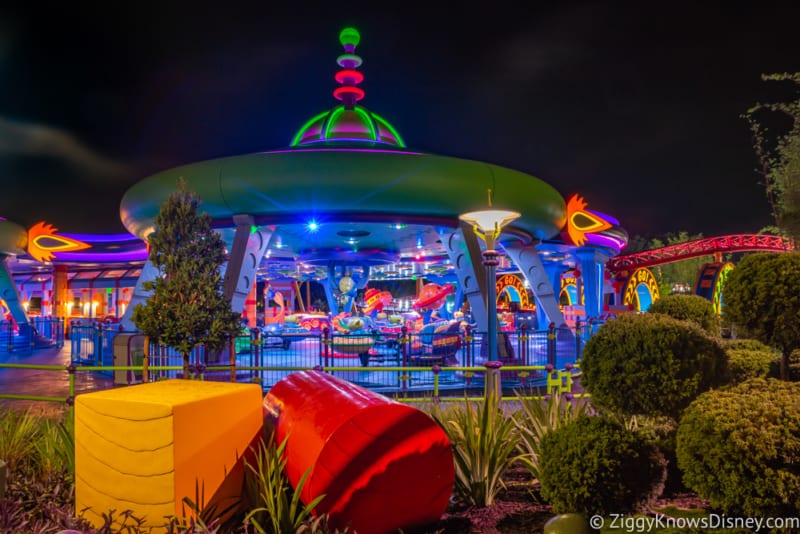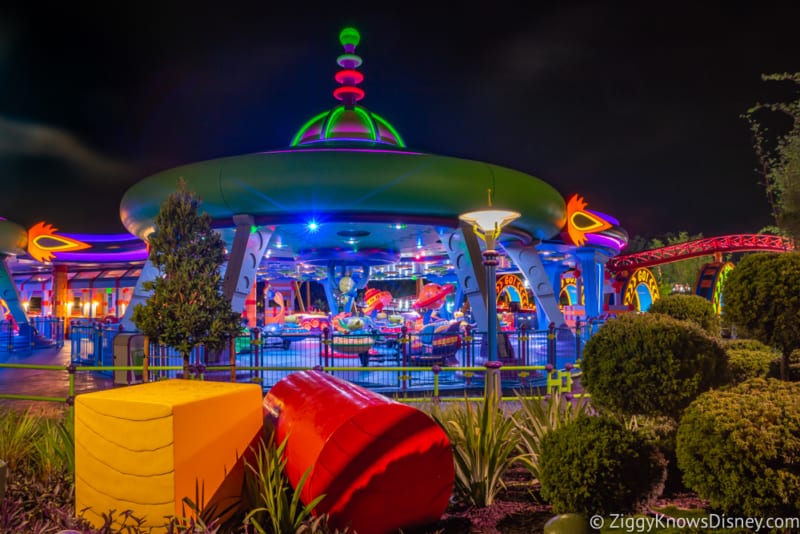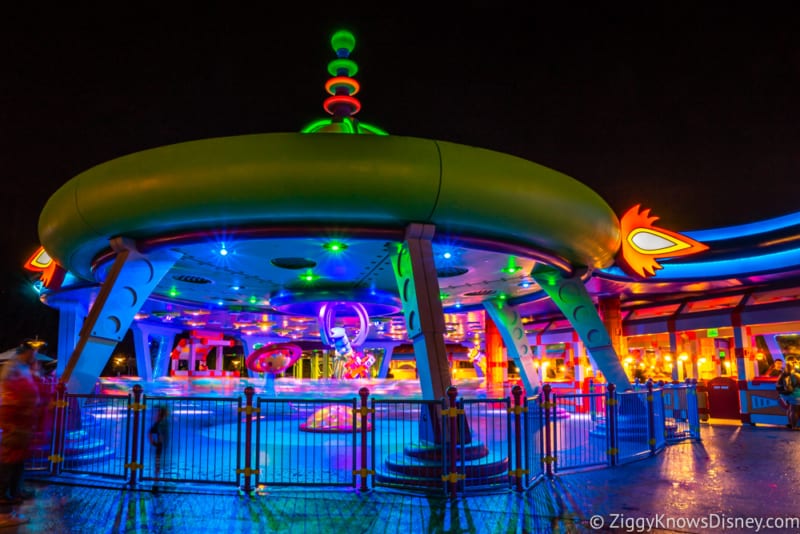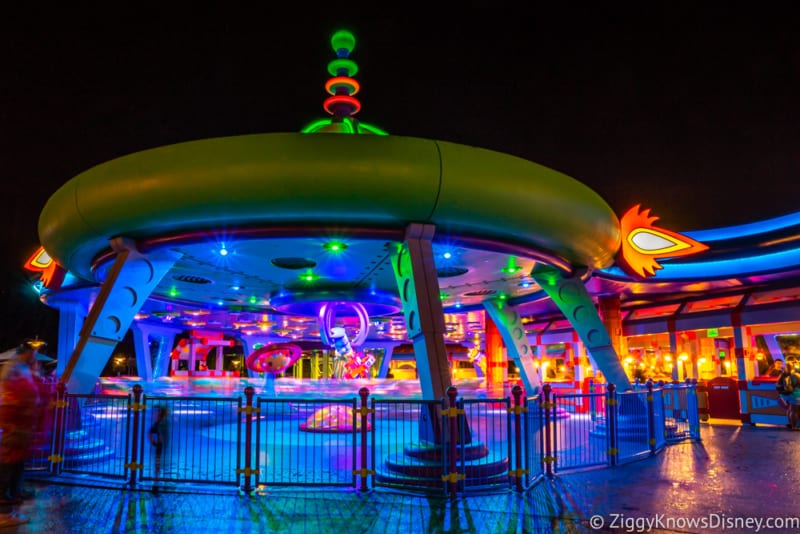 You can watch all the riders get in and out of their Green Alien Vehicles: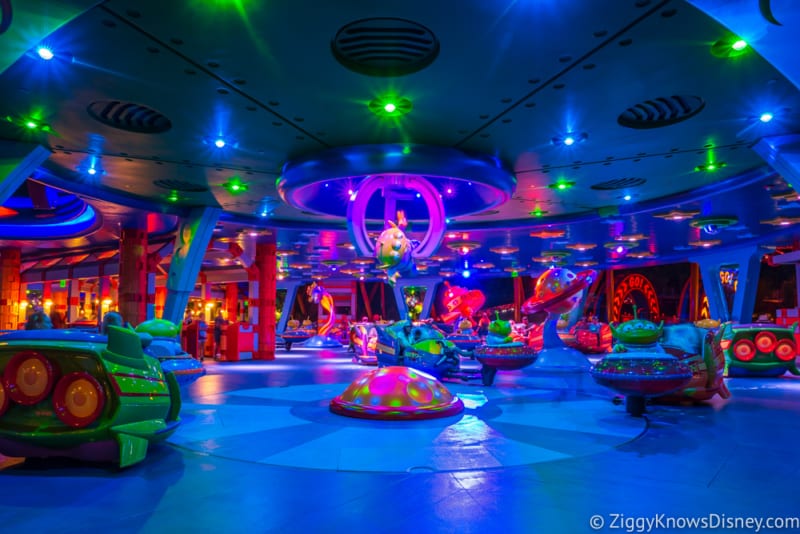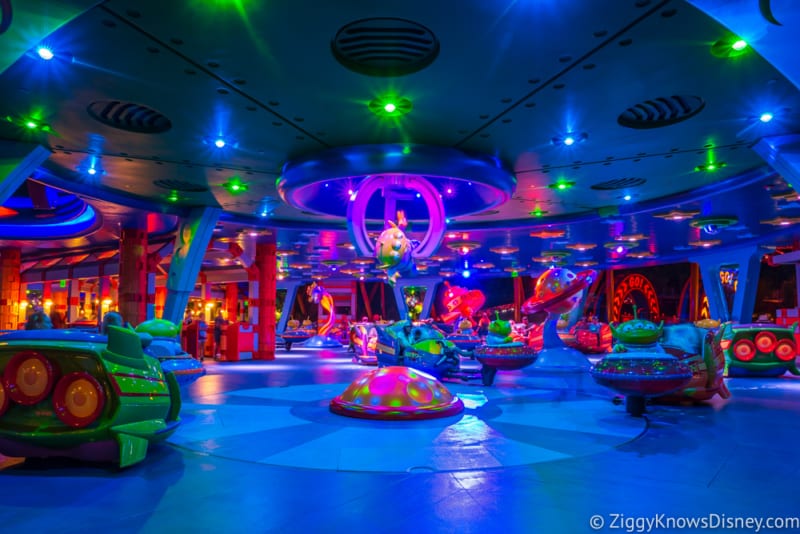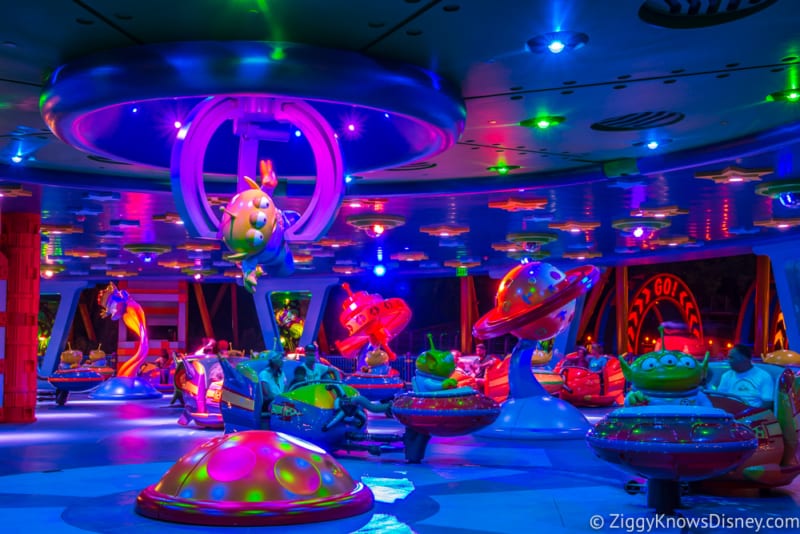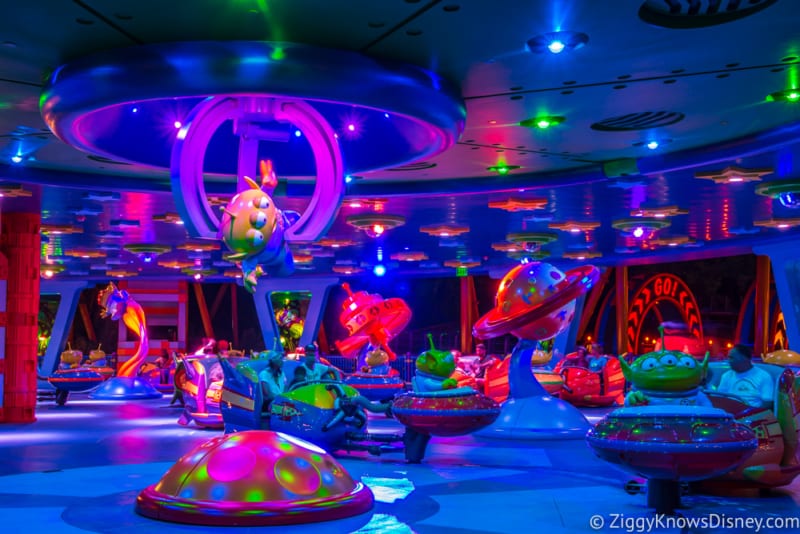 The Clawwwwww….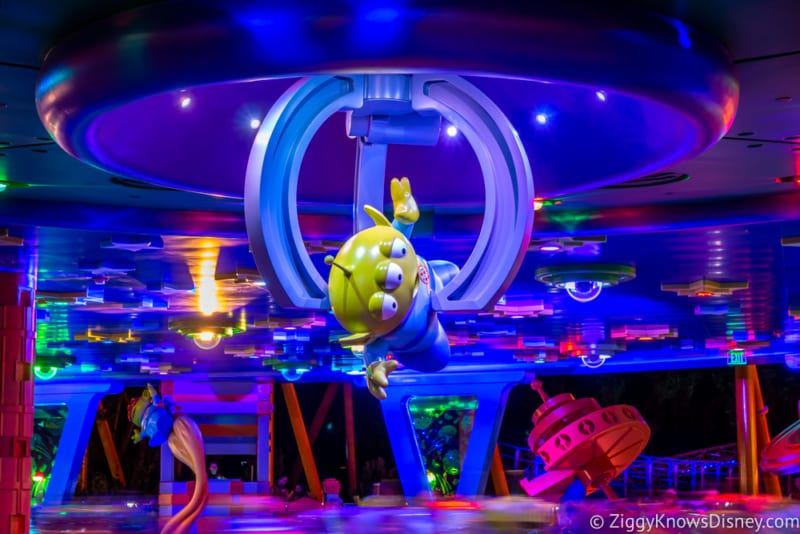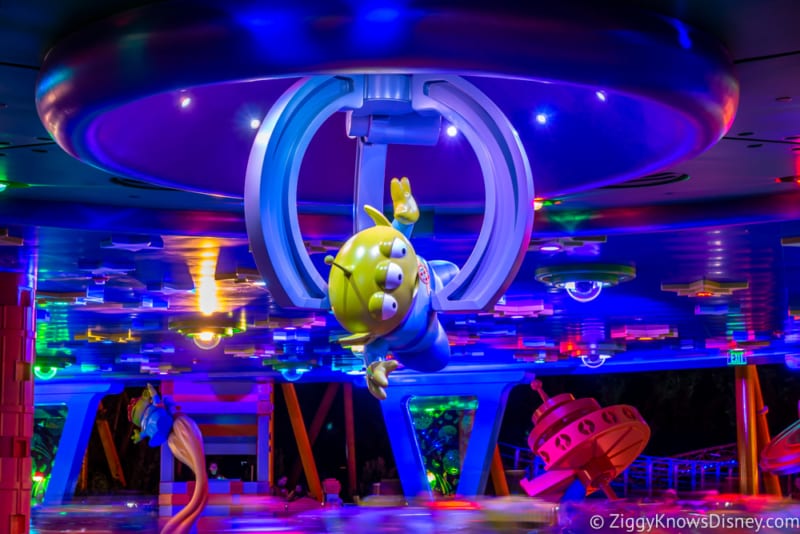 It's like a whirlwind once they start!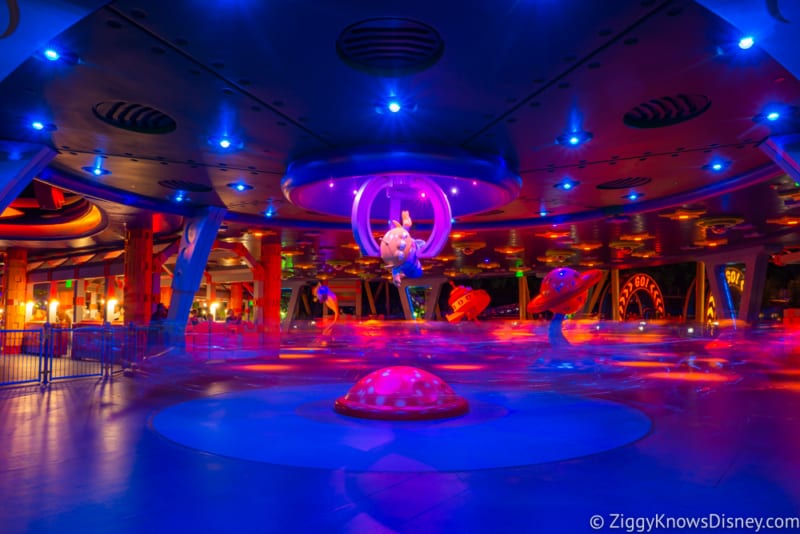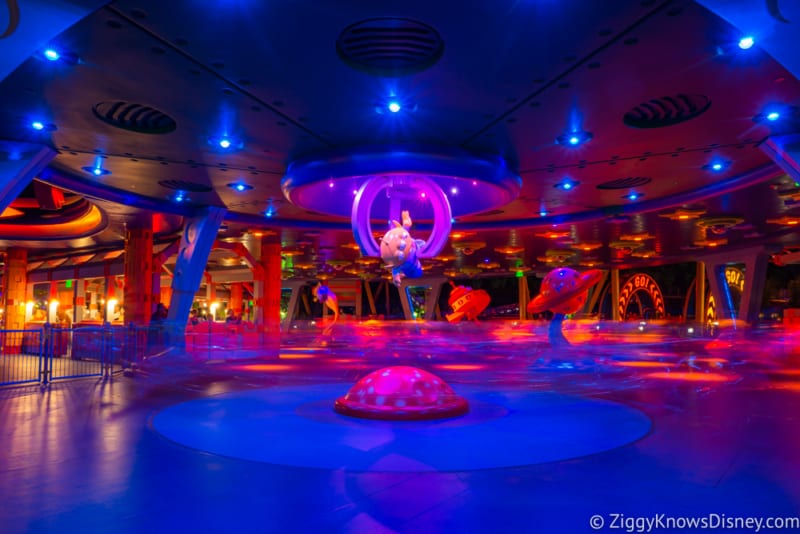 Just outside Alien Swirling Saucers you can see the 14ft Buzz Lightyear figure: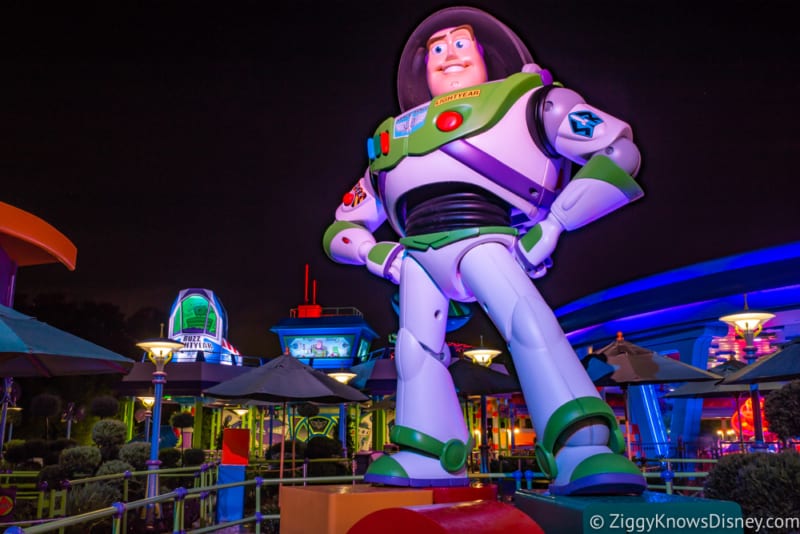 It's a great place to watch the fireworks launch from behind the Alien Swirling Saucers building: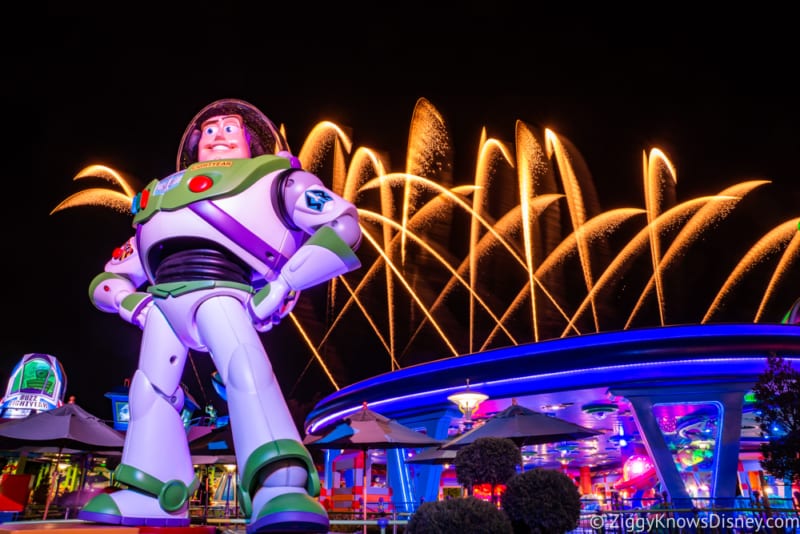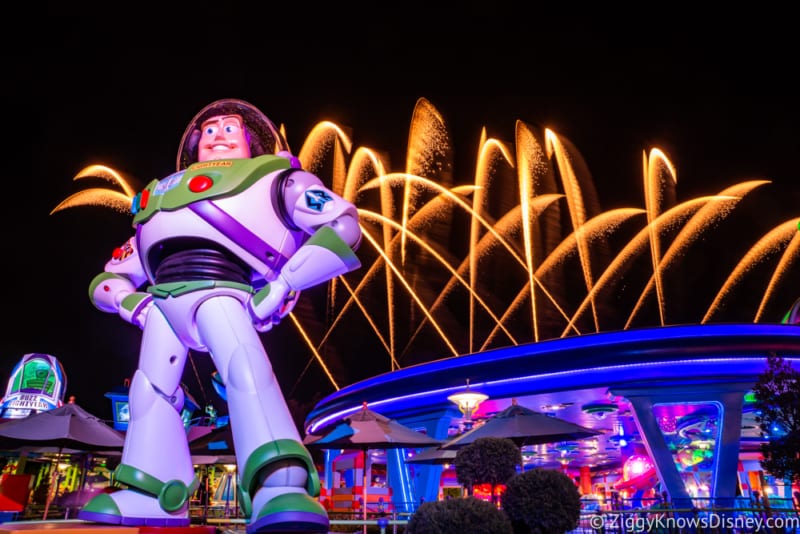 As you can see, Toy Story Land at night is really cool and has a lot of benefits over being there in the day. For sure you'll find less crowds and less heat so for those reasons alone you can't go wrong. Overall I think the Imagineers did a fantastic job with the lighting and I think it has a really cool vibe at night. For photographers it will be quite challenging though as the lighting plays tricks on you and lots of the buildings and figures are brightly lit in one area and less so in others. I can't wait to spend more time here at night to get the hang of it!
Check out our Toy Story Land Page for all the Updates and Info from the Toy Story Land opening!
Your Thoughts:
I want to know what you think about Toy Story Land at Night…
Do you like it better during the day or at night?
What part of it do you like best?
Let us know in the comments section below!
If you enjoyed this article, as always I appreciate it if you'd share it with others via social media. I work hard at making this website into a useful resource for you and your family to plan your visit to the Disney Parks and I hope it can help you! Thanks 🙂