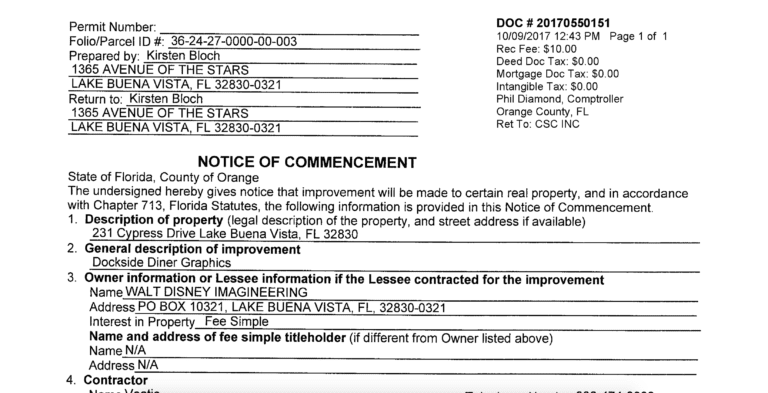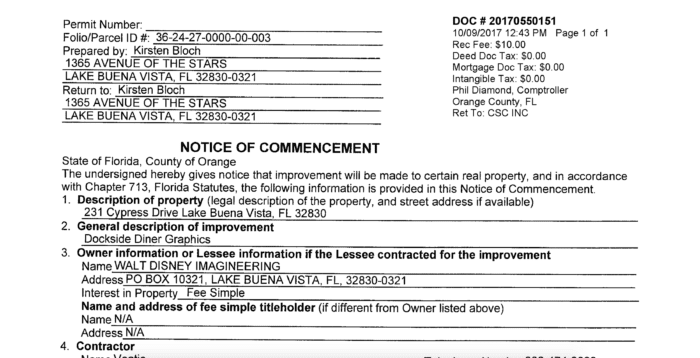 Things have been moving nicely for Epcot's expansion towards the 50th Anniversary of Walt Disney World.  Just a couple of days ago new permits were filed with Orange County, for the Ratatouille construction project in Epcot's France Pavilion.  Already a couple weeks ago we saw some movement on this front when work was started on the project, and now things look cleared out and ready to start the real construction.
The new Ratatouille permits are for the beginning stages of the construction, and are listed as: "Project MI – Core and Shell – Underground MEPF, Structural Steel, Concrete, Metal."  That sounds like they will be taking care of the foundation and structure, with much more work to come after.
The MI part is still mysterious though huh?  Who knows what that code word for this project means….
The expiration date on the permits would normally be interesting, which in this case are listed at just one year.  However since this is just the first part of the construction, you can expect the work to continue much longer than that, so don't get your hopes up for a Ratatouille 2018 opening…  It will definitely be before done before 2021 for the 50th Anniversary, but we're expecting more like 2020.
I'm expecting the Ratatouille attraction will be pretty much a carbon copy of the already existing version in Paris, so even though Disney is slow on projects, this one shouldn't be rocket science.
Your Thoughts:
I want to know what you think about the new permits filed for the Ratatouille construction project.  Are you excited for the Ratatouille attraction?  When do you think it will be open by?  Let us know in the comments section below!
If you enjoyed this article, as always I appreciate it if you'd share it with others via social media.  I work hard at making this website into a useful resource for you and your family to plan your visit to Walt Disney World, and I hope it can help you! Thanks 🙂