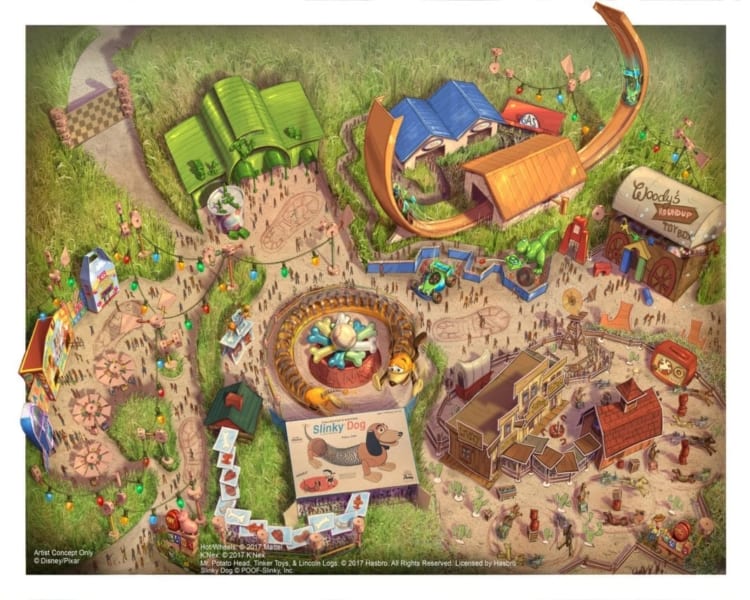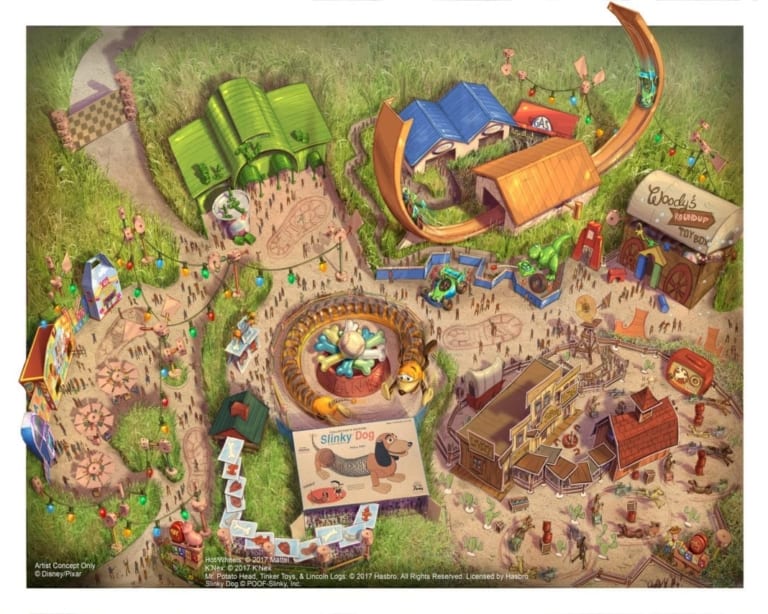 While we're still waiting for our own Toy Story Land in Disney's Hollywood Studios, another Toy Story Land is currently being built in Shanghai Disneyland. Disney has revealed some new Toy Story Land Concept Art for the Shanghai Disneyland resort which give us a lot more insight into the project, and it looks really cool!
Fully Immersive Land:
Along the same lines as the Hollywood Studios version, the Toy Story Land in Shanghai Disneyland will be based on the Disney·Pixar motion picture series, and will make guests feel like they've been shrunk down to the size of the toys from the film. Then of course once you step into it, Woody, Buzz and the others come to life in a fully immersive land with 3 New Attractions, a Character Greeting Area, Restaurant and Shops. What is it going to be like
Slinky Dog: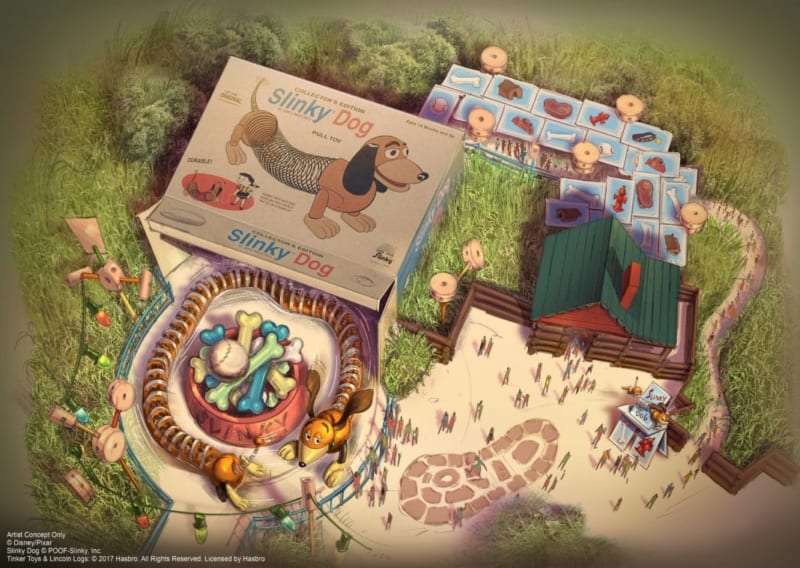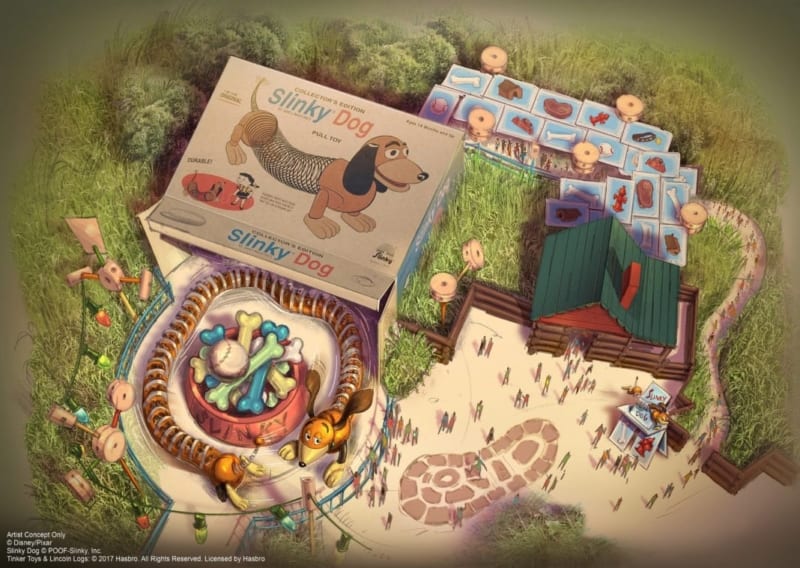 The first attraction is Slinky Dog. What looks to me like a child's attraction has tells the story of Slinky Dog who has been amusing the toys all day long by chasing his own tail roundand-round a giant dog dish filled with toy bones. As a guest you become an honorary toy and jump inside Slinky Dog's springy spirals and race your way around. Again it looks cool for kids, but nothing to get crazy about.
Rex's Racer: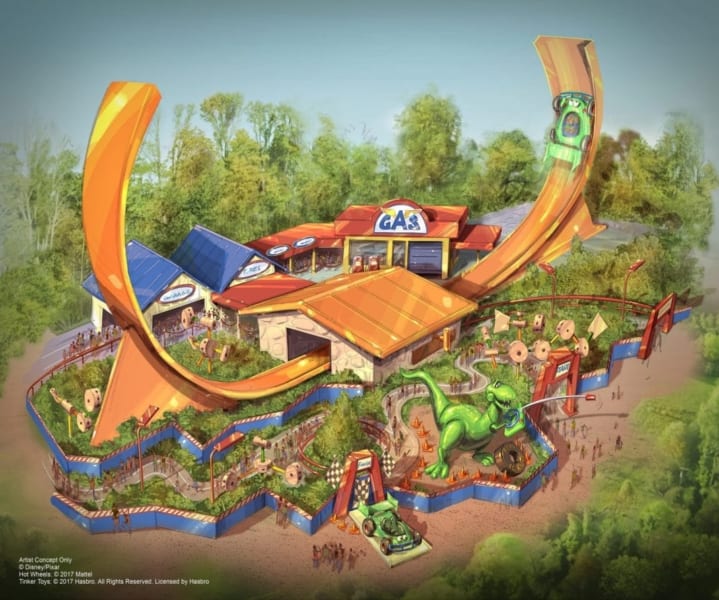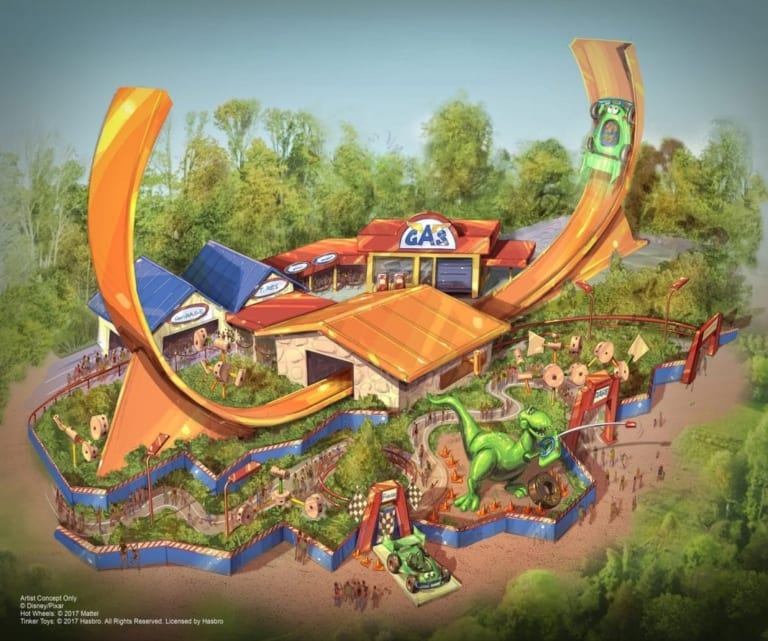 As we know, Rex loves playing with RC Racers, almost as much as he likes playing video games. In this attraction guests get inside an RC and are shot back and forth across a U-shaped track, each time moving higher and going faster!
Woody's Round-Up: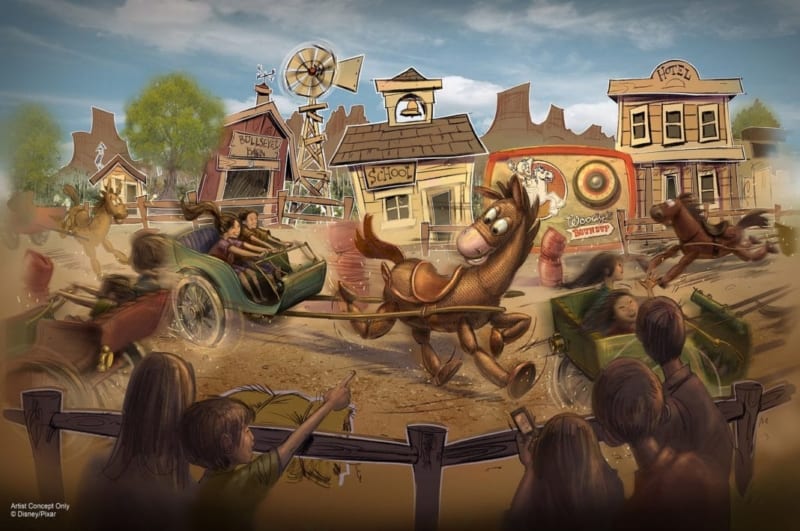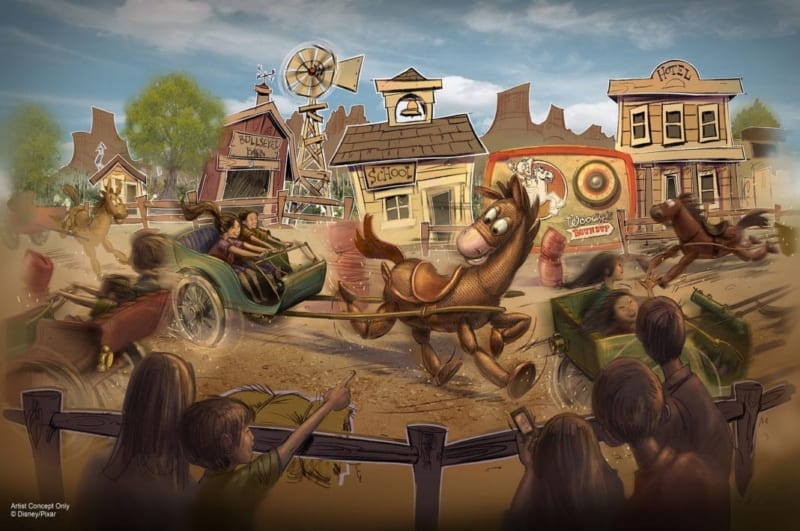 Lastly, Sheriff Woody has rounded up a herd of ponies, each one pulling a cart, in a ranch set up by Andy. Guests get inside the carts and the ponies start a little square dance swinging their carts to and fro in time to the lively music.
Meeting Post:
This is the Character Greeting spot in the Toy Story Land expansion. It's located next to Woody's Round-Up is Old West, a town made up of a hitching post and façades for various enterprises, such as the sheriff's office, the saloon and the bank. Toy Story is super popular in China so this is a great opportunity for guests to meet and pose for photos with some of their favorite Toy Story characters, including Woody, Jessie and Bullseye.
Shopping and Dining:
While visiting Toy Story Land of course there will be plenty of chances to engage in some fun, immersive shopping and dining opportunities. First there's Al's Toy Barn, the merchandise shop where some of Andy's toys have been purchased, just like in the movie. After that when your hungry you can head to Toy Box Café, a restaurant themed to Andy's packing boxes for Buzz Lightyear, Mr. and Mrs. Potato Head and Lotso Hugging Bear.
Toy Story-themed hotel:
If you are indeed a big Toy Story fan then we have the perfect hotel for you! Shanghai Disney Resort has the only Toy Story-themed hotel in the world, while Shanghai Disneyland is home to the popular Buzz Lightyear Planet Rescue attraction, a guest favorite which features the most advanced Buzz Lightyear targeting system at any Disney park in the world.
Honestly I'm actually a bit disappointed with the concept art and design of Toy Story Land in Shanghai. I like the theming but it doesn't really seem there are too many attractions that would appeal to adults, they are all geared towards little kids. That said, it will probably be worth looking at when going to Shanghai Disneyland, but not something that you make a trip overseas to see, especially when the Hollywood Studios version looks much better. Expect Disney's Toy Story Land to be open by Summer 2018, within a month or 2 of the Hollywood Studios version.
I want to know which version of Toy Story Land looks the best to you: Hollywood Studios or Shanghai Disneyland…..
Check back here for all the New Disney Parks Updates Coming During the 12 Days of Disney Parks Christmas.
Your Thoughts:
I want to know what you think about Toy Story Land Concept Art for Shanghai Disneyland. What do you think of it? Which version of Toy Story Land do you prefer? Let us know in the comments section below!
If you enjoyed this article, as always I appreciate it if you'd share it with others via social media. I work hard at making this website into a useful resource for you and your family to plan your visit to Walt Disney World, and I hope it can help you! Thanks 🙂
Photo Credit: Shanghai Disneyland