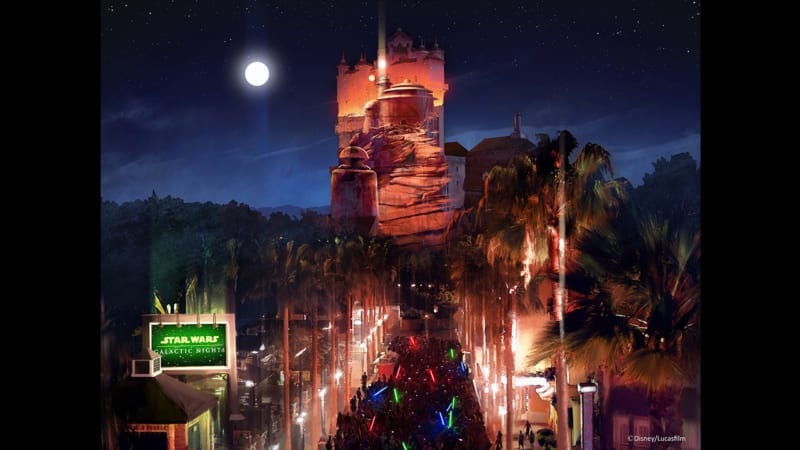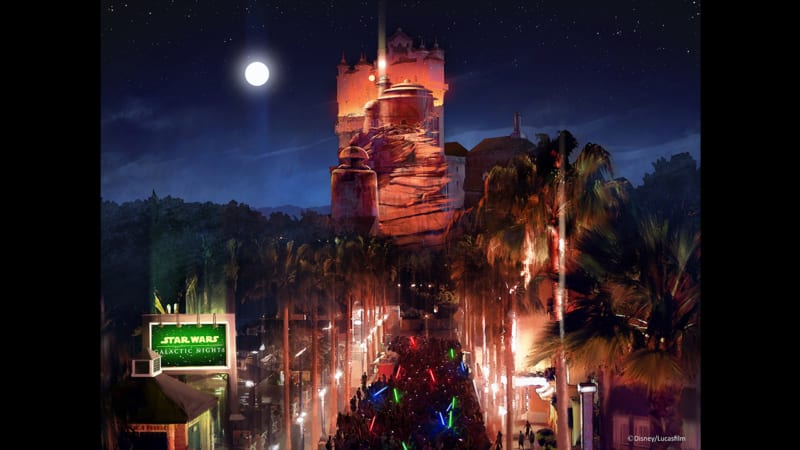 The debut of Star Wars: The Last Jedi is only a month away right now, and Disney has a very special event coming to Hollywood Studios to celebrate it. The highly successful "Star Wars: Galactic Nights" was announced a while back and being my favorite after-hours event, I can't wait to see what awesome things it has in store!
Some new info on Galactic Nights was just announced on "The Star Wars Show" on StarWars.com and so we wanted to share what else besides the things that have already been announced you can look forward to!
Celebrity Appearances. Warwick Davis who is a longtime member of the Lucasfilm family will be there. Davis played Wicket the Ewok in Return of the Jedi, and more recently Wollivan in "Star Wars: The Force Awakens", and will also make an appearance in "The Last Jedi" and "Solo: A Star Wars Story." Also actor Dvid Collins will appear at the event which is hosting the special "Inside Star Wars: Galaxy's Edge" panel discussion with members of the Walt Disney Imagineering and Lucasfilm team.
A Look into Galaxy's Edge Construction. Robin Reardon, Executive Creative Producer at Walt Disney Imagineering; Chris Beatty, Executive Creative Director at Walt Disney Imagineering and Doug Chiang, VP/Creative Director at Lucasfilm, will give guests an inside look at the making of the Star Wars: Galaxy's Edge, including the progress being made and what it's like to bring a far-off world like this to life!
State of the art Projections: You have to check out the new projection show on Sunset Boulevard while attending Galactic Nights. Recently Disney used it's stunning projection technology on the Tower of Terror for its Sunset Seasons Greetings show. Now using this same technology the facade of the Tower of Terror will transform into incredible locations from Star Wars. I love this idea and the direction Disney is going with their nighttime shows and projection technology. If the Sunset Seasons Greetings show was a hit, I can only imagine what they could do with Star Wars!
Celebrate the Release of The Last Jedi by seeing the Star Wars Launch Bay, Star Wars: Path of the Jedi and Star Wars: A Galactic Spectacular, all which will have special touches for that night only.
There are also 2 Premium add-ons that night:

If you're hungry you can try the Galactic Tasting Sampler for $30 which includes Lightsaber churros, Root Leaf Stew, Character cupcakes—like Darth Vader chocolate peanut butter cupcakes, Charcuterie plates featuring C3PO crackers and specialty alcoholic and non-alcoholic beverages.
Your kids will love the Jedi Recruitment Package which includes a spot in the Jedi Training: Trials of the Temple show, a lightsaber, a Jedi robe, name badge, limited edition Star Wars T-shirt and a photo with a Jedi Master.
Price:
Admission to Star Wars Galactic Nights is $129 plus tax for adults, $124 plus tax for ages 3-9. Discounts available for Annual Passholders & DVC Members. Purchase Star Wars: Galactic Nights tickets here or call 407-W-DISNEY (407 934-7639).
Your Thoughts:
I want to know what you think about the Star Wars Galactic Nights Projections coming to the Tower of Terror and other Galactic Nights events. Which experience are you most looking forward to? Let us know in the comments section below! 🙂
If you enjoyed this article, as always I appreciate it if you'd share it with others via social media. I work hard at making this website into a useful resource for you and your family to plan your visit to Walt Disney World, and I hope it can help you! Thanks 🙂
Photo Credit: Disney Parks Blog