(UPDATED 10/10/19): Walt Disney World has just added more character themed bus overlays this month adding to the existing ones they rolled out in July 2019. These new overlays will bring just a little more magic with your favorite Disney characters on the buses.
The new group of characters now on the buses are from: Frozen, Moana, Monsters Inc., The Lion King, and now even figment are joining the "sensational six" which have already been spotted around property featuring: Mickey, Mouse Minnie, Donald, Daisy, Goofy and Pluto.
These new buses feature USB charging ports for your mobile devices and select buses are already equipped with Wi-Fi that guests can use when traveling to and from the parks.
The Characters:
Here is a look at some of the newest themed buses. The first is The Lion King: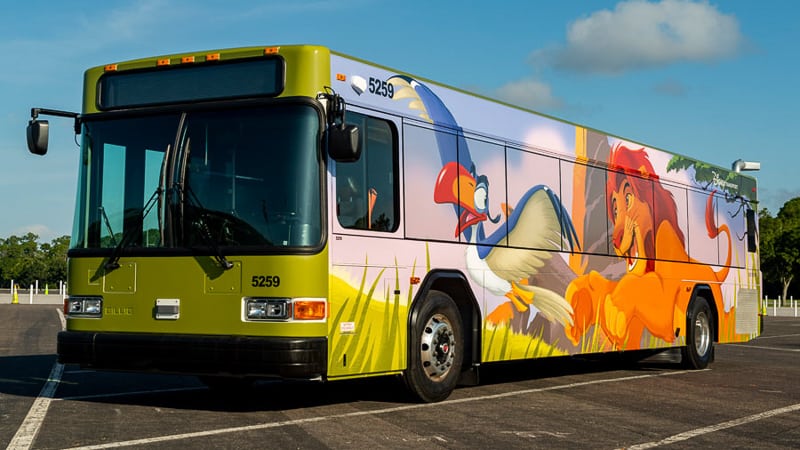 Thank goodness is the original animated version and not the new "live action" Lion King!
We also have a Monsters Inc overlay with Mike and Sully: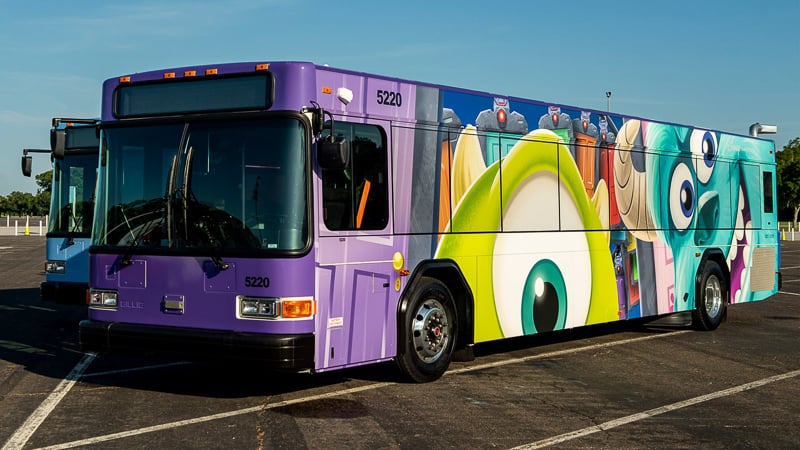 and there's a Moana overlay too: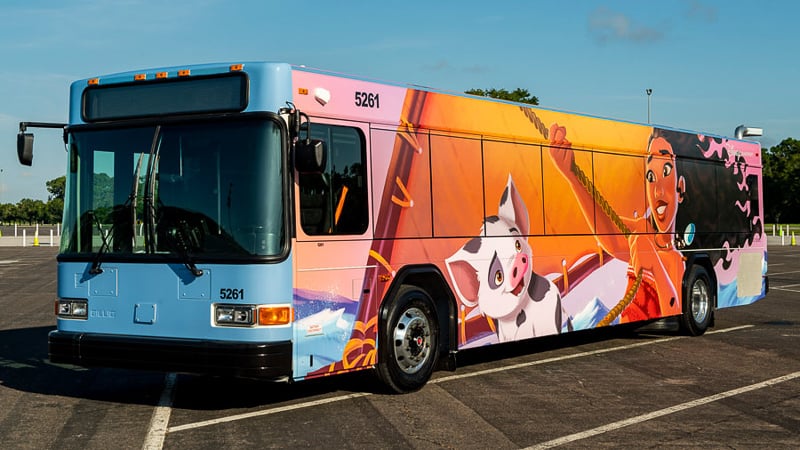 Lastly and not pictured is a Frozen bus, most likely with Anna and Elsa at least and probably Olaf too I'm guessing.
The latest addition to the new buses is the Figment bus!! This one just got added today and Figment is beautifully featured right across the whole side of the bus. Take a look:
It's pretty hard to miss Figment on this one!
Of course Figment's presence in the changing Epcot park is up in the air, but by introducing a whole Figment bus to Walt Disney World, it sure doesn't look like they are trying to push him out the door anytime soon does it?
Maybe this is a good sign of things to come and that it means Figment will be sticking around after all…let's hope so!
These new bus overlays join the original classic Disney characters already in circulation featuring the Sensational Six, Mickey, Mouse Minnie, Donald, Daisy, Goofy and Pluto: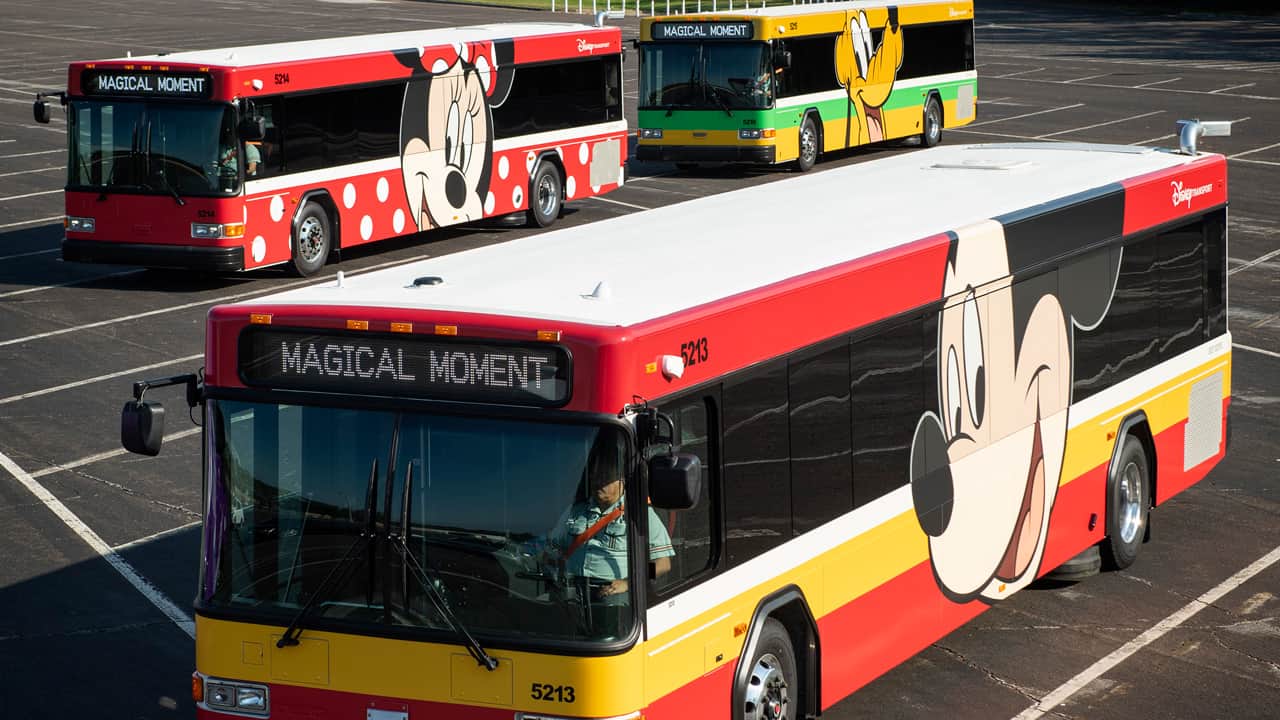 You'll love the new colors like red and yellow on the Mickey buses, Minnie's famous polka dots, and the pastel hues of Daisy.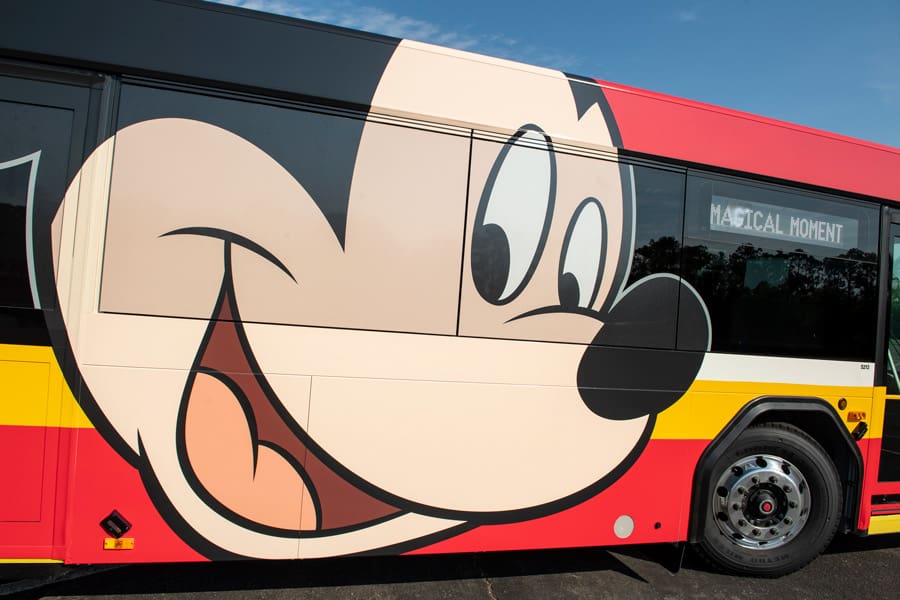 This goes along with Disney's push towards more entertaining transportation like the Minnie Vans that were introduced 2 years and the brand new Disney Skyliner gondolas coming this Summer. Both of those systems feature famous Disney characters.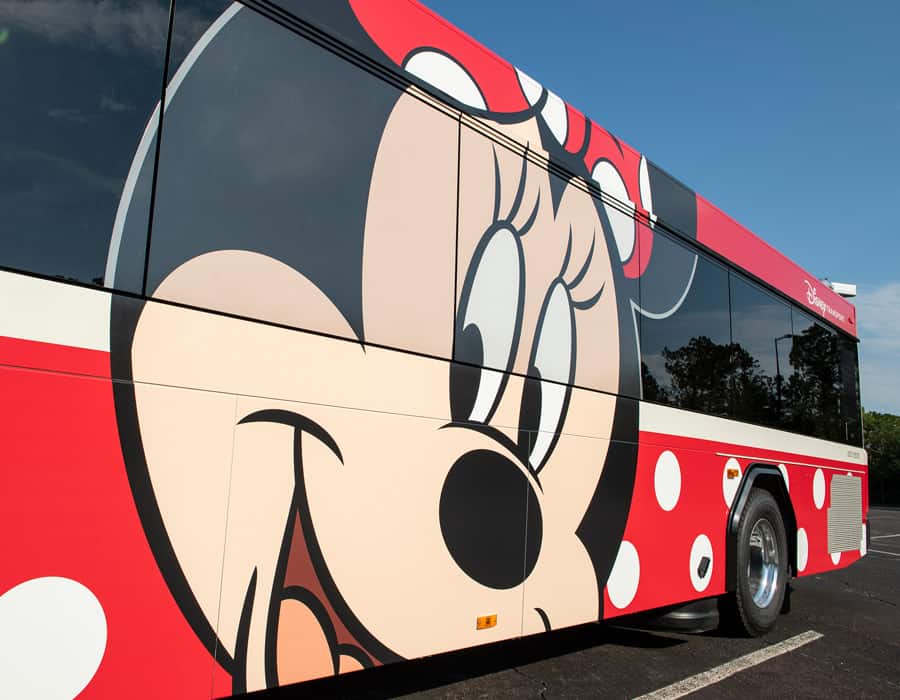 But the news isn't only the outside of the new Disney World buses, but the insides are equally as nice! you will also enjoy refreshed interiors that include brand new blue seats and laminate floors. This should be a big upgrade over the current buses which are quickly becoming dated.
USB:
Technology on the buses is also improving with many buses getting USB charging ports between the seats so you won't have to worry about not being able to use your smartphone because the battery is dead.
Here is what the seats look like: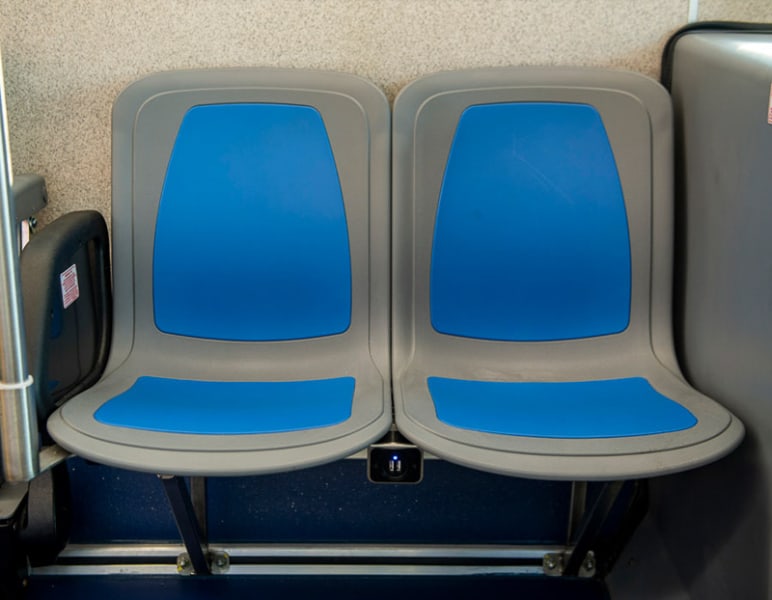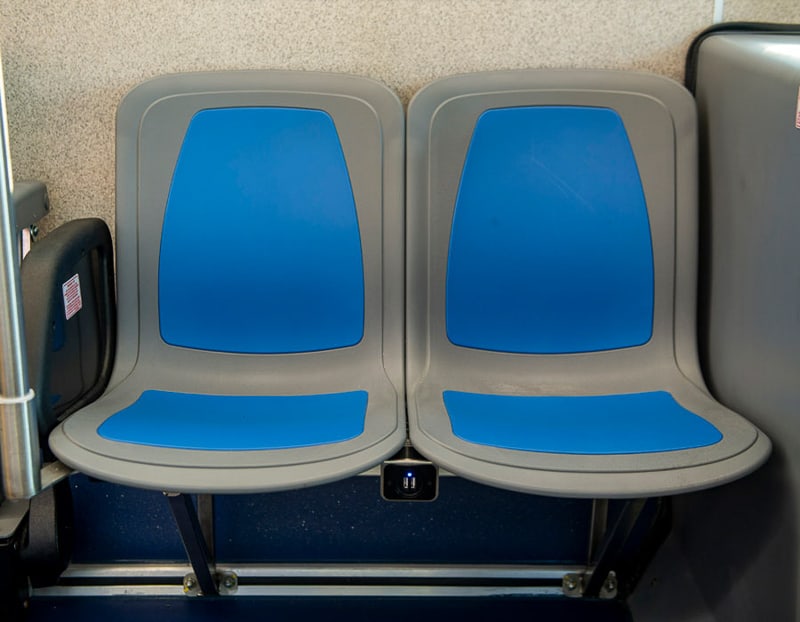 That's definitely going to come in handy after a long day in the parks of using your mobile device!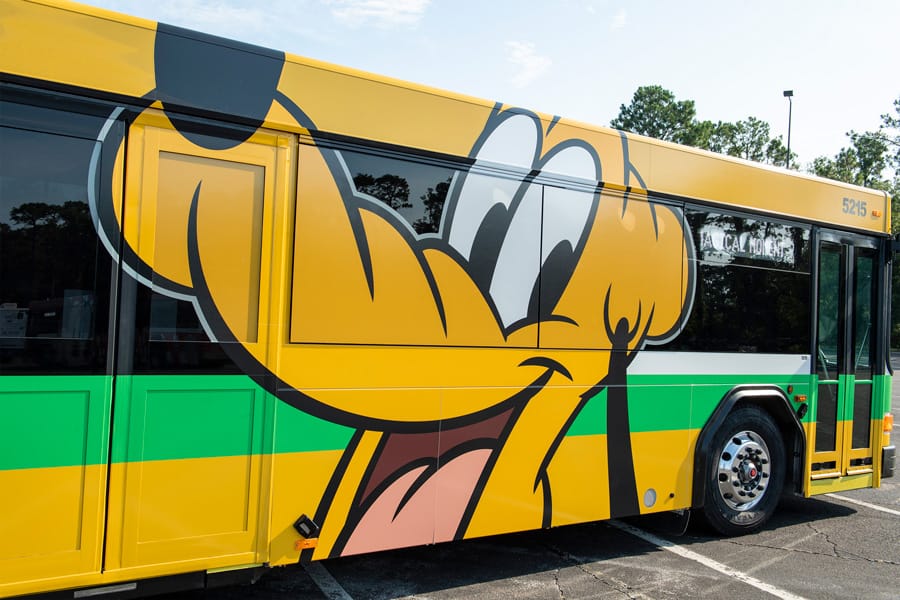 Wi-Fi:
The word on the street for a while has been that Disney has been getting ready to introduce Wi-Fi onboard the Disney World buses soon, though the bugs were still being worked out of the system.
Well on the new Figment buses spotted today is also onboard Wi-Fi connections! Speeds are around 20Mbps download and 10Mbps upload. Not the best for video chatting, but still fast enough to do most anything you'll need to on a Disney bus.
How to Join:
Keep in mind this is a different Wi-Fi network from the other existing networks in Disney World so it won't work automatically until you connect yourself.
If you want to use the Wi-Fi on the Disney World buses just join the network: "Disney Transport Guest" and you will be connected.
No word yet when this will roll out to all the buses, but it's happening as we speak, so your next trip to the parks on a Disney bus just might include Wi-Fi too!
Here's a video that gives you a better look into these new Walt Disney World buses with the Disney characters:
Your Thoughts:
I want to know what you think about the new Walt Disney World bus overlays…
Do you like the Disney characters on the buses?
What other features would you like to see besides USB and Wifi?
Let us know in the comments section below!
If you enjoyed this article, as always I appreciate it if you'd share it with others via social media. I work hard at making this website into a useful resource for you and your family to plan your visit to the Disney Parks and I hope it can help you! Thanks 🙂
Need help planning your Disney Vacation? Contact René from Show You the World Travel for all your trip planning needs. All of the agents there are certified Disney Travel Agents and are super helpful with all your planning needs. I highly recommend them and the best part about it is they are FREE to use!
News Source: Disney Parks Blog