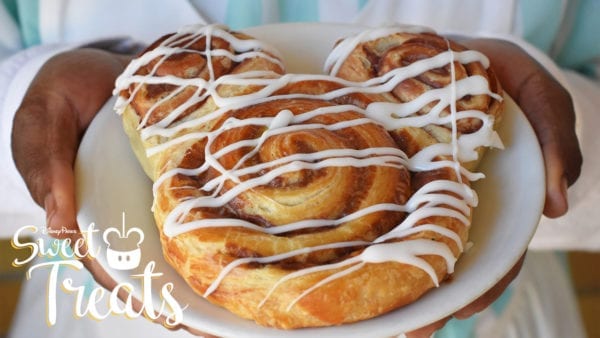 Of course maybe my favorite thing to do in the Disney Parks is eat (get rid of the maybe), and this month there are some great new snacks to enjoy. From candied apples, cupcakes, and milkshakes, you need to check out, and taste the Disney Parks Sweet Treats May 2017.
Disneyland Resort:
Let's start out with the healthy option of course, there's an awesome new Peanut Butter Cup Gourmet Apple you can try which is first covered in caramel, then rolled in sweet milk chocolate and decorated with peanut butter cups….you had me at peanut butter cups! The apple is then smoothed out with more peanut butter and milk chocolate. You know the saying: "An apple a day…." sounds about right to me! 🙂
You can find this amazing treat at Trolley Treats in Disney California Adventure, Candy Place and Hunny Spot in Disneyland Park and Marceline's Confectionary in Downtown Disney.
Hollywood Studios:
Disney Cupcakes are one of the best treats to find around any park and in Hollywood Studios there's a brand new one celebrating the release of Guardians of the Galaxy Vol 2. It's a Chocolate Cupcake with cookies and cream buttercream and has everyone's favorite character Groot on top.
Find it at the Trolley Car Cafe, ABC Commissary, Backlot Express and Rosie's All-American Cafe.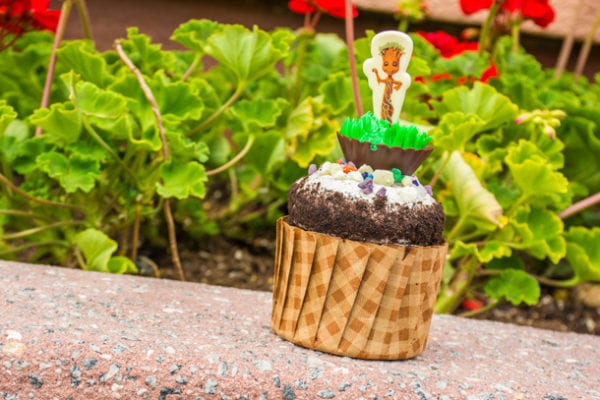 Magic Kingdom:
Staying with the Cupcake theme there are some delicious new ones throughout the Magic Kingdom. At Prince Eric's Village Market you can get the Bubble Cupcake which is an exciting cupcake topped with a fish. At Friar Nook get the Pink Buttercream which is topped with a crown. And at Gaston's Tavern you will find of course a Cupcake celebrating Beauty and the Beast which is inspired from Belle's dress – yellow with an edible red rose on top.
Speaking of Gaston's, if you like French Macarons you will be happy to know you can get one of two "Tavern Trio of Macarons." The two packs include: Pistachio, Raspberry and Lemon or Chocolate, Vanilla and Coffee. I never say no to Macarons and it sounds like I'm going to have to do a showdown with the Les Halles ones!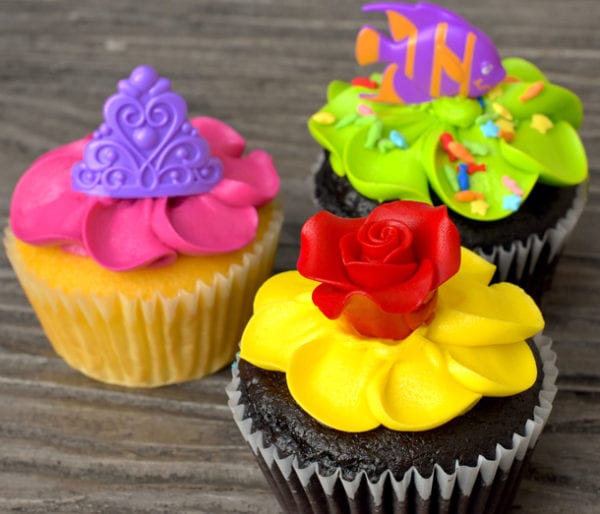 Lastly at the Main Street Bakery there a new Mickey-shaped Cinnamon Roll (pictured at the top of the page) which looks awesome! I've been a critic of the Main Street Bakery since it switched to Starbucks, mostly because of all the amazing, unique items they had before the switch. This thing looks real promising and another evaluation against the Mickey Cinnamon Roll at Kusafiri in the Animal Kingdom needs to be done!
Animal Kingdom:
Speaking of the Animal Kingdom there's a brand new Milkshake coming to Trilo-Bites. This isn't your ordinary diner-style milkshake you get back home, this is a Bourbon-Chocolate Milkshake garnished with candied bacon!! Yes please and twice on Sunday!! Of course the youngsters won't be able to get it, but that doesn't mean their parents won't have a ball with it!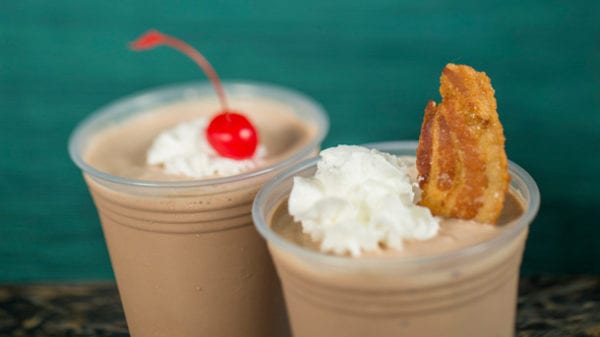 Disney Springs:
At Amorette's Patisserie they have a brand new Petite Spring Time Cake with vanilla chiffon cake, dulcey champagne mousse, strawberry jam, strawberry pate de fruit, feuilletine crunch, tuille garnish. Not sure exactly what all those ingredients but I'll sacrifice myself and give it a go!
Speaking of Amorette's Patisserie, some time back we talked about a special Cake Decorating Experience which allows guests to learn directly from the masters the specific techniques used to make these edible works of art. Well now that experience has been extended through August 15th, and starting next week it will be offered 3 times a week. Guest will be able to make and decorate their very own Mickey Cake learning from the best in the biz! The cost is $129 plus tax for 2 guests decorating one cake. You can make reservations online at: DisneyWorld.com/dining or by calling 407-WDW-DINE.
Resorts:
Lastly even though the Geyser Point Bar and Grill at Disney's Wilderness Lodge is brand new, they have a new treat that's just perfect for summertime: the Northwest Berry Whip. Is this like a Dole Whip but berry flavored?? If it is I'll be the happiest man alive…maybe not but I'll be first in line to get one! You can get it at the quick-service window at Geyser Point.
Those are some of the new Disney Parks Sweet Treats for May 2017, I look forward to trying them all (just for my readers benefit of course!) 🙂
Your Thoughts:
I want to know what you think about the new Disney Parks Sweet Treats May 2017 edition. Which one looks the yummiest to you? Have you already tried any of them? Let us know in the comments section below!
If you enjoyed this article, as always I appreciate it if you'd share it with others via social media. I work hard at making this website into a useful resource for you and your family to plan your visit to Walt Disney World, and I hope it can help you! Thanks 🙂