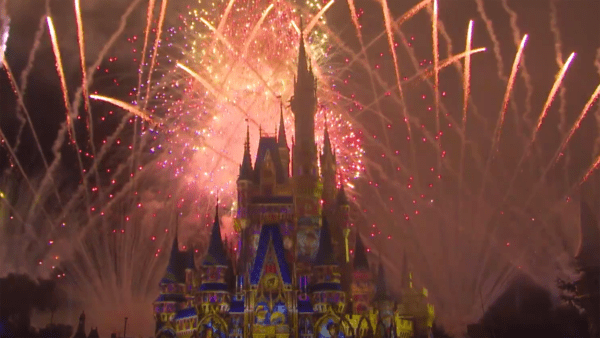 Tonight is finally here, the night we've all been waiting for anxiously for months now: the Happily Ever After Fireworks debut in Disney's Magic Kingdom tonight at 8:55 pm EST. This is going to be a historic event as it will be just the 3rd nighttime fireworks show to appear in Disney's flagship Orlando park.
Happily Ever After is going to transport guests on a magical journey incorporating the stories from 25 Disney films you know and love like Aladdin, The Little Mermaid and even more recent smash hits like Moana and Zootopia. Happily Ever After will be a much longer show in comparison with it's predecessor Wishes lasting 18 minutes and it has the potential to be the best show Disney has ever seen.
Last night we bid a sad farewell to "Wishes: A Gathering of Disney Dreams" and it was a moving show which allowed us to relive so many emotions for one last time! As great as Wishes was and as much nostalgia as it brings us thinking back on it, it was starting to show its age and it paled in comparison with some of the overseas shows Disney puts on (Tokyo anyone). It was time Disney made a change as it's flagship vacation destination in the world really deserves the best! And this show has it all:
One of the main reasons Happily Ever After has so much potential is its use of cutting edge technology in producing the show. It does such incredible things with laser projection and lights you will be left speechless! The way it can transform Cinderella Castle to life is truly amazing! It's able to project scenes from Disney films and make the castle feel actually part of the set. It's also going to make use of the most fireworks of any previous Disney show as well as cutting edge pyrotechnics.
It's going to take guests on an inspiring journey filled with heart, humor and emotion. The show will incorporate scenes from Disney Classics like Aladdin and The Little Mermaid, to more recent blockbusters like Zootopia and Moana. We're going to see Cinderella Castle transform before our eyes into a castle made completely from toys, (representing Toy Story), see Quasimodo swing from the bell tower like in Hunchback of Notre Dame and Maleficent from Sleeping Beauty engulf the castle in flames.
Besides the technology though, it's not that which makes Disney's nighttime shows so memorable, but it's the fact they can stir up emotions in you which leave you moved by what you just saw for the rest of your life. The music is probably the biggest part of what makes this happen and from what I've seen and heard so far from Happily Ever After I feel like this music is going to be really special too and be one of those songs you have stuck in your head all the way home.
If you watch this behind the scenes clip of the making of Happily Ever After you will get an idea of what I'm talking about. Try not to get goosebumps at the end with the whole choir singing together!
I know people are sad to see Wishes go, as am I, but just like Walt himself always believed in progress and moving ahead, we are excited to see what the future in Disney nighttime shows is and the future looks very bright. I have a hard time believing that Disney doesn't know how near and dear to the hearts of its guests the show Wishes was, and they wouldn't be replacing it unless they truly had something equally as special to replace it with.
My only concern is the storytelling part, having to tell 25 stories in 18 minutes is going to be a tough task. I hope they are able to pull it off well enough that it doesn't feel jumbled together. I have faith though and ultimately think they got it right. Let's start the show, I'm ready!
Happily Ever After makes its debut tonight at 8:55 pm EST and don't forget there's a Live Streaming event on the Disney Parks Blog so you can tune in to see the show for the very first time.
P.S.: Who knows what the backlash will be like when Disney finally replaces Illuminations in Epcot as well…
Your Thoughts:
I want to know what you think about Happily Ever After Fireworks Debut coming tonight. Are you going to either watch it in person at the Magic Kingdom or on the Live Streaming feed? Let us know in the comments section below!
If you enjoyed this article, as always I appreciate it if you'd share it with others via social media. I work hard at making this website into a useful resource for you and your family to plan your visit to Walt Disney World, and I hope it can help you! Thanks 🙂