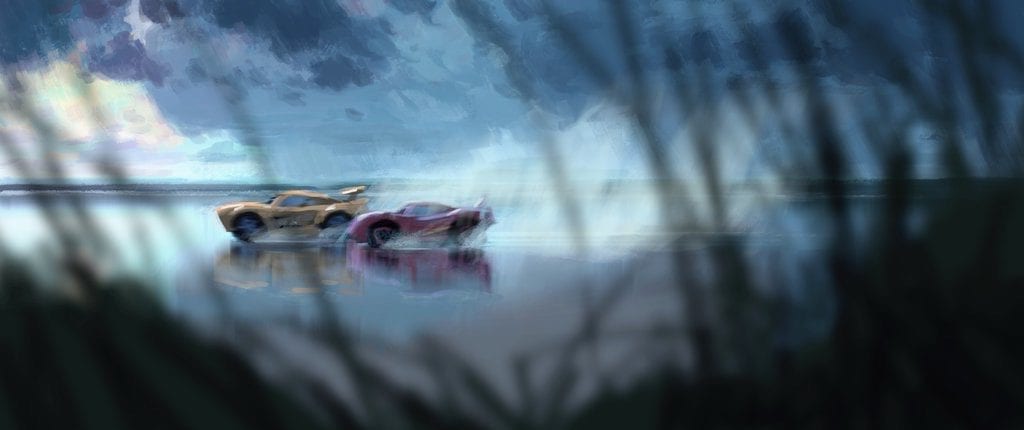 With all the other Disney Movie news lately about Beauty and the Beast, Finding Dory and Mary Poppins, don't forget that Disney and Pixar Animation still have Cars 3 on the way to theaters. Cars 3 will have the return of familiar Radiator Springs characters Lightning McQueen (Owen Wilson) and his tow truck sidekick Mater (Larry the Cable Guy), also girlfriend Sally Carrera (Bonnie Hunt) and auto body shop owner Ramone (Cheech Marin).
Pixar has just released some new concept art and details about the animated sequel and introduce us to a new character: Cruz Ramirez, a young female Hispanic race car. It seems that the yellow car racing alongside McQueen in the concept art from USA Today is Cruz. She will be helping McQueen adapt to the fast-changing world of racing, and to overcome the competition of newer, faster, high-tech cars.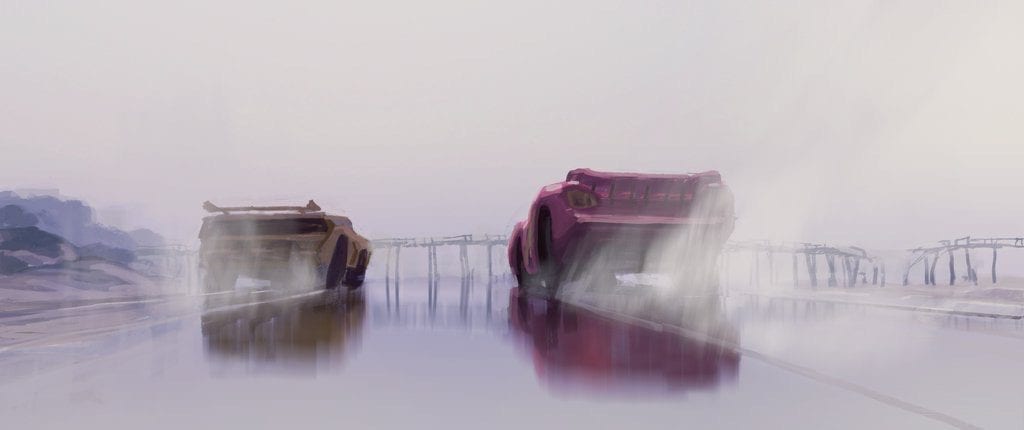 Director Brian Fee had this to say about the film in USA Today: ""Cruz Ramirez is trying to figure out how this old dog can learn some new tricks. Think of where he'd be in his career now in real time. (McQueen) is not an old man, but he's one of the older cars on the circuit with new rookies coming in. People start to wonder and ask when he might retire."
Also in USA Today they had this to say about newcomer Jackson Storm:
"Jackson Storm is the face of these rookies who have come onto the scene," says Fee. "And McQueen is in a position where his entire racing generation is being pushed out. But it's too early to be shown the door right now."

Ramirez aims to help him adapt and close the technical gap. The duo prepare in the racing off-season for McQueen's one chance to show he's got the goods in the Florida 500 (the equivalent of the Daytona 500).

"Everyone can relate to feeling like someone is at their heels, that they might be a little outdated in something they used to be very good at, feeling an expiration date. And knowing you need someone to help you get a second chance," says Fee.
Cars 3 hits theaters in about 1 year from now with a June 16, 2017 release date. Until then, look for perhaps a teaser trailer to be released with the Finding Dory release in June.
Tell us what you think of the new concept art for Cars 3 in the comments section below.