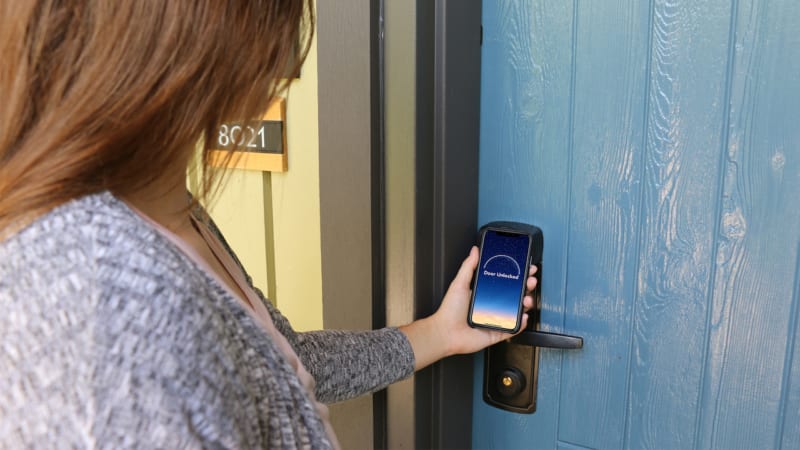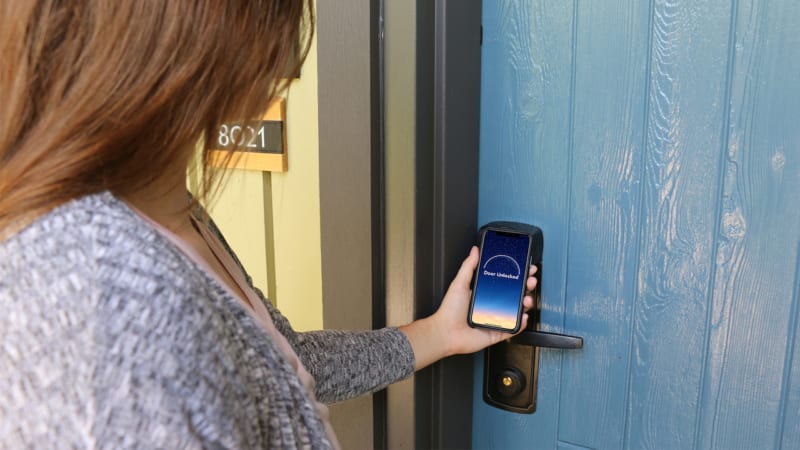 UPDATED April 18, 2018 – We told you just a couple weeks ago about Disney's new Digital Key technology in Walt Disney World Resort Hotels which allows guests to open their hotel rooms quickly and easily using their digital device. Well this Digital Key feature is Now Available to guests staying at select Walt Disney World Resort hotels and they can utilize this feature with the My Disney Experience app.
The following are the current resorts that use this Digital Key:
Disney's Wilderness Lodge
Copper Creek Villas & Cabins at Disney's Wilderness Lodge
Boulder Ridge Villas at Disney's Wilderness Lodge
Expect more hotels to be slowly added if everything goes well at Disney's Wilderness Lodge.
With Digital Key, guests can quickly unlock their hotel room, as well as the hotel entrance gate and doors to common areas like pools, fitness centers, elevators, and lounges. Plus, Guests who have completed online check-in may be able to bypass the front desk and use Digital Key to go directly to their room upon arrival.
The unlock door feature has been designed with security in mind, along with measures put in place to protect the security of your room. The first time that you use each mobile device, you will be required to sign in to your Disney account to activate the unlock door feature.
Disney released a new video explaining how this technology will work. Take a look:
But using the Digital Key to open guest hotel rooms is just the beginning because it will also allow them to open up other areas such as access to the resort pool, fitness center, club level lounges and elevators. All you have to do is tap the "Unlock Door" button and hold your phone to the sensor on the door. Bluetooth-enabled mobile devices with the latest version of the My Disney Experience app are required to take advantage of a digital key for room entry.
One advantage of the Digital Key system is that it will allow guests to bypass the resort's front desk, letting them go straight to their rooms and using their digital device to do it. This is something that users can already do with their MagicBands, but it gives them another option and additional convenience. It also should be nice in the event you forget your MagicBand in the room and you get locked out. If you have your phone on you it will be an easy fix.
This Digital Key feature can be activated by enabling it on the guest check-in through the My Disney Experience app before arriving in Walt Disney World.
Many have been wondering if the Disney Key now renders MagicBands obsolete. I don't think so because the MagicBands are always active and track a lot of statistics that phones at this point don't do through the My Disney Experience app, but this might change the way Disney gives its guests FREE MagicBands with their vacation booking. I could see that disappearing, forcing guests to buy them if they want the added features not available on the My Disney Experience app. Disney makes too much $ to get rid of them, they would be eliminating a huge revenue stream.
This is just one of many technical developments Disney has introduced guests to recently. Just today we also found out about the Play Disney Parks app which will allow guests to interact with their surrounding environment in the Disney parks, opening up a whole new world of exploration possibilities!
We'll keep you informed as more WDW resorts start offering the Digital Key feature.
Your Thoughts:
I want to know what you think about Digital Key Feature in Walt Disney World.
Will you use the Digital Key?
What ideas for it would you like to see implemented?
Let us know in the comments section below!
If you enjoyed this article, as always I appreciate it if you'd share it with others via social media. I work hard at making this website into a useful resource for you and your family to plan your visit to the Disney Parks and I hope it can help you! Thanks 🙂
News Source: Disney Parks Blog