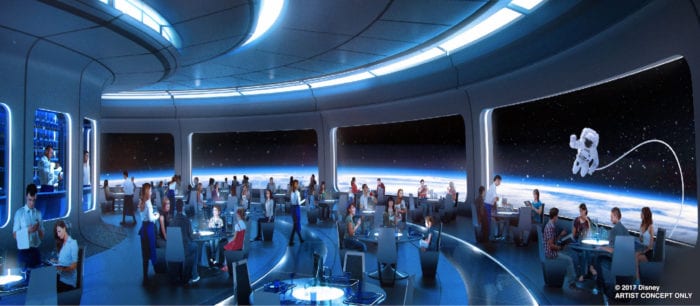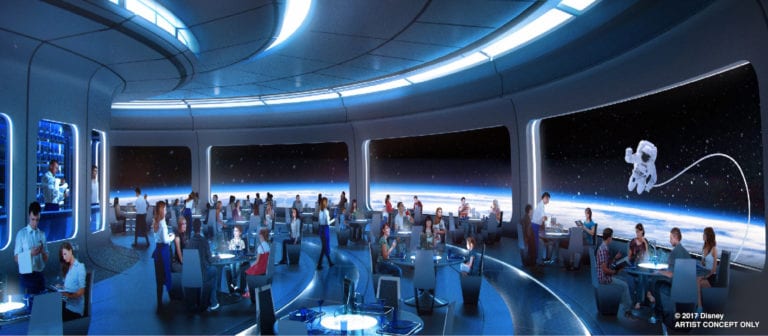 You've heard about dining under the stars? Well not like this you haven't…. In a move that no one saw coming before D23 Expo, Disney has announced a Mission Space Restaurant coming to Epcot. Yes this will give guests the chance to dine with spectacular views high above earth, from space! The restaurant will be built in a separate building adjacent to the Mission Space attraction.
UPDATED – August 2019: Read more about the new space restaurant coming to Epcot called: "Space 220." We have all the latest details about this dining location in the link.
UPDATED – 5/9/18: Disney announced the location of the Space-themed restaurant today, and also filed 27 new permits for a big expansion project in Epcot.
Walt Disney Imagineer Tom Fitzgerald shared a first look at the restaurant during the Walt Disney World Parks and Resorts presentation at D23 Expo 2017. "We know our guests love dining at Epcot – and the restaurants really are out of this world," Tom said. "Now we're about to create one that takes that literally."
The restaurant is in good hands as it will be operated by the Patina Restaurant Group, who is responsible for and operates Via Napoli, Tutto Italia and Morimoto Asia in Disney Springs.
I was totally floored when I heard the news about a Mission Space restaurant and think it's something Epcot sorely needs. No word yet on an opening date, but expect it to be ready for Walt Disney World's 50th Anniversary in 2021. There's going to be so much info to share about this in the future, so stay tuned so you know what to expect!
Check out all our D23 Expo coverage our D23 Expo 2017 Announcements Page and also our D23 Expo 2017 Blog