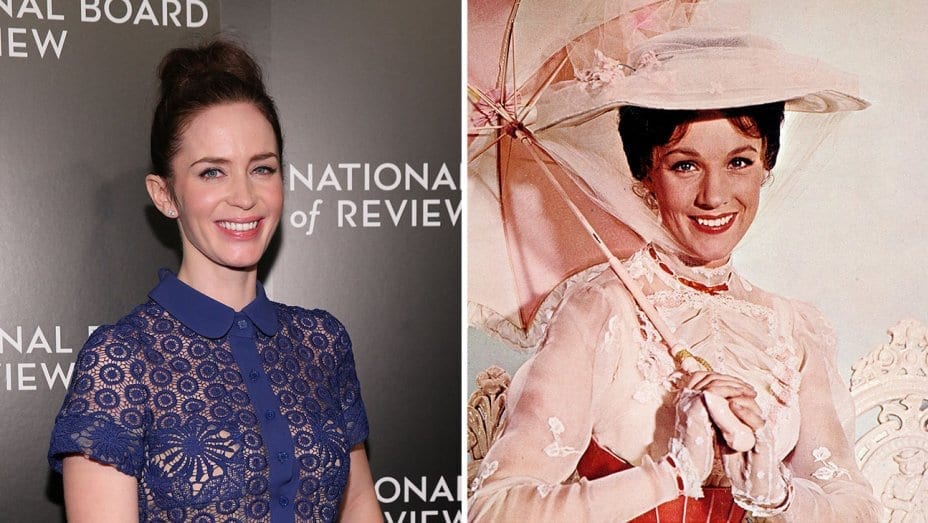 This Disney remake stuff is going to an even higher level now with the news that Mary Poppins is officially getting a sequel entitled: Mary Poppins Returns. The re-make of the 1964 classic starring Julie Andrews will now have Emily Blunt (Into the Woods) taking over the role of the title character, as well as Lin-Manuel Miranda (In the Heights, Hamilton).
Disney said it will get inspiration for the film from the seven additional novels that P.L. Travers wrote about Poppins. The film will be directed by Rob Marshall, who worked with Blunt in Disney's "Into the Woods." Marshall said in a statement: "The iconic original film means so much to me personally, and I look forward to creating an original movie musical that can bring Mary Poppins….to a whole new generation." The screenplay will be written by Oscar nominee David Magee, with Oscar nominee and Tony Award winner Marc Shaiman composing an all-new score and Shaiman and Emmy nominee and Tony Award winner Scott Wittman writing original songs.
Mary Poppins Returns will take place in London and will continue with a now-grown Jane and Michael Banks (along with his 3 children) who get a visit by their old-nanny Mary Poppins. After a personal loss she once again uses her one-of-a-kind powers to bring up the spirits of the family and show them how to have joy once again in their lives.
The original 1964 was such a success to the Walt Disney Company and to Walt Disney himself who produced the film. I know Disney is really getting in to these re-makes but I for one really hope that they don't screw up this classic masterpiece of a film. The original is regarded as one of the best musicals of all-time and the sequel has BIG shoes to fill, we'll see if it's "Supercalifragilisticexpialidocious…"
Mary Poppins Returns is set to fly into theaters Christmas Day 2018
Let me know what you think of the new Mary Poppins sequel in the comments section below…
Photo credit: photofest