Are you or someone in your family a huge fan of The Mandalorian and his incredibly cute sidekick Grogu? If you I have some great news for you! Disney has now opened up a new character meet for The Mandalorian in Galaxy's Edge and you can actually meet them in person on your next trip!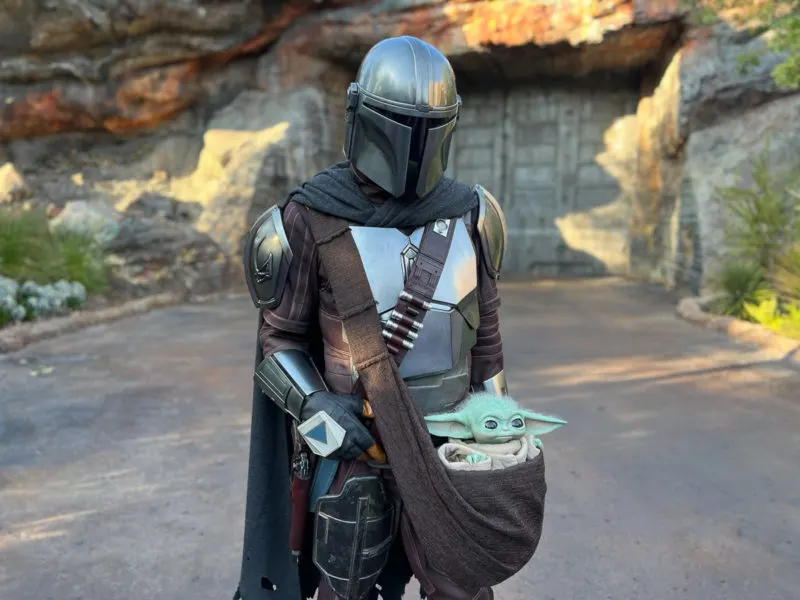 In this post, we will cover everything you need to know about the new Mandalorian & Grogu (Baby Yoda) character meet in Disney's Hollywood Studios at Walt Disney World. We'll tell you the exact location you can meet The Mandalorian, what times it's running each day, and if there is a schedule to meet them.
Seeing as this has been extremely popular since it opened not too long ago, we'll also cover how to beat the crowds when meeting The Mandalorian and Grogu and how the actual meet works.
Lastly, we'll tell you how long we expect them to stay in Hollywood Studios and what might cause Disney to extend their stay longer than originally planned.
We can honestly say that after 40 years of meeting characters in the Disney theme parks, this is the most hyped meets we've ever seen, and the following they have when walking through Galaxy's Edge is incredible. This is our favorite character meet we've done in a long time, and it should absolutely be on your list of attractions to do in Hollywood Studios on your next visit.
Also, don't forget to sign up for our FREE Weekly E-Mail Newsletter. We will update you as soon as we know when the character meets are fully coming back to the parks, and share the latest vacation planning tips. You can sign up here: Join our E-Mail Newsletter!
In Which Disney Theme Parks Can You Meet The Mandalorian and Grogu?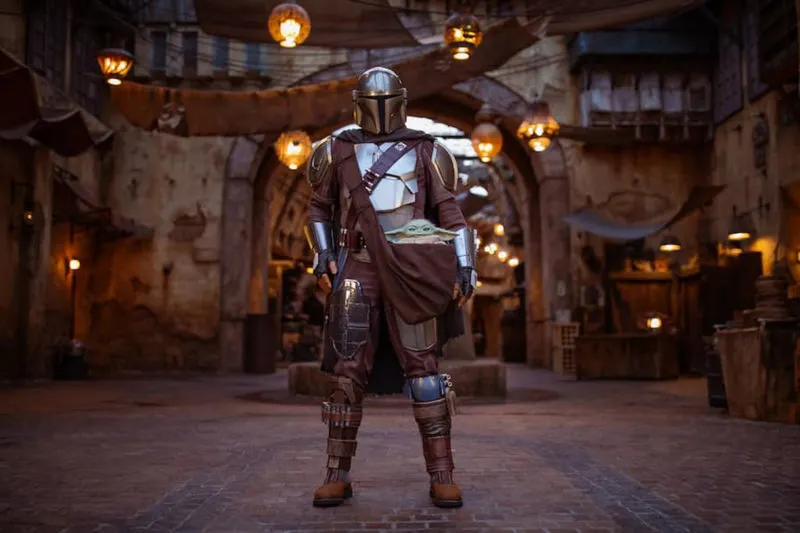 With the new season of Mandalorian out, guests are excited about the big news! Both The Mandalorian (Din Djarin) and Grogu (aka Baby Yoda) are exclusively meeting guests at Disney's Hollywood Studios Park, in Star Wars: Galaxy's Edge.
This is the way for fans of the popular Disney+ Star Wars Series!
As of this writing, Disney's Hollywood Studios is the only place to meet The Mandalorian and Grogu at Walt Disney World. They are not found in any of the other 3 theme parks, nor do we ever expect them to be seen there.
You can also, however, meet them in Galaxy's Edge in Disneyland Park if you take a trip out to California.
This news has come out of relatively nowhere (at least in Walt Disney World) and has been HIGHLY popular, so far! The best news of all is that it doesn't appear to be a short-term thing.
Typically when Disney brings short-term things to the parks they will mention it as being a "limited-time offering" but that's not the case with The Mandalorian and Grogu, which makes us think they are going to be around long-term.
So if you're wanting to see the two popular stars, come to Galaxy's Edge in Hollywood Studios and you might just come in contact with these two fan favorites!
The Mandalorian Character Meet Location In Galaxy's Edge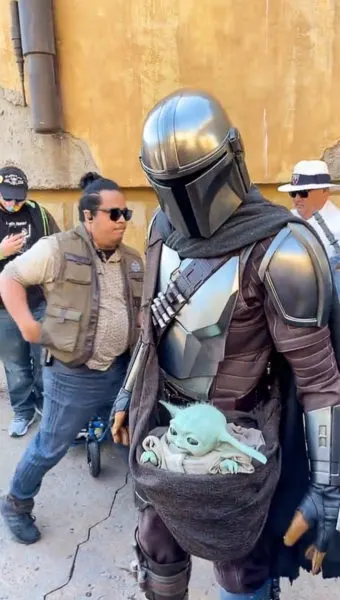 Unlike official Meet and Greets that you might find at the other parks or even elsewhere in Hollywood Studios for other characters, Galaxy's Edge tries to make their character interactions more authentic and real. This means that you likely won't see The Mandalorian or Grogu on any kind of published schedule.
So the chances of you meeting them are just that, by chance! However, if the last few days are any indication, they are around quite often, so the good news is if you spend enough time in Galaxy's Edge long enough, you'll likely see them walking around.
It's not hard to find them either. Guests have been flocking to them, making it clear where they are. Just follow the crowds and you'll find them.
It's possible that Disney CAN change this and make it more like the "official meet and greets" for some characters in the parks. Our guess is that if guests continue to surround the two popular fan-favorite characters the way they have been, this may be a necessity.
We personally hope they don't because it takes some of the uniqueness away from the land and puts it on a similar par with every other character interaction in Walt Disney World which feels more inauthentic and orchestrated.
If you are looking for the best place to find The Mandalorian and Grogu in Galaxy's Edge, we have noticed there is a greater likelihood of spotting them if you stick around the Marketplace Area. The duo is often spotted here and your chances of finding them here are the greatest.
Baby Yoda & The Mandalorian Character Meet Schedule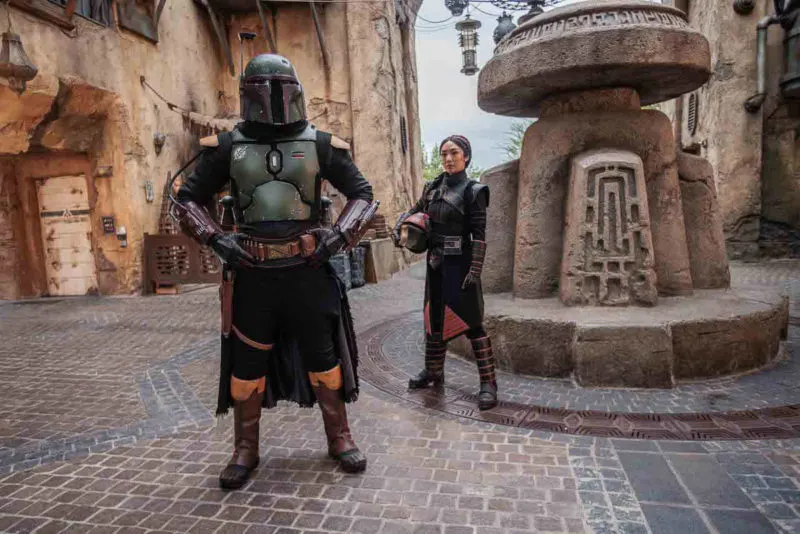 Right now there is NO set schedule or listed meet times for The Mandalorian and Grogu in Galaxy's Edge.
With the popularity of Baby Yoda and The Mandalorian and the constant hounding by fans and guests of Hollywood Studios, it's possible that if the mass crowds continue, Disney World CAN add officially scheduled times for guests wanting to meet the duo.
As of yet, this hasn't happened. We expect after the excitement settles down in the coming weeks, fans swarming the popular characters will quiet down quite a bit, so it shouldn't be as much of an issue.
Disney hasn't announced a period of time for how long this will last, but they did say The Mandalorian and Grogu are "permanent additions" to Disney's Hollywood Studios and Galaxy's Edge. In light of this info, we'd expect it to continue AT LEAST until well after Season 3 of The Mandalorian is completed and into future seasons.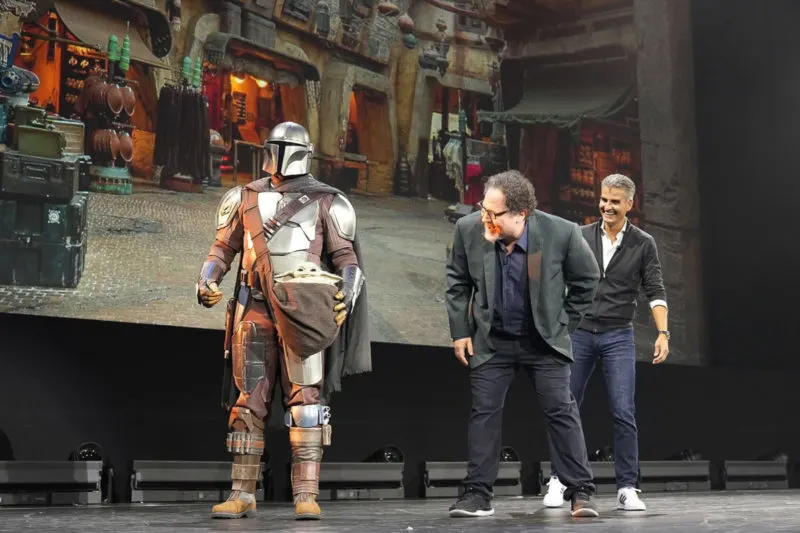 I think at the very least they'll ride the coattails of the show for as long as it continues to be popular, which means well beyond the summer months and into next year. That way more guests have a chance to meet these beloved characters.
We like the way Hollywood Studios currently operates with the two characters and it adds a mystique and excitement to the park with guests wondering when the duo is going to come back out.
I remember when Galaxy's Edge first opened and looking around and waiting for Kylo Ren. That was fun and memorable trying to find him and the stormtroopers.
These two are likely even MORE popular and it adds some additional excitement back into the popular land again. Hype and excitement are never bad things, especially with some of the negative press Disney has been receiving of late.
Wait Times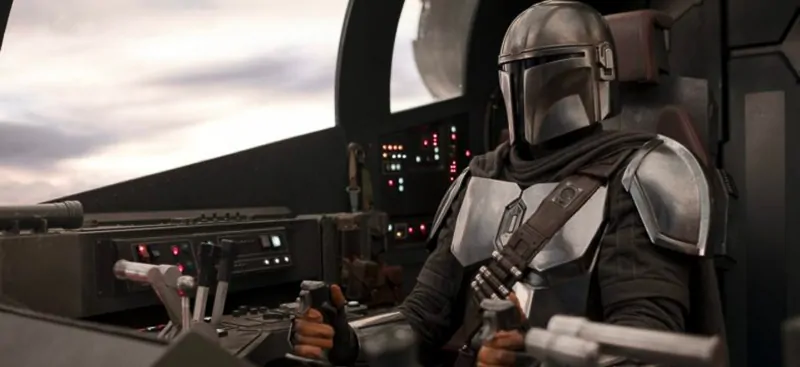 There are neither queues nor Lighting Lane reservations available to meet Baby Yoda and the Mandalorian in Galaxy's Edge. That means there are no wait times, and there is nothing you can pre-book that will guarantee you a meeting with the fabulous duo.
Many guests have been waiting in the hot Florida sun for them to appear thinking they're going to be guaranteed a picture and sadly, this isn't always the case.
This character 'meet and greet' is a different type of character experience, one in which they simply roam about the land for 15 minutes or so before heading backstage again.
If you get a chance for a picture or a selfie, great! If not, don't be surprised.
How the Character Meet Works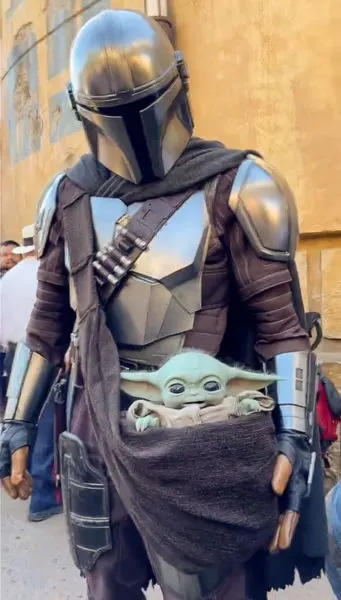 The Mandalorian and Grogu randomly walk around Galaxy's Edge in Hollywood Studios completely unannounced and at different intervals, making it very hard for guests to completely predict when they're coming.
Most of this is likely to avoid guests from overcrowding! When the Mando and Grogu do eventually come out, they tend to stick to the Black Spire Outpost Marketplace area of the Galaxy's Edge. Sometimes they gather and roam about by Ronto Roaster as well.
The best way to find them is to simply follow the crowds! Trust me, if they are out, you will know about it.
If you do spot them, you should be able to get a few pictures, maybe even one of you and the duo. But don't count on this, there won't always be time for everyone. It can get crazy and you'll often see Disney fans acting as if they are truly meeting a character in a galaxy, far away!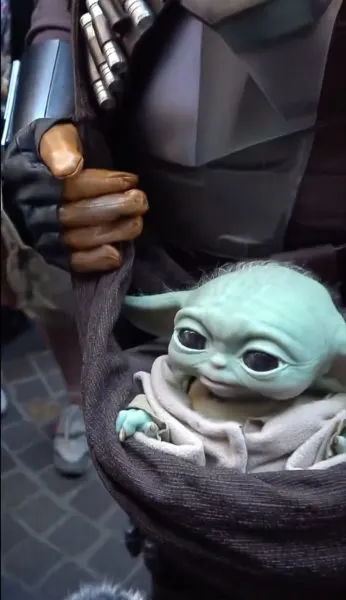 The way it's handled and how 'real' it feels is unique and so well done by Disney Imagineering and the Cast Members involved. It's one of the most realistic character experiences we've ever seen in the Disney Parks.
But what can you expect if you do get close enough? What's cool is you'll often hear The Mandalorian speak to guests and you'll hear Grogu make different cooing sounds. They don't look fake, everything from Mando's Kevlar gear to the way Grogu moves and turns his head and blinks his eyes appear real.
I don't know how much that Gorgu figure costs, but it's sure worth the price!
We love this experience and hope it continues to stick for the long term!
Be Polite and Use Etiquette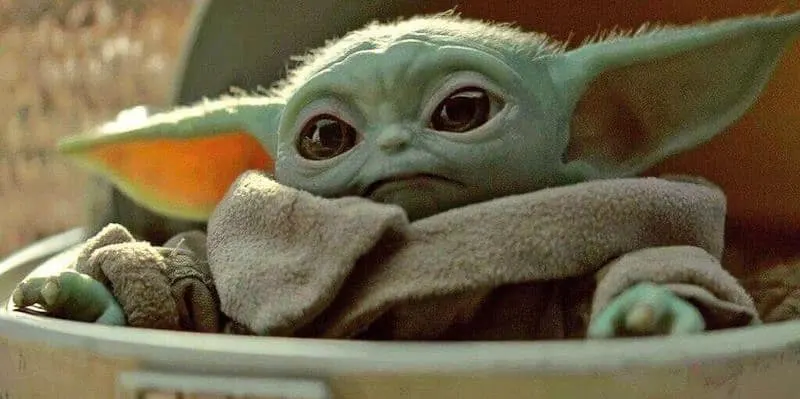 While it can be incredibly exciting to see these characters, especially for hardcore Star Wars fans, we remind you to be polite and use proper etiquette when it comes to these character experiences.
With how crazy it's been with The Mandalorian and Grogu patrolling Hollywood Studios these days, it's not always simple for the cast members to keep the crowds under control. These hardworking cast members do everything they possibly can to make it a real-life-like experience, but guests don't always make it easy for them.
This fabulous duo is ridiculously popular and from the moment they appear crowds often shove and push to get as close as possible to get the best pictures for their trip. Be careful and think about those around you in addition to the cast members and the characters themselves.
By doing this, you can make the experience wonderful for both your family and the families around you!
FAQs
Can You Hold Grogu?
Unfortunately, guests looking to hold Grogu will be disappointed. He doesn't leave The Mandalorian's side throughout this character interaction.
Do They Ever Change Outfits?
At this moment in time, The Mandalorian and Baby Yoda do not change their outfits and they always have the same costumes on, or at least we haven't seen them change outfits up to this point.
It's possible with the popularity of the magnificent duo that they could change outfits in the future, especially if Disney decides to keep them around long-term. But as we speak, they keep the same outfits each time they patrol Batuu.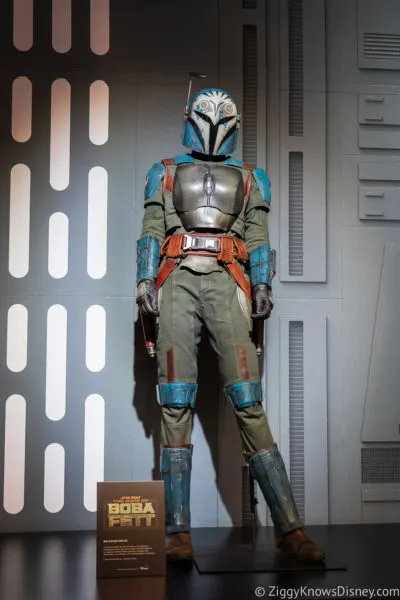 Is The Mandalorian in Disneyland?
Yes, they are. In fact, they were announced by Jon Favreau at the 2022 D23 Expo and made their debut in Disneyland only a couple of months later on November 18, 2022.
The Mandalorian and Grogu have been incredibly popular since making their appearance in Disneyland last year prior to the Christmas Season. Their overwhelming popularity in California likely caused Disney to bring them to Hollywood Studios to Batuu East, which was a very smart move.
Can You Meet Yoda?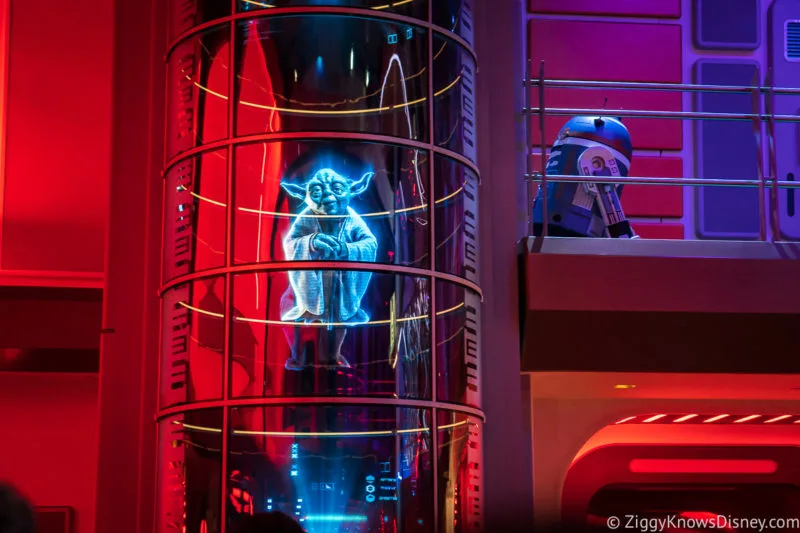 While Baby Yoda or Grogu is available to meet at both Disney's Hollywood Studios and Disneyland Park in California, Yoda is sadly not available to meet.
It's possible Disney could introduce him at some point in the future, but they've been hesitant to bring in legacy characters, and are focused on mostly having characters who are connected to the current IP.
Are there any Character Meals with The Mandalorian?
While we'd love to see a Character Meal with The Mandalorian and Grogu, sadly that is a long time away, if ever. These two characters just came to Hollywood Studios in early March so we likely won't see that for a long time!
Finding The Mandalorian without the Crowds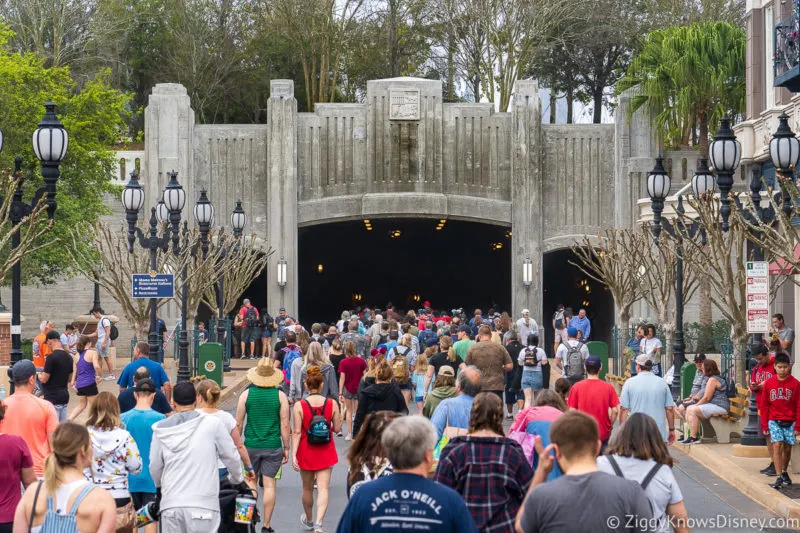 While it's almost impossible to avoid having to deal with pushing and overzealous crowds in Galaxy's Edge, there are a few ways you can attempt to find The Mandalorian and Grogu without the same levels of crowds.
Here are the best ways, based on what we've seen in Hollywood Studios and Disneyland Park:
Head to Star Wars: Galaxy's Edge first thing in the morning when it's quietest
Come during an off-peak day or week

For instance, don't go to Hollywood Studios on a weekend or on a holiday
If you do these couple of things, you'll have a much greater likelihood of having a better character interaction, although it will still be busy. Just hopefully, slightly more doable!
How Does the Story Work with The Mandalorian in Galaxy's Edge?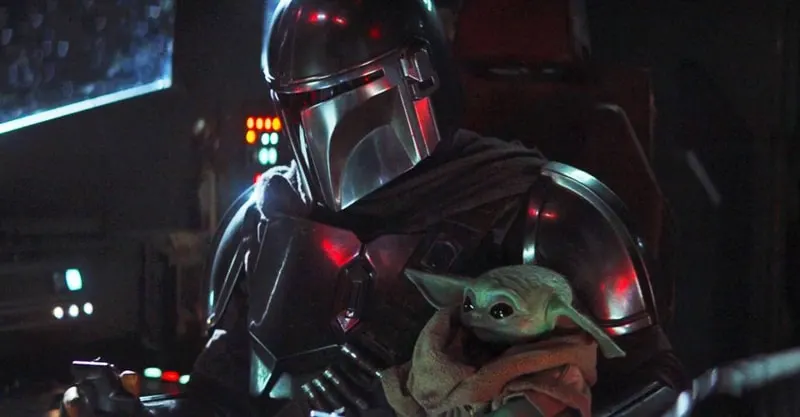 When Walt Disney Imagineering designed Batuu, they wanted to tell an immersive story that was based on new and original characters from the constantly widely expanding universe. They also said there would be a collection of characters including some legacy characters that would occasionally inhabit the outpost.
The story works well with The Mandalorian on Disney+ with minimal crossover. In fact, Scott Trowbridge said initially about the Mandalorian and Baby Yoda "They will remain in their specific story and timeline and won't intersect with other characters or stories that would not be appropriate for them."
The series on Disney+ takes place only a couple of decades prior to the events of Batuu so there doesn't appear to be anything at odds when it comes to the land's timeline or storytelling. Disney for the most part does a good job of making sure parks don't have intersecting stories that don't properly coincide with each other.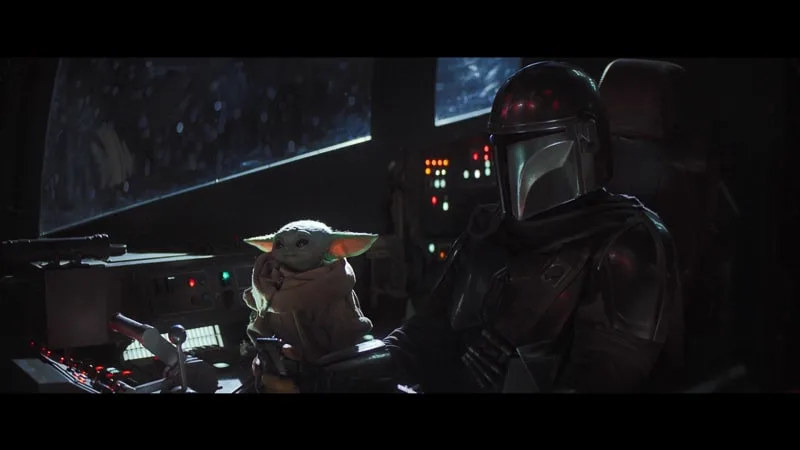 We understand some guests might think that Disney is taking certain liberties to give fan service by promoting a new season of the show. And there's no doubt about that! But in this particular case, we don't find the story to necessarily conflict with the original storytelling of Batuu. If it did break storytelling continuity, we'd have a problem with it.
But it does appear going forward that Galaxy's Edge will have less and less of a specific timeline, allowing Disney to add additional fan-favorite characters to the land.
I think we should prepare ourselves for that, but they can do it in a tasteful way that makes sense with the overall theming of the land, while still giving guests what they want.
How Long Will Disney Keep Grogu and The Mandalorian in Hollywood Studios?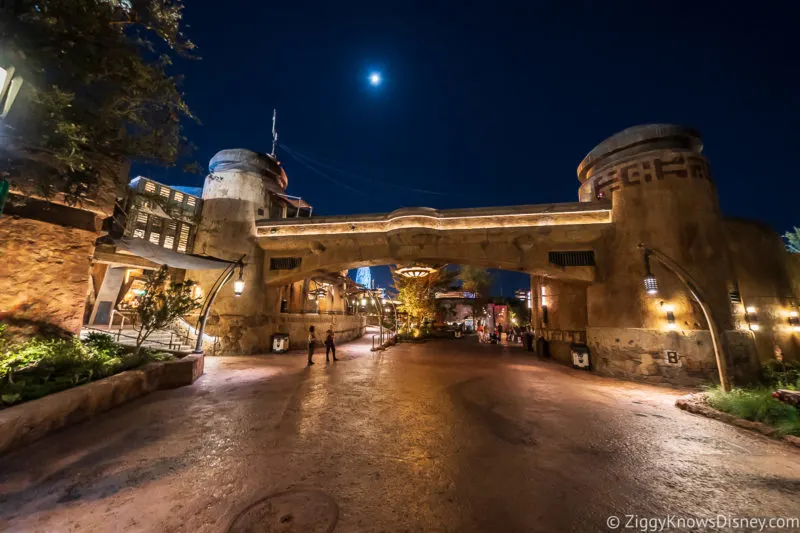 When Disney originally made the announcement, it looked like The Mandalorian character meet in Galaxy's Edge would only be a temporary thing, and those characters wouldn't stick around for very long. Disney has since changed its tune and it will keep Mando and Grogu for at least a considerable period of time.
With the success of both Hollywood Studios and Disneyland and the recently announced additional character meets for the duo at Disneyland Paris, Disney appears to realize that The Mandalorian and Grogu are fan favorites and they need to stick around.
In fact, shortly after the duo debuted in Walt Disney World, Disney officially announced that The Mandalorian and Grogu are permanent additions to Star Wars: Galaxy's Edge at Disney's Hollywood Studios!
Disney would do well to keep The Mandalorian and Grogu in the parks, because frankly, they need the good publicity. There hasn't been anything new in Hollywood Studios of interest since Mickey and Minnie's Runaway Railway opened up in March 2020. That's over 3 years ago now.
Disney is also about to hit a stretch where not too much new is on the horizon. Besides the TRON roller coaster that just opened up in the Magic Kingdom, there isn't much to get fans excited about for the rest of this year.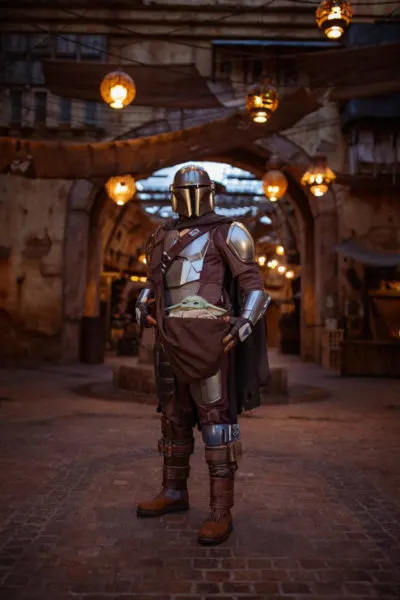 Having a character meet as popular as The Mandalorian and Grogu, gives guests more incentive to come to Walt Disney World, in a year when people are more reluctant to spend money with the looming financial problems facing this country.
On top of that, this new/old leadership under Bob Iger frankly needs to win back guests' trust and get back in their favor. There have been so many bad decisions for guests made by leadership since the parks reopened, that even something like being able to meet their favorite characters in the park goes a long way to mend that relationship.
At first, we thought at the very least they'd keep the characters going through until well after the end of Season 3 of The Mandalorian on Disney+, sometime around May. Maybe Disney would push it into the Summer since they are such a big hit.
However, now that Disney has announced they are "permanent additions," it would seem that the timeframe for their stay has been extended even longer and they likely will be here for the rest of the year and beyond. That is in my opinion the most likely outcome.
If guests continue to have at least half the interest in Baby Yoda and The Mandalorian as they have up to this point, Disney would be wise to keep them here long-term, at least as long as the show continues making new seasons and people want to see these characters.
That's good news if you are planning a trip to Walt Disney World in the coming months or beyond. This means you don't have to rush and likely these characters will still be around when you get here!
Other Star Wars Characters You Can Meet in Galaxy's Edge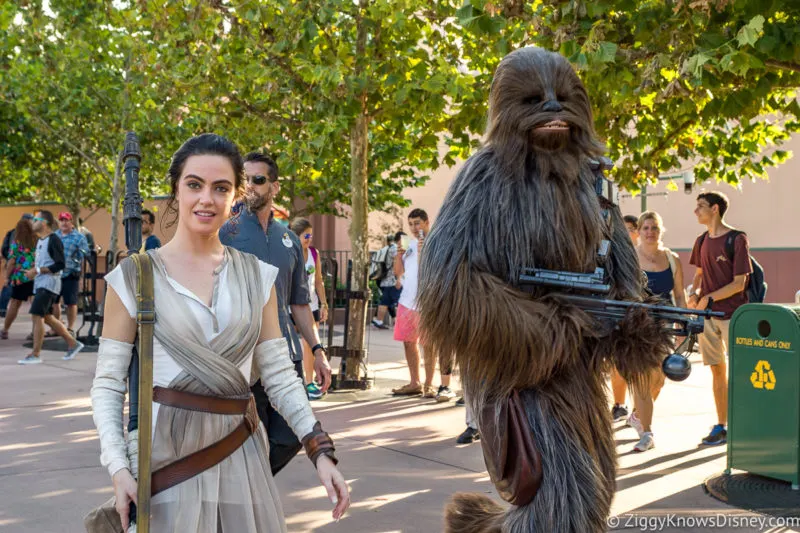 Fans visiting The Mandalorian and Grogu will be pleasantly surprised that there are MORE characters to meet in Galaxy's Edge. Who?
Here are the characters that you will find walking around Galaxy's Edge throughout the day:
Boba Fett and Fennec Shand
Our favorite Wookie Chewbacca
Rey
Kylo Ren
Stormtroopers
Vi Moradi
R2-D2
All of these character interactions at Galaxy's Edge are fun and unique. We love how unique and immersive these interactions are while making them fully believable for both hardcore and nonhardcore Star Wars fans.
None of them are what you would call a stationary character meet where you can find them in the same place every day and on a set schedule. Instead, the Star Wars characters in Hollywood Studios mostly wander through the land and when you see them you can start talking to them, ask for an autograph, and grab a selfie together.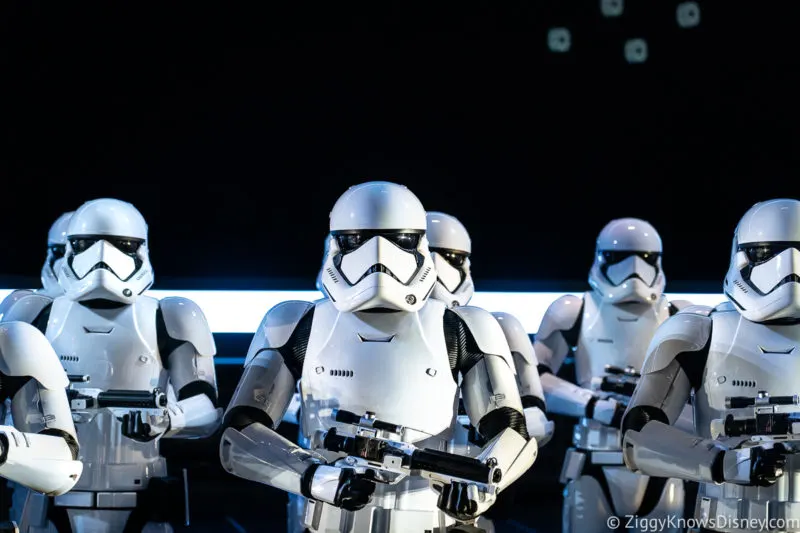 That wraps up our look at how to meet The Mandalorian and Grogu in Disney World. We hope it was helpful and you can use it to experience this incredible character meet. It really is worth it!
For more information on planning your vacation to Walt Disney World here are three of our most useful posts:
Your Thoughts
I want to know what you think about The Mandalorian Character meet…
What has been your experience seeing these characters in Hollywood Studios?
What other Star Wars characters would you like to see in Galaxy's Edge?
Let us know in the comments section below!
If you enjoyed this article, as always I appreciate it if you'd share it with others via social media. I work hard at making this website into a useful resource for you and your family to plan your visit to the Disney Parks and I hope it can help you! Thanks 🙂