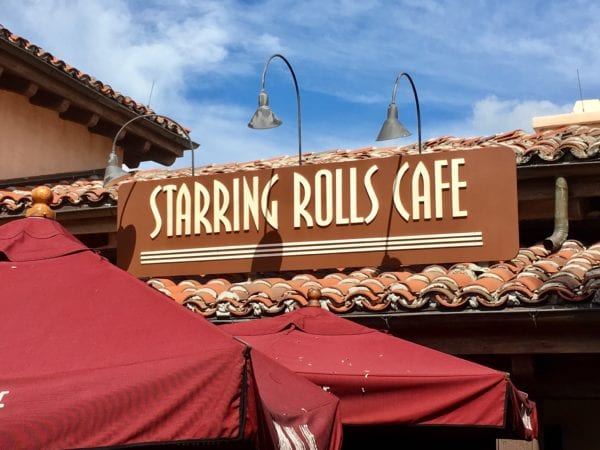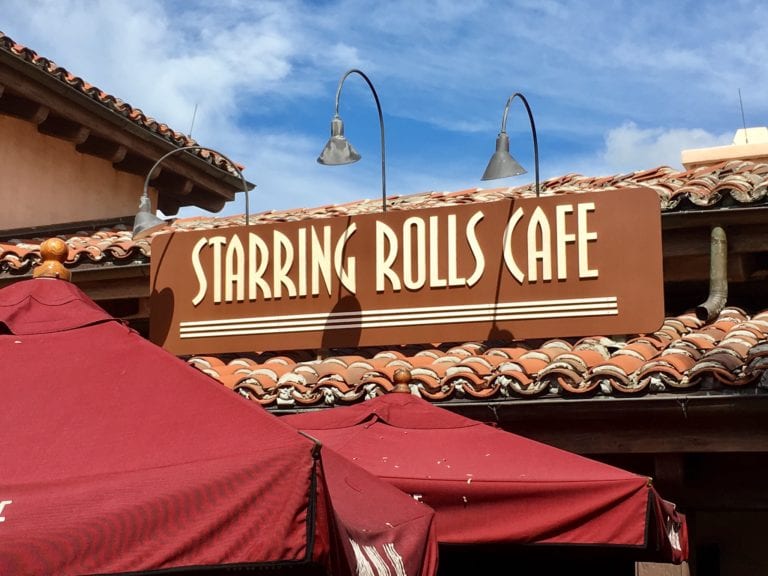 This is a Review of the now closed Starring Rolls Cafe in Hollywood Studios. Starring Rolls was a Quick Service Breakfast/Lunch dining location that was attached to the back of the Hollywood Brown Derby restaurant, and offered guests a great selection of baked goods, including Croissants, Pastries and of course their famous Cupcakes! They also served up great sandwiches and the like for Lunch.
So I know what you're wondering…Why is he doing a review about a dining location that's closed? First of all I wanted to say: You are right my friend, I know it is closed. Secondly….Stop rubbing salt in the wound, I'm already hurting enough from its closure you don't need to make it worse. I mean let me live in the past just a little and honor the memory of my dearly departed friend…
Ok I'm being a bit dramatic, but really I have a whole list of Dining Reviews I needed to get to (and still do btw), when I remembered that Starring Rolls was one of them on the list. So naturally I had two choices: 1. Just not do the review since it's already closed or 2. Show the respect that Starring Rolls deserves after all these years of treating me good.
Why did Starring Rolls close?
Well we still haven't got a concrete answer to that question, however there are some reasons we can deduce Disney closed it. With the opening of Starbucks (Trolley Car Cafe) a while back, having Starring Rolls was probably too redundant for Disney. Yes I know they served different things, but Disney has been cutting costs so having two breakfast places that serve pastry and coffee, etc was unnecessary, even though there is room for two and it's now just going to make Trolley Car Cafe all the more busy.
This move should have been seen coming for a while before because the Trolley Car Cafe (more on that later) started serving up some of the same cupcakes from Starring Rolls a few months back, which means they were gearing up for the move. I mean it's just like back in your home town, Starbucks moves in and closes up the local coffee shop, that's why Italy has tried for years to keep Starbucks out of the country until just recently.
Now a lot of the items you will see in my review you can still get at the Trolley Car Cafe, but that isn't the point. I know some people love Starbucks, and maybe there's even a place for them inside the Parks, but I for one don't like the cooperate-takeover that's happening at Disney. If you want to drink Starbucks ok, keep it, but please don't get rid of the totally uniquely themed bakeries that we've come to know and love. Don't even get me started on my beloved Main Street Bakery in the Magic Kingdom and how Starbucks totally ruined that from what it was before.
Ok so here's my Review of Starring Rolls, then I'll tell you what you can find still in Hollywood Studios and where:
Atmosphere: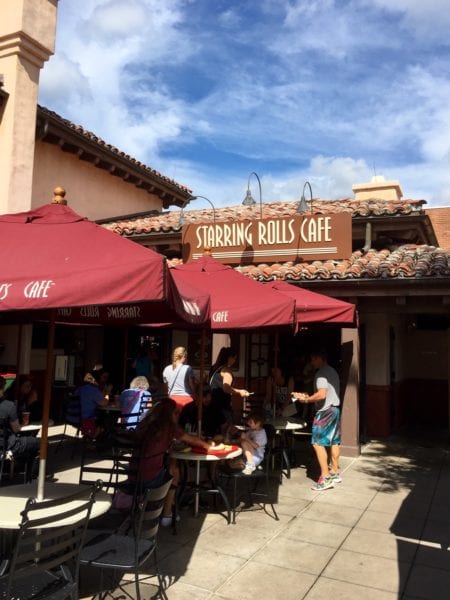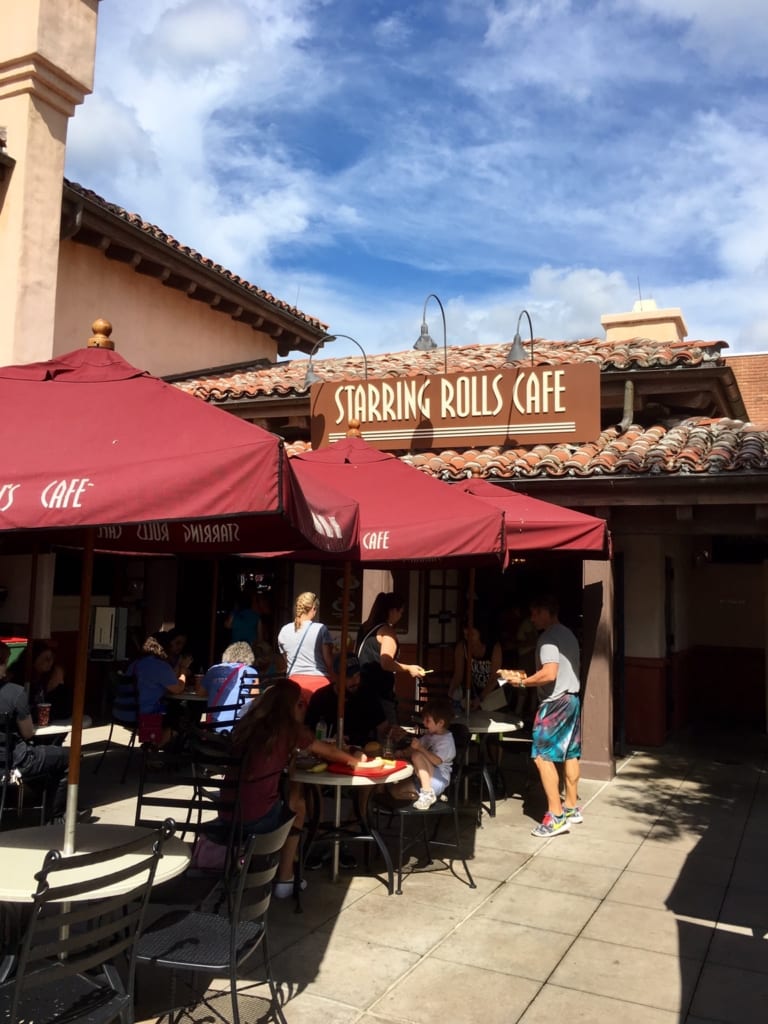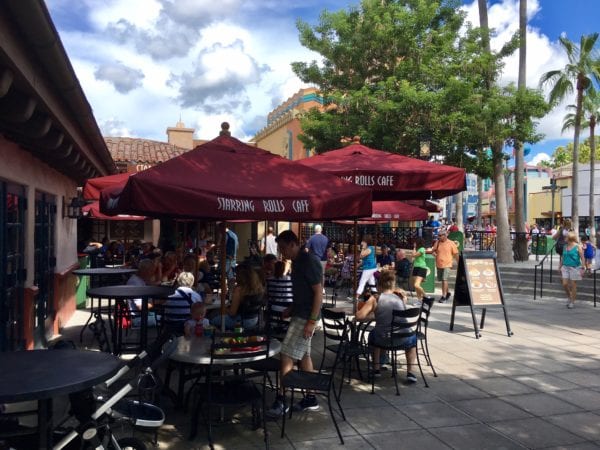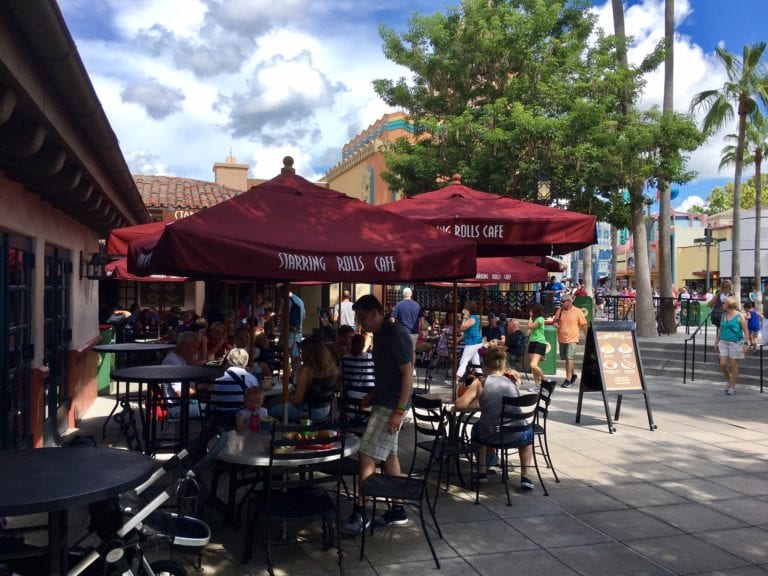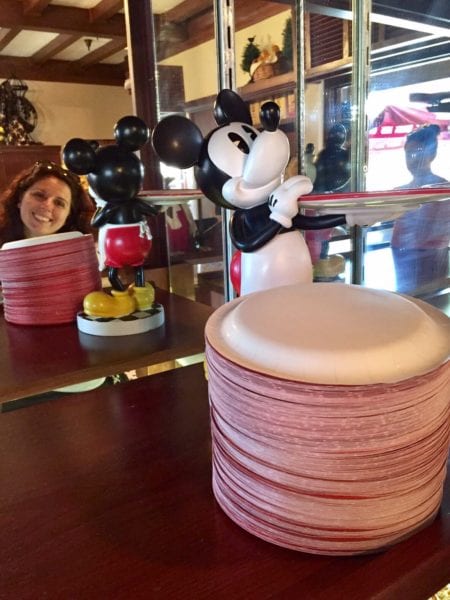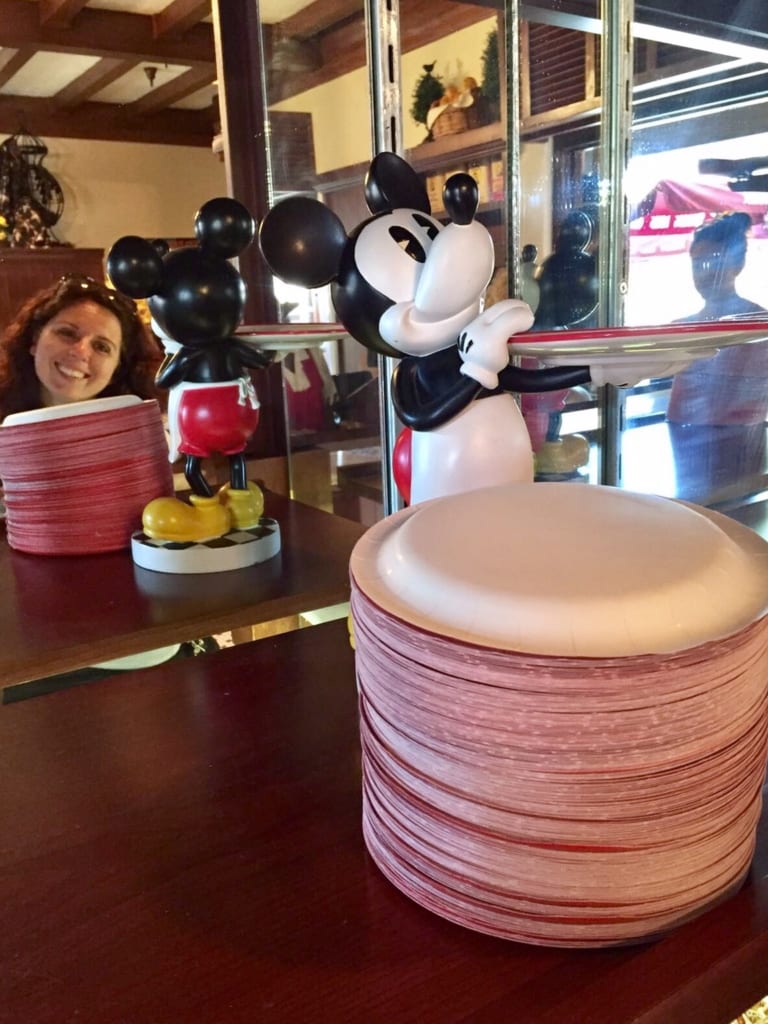 Food:
Even though we were here for Breakfast, you could also come here for lunch where they offered up some pretty heavy-duty Sandwiches.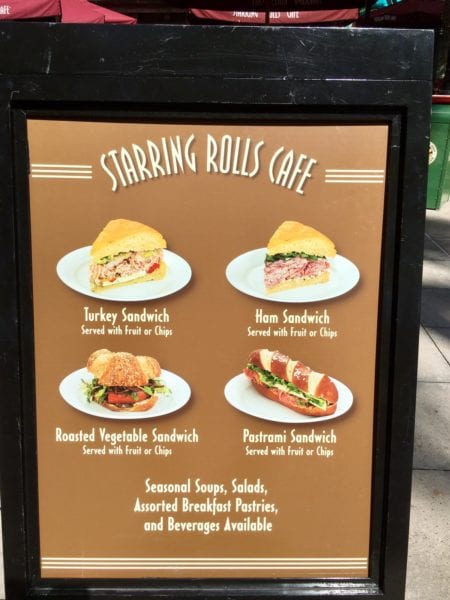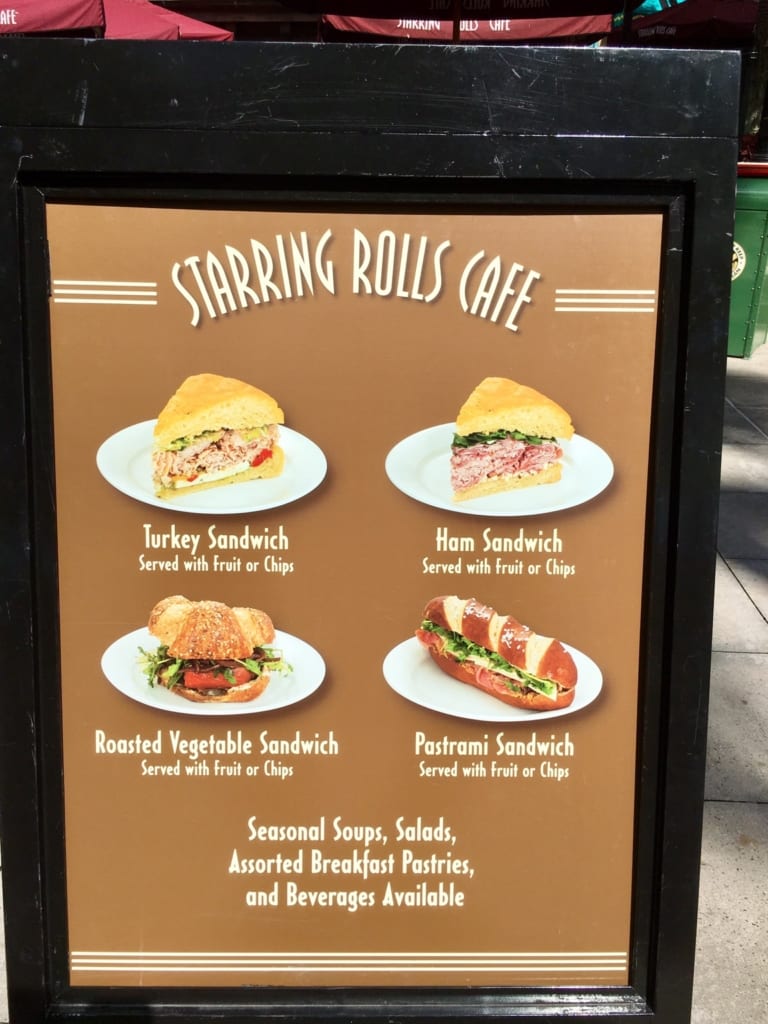 However we were there in the morning and that means…Sweets!!! Starting things off, here's some Croissants: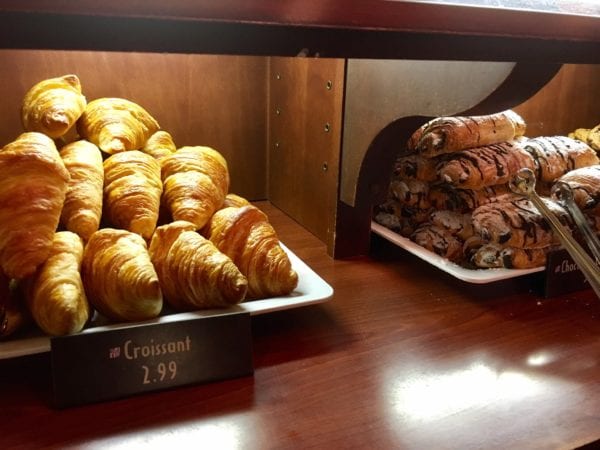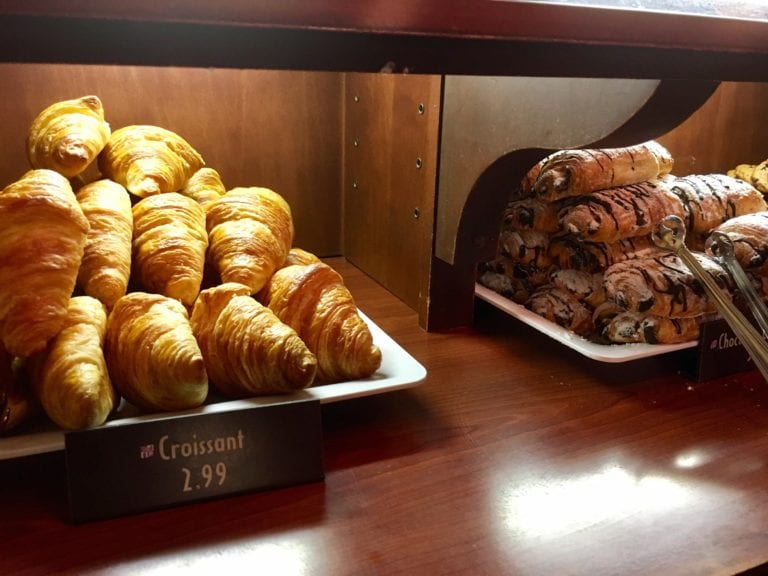 Also a nice selection of Chocolate Croissants and Cookies: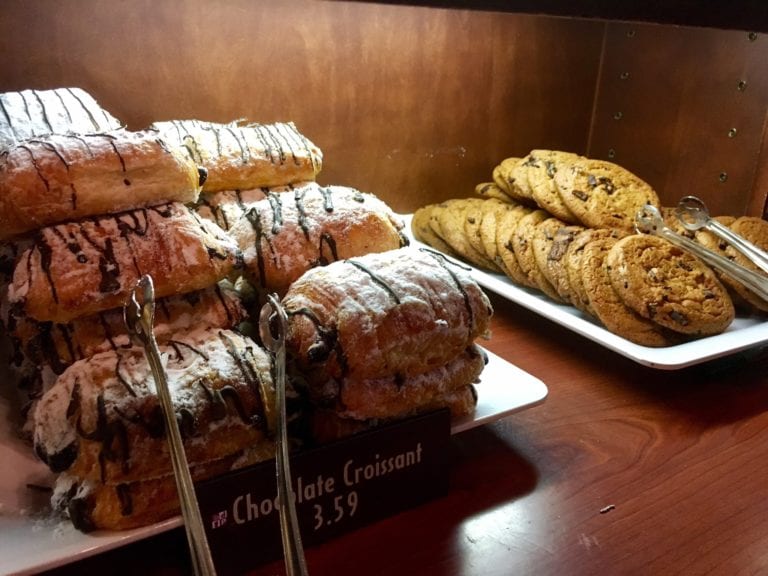 I was really disappointed this time because the old Apple Turnovers they used to have were replaced by these ones. They don't look nearly as good, but I'll give them a shot: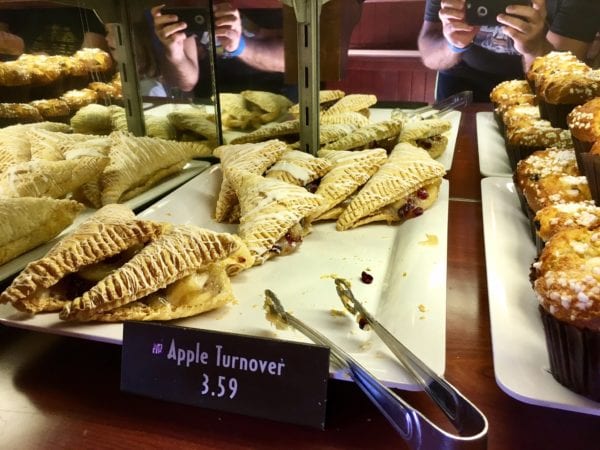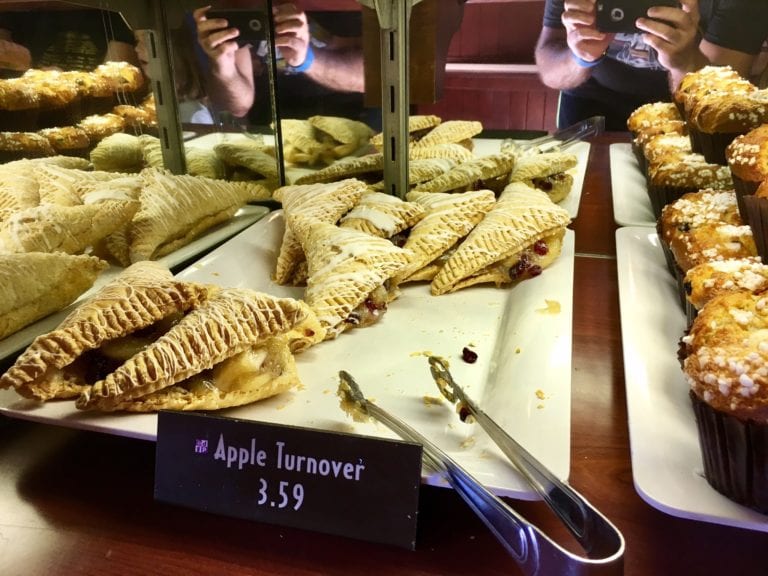 Your normal variety of Disney Muffins and Sticky Buns: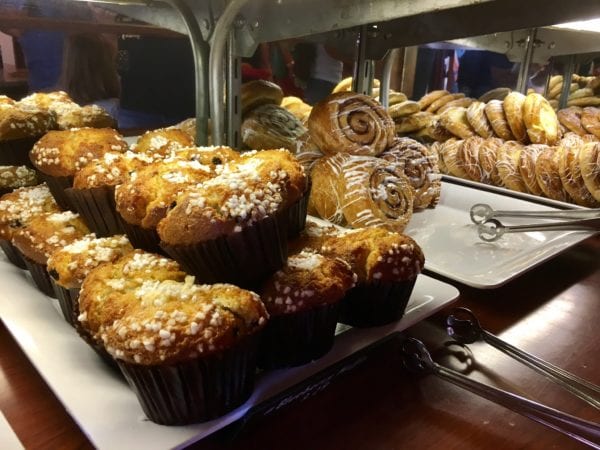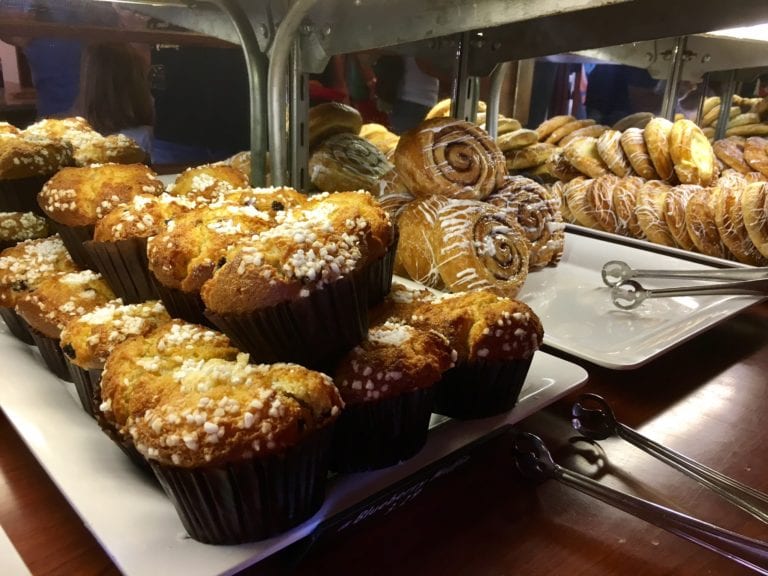 And both Cheese and Cherry Danishes: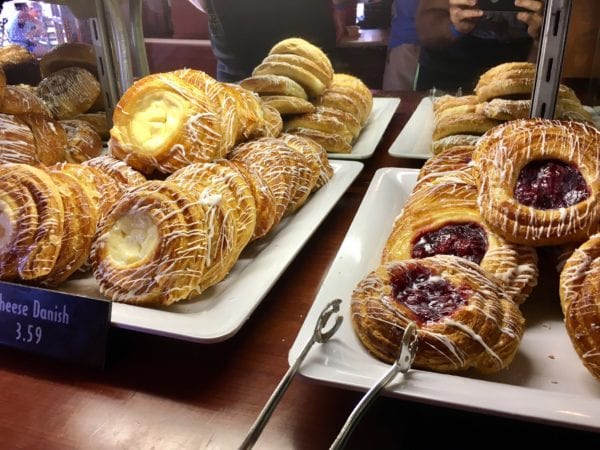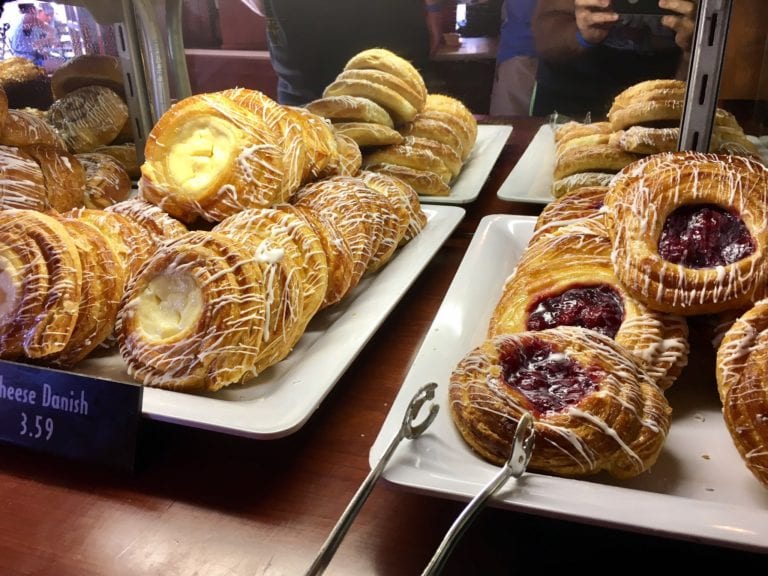 Mmmmm, I can always go for Fruit Tarts, and those Eclairs in the back look enticing too: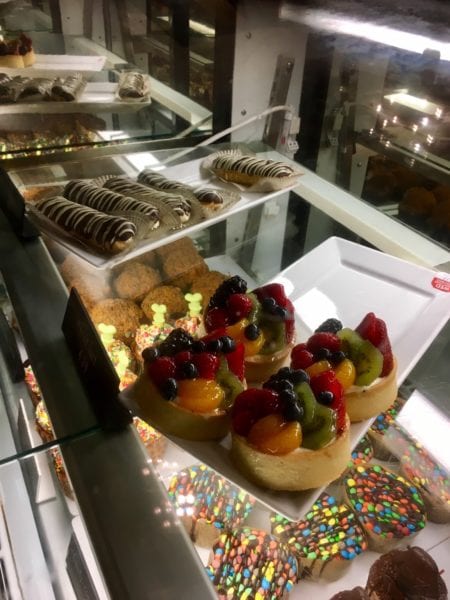 Down below there's an assortment of Starring Roll's famous Cupcakes and an amazing looking Candy-covered Brownie: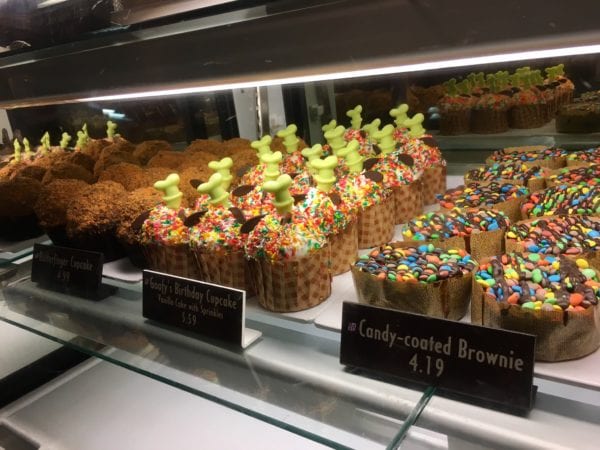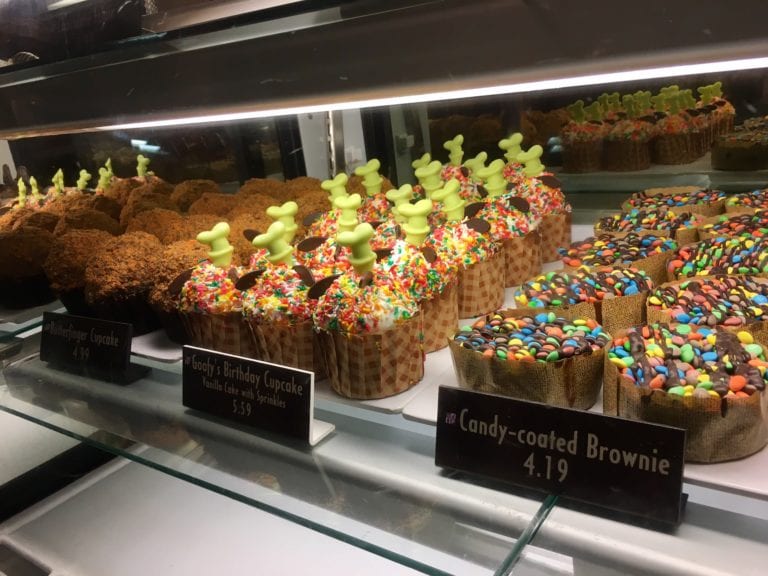 These bad boys are calling me over to the Dark Side….Darth Vader Chocolate Peanut Butter Cupcakes: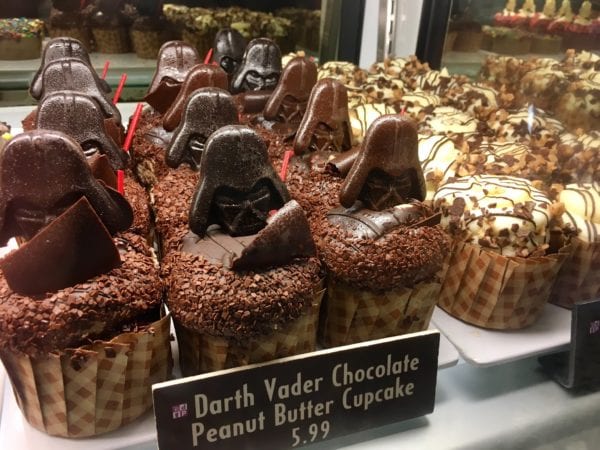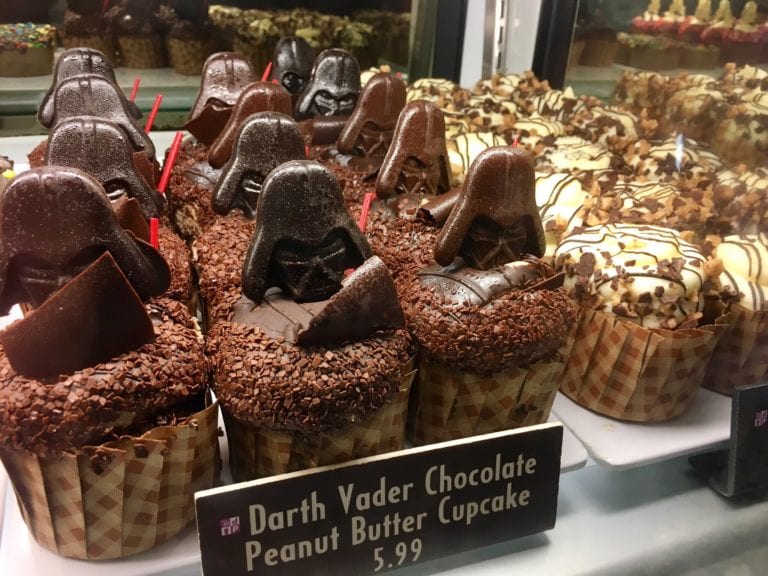 One of the most famous Cupcakes in all of Disney is the Butterfinger Cupcake: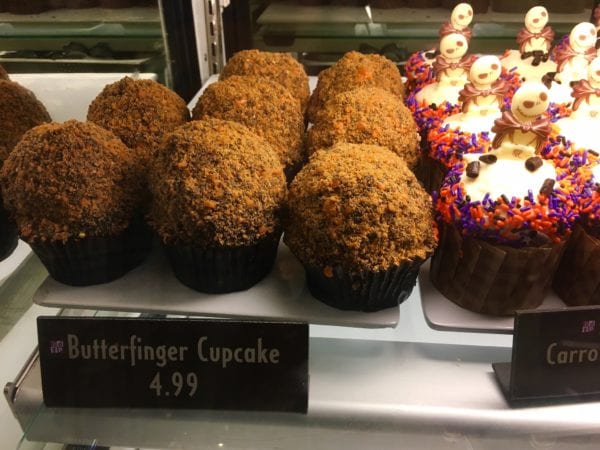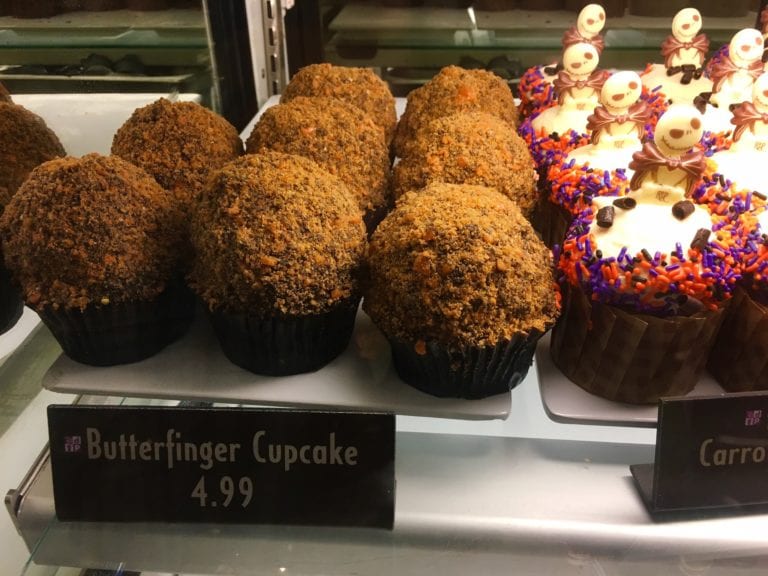 Ok I've made my choices so let's see how everything tastes! Starting off I went with a Chocolate Croissant. I could have got a plain one, but why would you when you could get one covered in powdered sugar and filled with Chocolate!! 😉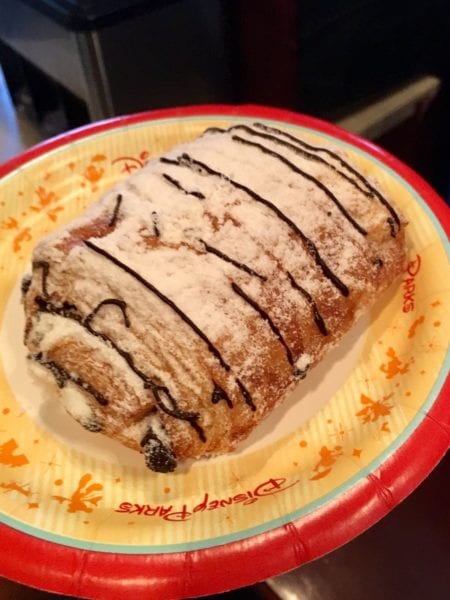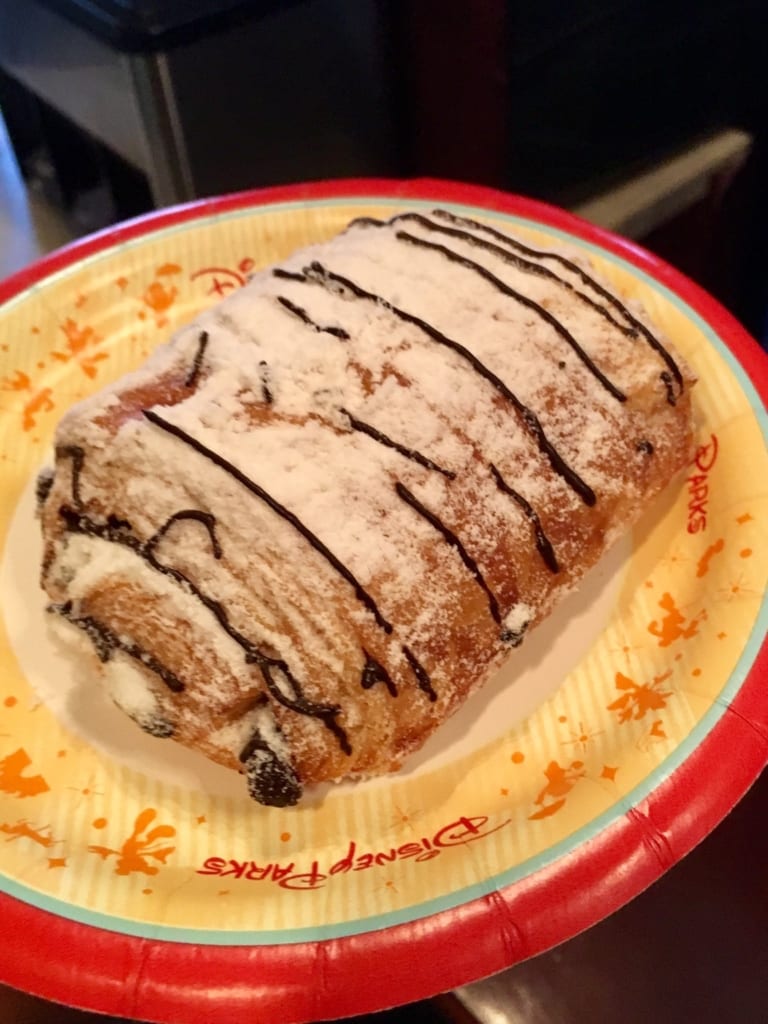 This was very good, although not quite up to the level of the chocolate-almond one at Les Halles Boulangerie Patisserie in Epcot. They definitely don't skimp with the powdered sugar on top which was good. They were much more modest with the chocolate on the inside, but there was still enough to taste it. Nice option.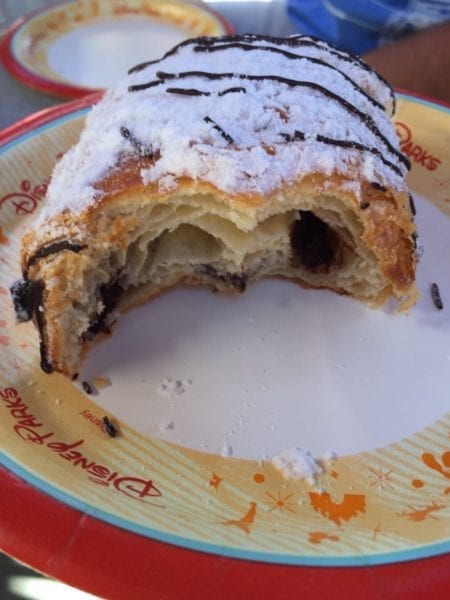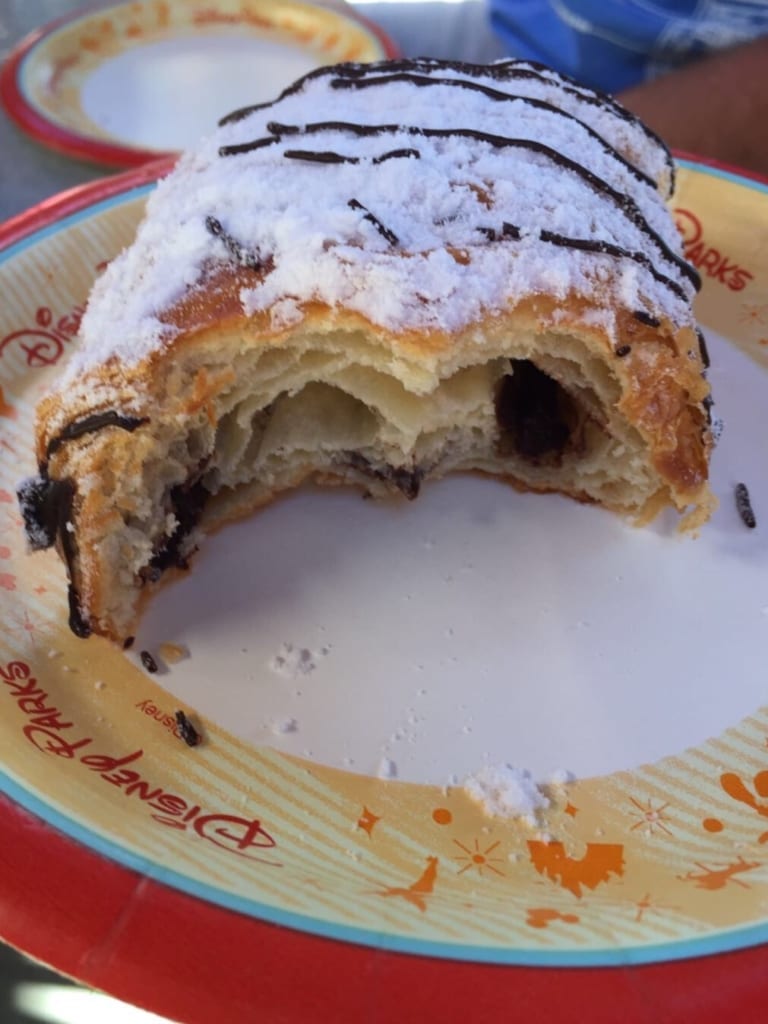 Next up was the Apple Turnover. This was just ok: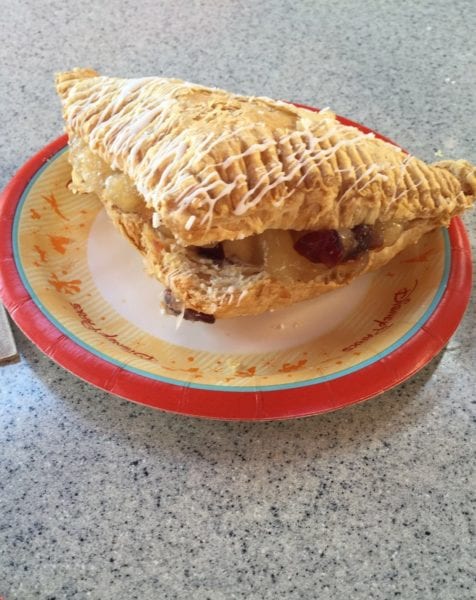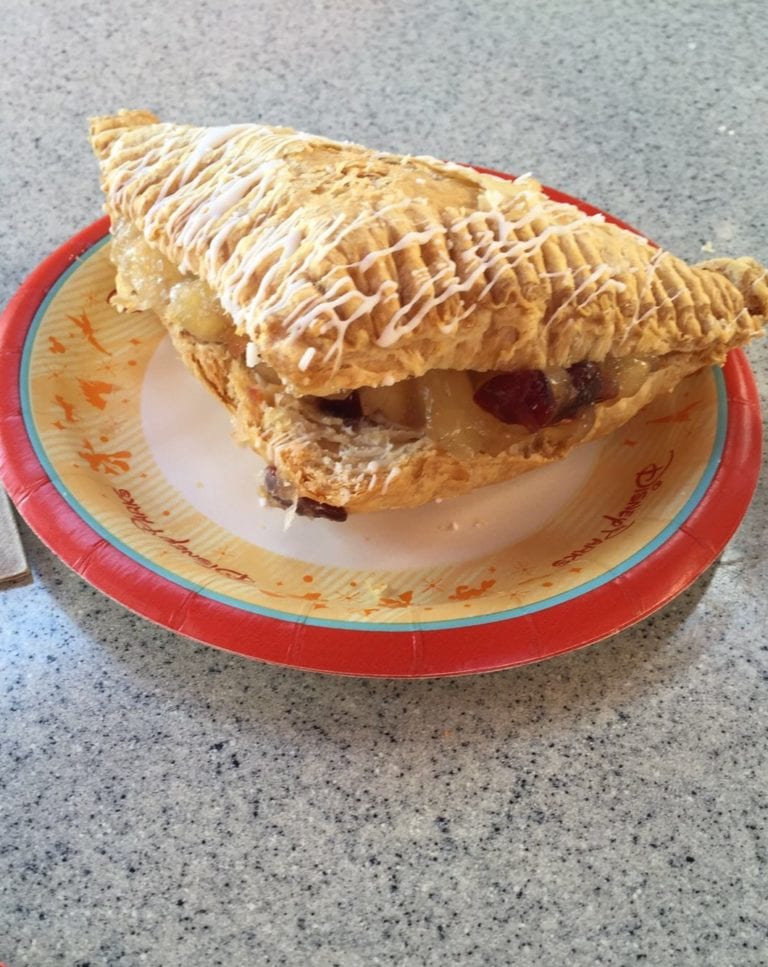 Honestly I'm used to much better turnovers in Walt Disney World and I have had love affairs with many of them in the past (more on this after) so this didn't quite stack up. They apples themselves were plentiful and tasty ( I love the sugary fruit they put in danishes/turnovers), and the raisins added were a decent twist. But my big problem was with the pastry part, it wasn't soft and flaky, it was hard and almost crunchy, and a bit dry. Also the icing on top was a joke.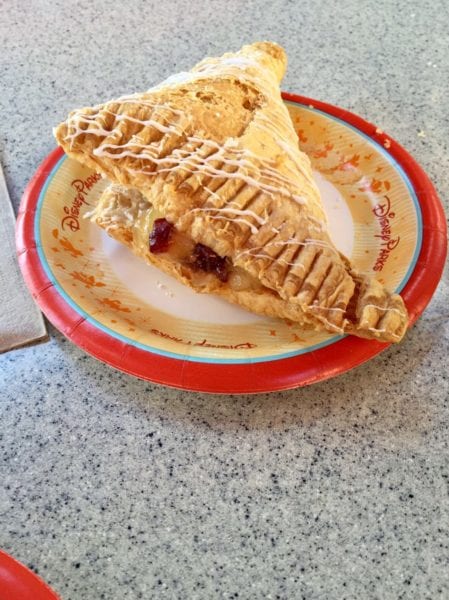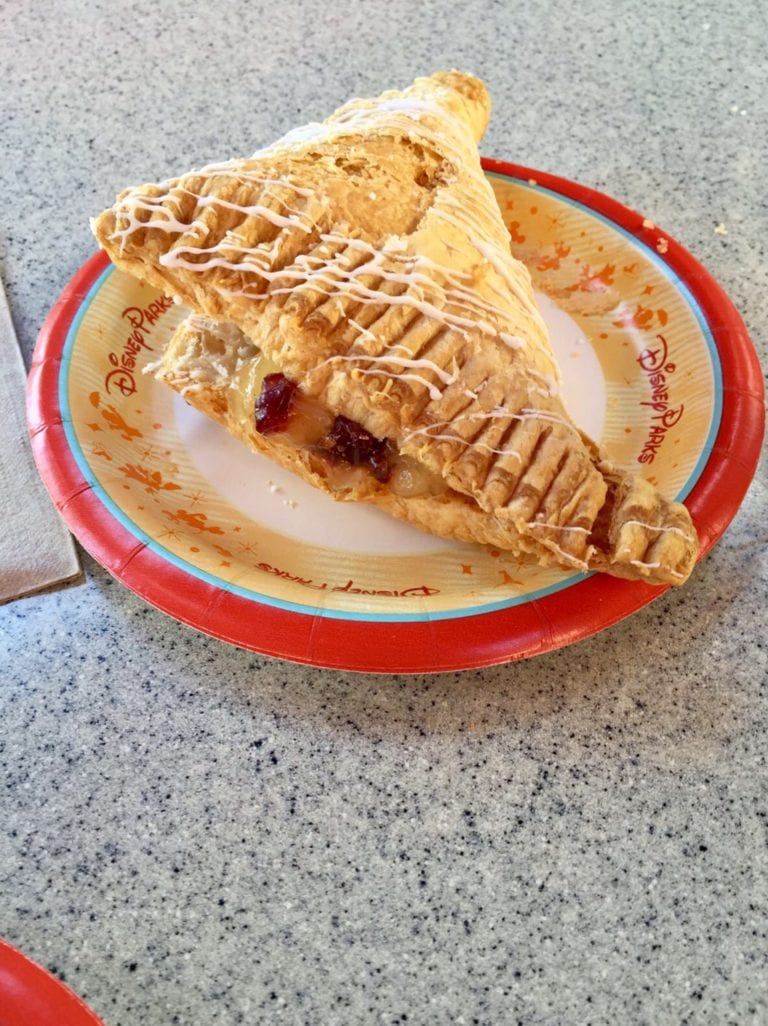 My all-time favorite Disney Turnover was in the Main Street Bakery before the Starbucks cooperate takeover. These were the Main Street Bakery Apple Turnovers back in the day: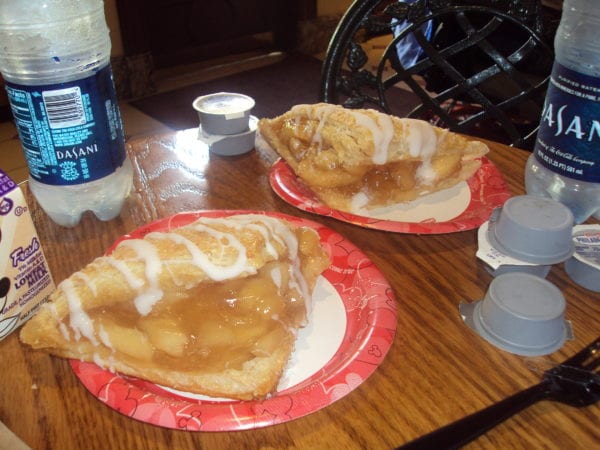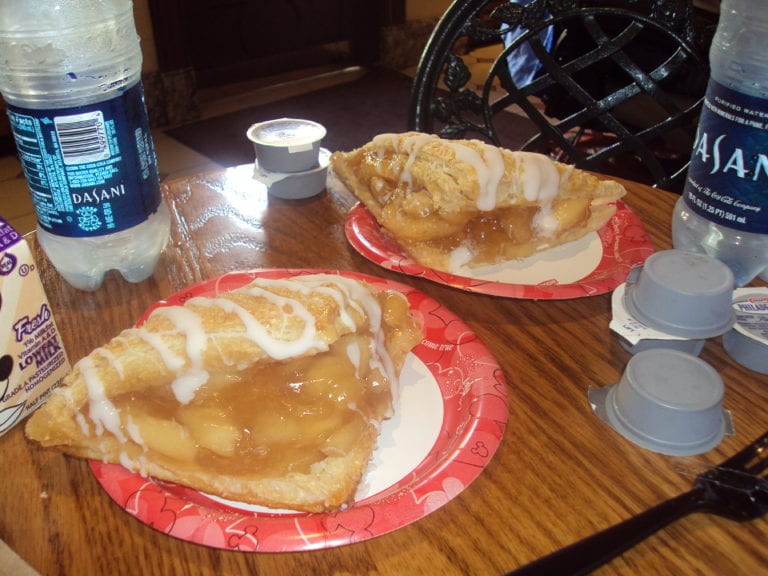 They were my favorite thing of ALL TIME to eat in Disney and they took that from me, as well as many other amazing pastries at the Main Street Bakery (Giant Cinnamon Roll anyone?) many years ago. They had the perfect flaky crust, were overflowing with apples and had a wonderful layer of icing and crystallized sugar on top. After the change at the Main Street Bakery I did find them for a time in the Kusafiri Coffee Shop and also here at Starring Rolls Bakery, but alas they are nowhere to be found anymore on property.
No, I'm not still bitter at all or anything…
Next up the Cherry Danish: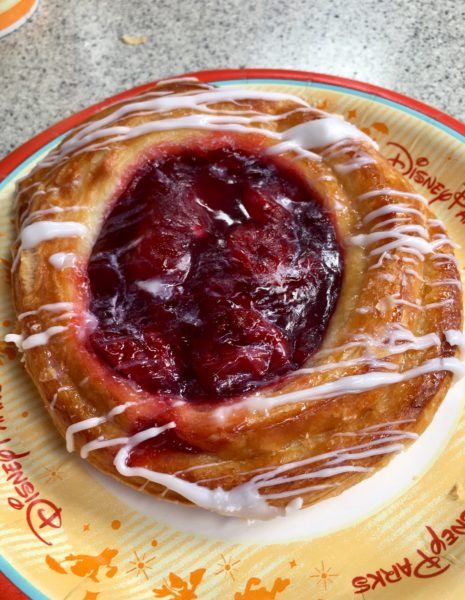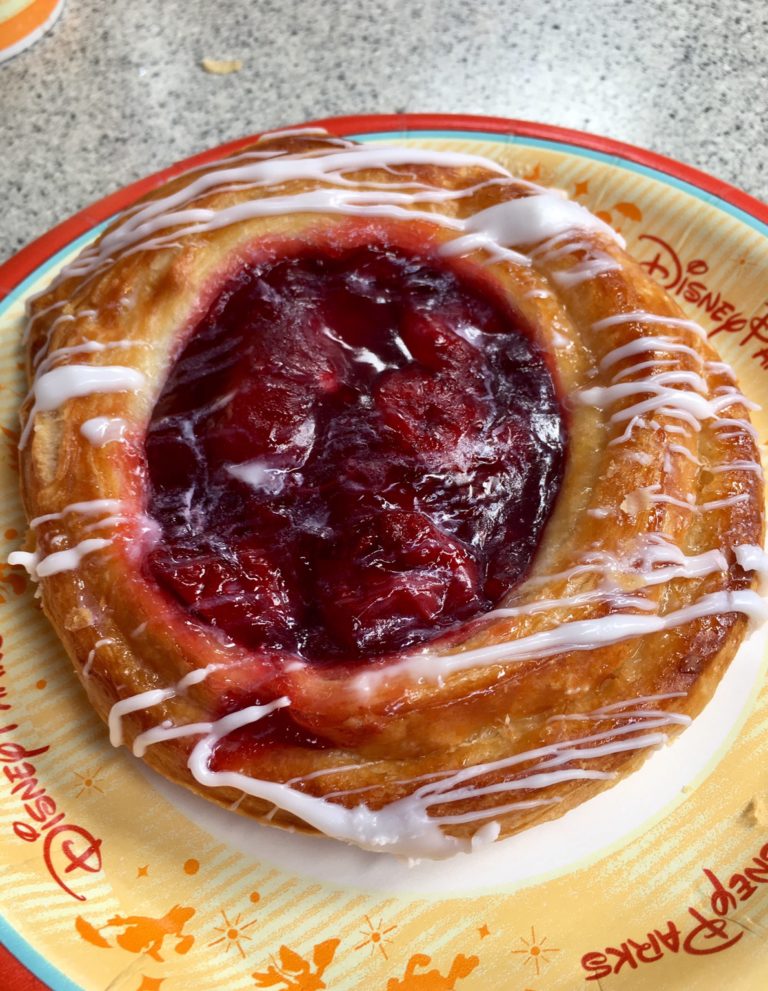 This is your standard Disney danish, nothing spectacular but good anyways. If you like the sugary, sticky cherry topping (yes please!) then this will be right up your alley. A closeup shows that there is a good amount of cherry there too, which surprisingly wasn't overly sweet: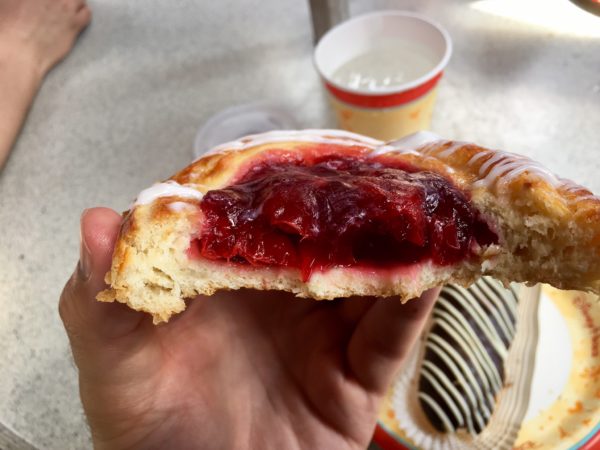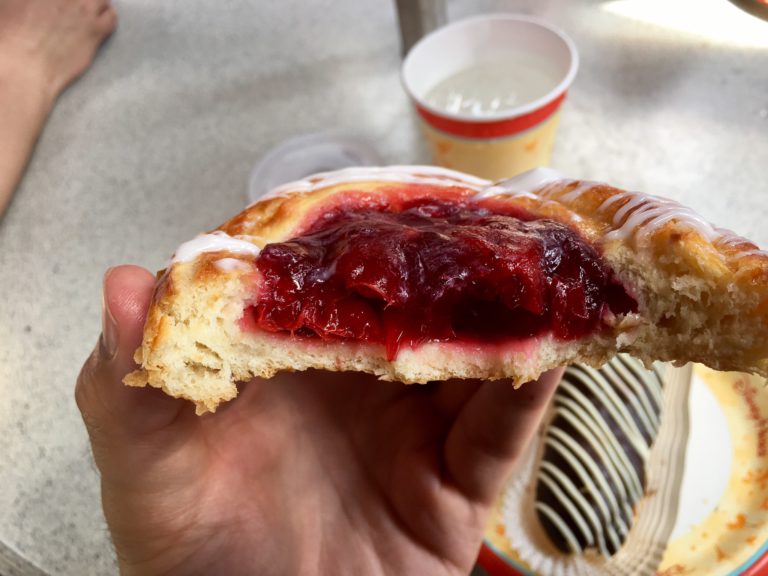 Though some other options are good, probably the biggest reason for Starring Roll's fame is its cupcakes! We tried a Goofy's Birthday Cupcake next: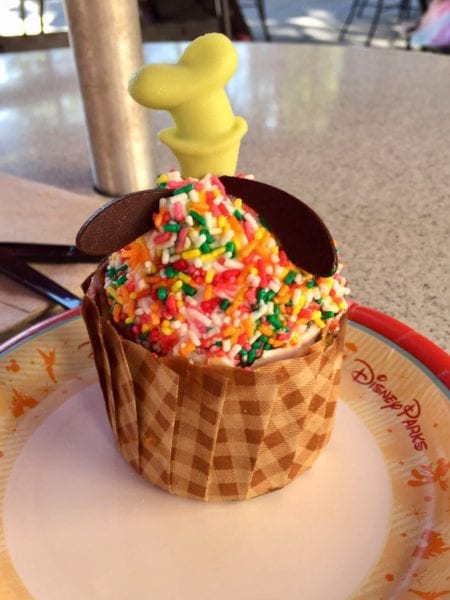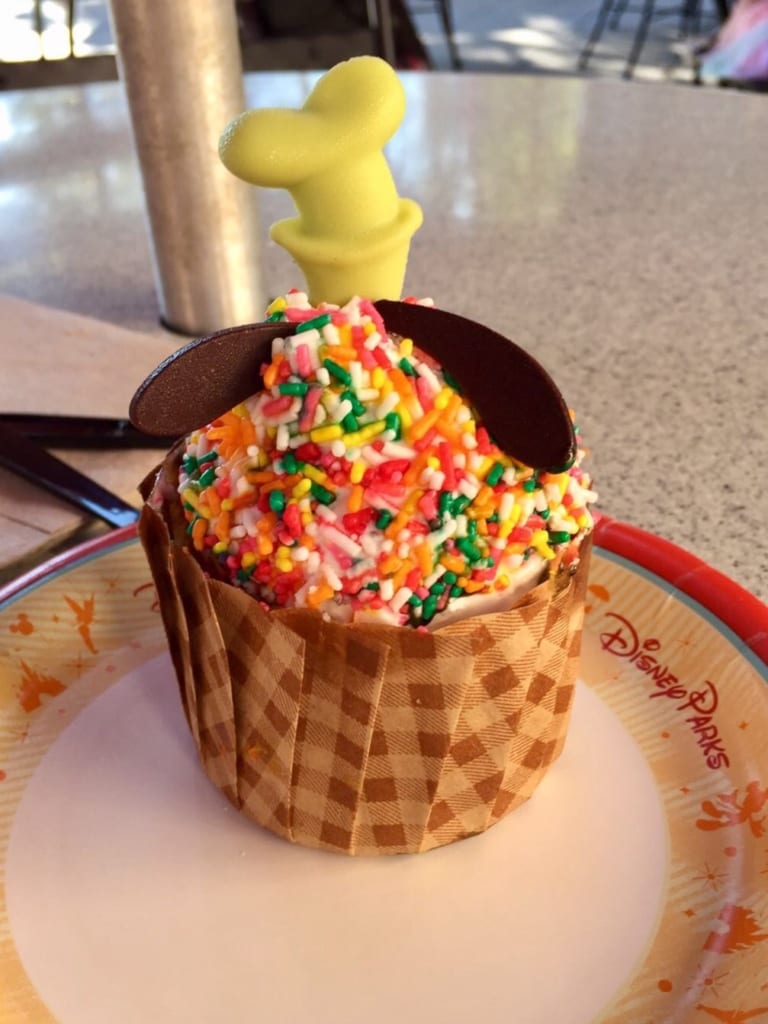 Standard Vanilla frosting on top with sprinkles, which isn't a bad thing, and the Goofy hat and ears on top are super cute!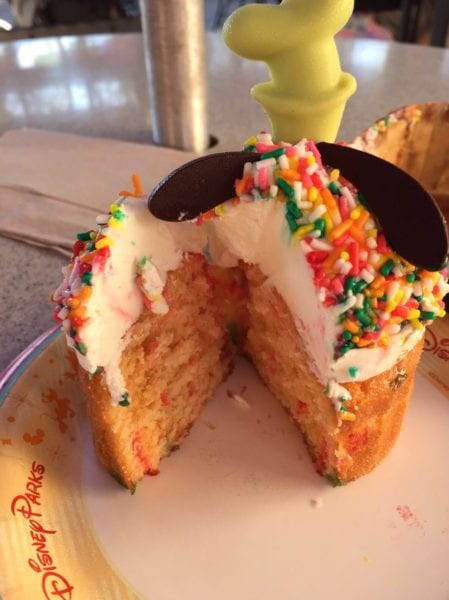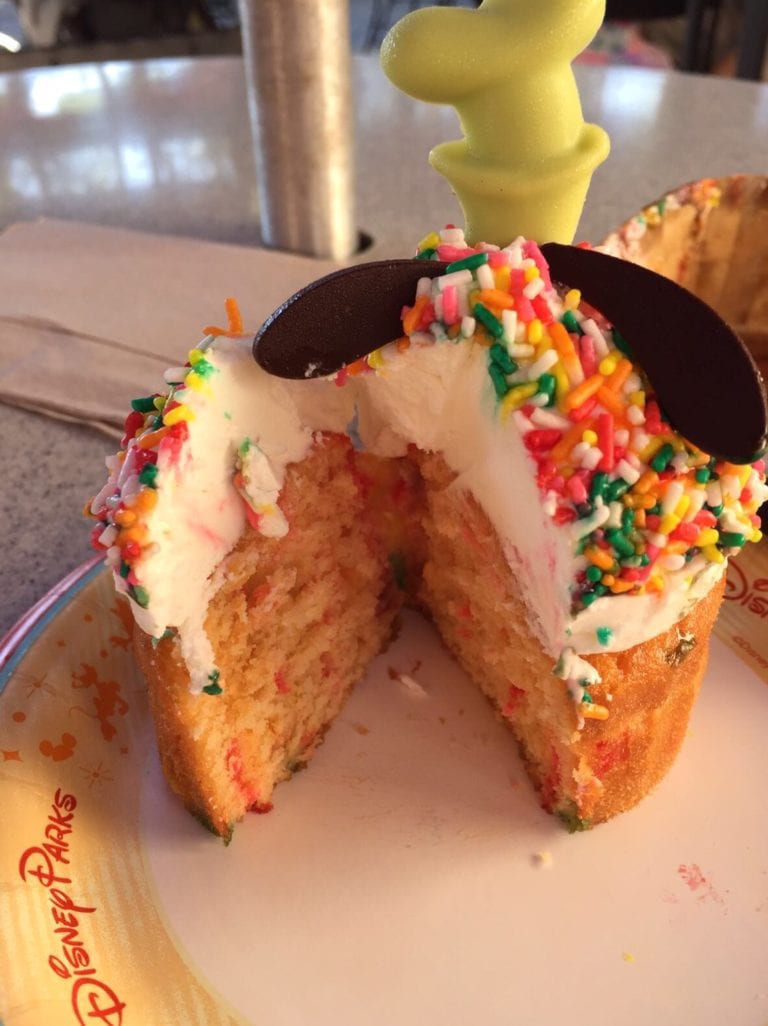 Decent size vanilla cake with a bit of funfetti mixed in and it was moist enough for me. I wouldn't say it's really a sharing size, but it's good for one person.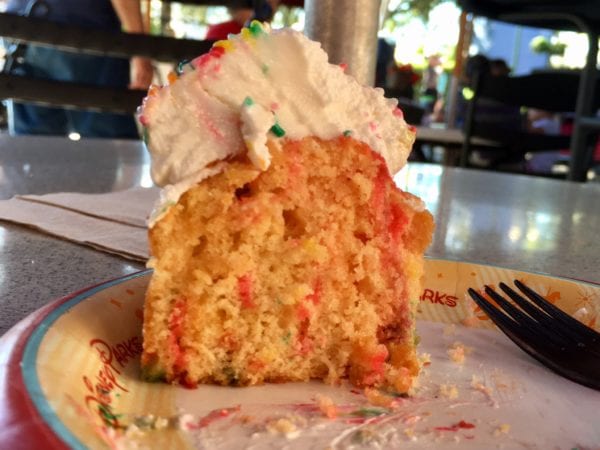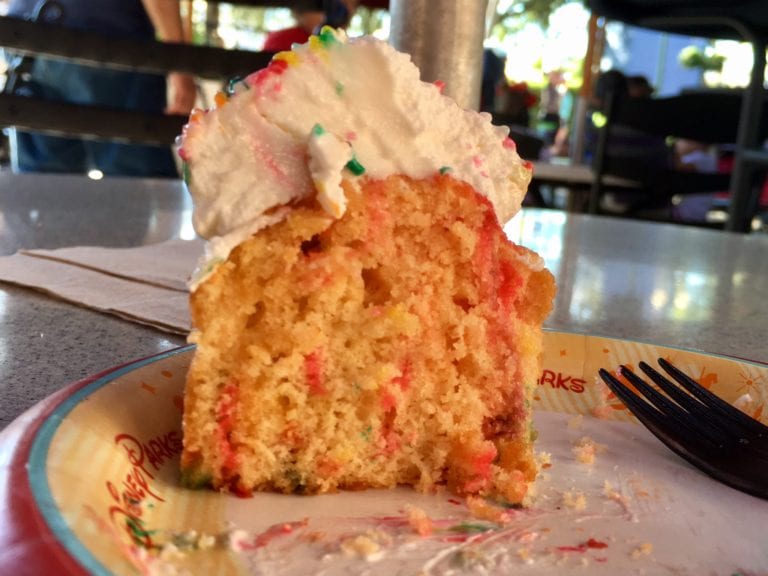 Overall tasty and it's pretty much what you'd expect.
Next was one I'd been wanting to try for a while and that's the Darth Vader Chocolate Peanut Butter Cupcake: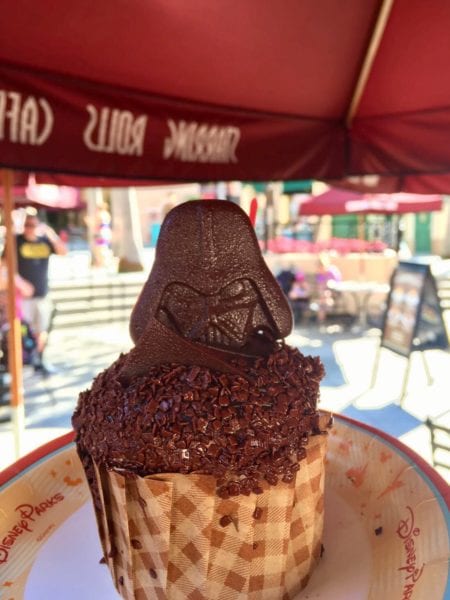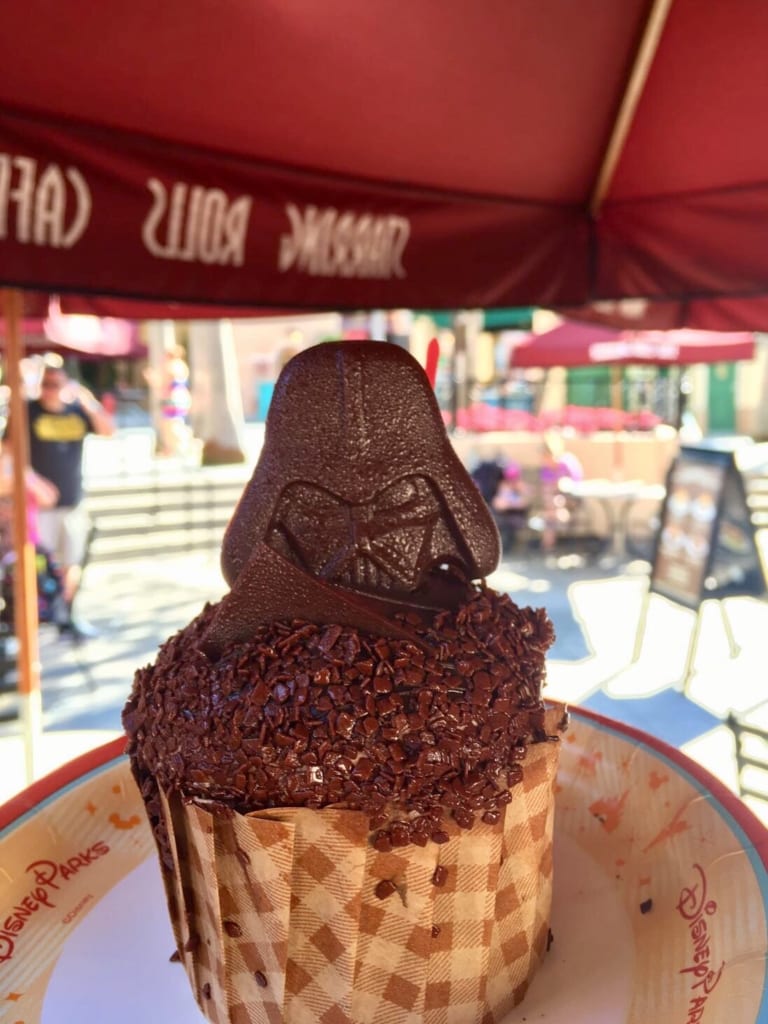 As the Sith Lord himself said, "It's useless to resit.." and he sure was right! This thing was a knockout winner! The cake itself was chocolate, very rich, and the frosting was peanut butter: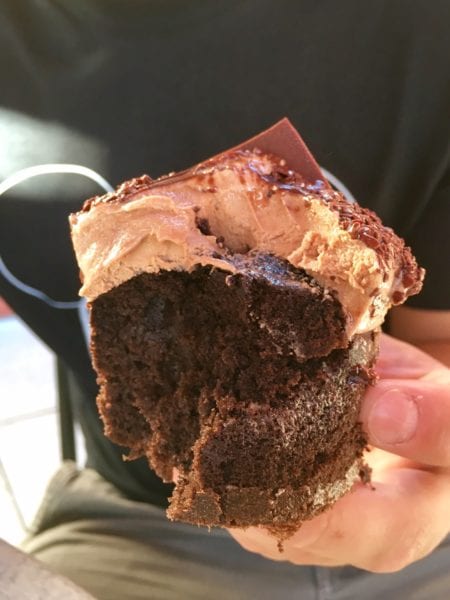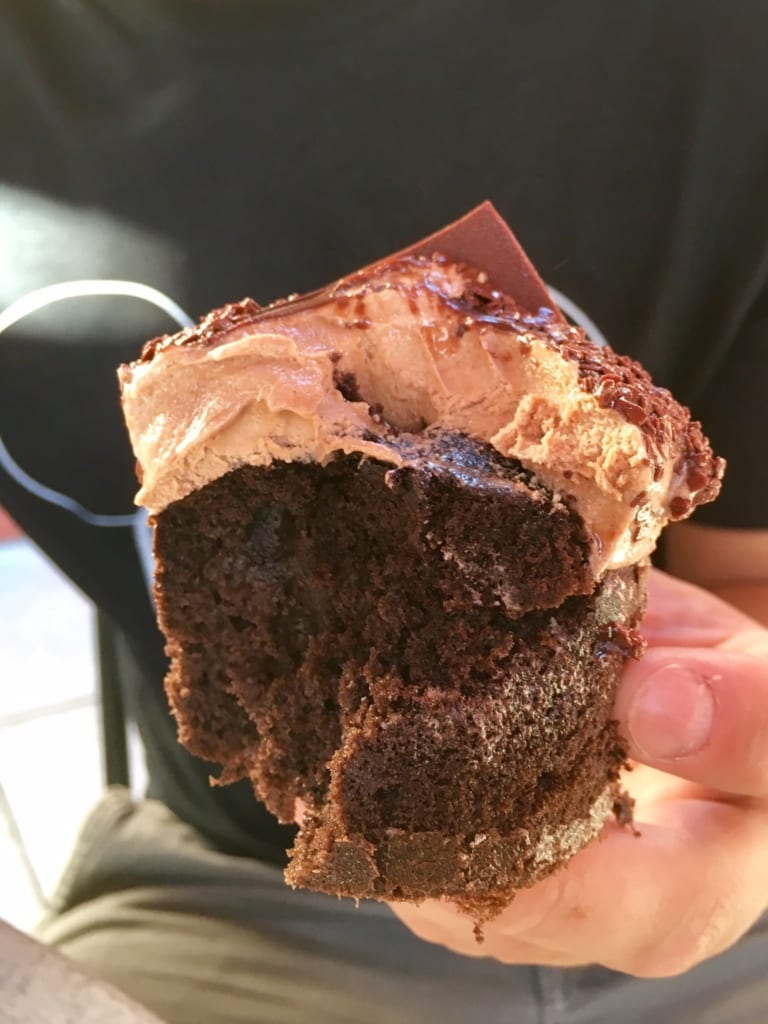 It was really really good! My only suggestion is that I wish it had more peanut butter throughout, like maybe a bit of filling inside to bring more balance to the force, but I really loved it and will get it again for sure!
I know by now you probably have diabetes just by looking at these pictures, but hang on, there's more! We also tried the Eclair: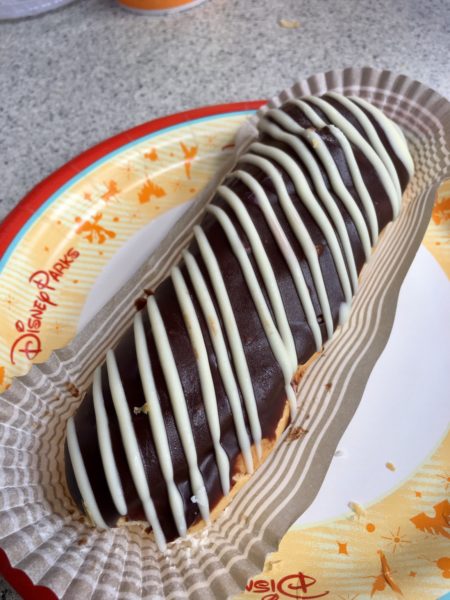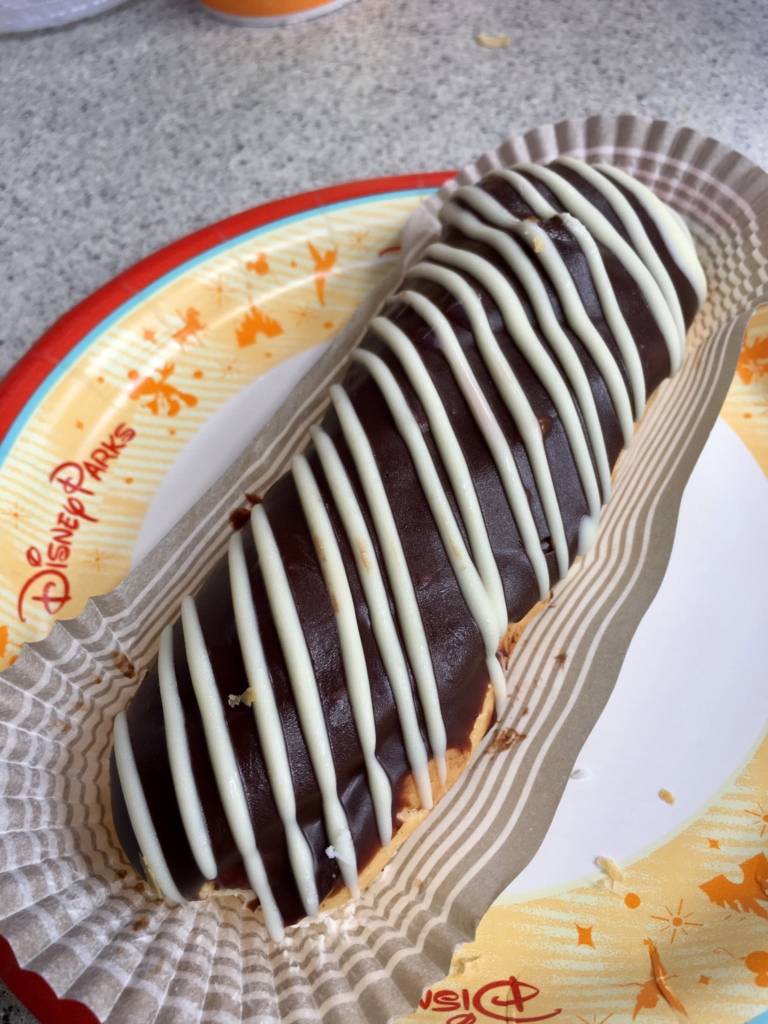 Like my turnovers, I'm also an eclair snob. I like them to be just right. This wasn't the best I've had in my life, but it was far from the worst. It was small but good. The pastry part could have been a bit more delicate, but that was the only negative.
The cream which is the most important part of an eclair was the star, and my favorite part. It was light and fluffy, but not whipped cream and not a pudding texture either. It was the perfect consistency, like a french cream or something: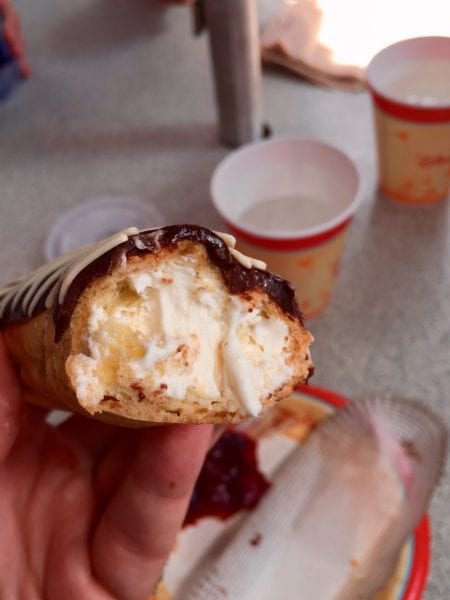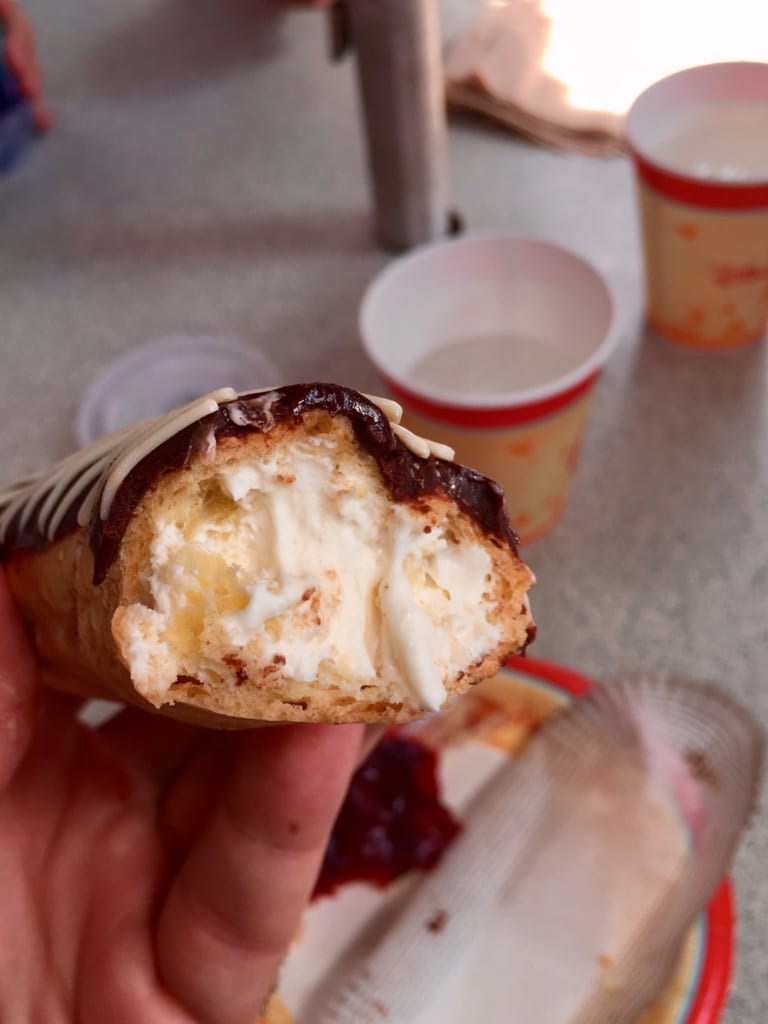 If you like chocolate, the Dark Chocolate was a nice touch too. An excellent choice!
Next up one that lives in Disney Cupcake fame, the Butterfinger Cupcake: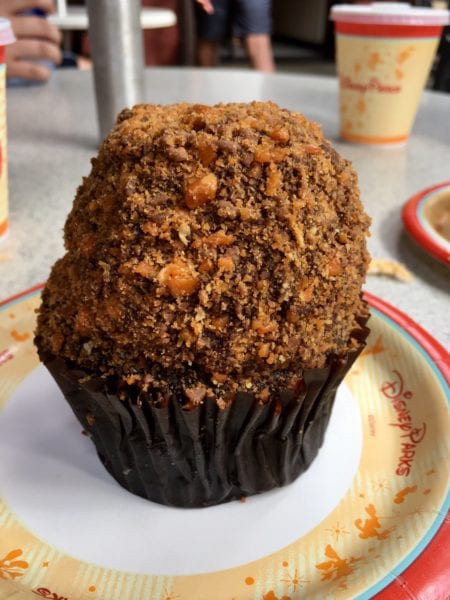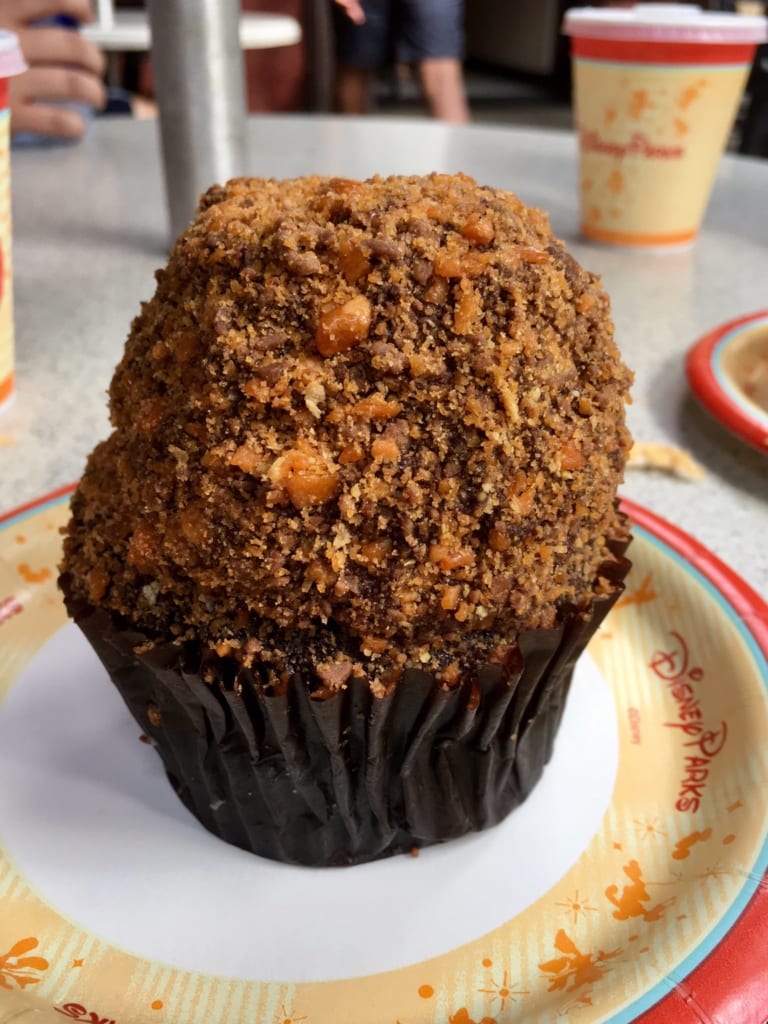 This thing is GIANT, so huge! You can easily split it with someone else, or a football team! Don't know where to start, it's so stinking good… The cupcake is made of chocolate and has a chocolate and vanilla cream filling inside. I wasn't expecting so much of it but was very happy when I found it: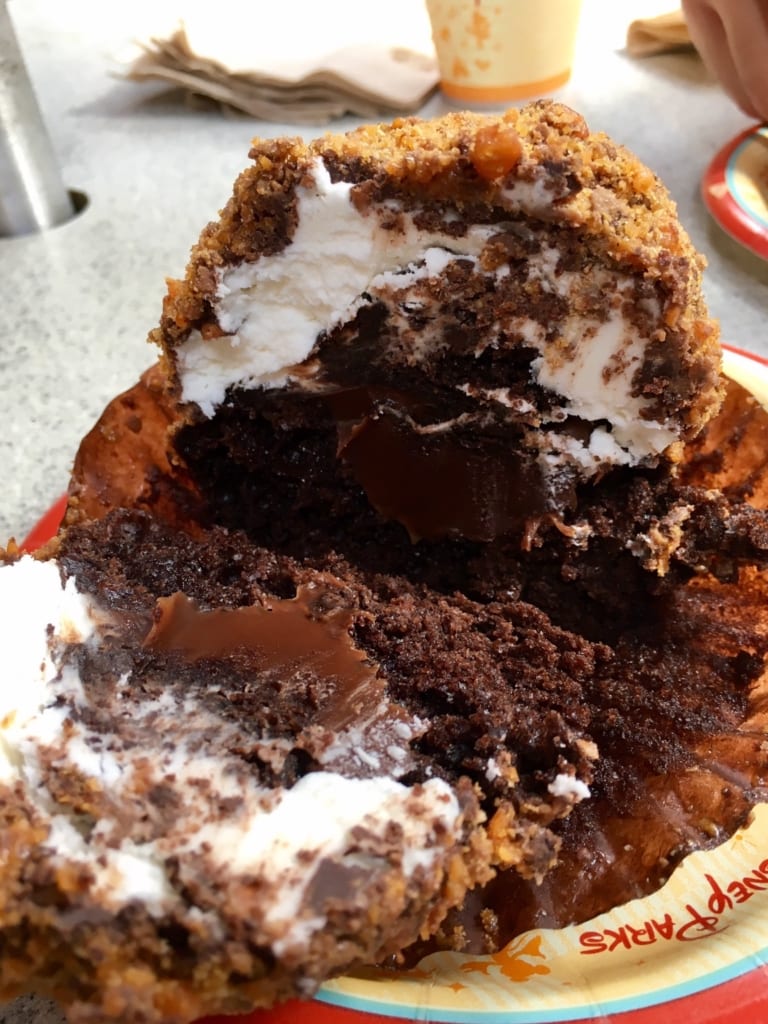 The frosting was lighter, almost like a whipped cream and soooo good! And of course those nice butterfinger crumbles on the outside which give it a nice crunch. Awesome and maybe the best cupcake on property!
Lastly and maybe even better than the Butterfinger was the Napoleon: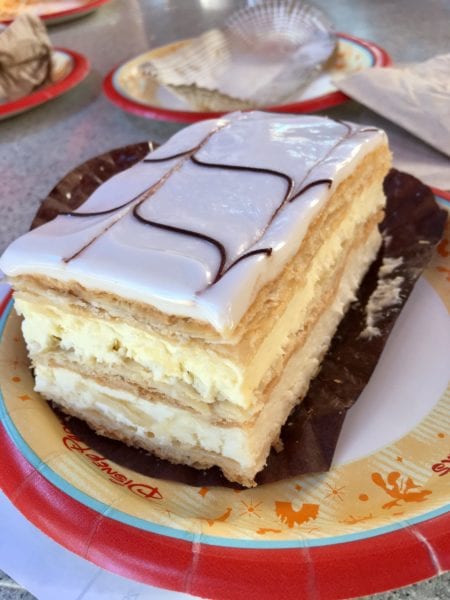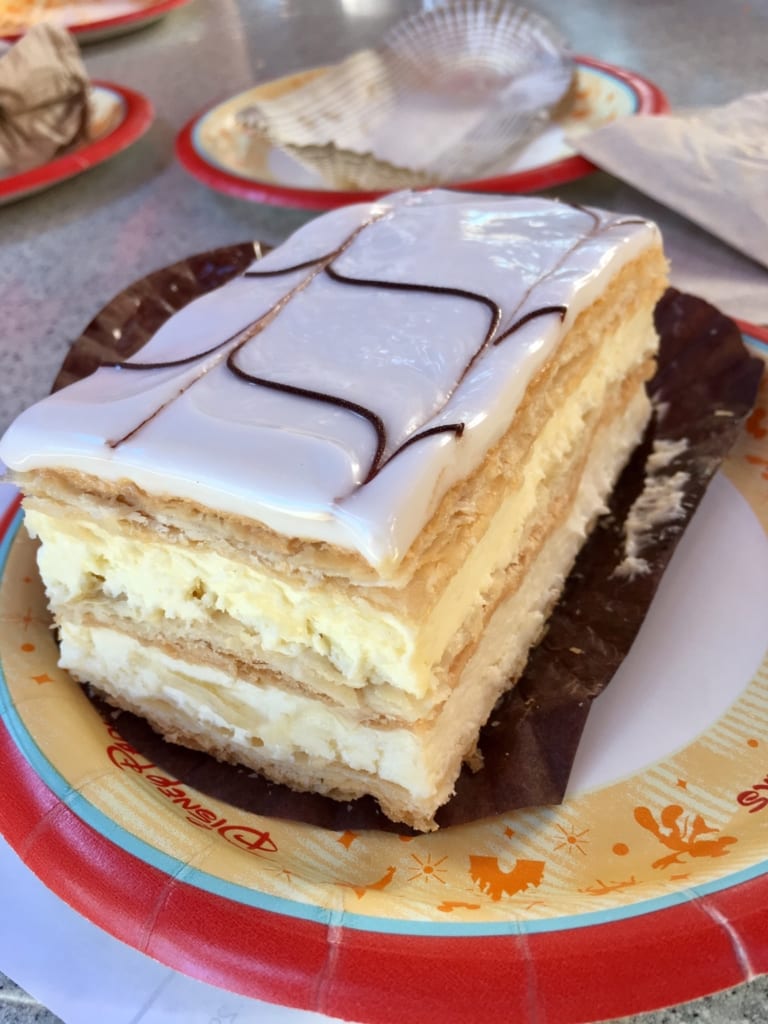 This is another one of my Disney Snack Affairs, and this one is right up there with the best. It's really big and has a great flaky crust to it. Look how tall this thing is: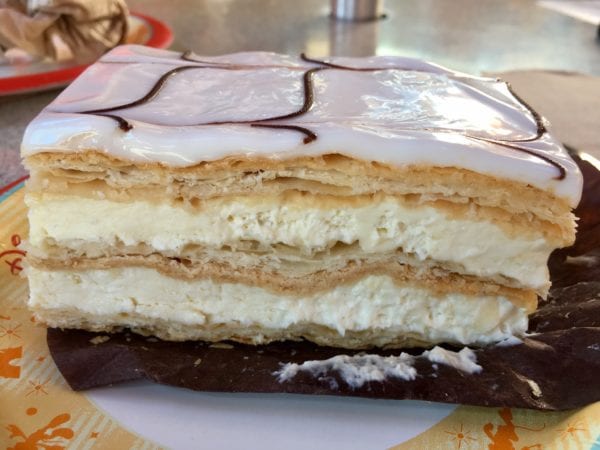 The filling is AMAZING…, rich and creamy and yet super light at the same time. I like the frosting on top but it is very sweet, so if you don't like sweet be aware of that. It's also super messy because when you bite into it all the creamy goodness oozes out! Make sure to pick up extra napkins!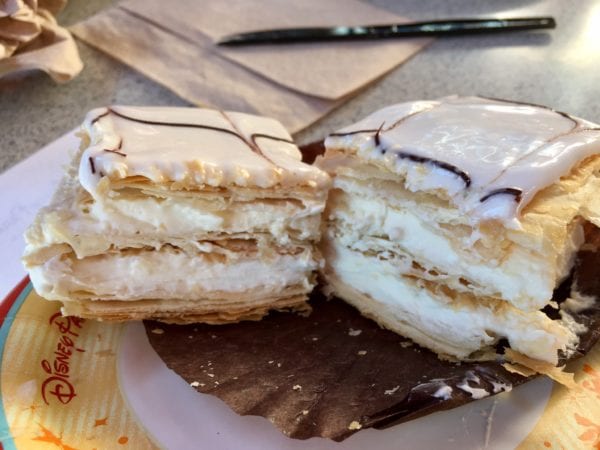 While my all time favorite Disney Napoleon was the one at the old Les Halles in France, this one is almost identical, except the frosted top. It is an absolute must try and something you won't easily forget!
After all those sweets we had enough sugar in our system to run the Disney Marathon, or at least the Half-Marathon, but you can guess whether or not we actually did.
Summary:
As you can see, Starring Rolls was an amazing bakery and had some of the best pastry items and cupcakes anywhere in WDW. Thankfully, at least not all hope is lost (at least for now). You can still get many of the items at the Trolley Car Cafe down the street on Hollywood Blvd which includes the following:
Napoleon, Fruit Tart, M&M Brownie, Cheese and Cherry Danishes, Cinnamon Rolls, Darth Vader Cupcake and the Butterfinger Cupcake (although it goes by the name: Chocolate Peanut Butter Crunch Cupcake).
The Eclair, Croissants, Apple Turnovers, and the giant Sandwiches at lunchtime are still M.I.A. and I'm not sure we'll be seeing them anytime soon.
You can still use the Starring Rolls area to sit and relax, or even bring your stuff there as the chairs and tables are still setup. It's still unknown what Disney's plan is for the old Starring Rolls and if they are bringing something in its place in the future. I hope Disney brings back something unique and similar to Starring Rolls in its place because I hate seeing places like that get pushed out for a Starbucks, which much of its stuff I can get at my local one near home. If I hear anything new I'll let you know.
I love to write Restaurant Reviews of Walt Disney World and I hope you found this one to be informative and helpful. If you liked this review then please visit my Disney Dining Reviews Page where I have many other Restaurant Reviews. I'm happy sharing with you what I love doing best…eating! ? I try to bring you the most thorough and unbiased reviews about the food and restaurants at Walt Disney World, so that as you are planning your vacation, you know the "can't be missed" places, and where you shouldn't waste your time. Hope you enjoyed this one and will enjoy many others in the future!!
Your Thoughts:
I want to know what you think about my Starring Rolls Review and the wonderful experiences you've had there. How do you feel about the closing? What was your favorite item from Starring Rolls? Let us know in the comments section below!
If you enjoyed this article, as always I appreciate it if you'd share it with others via social media. I work hard at making this website into a useful resource for you and your family to plan your visit to Walt Disney World, and I hope it can help you! Thanks 🙂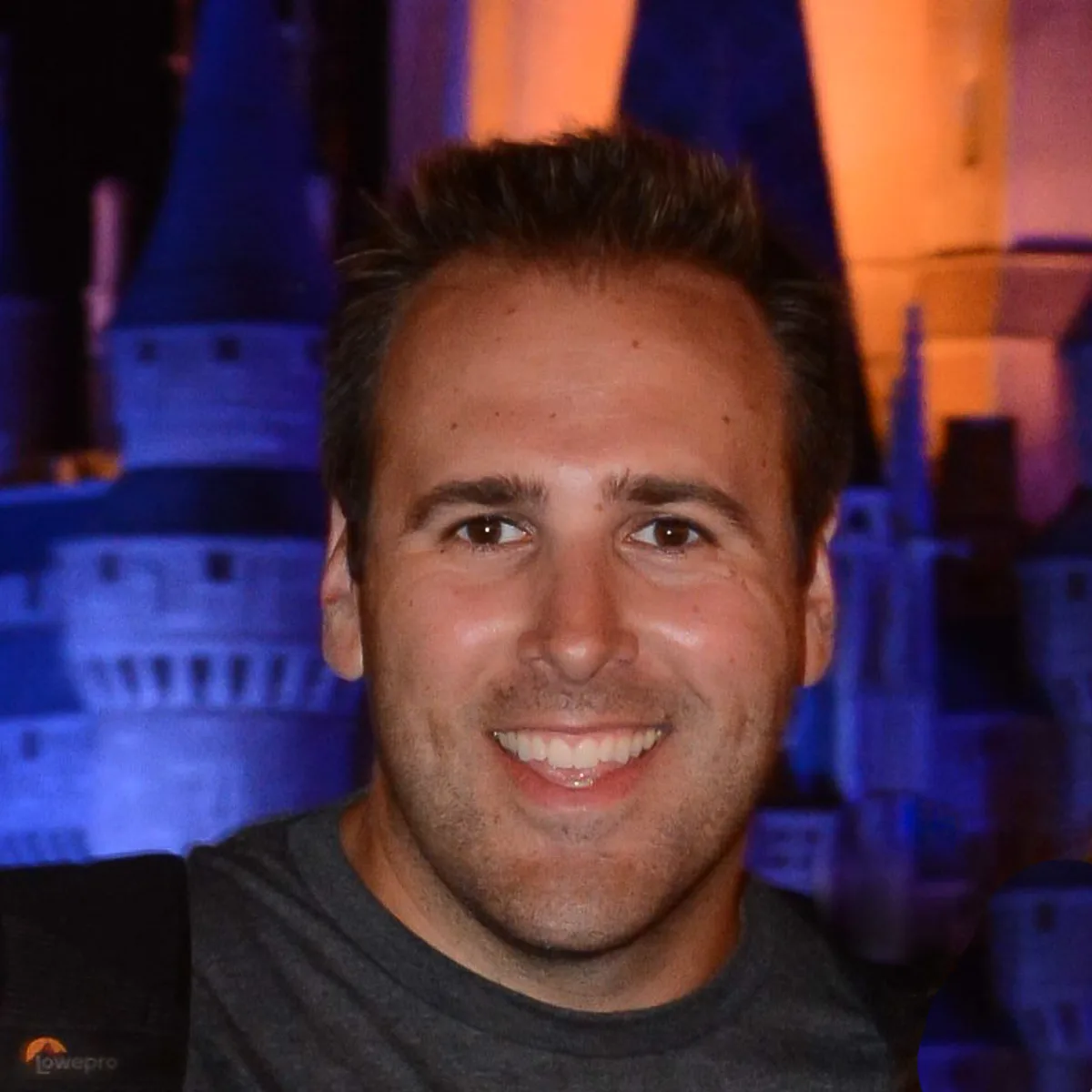 My name is Ziggy and I love Disney, everything Disney! I grew up on Disney and it has and continues to be a huge part of my life. I started young when my parents took me to Disney World when I was 18 months old. Little did they know that would be the first of an uncountable number of trips we would take. I have so many amazing memories going to Disney with my family and friends and it has been interwoven into my DNA.