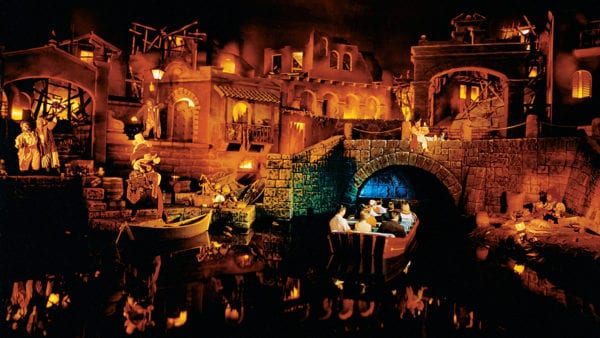 Yo Ho, Yo Ho, a pirates' life for me! I am super happy to say that this Saturday March 18th is the anniversary of my favorite Disney attraction of all time. Yes in Disneyland they're having a Pirates of the Caribbean 50 Year Anniversary Celebration filled with events to recognize this swash-buckling ride which has been such a big part of Disney history ever since its opening in 1967. There will be special food, drinks, merchandise and entertainment all this weekend. Here's what there is:
Special Pirate Grub:
Starting Thursday, March 16th there will be special pirate themed food French Market Restaurant, Mint Julep Bar, Harbour Galley, Royal Street Veranda, Cafe Orleans and Blue Bayou Restaurant (which by the way is also sharing the 50 year anniversary with its scoundrel of a neighbor).
There are a bunch of special items at the various dining locations including:
Buccaneer Pulled Pork Sandwich: Jerk-spiced Pork, Sweet and Tangy Barbecue
Sauce, Pineapple Caribbean-style Slaw and Fried Yucca
Lost Treasure Beignets: Lemon-flavored Beignets with gold shimmer dust (this sounds amazing!!)
Golden Churro: Gold-dusted Churro
Calypso's Caribbean Chicken Stew – Caribbean-seasoned Chicken stewed with Onions, Carrots, Celery, Tomatoes, Potatoes and Yucca
Jolly Roger Punch: Spiced Tropical Juices with hints of Pineapple, Orange and Mango
Entertainment:
Starting Friday March 17 there will be lots of pirate themed entertainment taking control of New Orleans Square with guest performances by the Bootstrappers and Lucky the Pirate.
Then on Saturday March 18, the most famed pirate to sail the 7 seas, Captain Jack Sparrow, will be making an appearance himself.
Merchandise:
There will be plenty of limited-edition 50th anniversary merchandise to buy throughout New Orleans Square, so get there fast if you want to take home some treasure.
Sounds like a great time and I wish I was going to be there to help celebrate my favorite attraction. If you are going to be there send some photos my way, I'd love to post them for everyone on the website!
Your Thoughts:
I want to know what you think about the Pirates of the Caribbean 50 Year Anniversary. Are you going to make it to Disneyland this weekend for the party? What are you looking forward to the most to at the celebration? Let us know in the comments section below! 🙂
If you enjoyed this article, as always I appreciate it if you'd share it with others via social media. I work hard at making this website into a useful resource for you and your family to plan your visit to Walt Disney World, and I hope it can help you! Thanks 🙂
Photo Credit: Disney