Here's the latest on Hurricane Irma and Walt Disney World:
UPDATE Sept 8th, 3:30pm:
This morning we received new that Hurricane Irma will be coming directly towards the Orlando area and because of that The Walt Disney World Resort has announced that all the Theme Parks, Water Parks and Disney Springs will be closed for 2 Days, Sunday Sept 10th and Monday Sept 11th.
On Saturday Sept 9th, the theme parks will be closing early: Magic Kingdom 9pm, Epcot 9pm, Hollywood Studios 7pm, Animal Kingdom 7pm and Disney Springs 9pm. Seems a little strange to keep them open even that long seeing as the meteorologists are saying to be where you have to be by 5pm on Saturday…
Talking with many cast members over the last couple days they've reassured me that the safest place to be in Central Florida is Walt Disney World. All the buildings are tested to withstand hurricane winds for long periods of time. For example the Facades on the old Streets of New York were made to stand up to sustained winds of at least 100mph. And they are much flimsier than the other buildings on property. Windows in the resorts are also reinforced to withstand a hurricane.
A lot of Central Florida locals have bought up the hotel rooms in Walt Disney World because they know the Disney buildings are much more resistant than the avg home in the area. Many residents of Miami and South Florida have come up seeking refuge too. As of now there aren't any rooms available.
Disney also does all they can do keep the guests safe and make them feel good too. For example sometimes they even send characters in to entertain the kids and at give them a sense of reassurance, taking their minds off the storm. Disney is super prepared for this Hurricane too, I'm told they are well stocked with food and water and they have all their hurricane preparations in place.
We'll be bunkered in down at The Beach Club, and I'll be sharing everything with you as things develop!
Stay Tuned for more….
Click here for the Official Walt Disney World Hurricane Policy and What to do in the event you are there.
UPDATE Sept 7th, 6:30:
The latest update from the National Hurricane Center has the path of Hurricane Irma moving more to the west potentially increasing the impact on Central Florida. It now looks like by the time the storm arrives in Orlando we're looking at a CAT 3 storm.
The Orlando International Airport is halting airline operations starting on Saturday at 5pm
Additional Disney Closures now include:
Fort Wilderness and Campground will be closed beginning Saturday Afternoon, as well as performances of the Hoop Dee Doo Revue and Mickey's Backyard BBQ on Saturday, Sunday and Monday.
Disney's Vero Beach Resort will close beginning at 2:00 p.m. on Friday.
Highway In the Sky Dine Around is cancelled for Saturday.
Scroll down for previous updates on other closures…
Something to keep in mind is now that Hurricane Jose has turned into a CAT 3 with winds at 120mph, hopefully this veers off and doesn't affect Florida too.
Keep tuned to more updates, I'll have them as they come….
UPDATE Sept 7th, 1:43pm:
Yesterday we were told that Blizzard Beach was closing on Friday and Saturday, now Disney has announced that the Night of Joy Event on Saturday Sept 9th and Mickey's Not So Scary Halloween Party on Sunday Sept 10th at the Magic Kingdom have also been cancelled. More closures are sure to come so stay tuned…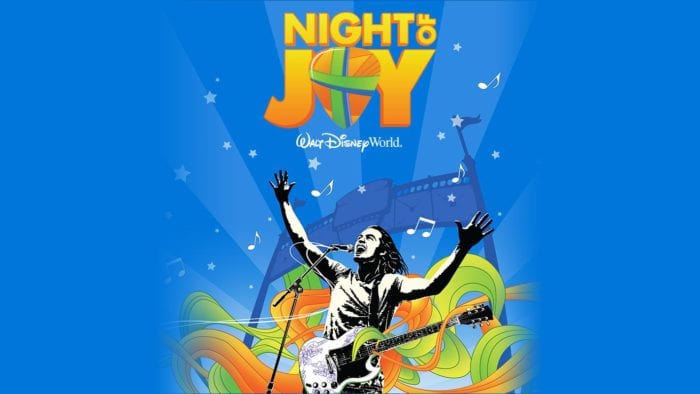 Here are the latest images from the NHC as of 2pm also…
You can see in the latest projections the center of the storm looks like it's going up the east coast of Florida. However there will still likely be severe winds that will affect the majority of Florida. Stay safe and heed the local authorities' direction…
UPDATE: Sept 7th, 9:21am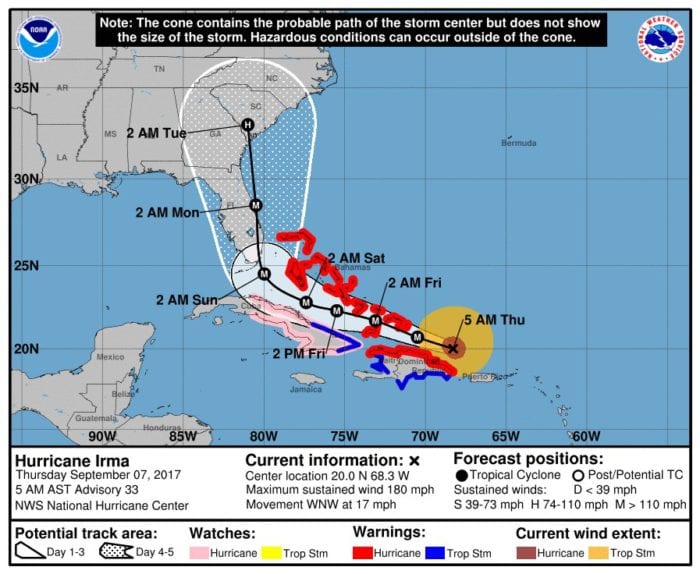 We had some interesting updates last night on Hurricane Irma. As it stands now the storm's "cone of concern" has moved a bit and makes it likely of a stronger impact in the Central Florida area. The hurricane is expected to be over Central Florida at around 2:00 a.m. between Sunday night and Monday morning.
The Orlando International Airport posted an update on their website last night saying that all flights would be suspended starting at 5pm on Saturday Sept 9th. However this was INCORRECTLY posted and taken down shortly after. Officials are still unknown when it will close. Here's a look at the messages:
Again it looks like the brunt of the storm will hit Central Florida Sunday night into Monday so that should be the worst time. Besides the closure of Blizzard Beach on Sept 8th and 9th Disney hasn't made any more announcements about park closures. Stay tuned for more updates as they come…
UPDATE: Sept 6th, 3:15pm
While we still don't know the exact path of Hurricane Irma, Disney has taken some precautions in light of the fast-moving storm. Disney is closing Blizzard Beach on Friday Sept 8th and Sat 9th due to the expected harsh weather in the area. No word yet if those will be the only days or if more will be added, or if Typhoon Lagoon will be closed too. Seems strange to close just Blizzard Beach and not both.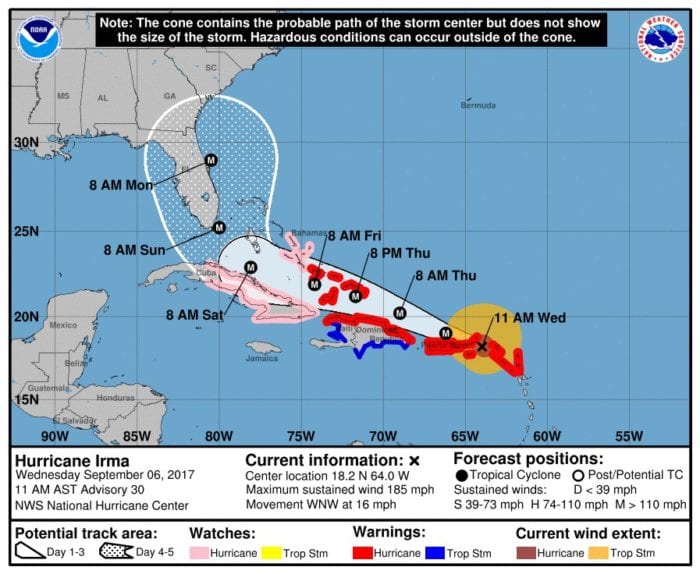 As of now Disney has NOT announced they will any of the theme parks yet, if it hits the Orlando area expect it to hit Saturday or after.
Disney has also setup a Hurricane Landing Page with links to any Important Information on Hurricane Irma
The Aerophile hot-air balloon in Disney Springs is suspending operations from today ahead of possible impacts from Hurricane Irma. It will start running again as soon as any threat of the hurricane has past.
Also Disney has changed and even cancelled some Disney Cruise Line Itineraries in the Caribbean.
Lots of updates so stay tuned…
UPDATE: Wednesday Sept 6th, 7:00am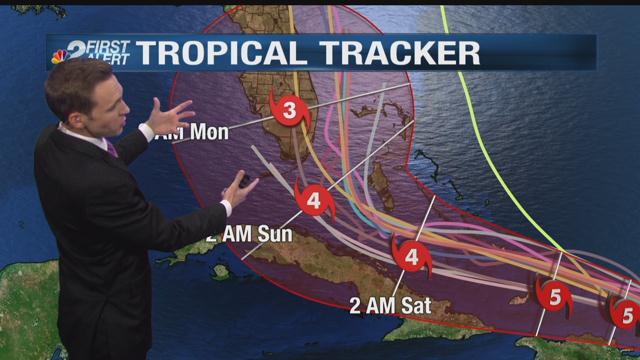 The NHC has updated it's outlook for Hurricane Irma. The bad news is that Hurricane Irma has now become the largest storm in Atlantic Ocean history, with a diameter of 400 miles and winds up to 225mph, the good news is it's taken a turn a bit to the east, and now has an even higher chance of going off to the east by the time it reaches Florida. Again nothing is certain at this time and Disney hasn't made any moves yet to close anything down. We'll have to continue to keep an eye out on things to see how it progresses, but at least it's a little more positive this morning. Be prepared but not panicked yet… NBC-2.com WBBH News for Fort Myers, Cape Coral & Naples, Florida
UPDATE: Tuesday Sept 5th, 11:00pm EST
Latest update from the National Hurricane Center has Hurricane Irma ready to touch down in the Leeward Islands, and will also hit Puerto Rico and the British Islands early Wednesday. Extremely high winds, up to 190mph. Still no updates to it's path once it gets to Florida, the Keys will most likely get hit strong but it's uncertain if it will affect Walt Disney World. We should know more by tomorrow…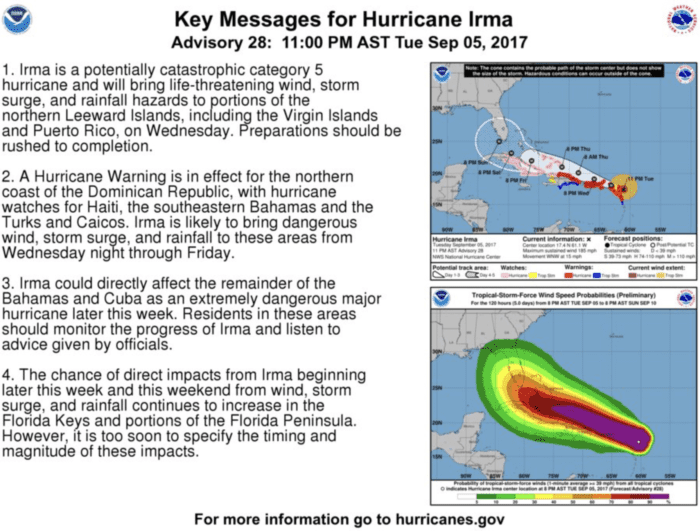 UPDATE: Tuesday Sept 5th, 8:30pm EST
Latest estimates for what areas Hurricane Irma is expected to affect:
UPDATE: Tuesday Sept 5th, 6:30pm EST:
As of now it's still too early to tell if or where in Florida Hurricane Irma could be heading. It's expected to touch down tomorrow morning in the St. Kitts, Nevis, area of the Caribbean, then moving on to Puerto Rico. Florida has been called in a state of emergency as a precaution and the Florida Keys are being evacuated tomorrow as the storm has a high probability to pass through the So. Florida area…
Here's the latest images from the National Hurricane Center: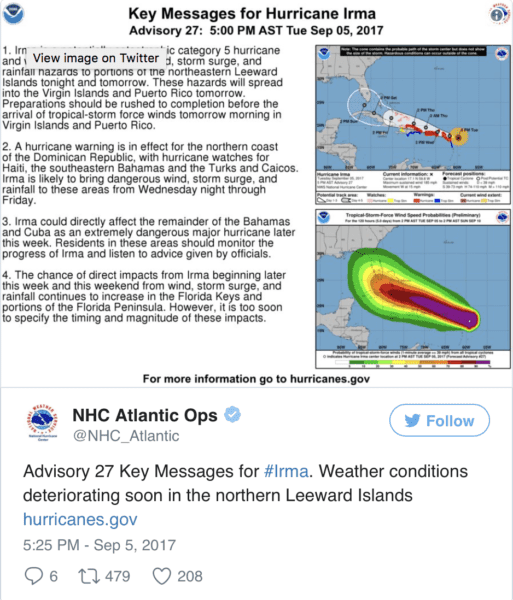 Official Walt Disney World Hurricane Policy:
Probably the #1 thing guests who are traveling to Walt Disney World this week want to know is if they can change their vacation, and if or how much it would cost. The short of it is that if the National Hurricane Center issues a warning for the Orlando area or where you live within 7 days of your arrival, then under most circumstances you can switch your reservation to another date without incurring a charge. However it's not guaranteed that the dates you want will be available.
On the Official Disney website there's a "Hurricane Policy" which is valid for any guests visiting Walt Disney World if a hurricane warning is given:
"If a hurricane warning is issued by the National Hurricane Center for the Orlando area—or for your place of residence—within 7 days of your scheduled arrival date, you may call in advance to reschedule or cancel your Walt Disney Travel Company Magic Your Way vacation package and most room only reservations (booked directly with Disney) without any cancellation or change fees imposed by Disney."
You also have to keep in mind you will have to contact other agencies about switching your reservations such as: Car Rental, Airlines, etc, as they each have their own policies.
Disney does not take responsibility for any vacation arrangements which were booked through a third-party company, and they will not cover you, which is to be expected. In that case if you have to make changes to your travel arrangements, contact your travel agent and they can help you. You can also contact the Walt Disney Company or Disney Cruise Line to find out all of your options including rescheduling your trip or making changes.
What if Walt Disney Closes Due to Hurricane Irma?
Again as of now it's still not known the path Irma will take, it very well may veer off either to the Gulf or Atlantic. Even if it does hit Florida, it's not very likely the center of the storm will hit Walt Disney World. That being said, Disney will put the well-being of their cast members and guests above everything else and it will shut down if necessary. Last year with Hurricane Matthew, it was only the 4th time in the history of the Walt Disney World resort that it was closed due to storms. It closed for 1 1/2 days, and cost Disney roughly $40 Million. So naturally Disney doesn't like to close the resort as it loses a ton of money, but it will if necessary.
Walt Disney World is a pretty safe place to be during a storm. They go through a rigorous hurricane testing process during the construction of their resorts for example. To simulate a hurricane, Disney launches large items that could serve as debris during a hurricane at the walls of the buildings at speeds exceeding 100mph during the construction process. So Disney takes their safety seriously. you will stay in your resort for the duration of the storm until Disney gives the word it's all clear.
If you are at Disney World during a hurricane keep these things in mind:
Stay inside
Buy plenty of water and snacks, you might be in the room for a while
Bring some fun games for the room, cards, board games, etc
Fully charge your phones and electronic devices
Bring some waterproof clothes
Buy ponchos ahead of time, you can often find deals for about $1 each where at Disney they're much more
Bring extra shoes as your will get wet
The silver lining to a storm at Walt Disney World is that you might find the parks are practically empty for a couple days near the storm, so enjoy it if you get the chance. Again, just dress appropriately as it will probably be wet!
It's important to stay informed of the coming hurricane, so please keep watching updates from the National Hurricane Center as much as possible to understand the changing weather.