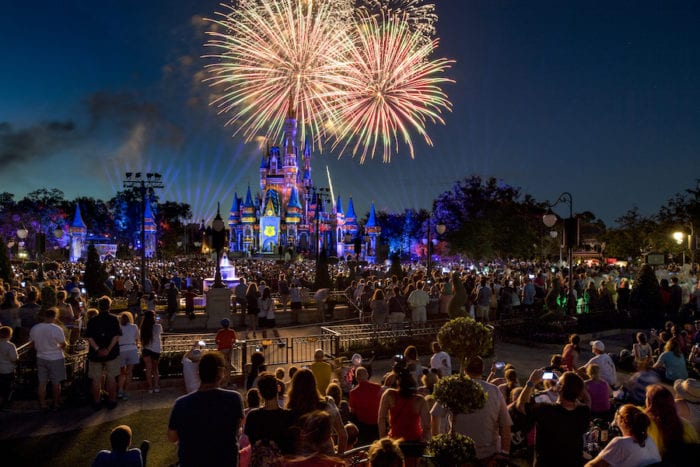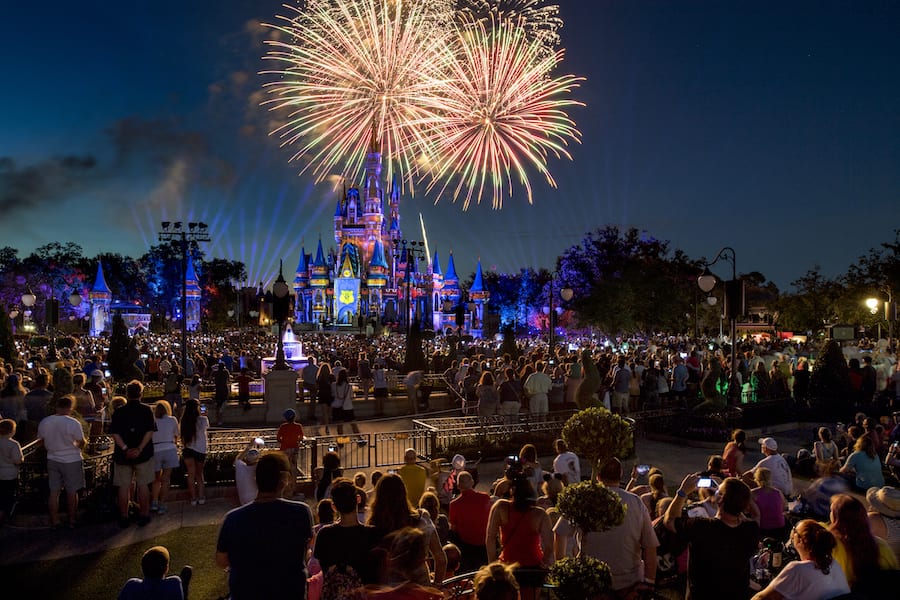 There are two things I never say no to, fireworks and dessert, and at the Magic Kingdom you can have both of them together at the Happily Ever After Dessert Party. Disney has been doing Dessert/Fireworks parties for a long time now, and for Happily Ever After they're now adding 8 New Desserts for a total of 10. I just have to say from my opinion it looks like the best lineup of desserts from any of the fireworks parties I've seen.
There are 2 Viewing Areas that guests can choose from:
Plaza Garden Viewing ($59 and $35 ages 3 to 9) – Good for seeing the castle projections –
Tomorrowland Terrace ($79, $47 ages 3 to 9) – Reserved Seating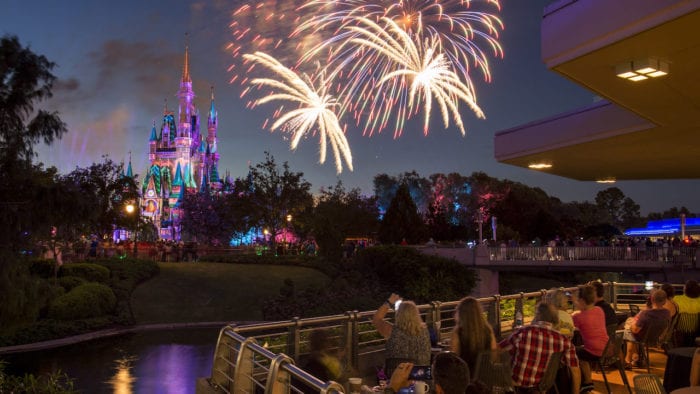 Here's a look at the Desserts, but I'm warning you, don't look if you're hungry:
A Villains Chocolate Cupcake inspired by Ursula with purple buttercream and chocolate crispy pearls.
Pineapple Delight is a Dole Whip-inspired treat, light and fresh with whipped pineapple panna cotta with pineapple compote and a fresh pineapple spear.
Chocolate Dipped Strawberries – dark chocolate, of course, are back.
Chocolate Marshmallow Tart salutes Frontierland with a reimagined s'more: a graham cracker tart with chocolate custard topped with marshmallow meringue and a chocolate bar.
Macarons, a sweet nod to Gaston's Tavern in Fantasyland in flavors such as pistachio, raspberry, lemon, chocolate, coffee and vanilla.
The bold Cheesecake Brownie Bite is in honor of the heroes in "Happily Ever After," with a brownie topped with chocolate chip cheesecake and whipped cream. Add a drizzle of chocolate and more chocolate chips. This one is a repeat and guest favorite.
Strawberry Tart inspiration comes from Main Street, U.S.A., an all-American dessert with a vanilla tart shell filled with lemon curd and raspberry sauce. Add a little strawberry mousse, strawberry crisp pearls and a little whipped cream with a fresh berry.
The "Happily Ever After" Cupcake is the signature dessert – red velvet cake with yellow buttercream icing.
Perfect for Instagramming with a "Happily Ever After" chocolate garnish.
Chocolate Almond Cake features raspberry sauce in the center and a fresh raspberry on top.
And Mickey is the muse for the Oreo Mickey Treat, whipped Oreo panna cotta topped with two chocolate ears and sprinkled with chocolate pearls on top of an Oreo.
If you haven't experienced one of Walt Disney World's Dessert Parties they are a blast, and they are a great way to see the fireworks without having to be too worried about getting a good spot. Some of them are better than others as far as the dessert selection, but this one seems really special, basically ever dessert listed appeals to me, so if you haven't tried one yet this is a good one to start with. The Frozen Ever After Dessert Party in Epcot is another good one to try.
You can also read my Happily Ever After Review to get a better idea of what to expect if you haven't see the show yet!
Like most special events at Walt Disney World, the Happily Ever After Dessert Party fills up fast so if you are interested I suggest you make a reservation as soon as possible, either online at www.DisneyWorld.com/dining or by calling 407-WDW-DINE. The fireworks experience can be changed or canceled due to bad weather or other motives without prior notice.
Your Thoughts:
I want to know what you think about the Happily Ever After Dessert Party and the desserts. Which dessert sounds the best to you? Have you experienced any other Fireworks/Dessert Parties before at Walt Disney World? How did you like it? Let us know in the comments section below!
If you enjoyed this article, as always I appreciate it if you'd share it with others via social media. I work hard at making this website into a useful resource for you and your family to plan your visit to Walt Disney World, and I hope it can help you! Thanks 🙂