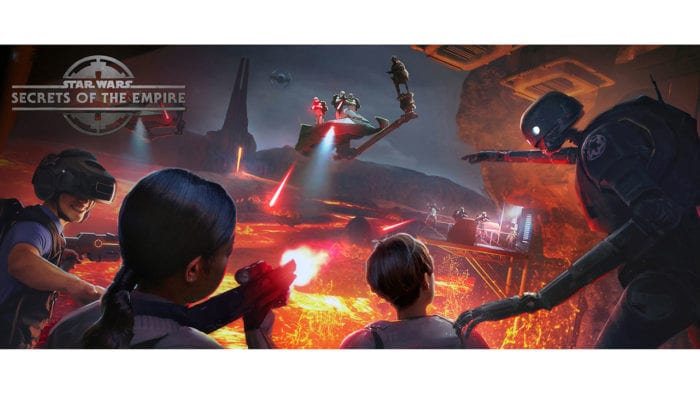 As if Disney hasn't had me jacked-through-the-roof already with all the Star Wars goodness coming to Disneyland and Disney World including Star Wars Galaxy's Edge and a Star Wars Hotel, now we just got some more exciting news today. A new Star Wars Hyper-reality experience is coming to Disney Springs and Downtown Disney at the Disneyland Resort called: Star Wars Secrets of the Empire.
This groundbreaking new experience brought by The VOID will allow you mix the physical and digital universes together by putting guests in an experience similar to virtual reality, where you can interact with your friends and family and also the environment around you. Supposedly whatever you see in your virtual world you can manipulate and interact with. It's really awesome stuff if you check out The VOID's video:
"At The VOID, we combine the magic of illusion, advanced technology and virtual reality to create fully immersive social experiences that take guests to new worlds," said Curtis Hickman, co-founder and chief creative officer at The VOID. "A truly transformative experience is so much more than what you see with your eyes; it's what you hear, feel, touch, and even smell. Through the power of The VOID, guests who step into Star Wars: Secrets of the Empire won't just see this world, they'll know that they are part of this amazing story."
What's great about Star Wars Secrets of the Empire is that it's a Star Wars environment, and looking at the photo for the attraction it looks like you'll be battling storm troopers and other baddies, most likely in a variety of environments! This is yet another experience that immerses you into the environment you're in, making you really feel part of the Star Wars universe! It's hard to say so far if each time you will be in the same environment or if the experience will be different every time. It would be awesome if every time you entered, you could go to a different world/mission and not repeat the same situations twice.
Lucasfilm and ILMxLab are collaborating with The VOID to help develop this one-of-a-kind experience again in both Downtown Disney and Disney Springs. We may have lost Disney Quest, but this is a nice consolation prize! The possibilities are endless and I can't wait to see how Star Wars Secrets of the Empire continues to develop. I totally feel like a kid again!
Keep checking back for more updates as they progress!
Your Thoughts:
I want to know what you think about The VOID's Star Wars Secrets of the Empire experience. What do you think of the idea? What would you like to see included? Let us know in the comments section below!
If you enjoyed this article, as always I appreciate it if you'd share it with others via social media. I work hard at making this website into a useful resource for you and your family to plan your visit to Walt Disney World, and I hope it can help you! Thanks 🙂
Photo Credit: Disney Parks Blog