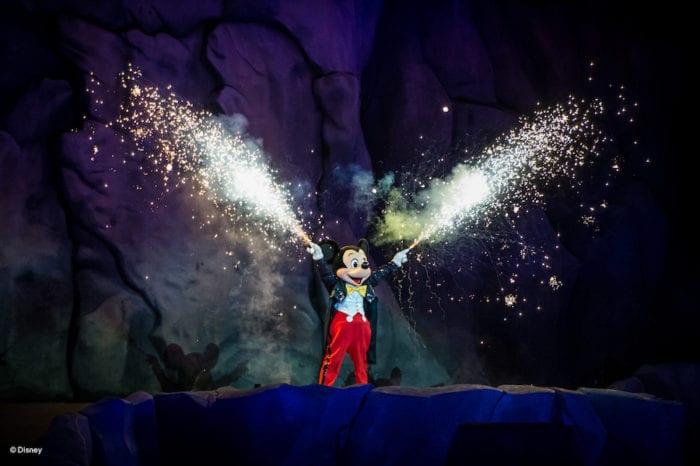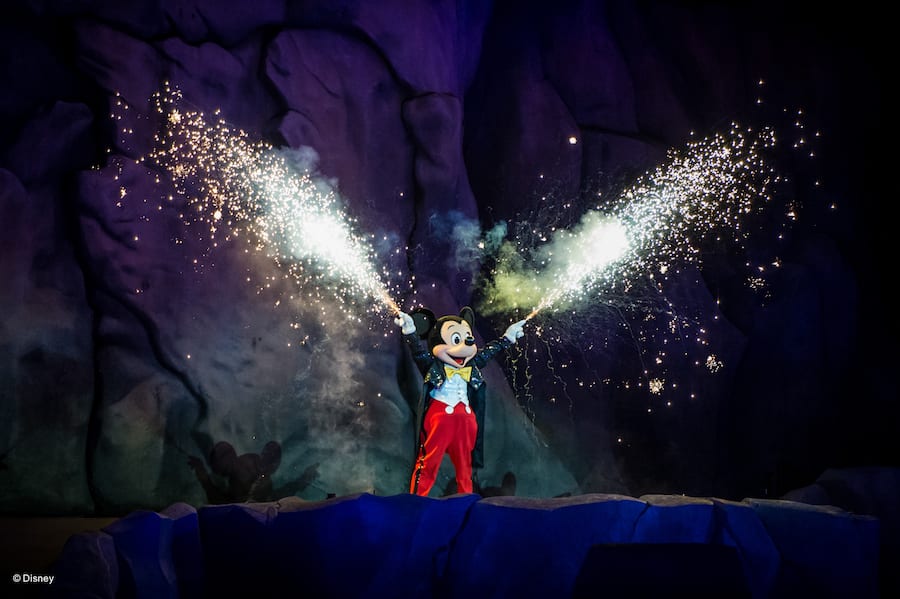 I recently got a chance to see the new Fantasmic 2.0 in Disneyland, and let me start off by saying I love this show. I saw the show on the second night that it soft-opened, July 16th, and I waited a couple of weeks to write a review because I wanted to see if my excitement over the new version was just an "in-the-moment" type thing, or if it lasted. It didn't. But now that some time has passed, I feel like I can give you an objectionable Fantasmic 2.0 Review.
Fans of Fantasmic have been eagerly waiting to see what Disney has done to their beloved nighttime spectacular, following closely ever change. Let's face it, since 70% of Disneyland visitors live within 100 miles of the park, they notice all the changes, and when they're positive it's something that's kept them coming back all these years. I think this Fantasmic 2.0 has been able to capture the original feel, while at the same time making some necessary changes to a show that had been starting to show it's age for some time.
If you want to watch Fantasmic 2.0 before reading the review you can here. I was in the Front Row:
What makes Fantasmic 2.0 so great?
Before the change from the original version, I thought this was one of the very best shows in any Disney park, the Mickey dream scenarios, the incredible music, and tributes to the classic Disney films all were reasons I loved it so much. And I think it's important to note that the new Fantasmic 2.0 keeps to the spirit of the original, and pretty much all of the scenes I loved are still there. Although just like in any Disney park, you can't always keep everything in the past, and sometimes you need to move forward, and that's what they did here.
The show is long, but in a good way! It's 26 minutes, but doesn't feel like it, time flies by. The story still follows Mickey into his dreams as he encounters both good and evil, and the fact we have a big montage of Disney scenes throughout this theme still works well. Actually I think Mickey shows up even more in this version, which is always a good thing!
The technical additions are easily noted right away. The upgrades to the mist screens are HUGE! The picture quality on them is so good now, it's almost like watching it on a projection screen. There's something really awesome about the whole thing. I love the mist screens in Rivers of Light, but these blow them away imo, even just for the fact that we're watching scenes and characters from our favorite Disney movies. The mist screens are a tremendous upgrade!
I loved the music too. The music seemed to have a richer, fuller audio, you can tell it was remastered. Some complained about the little differences in the track, but they kept the famous theme music (it still sticks in your head as much as it did before) and just changed a few of the songs around a bit, giving them a bit more of a modern feel. I thought it was done excellently, and I didn't lose any of the emotion that was in the previous version.
The projection mapping is another plus to Fantasmic 2.0 over the previous version. If you watch Tom Sawyer's Island before the show, you'll notice a brown tarp-like material pulled over the building in order to give the projection mapping more coverage. I didn't think this was very obtrusive or distracting in any way. Although Fantasmic doesn't use this technology nearly as much as let's say Happily Ever After does, I think the different effects added are definitely a plus and add to the quality of the show. A good example of this is in the Pirates Scene (we'll talk more about that in a min), when the ship is passing by and the building on the island is on fire. Really adds to it imo. And I like Disney continuing to use projection mapping more and more…
Even the fountains, which needed upgrading are done in a way that's not distracting from the rest of the show, but are worked in brilliantly.
For some of the individual scenes of course the biggest change and the source of the most outrage is over Pirates of the Caribbean replacing Peter Pan. Now I fully understand what a Disney icon Peter Pan is, he's one of my favorites, and I get wanting him represented in the show after he was such a big part of the original Fantasmic! I also am a big Pirates fan and I understand the desire to work newer IPs into the parks.
The way the scene is pulled off is very similar to the original, Jack and Elizabeth come flying through the Rivers of America on board the Sailing Ship Columbia, fighting off pirates like Peter Pan did. Originally the Sailing Ship Columbia was supposed to transform into the Black Pearl using Disney's projection mapping technology, but I guess they ran into technical difficulties and that didn't make the cut, or at least not yet anyways. I find the scene to be just as moving and captivating as the Peter Pan version, I'm a sucker for the Pirates music, and I don't see it as a negative at all. Besides the end it was my fav scene of the night and really woke me up after a slower intro. If they can get the projection mapping working then it has awesome potential!
It's really a shame they can't work them both in somehow as I really love both franchises.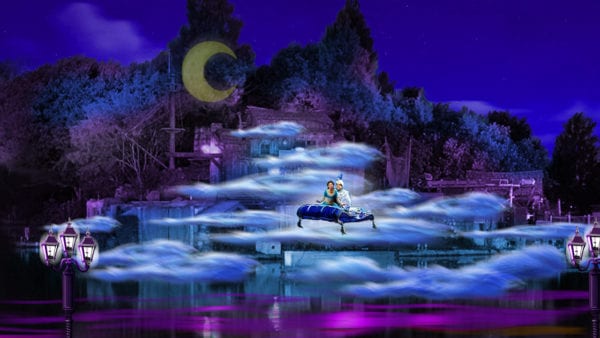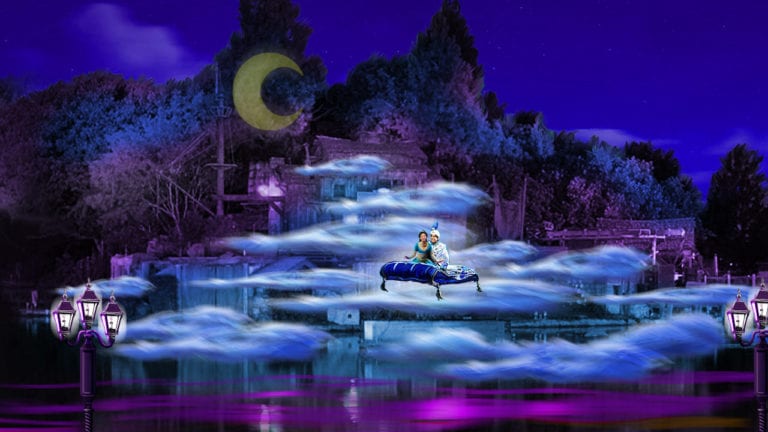 The Aladdin scene was added to the show and it's a scene where Aladdin and Jasmine are flying together on a magic carpet. I thought it was executed beautifully and the flight simulation is magical. Some complained it was hard to see them because of the fog effect, I didn't find that to be the case, I think it probably depends where you are seated and how the wind is blowing, but they'll probably be able to figure it out a bit more once they get more practice.
I also really liked the princess scene which had Belle, Ariel and Rapunzel (who replaced Snow White) and their princes floating by on barges much like before. The music seemed a little different, a more modern spin on it but still solid. I really liked the nod to Pinocchio with Mickey on strings, that was cute!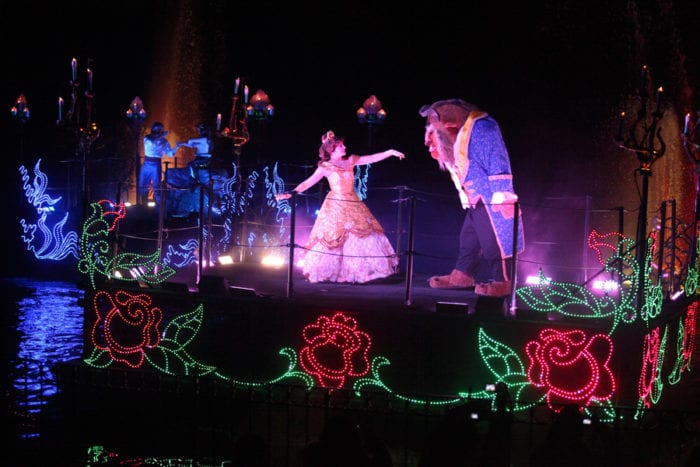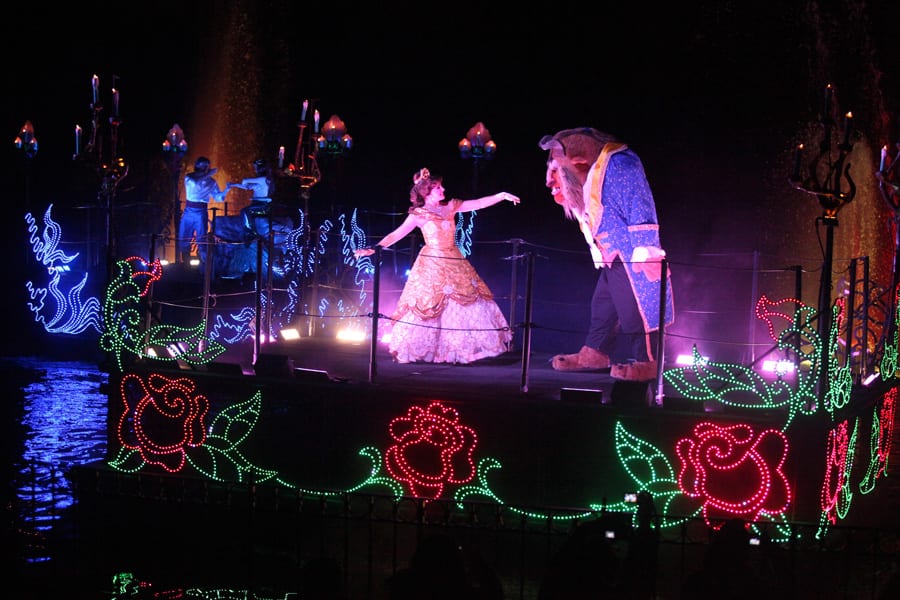 I found myself wondering throughout the show as Mickey Mouse was coming in and out from his dream sequence how in the world they got him moving around so fast. I would love to get a look at those trap doors they use because he was flying from one place to another making him look more like Speedy Gonzalez than Mickey! Really good organization.
The final scene with the Dragon was totally epic. The dragon itself is a HUGE improvement technologically. The fire effects are incredible and much more of the lake catches on fire than before. At the climax when Mickey is defeating him you electricity shooting through him and as he puts his head up to the sky and fire shoots out of his head. It's really amazing how they do it! And sorcerer mickey at the end shooting off fireworks was great! That whole scene was the highlight for me hands down, and Fantasmic 2.0 is worth seeing just for that part alone!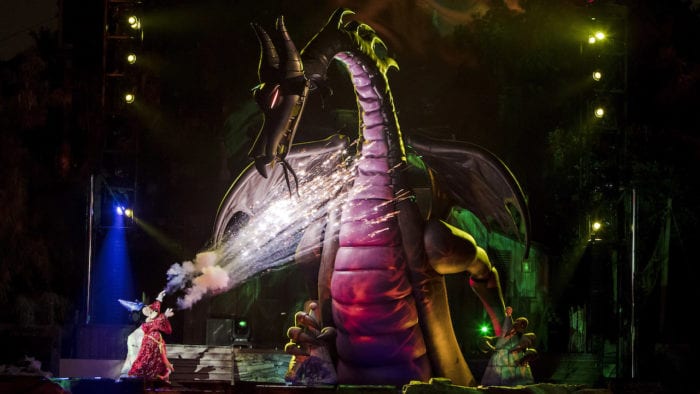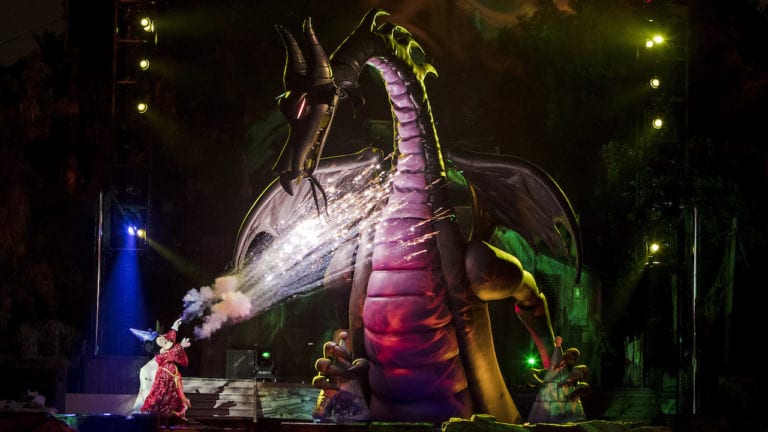 With that said, it's not a perfect show and there are a few things I wasn't crazy about. The first is after having just seen The World of Color show in DCA a couple nights earlier, and watching other Disney shows like Happily Ever After, it's kind of annoying seeing the same group of people in every show. I mean all the nighttime shows follow the same sequence almost with the happy/fun parts coming right after the intro, then the villains scenes, then the happy ending. I know it's because the fans come to the parks and want to see these characters, but I wish they'd find a way to mix it up a bit more because I feel like it's the same story just told in a different park. That's one reason why I do applaud Happy Ever After for attempting to put in some other characters we don't see much of.
Another complaint is how we were put in there by the Cast Members. Now it's been a while since I've seen Fantasmic! in Disneyland so I'm not sure how they usually setup the crowd, but this was terrible. We were part of the group that had "special reserved seating" because we were in the Parks and Resorts panel at D23 Expo the day before, and we were some of the first people in line. Therefore when they let us in we got right up to the front row. The only problem is we were forced to sit down and had to watch the whole show from behind the fence. Couldn't stand up for the show. Not only that but there were so many people around us and we couldn't go forward or backwards. Don't see why guests aren't allowed to stand, the floor is pitched and the people behind should be able to see. Now if you'd told me before that I'd be sitting Indian style for a half an hour, I'd have looked for a spot in the back with the guests who didn't have reserved seats. Hopefully this gets fixed.
TIP: I suggest getting in line about 1 – 1 1/2 hours before your showtime so you can choose your seat. Go for the middle in front of one of the water screens as from the side you can't see their projections as good. The Fantasmic Dinner Package as a good way to skip the wait as the lines are going to be really long for a while now.
I also was wondering if we'll ever be seeing a Fantasmic! upgrade in Hollywood Studios, seeing as nothing is currently planned. I think the technology updates are for sure worth it. The problem is that since WDW has so many nighttime shows, Fantasmic! isn't viewed with nearly the same affection as the Disneyland version so I don't think it's very high up on Disney's to-do list there unfortunately.
Overall Fantasmic! 2.0 Review Thoughts:
I was really impressed overall and it was a spectacular show, one of the best in any Disney Park. Right now I'd have it just under Happily Ever After and Illuminations as my two favorite shows, but I'd put it above basically all the rest, at least the domestic ones. I think it has good replay value, and even if you've seen it before, it should keep audiences entertained much like the original for years to come. You'll probably come to appreciate the subtleties of the show with more viewings. Technically it's a huge upgrade and the only real downside I see is losing Peter Pan. Overall that makes it a success and a must see for anyone going to Disneyland!
Your Thoughts:
I want to know what you think about my Fantasmic 2.0 Review. Have you seen Fantasmic 2.0 yet? What did you think of it? What was your favorite/least favorite part? Let us know in the comments section below!
If you enjoyed this article, as always I appreciate it if you'd share it with others via social media. I work hard at making this website into a useful resource for you and your family to plan your visit to Walt Disney World, and I hope it can help you! Thanks 🙂