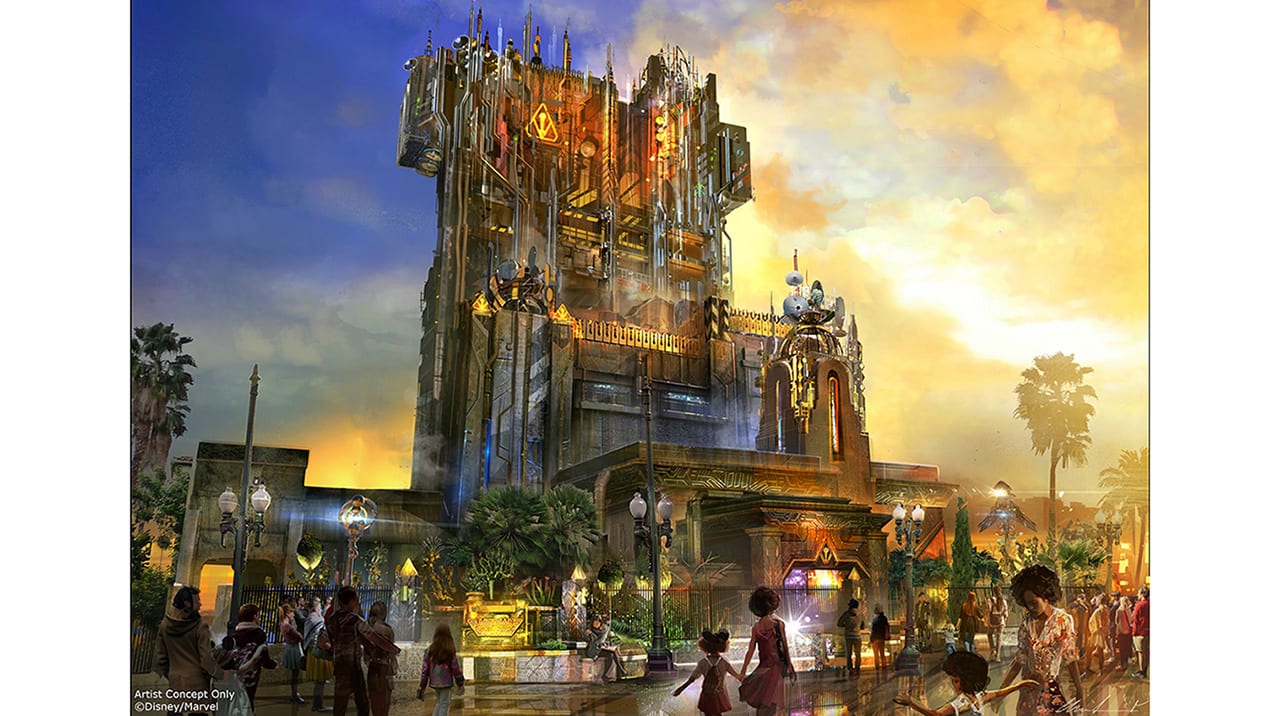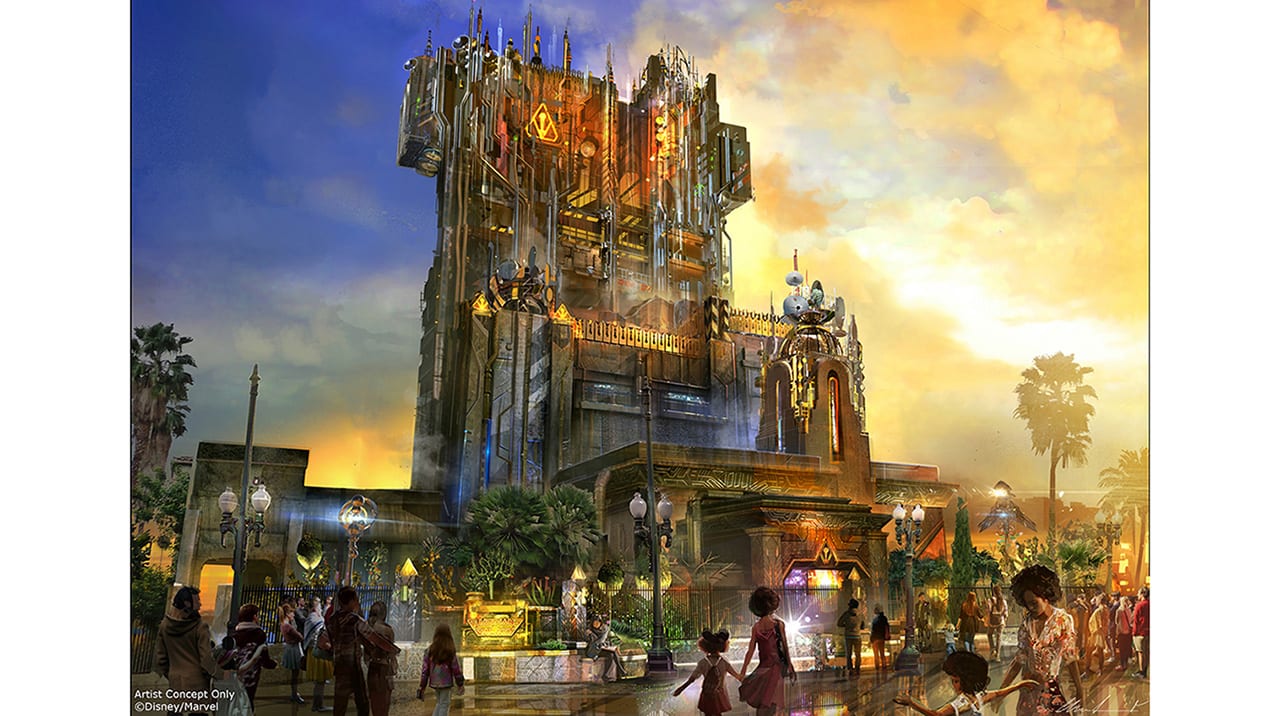 After months of non-stop speculation, the rumors have been finally confirmed. Today at San Diego Comic Con the President of Marvel Studios announced: Guardians of the Galaxy – Mission: BREAKOUT! is coming to Disney California Adventure, and it will be replacing Tower of Terror there. Starting in the Summer of 2017 the entire structure that houses the Twilight Zone attraction will be completely transformed to an epic new adventure based on the Guardians of the Galaxy theme. Guests will be dropped right into the story along with their favorite characters from the comic books and hit films.
This will be the first attraction based on the universe of super heroes that makes it's way into the Disney Parks, and we are told that it's only the beginning. Disney has plans to grow the Super Heroes Universe over time in the California Adventure park, and my guess into other parks worldwide as well, especially WDW.
The new Guardians of the Galaxy attraction sounds amazing! Even though the structure is being totally changed, it will still be based on the free-fall ride system and will use all new audio and visual effects to create a variety of ride experiences. There will be multiple, random and unique ride profiles that rise and fall to the Guardians' film soundtrack.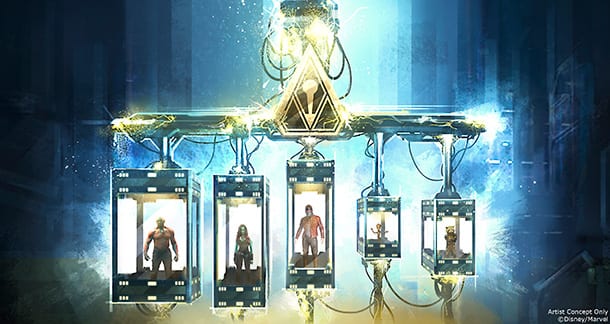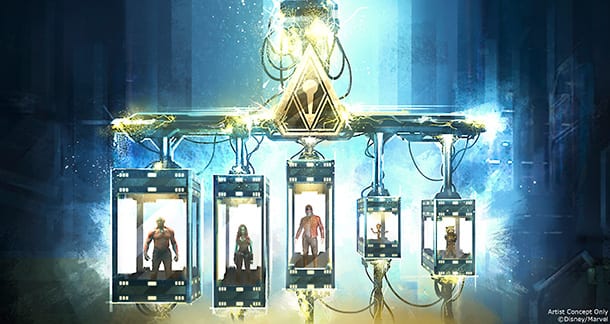 The Disney Parks Blog explains a little more of the story: "Deep inside his fortress-like collection, the mysterious Taneleer Tivan (aka The Collector) is displaying his newest acquisitions, the Guardians of the Galaxy. They are trapped in customized display cases, suspended over a vast abyss. Unbeknownst to their unscrupulous captor, the intrepid Rocket has escaped and is enlisting the Collector's VIP guests for help. Guests board a gantry lift, which launches them into a chaotic and hilarious adventure as they join Rocket in an attempt to break his fellow Guardians out of captivity."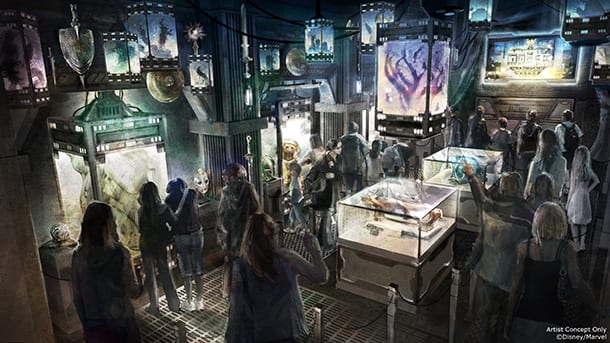 It's obvious why Disney would want this franchise represented in its parks as the first film in the series was a massive success grossing over $773 million worldwide. As of now it really has no presence in any of the parks and it would make sense to start building anticipation now before Guardians of the Galaxy Vol. 2 is released in 2017. It's already been 7 years since Disney spent $4 billion to acquire Marvel, and to not have any brand representation in any Disney parks (expect for the very sad Iron Man Experience in Hong Kong Disneyland) is not a very good investment.
Now not everyone is super happy to hear this news, in fact there are already a lot of mixed feelings on the matter. DCA's Tower of Terror was opened in 2004 which was 12 years after the original in what was then MGM Studios in 1994. There are also versions more similar to the DCA one in Disneyland Paris and Tokyo DisneySea. Some don't want it touched and are not welcoming the change. I think it's going to be a very popular attraction, and already I'm looking forward to seeing how it turns out.
Now I know you're thinking: "But Ziggy, are you crazy? You're a traditional Disney fan, what's with bringing this Marvel nonsense into the parks?" And you do have somewhat of a point. I love the Tower of Terror, but honestly as long as the original one in Hollywood Studios is staying, I'm fine with it. I think it's great having unique attractions in each of the parks. I don't like repeating the same attractions over and over again, and this gives you a reason to go to Disneyland in California instead of always just going to WDW. So if Disney is being inventive and giving its guests new unique experiences in each of its parks then count me in.
On the other hand, is it a unique Disney attraction? How do I know it's not going to just be some cheap rip-off of the Tower of Terror with a fresh coat of paint slapped on it and some super hero animatronics moving around? We can't be 100% sure, so I guess we will just have to wait and see. I don't want it just to be some cheap upgrade to squeeze a Marvel attraction into the parks, and I feel like if you are going to do an attraction like Guardians, then you better take your time and do it right!
I am at least hopeful based on what they've be doing lately and their plans for the near future. After some controversy from traditionalists such as myself, Frozen Ever After has been a smash hit in Epcot, with fantastic effects and animatronics, and I don't think it detracts at all from the overall feel to World Showcase, and it gave some life to an area that frankly was lacking a big drawing attraction (besides Food and Wine obviously!)
I also wrote about another rumor that's going around about a Guardians of the Galaxy attraction coming to Epcot to replaced the Universe of Energy, but we were not told anything about it at Comic Con and I'm not sure if the latest Disneyland news changes that at all. We'll see…
If you want to ride the Tower of Terror there again before it closes, you better get there before January 2017 as that's when is scheduled to close. The opening date target is Summer 2017, and I would think it would be ready sometime between when Guardians of the Galaxy 2 comes out in theaters May 5th and D23 in July. Stay tuned as I'll bring you any other updates as soon as I have them!
If you enjoyed this article, as always I appreciate it if you'd share it with others via social media. I work hard at making this website into a useful resource for you and your family to plan your visit to Walt Disney World, and I hope it can help you! Thanks 🙂
Your Thoughts:
I want to know what you think of Guardians of the Galaxy coming to California Adventure. Are you excited about the announcement? Are you upset to see the Tower of Terror leave? Let us know in the comments section below! 🙂
Photo Credit: Disney Parks Blog