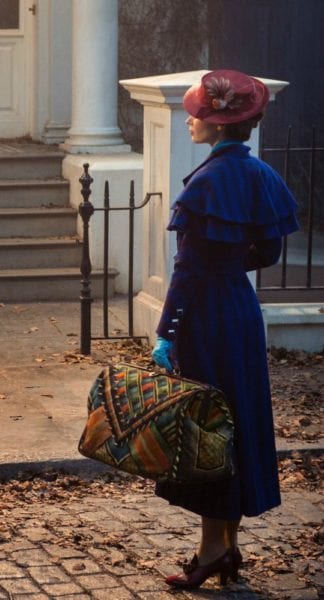 In May we found out that Emily Blunt would be starring as Mary Poppins in the sequel to the 1964 classic "Mary Poppins." Since then we haven't heard or seen much from Mary herself, until now. Today Disney released our first look of Emily Blunt as Mary Poppins, and it seems like Disney has hit it out of the park!
It looks like Mary Poppins is standing right outside of the familiar Banks home on 17 Cherry Lane, and it looks fantastic! The outfits look great too with every part of it fitting her to a T. The film picks up 30 years after the original and the Banks family now having children of their own. Strange though how Mary Poppins hasn't aged, I guess it's just part of her magic!
Recently we got exciting news that Angela Lansbury will be joining the cast too in a role as the Balloon Lady, a treasured character from P.L. Travers' Mary Poppins books. Mary Poppins returns will be directed and produced by Rob Marshall, and also star Lin-Manuel Miranda, Ben Whishaw, Dick Van Dyke, Emily Mortimer, and Julie Walters with Colin Firth and Meryl Streep, and hits theaters December 25th, 2018.
Your Thoughts:
I want to know what you think about First Look at Emily Blunt as Mary Poppins. What do you think of her look? Let us know in the comments section below!
If you enjoyed this article, as always I appreciate it if you'd share it with others via social media. I work hard at making this website into a useful resource for you and your family to plan your visit to Walt Disney World, and I hope it can help you! Thanks 🙂
Photo Credit: Disney