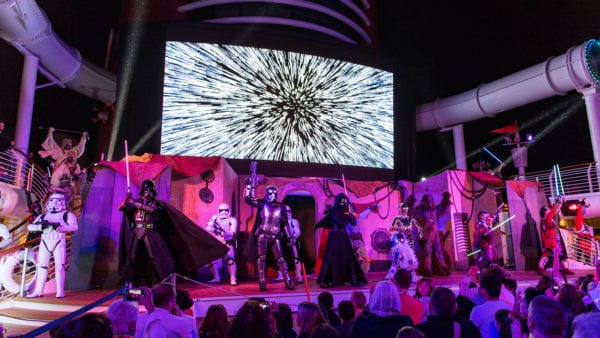 As announced on the Disney Parks Blog, there are some new additions to the very popular Star Wars Day at Sea this year. Star Wars Day at Sea is a day-long celebration on select Disney Fantasy Cruises from Jan-April that surrounds fans with non-stop Star Wars activities, shows and spectaculars. It began last year and is continuing in 2017 and 2018. We've already seen Star Wars Rebels join in on the fun now Disney tells us there is even more for fans to enjoy:
Expanded Nighttime Spectacular: The spectacular deck show, "Summon the Force," adds to it's original show by including new characters suchas Kylo Ren from the new trilogy, and also Ezra and Sabine from Rebels. The music will also include additions from The Force Awakens and Rouge One, both by legendary composer John Williams.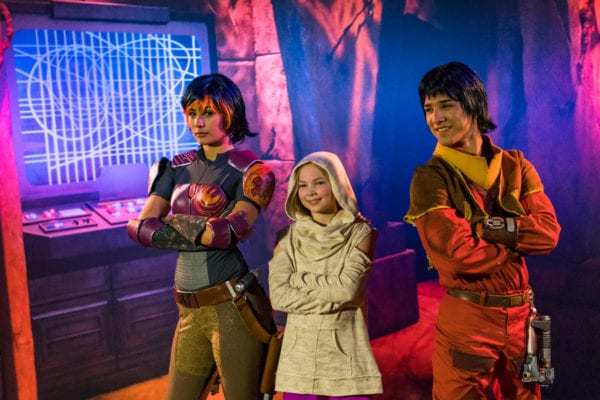 "Star Wars Rebels" Appearances: Characters from Rebels such as Sabine, Ezra and Ahsoka Tano will all be available for Meet and Greets, "Star Wars Rebels" will be available on the big Funnel Vision screen on the upper deck, and the Seventh Sister is joining in the "Jedi Training: Trials of the Temple."
Special Guest Speakers: This is one of the coolest parts is you will get to hear from the people who make the Star Wars magic themselves and get a behind the scenes look at what it's like to create these films on the big screen. This year's speakers include: Hannah Gills, producer for Industrial Light & Magic; Pablo Hidalgo, creative executive for Lucasfilm Story Group and Jason McGatlin, executive producer for "Star Wars: The Force Awakens," "Rogue One: A Star Wars Story" and "Star Wars: The Last Jedi," among others, on select sailings.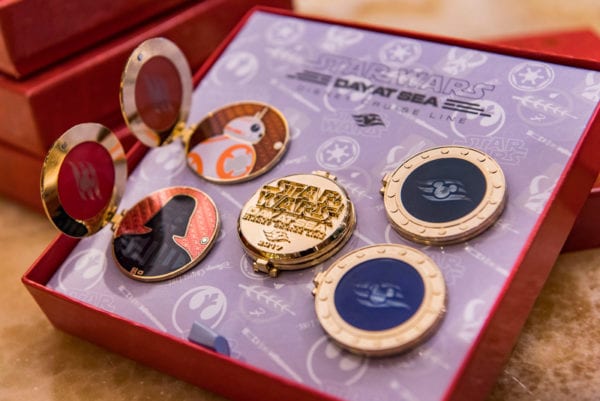 Out-of-this-galaxy Merchandise: There will be a whole bunch of Exclusive Star Wars merchandise during the Star Wars Day at Sea 2017, including drink ware, pins, apparel and more.
Stellar Screenings: Of course there will be mass Star Wars films watching and you'll be able to see all of them from the Original Trilogy, to the Latest one, as well as Rogue One. Grab a bucket of popcorn and make it a Star Wars marathon!
I like these additions to what is already a strong lineup on-board the Disney Fantasy. Of all the "Special Event Cruise Days" this to me is by far the best! (I know I'm a Star Wars homer but it's still true.) I think that if you are seriously looking to do a cruise with your family and there are some Star Wars fans coming, I would highly suggest looking at the dates and seeing if you could make it work. It's definitely worth it! You can click here to see the available dates from Disney.
Your Thoughts:
Again I want to hear from you and know what you think about the Star Wars Day at Sea new additions. Will it make you more likely to book a Disney Cruise? What other events/activities would you like to see at the Star Wars Day at Sea? Let us know in the comments section below!
If you enjoyed this article, as always I appreciate it if you'd share it with others via social media. I work hard at making this website into a useful resource for you and your family to plan your visit to Walt Disney World, and I hope it can help you! Thanks 🙂