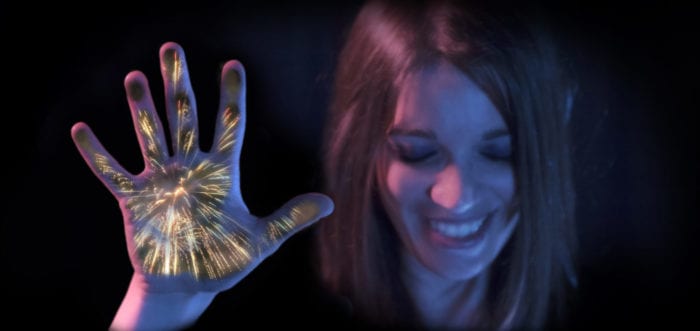 Disney Parks are known all over the world for their stunning fireworks shows which guests line up to see night after night. But what if you couldn't SEE the fireworks because of a vision impairment? A Disney Research Lab in Zurich is working on a new cutting edge technology, Feeling Fireworks for the blind. This is a tactile firework show which will allow the blind or visually impaired to experience these fantastic shows.
How does it work?
According Disney Research: "Tactile effects are created using directable water jets that spray onto the rear of a flexible screen, with different nozzles for different firework effects. Our approach is low-cost and scales well, and allows for dynamic tactile effects to be rendered with high spatial resolution. A user study demonstrated that the tactile effects are meaningful analogs to the visual fireworks that they represent, with sighted users able to label the correct correspondence of tactile-to-visual effects by a large margin over chance. Beyond the specific application, the technology represents a novel and cost-effective approach for making large scalable tactile displays, with the potential for wider use."
Basically these jets strike a surface, mimicking the fireworks show, which a visually impaired person then can feel and intemperate into fireworks effects. The nice thing about these Feeling Fireworks is that it's a low cost system, and something that can then be added not only for fireworks shows, but also other attractions/experiences. The sky is the limit with this system and could probably even be used for non-visually impaired guests to enhance the guest experience in other ways.
As of now there are no specific plans to use the Feeling Fireworks, but we'll keep an eye out on this technology to see if it's eventually implemented in the Disney Parks.
Your Thoughts:
I want to know what you think about Feeling Fireworks for the Blind. What do you think of this new technology? In what other ways could Disney implement this into park experiences? Let us know in the comments section below!
If you enjoyed this article, as always I appreciate it if you'd share it with others via social media. I work hard at making this website into a useful resource for you and your family to plan your visit to the Disney Parks and I hope it can help you! Thanks 🙂
News Credit: Disney Research