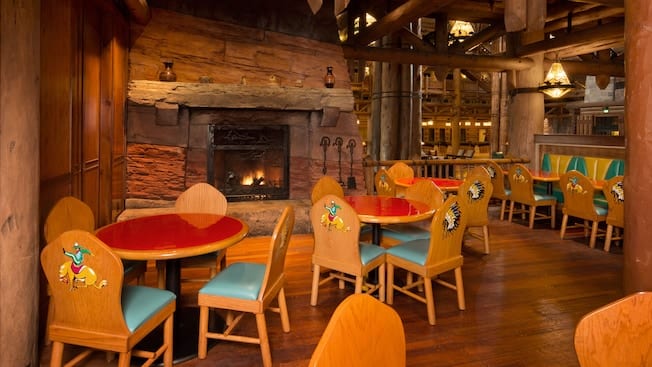 Originally it was reported that Disney's Whispering Canyon is getting rid of their famous gags and antics they do which is part of the show there, much like at 50's Prime Time Cafe in Disney's Hollywood Studios. However there is much vagueness about the whole situation with conflicting reports of the extent of the change. I reached out to Disney and they told me that they haven't changed the setup of Whispering Canyon and they still have the gags.
If you aren't familiar with Whispering Canyon, basically the waiters and staff are all loud and rowdy, they joke around with the guests and do all sorts of shenanigans with them. The most famous are the ketchup or refills joke. When guests ask for either ketchup or refills, the waiter yell: "ketchup" and they quick find themselves surrounded by a whole group of waiters ready to give them ketchup. There is also a children's race where they all get up and run around on wooden stick horses. It's really a great time and full of laughs.
Originally the rumors started because guests were complain about how rowdy it was and from this comment on Twitter it seemed like Disney has decided to change Whispering Canyon and get rid of the gags:
Hi Randy. We are continuously updating our offerings throughout Walt Disney World Resort and are currently working on what's next for Whispering Canyon. We apologize for any disappointments and will pass along any feedback to the appropriate leadership teams.

— Walt Disney World Today (@WDWToday) May 12, 2018
Disney told me that guests can still enjoy "hobby horse races and ketchup call. Our story line at Whispering Canyon Cafe remains the same."
While that seems really positive, from other guests experiences recently it doesn't seem like Whispering Canyon remains 100% unchanged. According to @TravelJenn on Twitter, they still have the Ketchup Gag, but the servers are not involved. Basically the guests pass the entire table of ketchup to the next guests when they ask for it. So they still have it, but it's not the same:
Guess what? @JonesTravels checked out Whispering Canyon and KETCHUP is still alive and well! If you want ketchup, you have to yell for it yourself. The CM cannot. It's up to the guests to stir the pot! #Disney #WaltDisneyWorld pic.twitter.com/plZZnYC6eU

— Jenn Greene (@traveljenn) May 16, 2018
That pretty much describes it. You holler for ketchup and the last table that had it all brings it all to you. Servers not involved.

— Jones Family (@JonesTravels) May 16, 2018
Even if they still have the gag, the whole point of it was to get the servers involved with the guests. It's not the same if the guests have to play the joke on each other. Who wants to get up and carry 20 bottles of ketchup to the next table??
I really hate this change. I understand that some guests don't want to be bothered while they eat and might not like the jokes, but that's what Whispering Canyon is all about! The joke is in the name of the restaurant even! I think there are so many other options at Wilderness Lodge like Artist Point, Territory Lounge, Geyser Point, and Roaring Fork, that guests who do not appreciate the jokes at Whispering Canyon can just choose not to go there and go somewhere else. It's what made this restaurant so fun and unique.
There used to be a card that guests could fill green or red, stating whether they wanted to play along in the jokes or not. It seems like that would just be the simplest solution.
Hopefully enough Disney fans can complain about it and they will see how popular the gags really are to the restaurant. It will be interesting to see if there are other ramifications from this change. I swear if they touch 50's Prime Time Cafe I'm going to be a very very angry man!
Your Thoughts:
I want to know what you think about Whispering Canyon changing the gags and antics.
Are you happy with the change?
What should Disney do with Whispering Canyon going forward?
Let us know in the comments section below!
If you enjoyed this article, as always I appreciate it if you'd share it with others via social media. I work hard at making this website into a useful resource for you and your family to plan your visit to the Disney Parks and I hope it can help you! Thanks 🙂