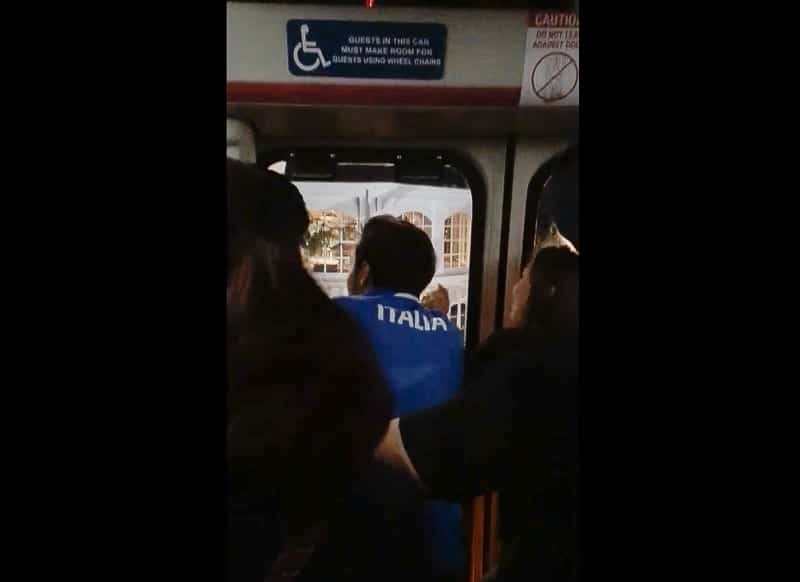 In what is becoming a reoccurring theme, on Saturday December 8th, the Walt Disney World Monorail system had another incident as the Yellow line of the monorail had its doors stuck and they wouldn't open for guests at multiple stops along the line.
The monorail was traveling along the Magic Kingdom Resort loop and the doors didn't open at the Ticket & Transportation Center, Polynesian Village Resort, and Grand Floridian Resort & Spa.
Guests were trying to exit, and were banging on the windows to try and get the attention of the Cast Members, though their efforts went unnoticed. They then proceeded to use the emergency phone to contact the Cast Members, but again no one answered. Once at Disney's Grand Floridian Resort and Spa they were finally able to get the attention of one of the Cast Members when a child screamed out the window. The Cast Member's response was to post the video on Instagram, and that would get Disney's attention on the matter.
In the video you can see the guests are in a somewhat playful mood despite the situation, and are laughing as they try to get someone's attention, and they end of cheering in the end when they are finally freed. Of course this was not a life-or-death situation, but it's somewhat disturbing to know that it took so long to finally get the appropriate response to the situation, and if it had been a serious situation it could have been worse.
Here is a video of the Monorail doors not opening (WARNING: Uses some strong language):
Disney certainly isn't getting a lot of good publicity recently as this is not the only incident the Disney World Monorail has had in the recent past. In fact just a couple weeks ago a door fell off the monorail after being struck by a motorized scooter. The monorail was then parked and the line was shut down for hours until the Disney maintenance crews were able to fix the door.
Rumors about new Disney World Monorail trains continue, but there is no proof as of now that Disney is serious about it or that they have ordered anything.
Your Thoughts:
I want to know what you think about the monorail doors getting stuck…
Have you been turned off to riding the monorail with the recent incidents?
What should Disney do about it?
Let us know in the comments section below!
If you enjoyed this article, as always I appreciate it if you'd share it with others via social media. I work hard at making this website into a useful resource for you and your family to plan your visit to the Disney Parks and I hope it can help you! Thanks 🙂