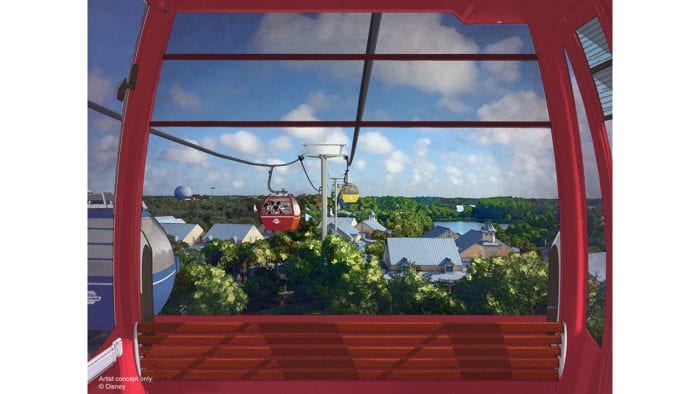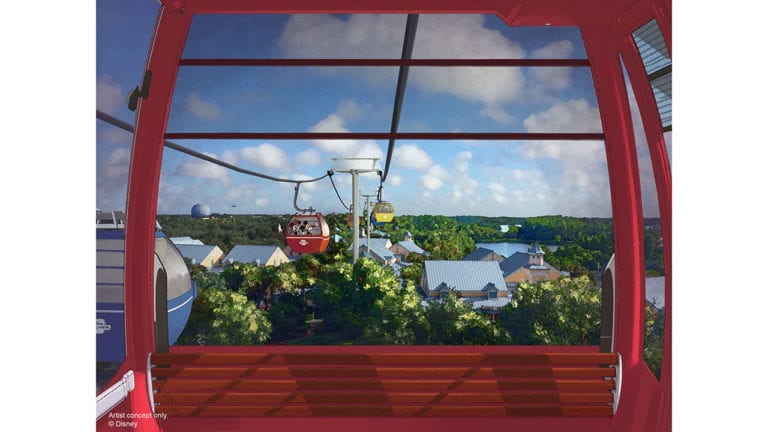 As you know at the D23 Expo a couple weeks ago we got confirmation of the the Disney Gondola project getting built, and now more about the Disney Skyliner details are coming out. The Disney Blog had a great post yesterday where he went into detail about the Disney Skyliner and what's included in this new transportation. I wanted to share my thoughts on the project and what we can expect!
So right away if you aren't familiar with the Disney Skyliner, it's a gondola transportation system that's going to bring WDW guests back and forth from 6 different locations. The stops will include 2 Parks: Hollywood Studios and Epcot, along with 4 Resort stops: Caribbean Beach Resort, Art of Animation, Pop Century and the new Disney Riviera Resort. The system will be made up of 3 separate lines that all converge at the Caribbean Beach Resort 'hub'. There guests will be able to change cabins and continue onto their destination.
The stop at Epcot will be at the International Gateway, which is currently already underway, so in theory if you are staying at the Boardwalk or Yacht and Beach Club you will be close enough to use it, but it will be almost useless for you as far as parks transportation seeing as guests there are already close enough to Epcot and Hollywood Studios that the Disney Skyliner doesn't really serve any advantages. I guess it could be good if for some reason you have to get to the resort stops, like future dinner reservations at the new Disney Riviera Resort, but that's about it.
"I'm proud to announce that we're building a whole new transportation system," Bob Chapek, Disney parks chair, said at D23 Expo. "The Disney Skyliner will soon give our guests a bird's eye view of Walt Disney World. Many of these gondolas will feature your favorite Disney characters and what a better way to get around the resort than with your pals in the sky."
So one detail about the Disney Skyliner we know it will have are character-inspired gondola cars. Expect the Fab 5, and also characters like the Hitchhiking Ghosts from Haunted Mansion, and some variety of Star Wars and Marvel characters too. I wonder just how much of a variety of characters we will see, I'd expect 10-15 variations, that way it will always seem fresh.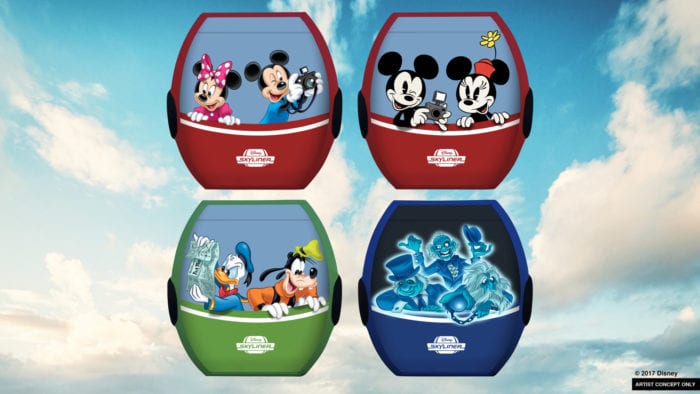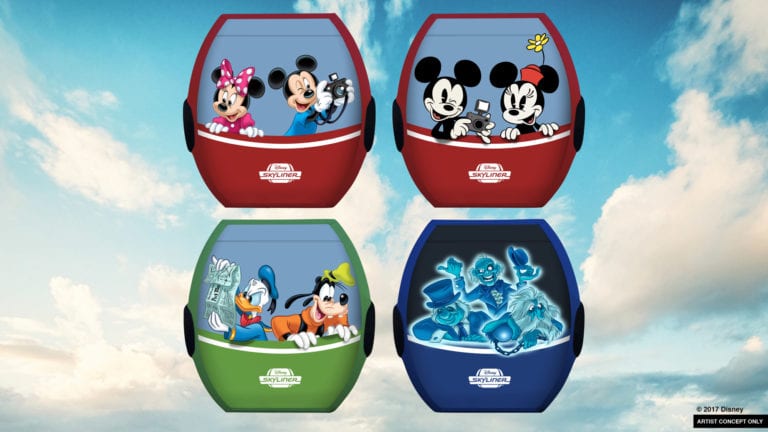 One big question is about how big the Disney Skyliner cars will be and how many people they will hold. Originally it was thought each one would hold 10 guests, but now it looks like it will be 8 guests per car. That means the max capacity should be about 5,000 per hour, which should be enough expect for the busiest of seasons where there will be a slight wait at the stations. The avg expected wait between the parks is about 20 min, give or take depending on how ling the lines are.
Maybe the biggest surprise is the fact that the cars WON'T have air conditioning but will have air vents. I don't know about you but that seems like a problem to me if you're returning to your resort at 3pm and it's 95 degrees out, which it is often here in Florida! There's just something awesome about getting on one of those Disney buses and you feel that air conditioning blasting on you after a long day of battling the heat outside in the parks. That to me is a big mistake not including the air conditioning. We'll see if it comes back to bit Disney.
Did I mention however they WILL have Wi-Fi on-board, which again I think is a great addition, but if I had to choose I'm going air conditioning all day!
Another concern is what will happen when there is bad weather, particularly storms. Being dangled up in the air in the middle of a lightning storm isn't exactly my optimal vacation, so how is Disney going to handle that? It could get hairy arriving at the station and waiting in line only to hear that they are shutting it down for weather. In fact in the old Skyway ride in the Magic Kingdom, they would often shut down during the stormy season, so you have to think this is a very real situation. This is heightened by the fact that the system they will be implementing won't include a third rope that the bigger gondola systems have, which allows the cars to be towed back in an emergency situation. Again Disney has to have already thought about this so I'm interested to hear what they have planned.
I'm not trying to scare you into not riding the Disney Skyliner, I'm actually pretty excited about it. I think that it has a lot of potential, and down the road could be viewed even more as an attraction rather than a transportation system, much like the Monorail currently is.
One piece of good news in that the cars will be friendly to wheelchairs, strollers and even small ECV's, which is a necessity imo, and the Skyliner will load slow enough to not have to stop the system to allow access onto the cars.
While there are no current plans to extend the Disney Skyliner past these original 6 locations, I have heard that this could be the 1st phase of a multi-part project if things go well, and you could see the Skyliner coming to other resorts and parks like the Animal Kingdom.
This whole Gondola project is a big step in the Walt Disney Company, because they are currently at a cross-roads so to speak with other transportation systems on property. The WDW Monorail system for example is currently very un-reliable with frequent breakdowns, and all of the trains need replacing. The current Mark VI version was installed in 1989 and is very expensive to continually maintain. It would be very expensive to extend the monorail system across WDW, so this Disney Skyliner if it has great success in it's first run, could potentially take over as the future of Disney Transportation.
It will be very interesting seeing how it turns out but I for one can't wait to try it. I'm going to be cautious however after learning some of the Disney Skyliner details and probably would recommend avoiding riding when there's a good chance of a storm or on super hot days! Expect a 2018/2019 opening, definitely in-time for Star Wars Galaxy's Edge opening. Stay tuned for more details as they come!
Your Thoughts:
I want to know what you think about the Disney Skyliner details. What do you think about them? What changes would you make to them? Let us know in the comments section below!
If you enjoyed this article, as always I appreciate it if you'd share it with others via social media. I work hard at making this website into a useful resource for you and your family to plan your visit to Walt Disney World, and I hope it can help you! Thanks 🙂
Photo Credit: Disney Parks Blog