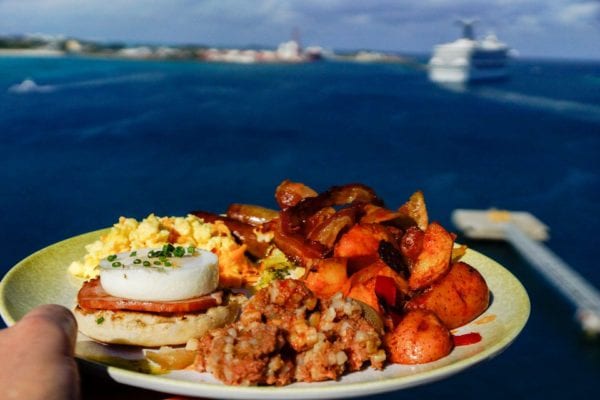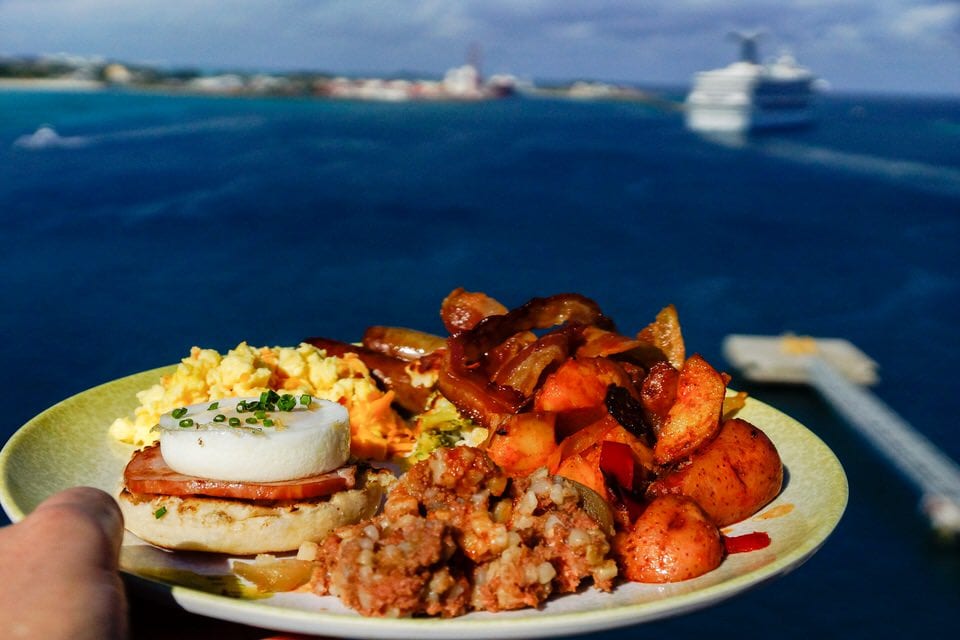 I recently went on a 5 Day Bahamas Cruise on the Disney Magic and we had a great time! Of course one of my favorite things to do on a Disney Cruise is eat and there is no shortage of places to go on-board! Whether it's Animator's Palate, Lumiere's, or the fabulous Palo, you won't be disappointed. And of course we get started eating early on a Disney Cruise and one of the best is a Cabanas Breakfast! I'm doing Disney Cruise Cabanas Breakfast Review so that you'll know what to expect yourself.
Cabanas is a Self-Service Buffet restaurant (except at dinner), and you can go to town with as many plates as you your heart desires (it is a cruise after all!!) A Cabanas Breakfast imo is the best cruise breakfast I've tried and just like at lunch is full of great choices. Expect a variety of Eggs, Potatoes, Bacon, Sausage, Hash Browns, Corn Beef Hash, Pancakes, Waffles, Oatmeal and more…
A lot of times buffets don't really inspire thoughts of high quality food, but everything we had was fresh and much better than most. The Disney Cruise Line really does an excellent job in this regard. We were eating at a buffet, but it didn't feel like it!
Cabanas can be found on all of the 4 Disney Cruise Line ships: Disney Fantasy, Disney Dream, Disney Wonder and our ship the Disney Magic.
Watch below a Video of the Cabanas Breakfast:
Atmosphere:
Cabanas is located on the 9th floor of the Disney Magic. Once you get there you'll notice that you're always greeted at the door by one of the cast mates who gives you sanitizing wipes. For the germ conscious this is something I noticed throughout the cruise as they really work hard to keep sicknesses down on the boat!
Once you go in it's like stepping onto a seaside resort. The atmosphere is fun and relaxed. Don't worry about bringing your kids as they will feel right at home here! You have your choice of both indoor and outdoor seating, just depends which you like better!
The chairs remind you of beach chairs and there are both tables available and counters.
Of course if it's really hot the inside offers air conditioning, and you can even have a table next to the window to get those views of the sea!
Eating outside is a whole other experience though…
TIP: The busiest tables outside are on Level 9. My secret is if you go up the stairs to the deck on level 10 there's an amazing view and you won't have to fight people for a table!
Just imagine having breakfast here:
Food:
The Breakfast at Cabanas is one of the best buffets you will find on a cruise ship hands down. Just like with the lunch buffet, the QUALITY for breakfast is excellent and you probably wouldn't even realize you are eating at a buffet! I usually cringe at the thought of finding eggs sitting around for who knows how long, but everything here was very fresh!
The Cabanas Breakfast buffet offers has a nice variety of choices, they have all the common breakfast options: Eggs, Omelettes, Bacon, Sausage, Waffles, Pancakes, etc, but nothing overly original imo. Don't expect to find the Breakfast Lasagna at Crystal Palace, but still a decent variety of choices. I thought the Cabanas Lunch Buffet was a bit more varied.
Let's check everything out!
The buffet is really big, and has two sides with the same options, so if the side you are on is packed with people, give the other side a shot it might be less crowded.
Everyday there were a bunch of different types of eggs available. Of course there were Scrambled Eggs, which were actually quite fresh btw, but there was also a different type of scrambled eggs along with it everyday, this one was the Scrambled Eggs with Salmon and Cheese:
There were different Omelettes available everyday, like the Ham and Cheese and just Cheese Omelettes here, and they were actually pretty good too. My only complaint is it would have been nice to have an omelette station where you can customize whatever omelette you want. I guess we'll have to wait for the next re-imagineering of the Disney Magic for that! 😉
And lastly today there were two types of yummy Eggs Benedict one was Portobello Mushroom Eggs Benedict, the other was Canadian Bacon Eggs Benedict:
If there wasn't container after container of Bacon on the cruise I'm sure there would have been riots like has never before happened on the high seas! I was worried when the sign said "Crispy Bacon", thankfully it was still on the tender side, which you all know is the only way to cook bacon! There was plenty of Sausage too:
Two types of Potatoes, Red Roasted Potatoes and Hash Browns. They were both excellent, but idk what it is but those darn hash browns kept we coming back again and again:
Like I said, there's never enough Bacon of course, and there was also Turkey Sausage (because you know it's so much healthier for you), and Corn Beef Hash which is my guilty breakfast pleasure!
This station was a little strange honestly. It was a different for me seeing Baked Beans for breakfast, I guess some people like that? Also because you can never have enough veggies, Grilled Tomatoes and Buttered Asparagus:
The Ham and Cheese Croissants were available for anyone who likes a good breakfast sandwich, and also the Quiche Lorraine:
Honestly with all that other good stuff I'm not going for this, but your Hot Cereal choices were covered with Cream of Wheat and Grits:
and Oatmeal with Brown Sugar:
This is more my style, Pancakes, both Buttermilk and Blueberry ones. And if you thought that Mickey Waffles were only available on dry land, thankfully that is not the case!
All the toppings for your pancakes and waffles:
If you thought we weren't going to have any sweets at our Disney Cruise Cabanas Breakfast Review, think again. So many great Cakes and toppings:
Now you're talking here!
The donuts were great too, even though some of them were losing their chocolate! hahaha
A ton of variety of Muffins:
And Pastries! This is getting out of hand…
This is what I probably should be eating instead….
There's a whole station full of Sliced Meats and Cheeses, with fresh Yogurts too:
Lastly I have to apologize that I forgot to take a picture of the Fruit Bar, which was absolutely FULL of a variety of fruit like pineapple, grapefruit, watermelon, cantaloupe, etc. If you watch my video of the Cabanas Breakfast Buffet Tour you'll see it there!
In the 5 days we basically tried everything on the breakfast buffet. Of course you know we went for the Mickey Waffles, which I covered in just about every combination of toppings possible. The Bacon was actually pretty good for buffet bacon, meaty pieces that were tender but not under-cooked.
Those stinking Hash Browns were so addicting, crisp golden brown outside and tender inside, and just the right amount of greasiness! 😉
One day there was even Steak for breakfast one day which I gladly gobbled up!! Thought that was a great addition to the buffet…
The Eggs Benedict was good too, but I LOVED the potatoes! Roasted and so flavorful, I could have eaten a whole tray! Also, don't judge for my Corn Beef Hash please.. 😉
Summary:
Overall I loved the Cabanas Breakfast Buffet, it was a much better quality than most Breakfast Buffets give you and there were some rotating options that changed everyday. You won't have any problem finding something that you like even if you are a picky eater. It's the best Breakfast Buffet I've experienced on any cruise, and had no problem returning day after day. Again my only complaint about the food is I wished there were a few "unique" food items that you can't get elsewhere, like you often see at Walt Disney World, but it's a minor complaint.
The staff was always helpful and greeted us each morning with a big smile. The atmosphere was great too, a nice casual and friendly beach setting inside, but it's especially amazing outside on the deck, where it would be hard finding a better view for breakfast anywhere.
I think I favored the Cabanas Lunch slightly more, but I liked the Disney Cruise Cabanas Breakfast a lot, and it was my favorite breakfast on the Disney Magic. I recommend to any guests on-board any of the 4 Disney Cruise Line ships. It's a great place to start your day, fill your tank and get you in the right mood for your adventure to come! 🙂
In case you missed it, here's a Video of the Disney Cruise Cabanas Breakfast Buffet:
If you are looking for a Cabanas Lunch Review click here, as it's an equally as good an option for breakfast!
I love to write Restaurant Reviews of Walt Disney World, Disneyland and Disney Cruise and I hope you found this one to be informative and helpful. If you liked this review then please visit my Disney Dining Reviews Page where I have many other Restaurant Reviews. I'm happy sharing with you what I love doing best…eating! ? I try to bring you the most thorough and unbiased reviews about the food and restaurants at Walt Disney World, so that as you are planning your vacation, you know the "can't be missed" places, and where you shouldn't waste your time. Hope you enjoyed this one and will enjoy many others in the future!!
Your Thoughts:
I want to know what you think about my Disney Cruise Cabanas Breakfast Review. Have you eaten there yet on your Disney Cruise? What did you think of the food? Let us know in the comments section below!
If you enjoyed this article, as always I appreciate it if you'd share it with others via social media. I work hard at making this website into a useful resource for you and your family to plan your visit to Walt Disney World, and I hope it can help you! Thanks 🙂