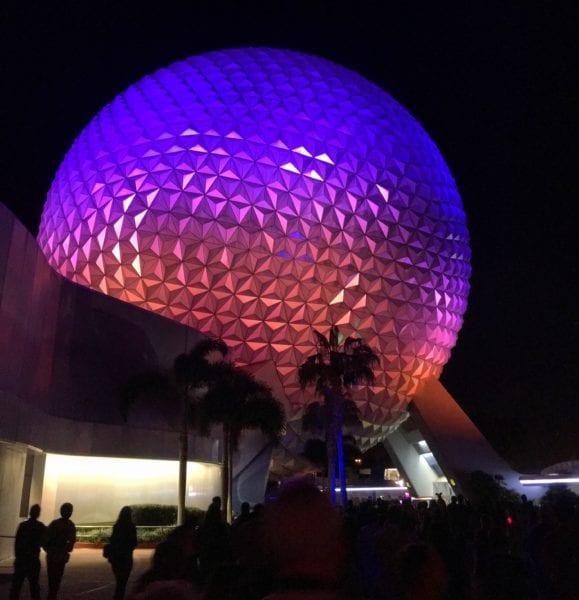 With the D23 Expo upon us and all the rumors flying around in every direction it's hard to keep straight what's going on, so I made a list of some Last Minute D23 Expo 2017 Rumblings to help make sense of it all. A lot of the rumors are based on the fact that the Magic Kingdom and WDW will be celebrating their 50th Anniversary in 2021, so Disney wants to have a lot of the major projects in place for that special event.
Again until confirmed by Disney these are still just rumors, but here are some of the rumors we're hearing the most and the likelihood they come true.
Magic Kingdom:
Rumors about a Tron Lightcycle Power Run Coaster coming won't stop, in fact it seems almost a done conclusion at this point. This would bring a Tron coaster almost identical to the one already found in Shanghai Disneyland to Tomorrowland in the Magic Kingdom. The only thing that's not clear at this point is if the Tomorrowland Speedway is staying or going. Some rumors have the Tron coaster replacing the Speedway and other have it going behind the Speedway while that gets a facelift to bring it into the 21st century. Honestly I don't care which one it is as long as Tron comes to Tomorrowland! Look for a 2020-2021 completion date ahead of the Magic Kingdom's 50th. I think we definitely hear more this weekend.
Staying in Tomorrowland there's rumors about a Wreck-it Ralph ride replacing the Stitch's Great Escape attraction. Stitch is always closed except in the very busiest seasons at WDW so they definitely need to do something else with the space and a Wreck-it Ralph attraction would be the first in a Disney park. Wreck-it Ralph is reaching a bit to put it in Tomorrowland, but I'll take anything over Stitch at this point.
Epcot:
There are a million D23 Expo rumors about Epcot after Bob Chapek said last year that big changes are coming to the park. It looks like the Epcot renovations are going to be done in phases so at this point it's hard to know which ones are coming in which phase, but somethings are definitely getting changed before the 50th because Epcot needs some help.
A Guardians of the Galaxy Coaster coming to the Universe of Energy pavilion in Future World seems very likely at this point with permits for a big project having already been approved at the pavilion. It calls for the ride queue to go where the current attraction building is and a new building housing the coaster behind that. Again it might be possible GotG is only a smokescreen and something else goes here but for sure something big is coming and we should hear about it this weekend.
I feel pretty confident of a Ratatouille Attraction announcement this weekend as the permits for a show building between the France and Morocco pavilions and ride queue behind the France pavilion have already been filed. Expect a clone of the Disneyland Paris one.
The latest word on possible New World Showcase Pavilions being added is that Brazil is still the most likely. It's unlikely to have an attraction, but I'm sure hoping for a place I can go to eat Pork Belly all year round!! Spain was also rumored, but since the film Gigantic most likely won't come out till 2021, it's unlikely we'll hear anything about Spain this weekend. However long term it still is a possibility with more expansion pads available in World Showcase even if Brazil gets added.
At first it looked like we would be finding out more about an Inside Out attraction replacing Journey Into Imagination soon. While that seems to still be on the table, we're now not confident that will be announced at the D23 Expo. Rumors of a Mission Space update are still out there too, with the ride getting some visual and story updates.
Besides attractions there are a bunch of other things that might get announced too: a Future World Name Change could be one of them with Disney seemingly moving away from the original Epcot design of Future World. There's also rumors of the entrance getting stripped of the "Leave a Legacy" stones and getting a whole new facelift. And since the partnership between Disney and Siemens is ending, it's possible we'll hear of an Illuminations replacement this weekend, less likely an update to Spaceship Earth, The Land or Wonders of Life. Those are more likely in the second phase of the Epcot renovation imo.
Hollywood Studios:
A Mickey Ride replacing The Great Movie ride now seems very likely after permits for a secretive "DHS Project M" have been found, with an ending date in 2019. This seems like anyone who is a Great Movie Ride fan should get in one list ride soon because it's likely going bye bye. Expect construction to begin after Toy Story Land opens.
Will we get a new Hollywood Studios name change? That seems possible, but I wouldn't bet on a Monsters Inc Land anytime soon which is only talk at this point even though we do know Disney has another phase to the Hollywood Studios renovations after Star Wars Land.
We will however get TONS of new info about Toy Story Land and Star Wars Land this weekend, with the full model of the land already having been revealed last night! It looks absolutely stunning!!!
Animal Kingdom:
Don't expect anything much here right now, Pandora: The World of Avatar just opened less than 2 months ago and Disney has been advertising the heck out of it, so they won't announced a Zootopia Land this weekend even if they do have more Animal Kingdom updates coming.
Resorts:
Even though it would be a dream come true, word is that they will hold off about announcing a Star Wars Hotel right now, but the force is very strong with a such themed hotel right across the street from DHS. I'm talking a totally immersive role-playing hotel where you feel like you are truly in the middle of the Star Wars universe.
I think it's more likely to hear more about the Caribbean Beach expansion.
And if we don't get any info on the Gondolas this weekend I guess Disney thinks we are all too stupid to notice when the poles start going up outside the International Gateway. This we will hear about for sure!
Disneyland:
With the Star Wars Land expansion in full swing in Disneyland Park, California Adventure needs to start stepping up its game. There's an outside shot that we'll hear about some of DCA's future plans, including a Marvel-themed land with a Captain America Coaster which would be amazing. However I'm skeptical at this point because there would be a lot of heads exploding if Disney announced 3 new coasters in the domestic parks at one D23 Expo…somehow I just don't see it.
Disneyland Paris:
Disney recently took full control of Disneyland Paris and wants to make a splash with its plans for the future. Disney has a 10 year $2 billion commitment to Disneyland Paris so D23 Expo might be a good shot to show what it's planning.
Those are our D23 Expo 2017 rumblings, the most talked about rumors and the ones that have a shot at being announced this weekend. Hopefully Disney has a few tricks up it's sleeves too that we haven't heard about. It should be an exciting next 5 years for Disney Parks even if we don't get exactly everything mentioned here. I have a feeling people won't even recognize the place by its 50th Anniversary!
Enjoy the Expo, we'll be keeping you up to date with everything we see and hear!
Your Thoughts:
I want to know what you think about the D23 Expo 2017 rumblings. What are you hoping to see announced the most this weekend? Which ones do you think have an actual shot? Let us know in the comments section below!
If you enjoyed this article, as always I appreciate it if you'd share it with others via social media. I work hard at making this website into a useful resource for you and your family to plan your visit to Walt Disney World, and I hope it can help you! Thanks 🙂