Any booth that's home to Cheese Bread and Pork Belly is going to be right up there near #1 for me, and that's exactly where Brazil usually is every year. But this year there's also a new option in the Brazilian Seafood Stew that also sounds amazing!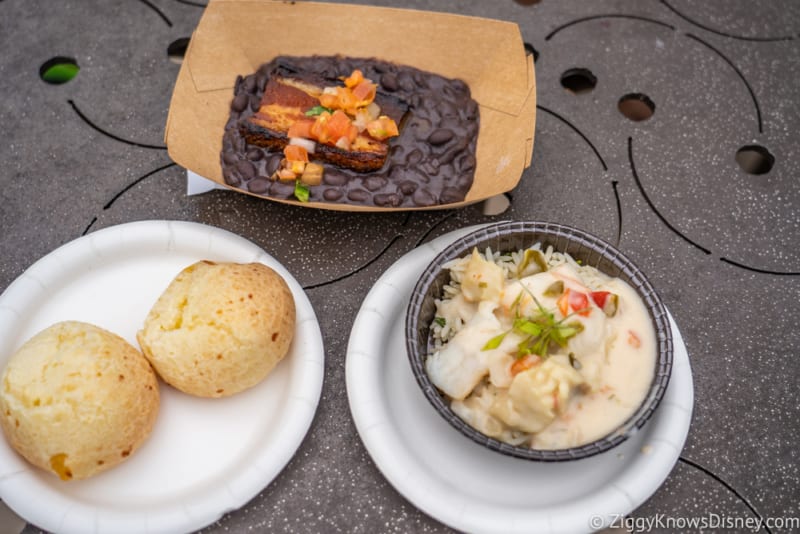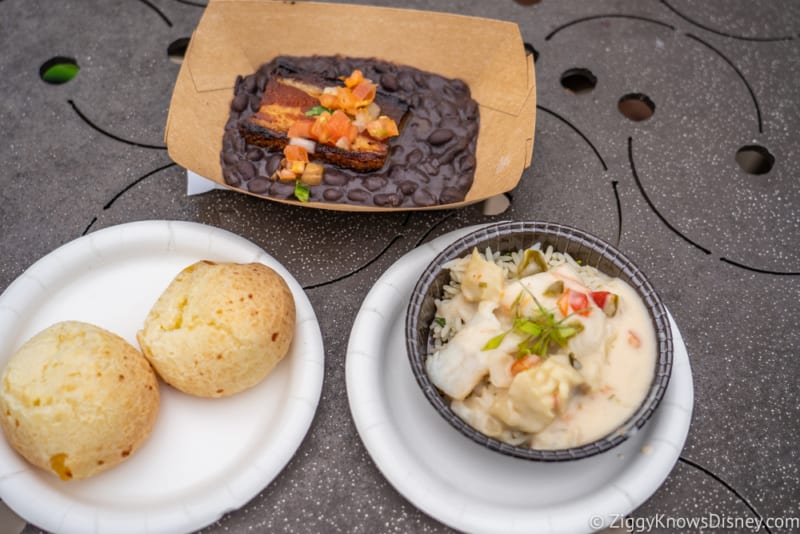 Can Brazil be in the running again for #1 Booth at Food and Wine?? Let's find out in my Brazil Review: 2019 Epcot Food and Wine Festival….
Brazil Marketplace:
Towards the top of the map located in between Belgium and France, Brazil is always one of the most beautiful marketplaces at Food and Wine because it has its own garden dedicated to it with a whole seating area (that's only if you don't like eating off the garbage cans like the rest of us! 🙂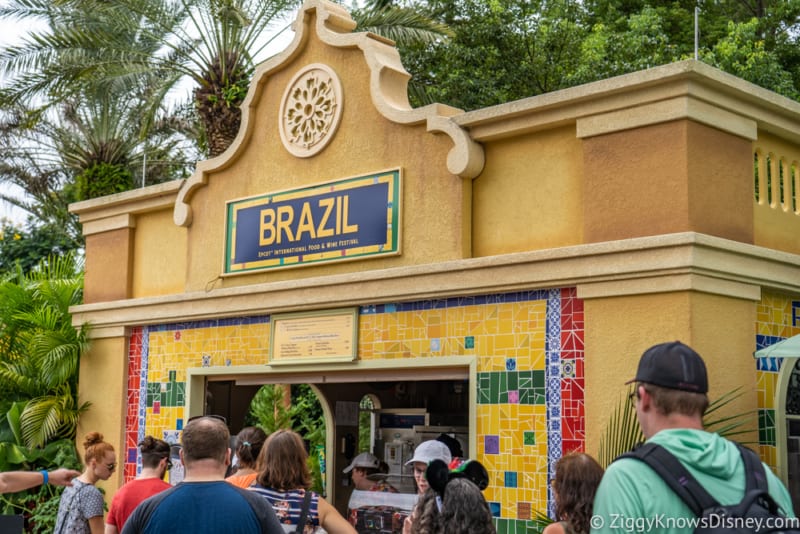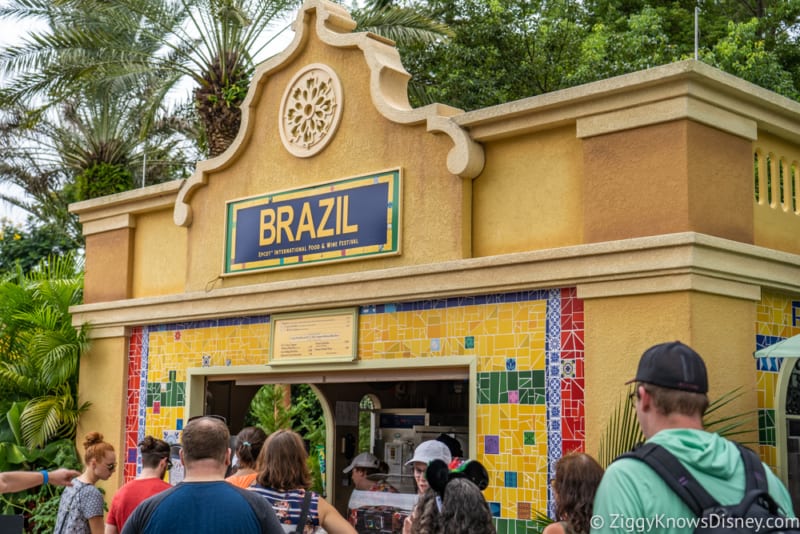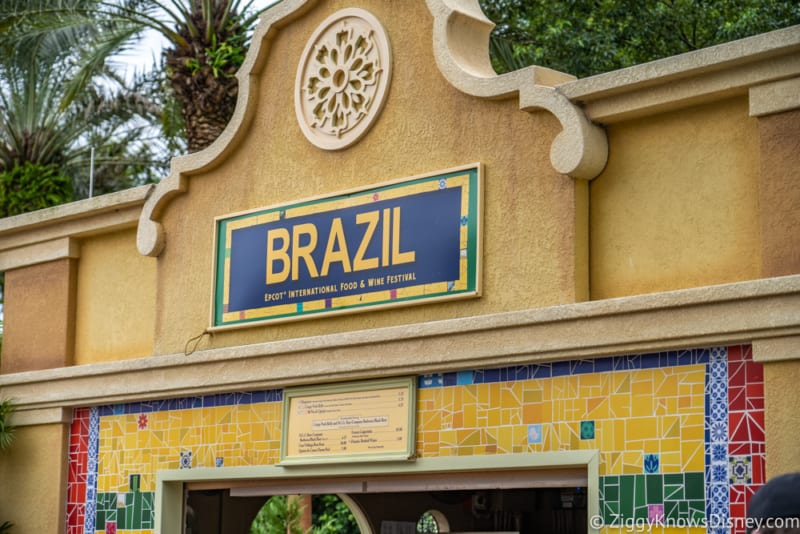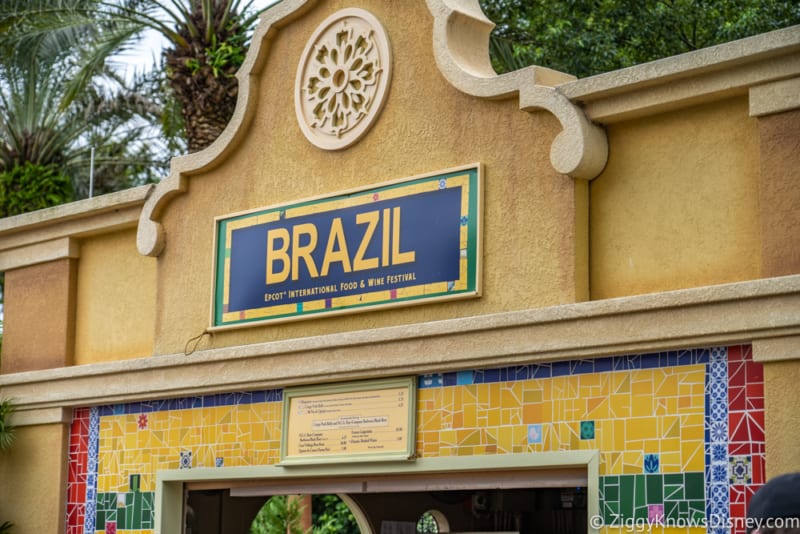 Brazil Menu:
Not much changed in Brazil this year, and that's not necessarily a bad thing. The Crispy Pork Belly remains one of my all-time favorite Food and Wine dishes, and the yummy Seafood Stew is back once again too.
Plus you can never leave Brazil without getting your fill of Pão de Queijo, Brazilian Cheese Bread! They are all back!
Food:
Moqueca: Brazilian Seafood Stew featuring Scallops, Shrimp and White Fish with Coconut-lime Sauce and Steamed Rice ($5.25)
Crispy Pork Belly with Black Beans, Tomato and Onions (GF) ($6.00)
Pão de Queijo: Brazilian Cheese Bread (GF) (V) (KA) ($4.50)
Beverages:
M.I.A. Beer Company Barbossa Black Beer, Doral, FL ($4.50)
Quinta de Azevedo Vinho Verde, Portugal ($5.00)
Quinta do Crasto Douro Tinto, Portugal ($5.00)
Frozen Caipirinha featuring LeBlon Cachaça ($11.00)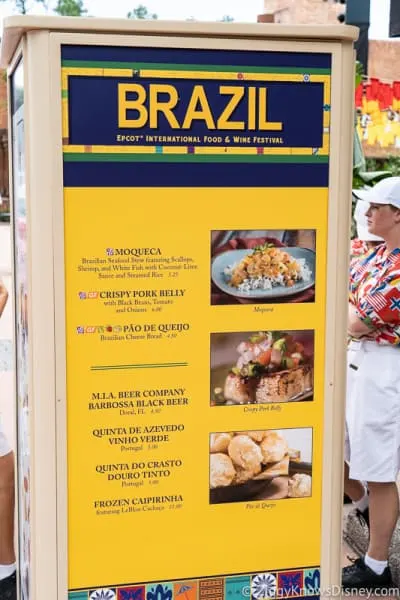 Menu Review:
Moqueca: Brazilian Seafood Stew ($5.25):
The Moqueca: Brazilian Seafood Stew was new in the recent years and we were pleasantly surprised it's made its way back to the Brazil marketplace. I would have liked a base other than just plain white rice, but I see why they did that since they went with a white creamy sauce to pour over it. There was a good amount of shrimp, but I couldn't really tell too much there was scallops actually in there.
I did make out some kind of white fish, and it was very flakey and most and there were big chunks of it in there. A nice change of pace and something worth trying for fish fans.
Crispy Pork Belly ($6.00):
Just give me pork belly any day of the week and I'm a happy camper! I keep coming back again and again to Brazil, and mostly it's for this stuff. It's served the in the same format as last year, on a bed of creamy black beans with a tomato garnish.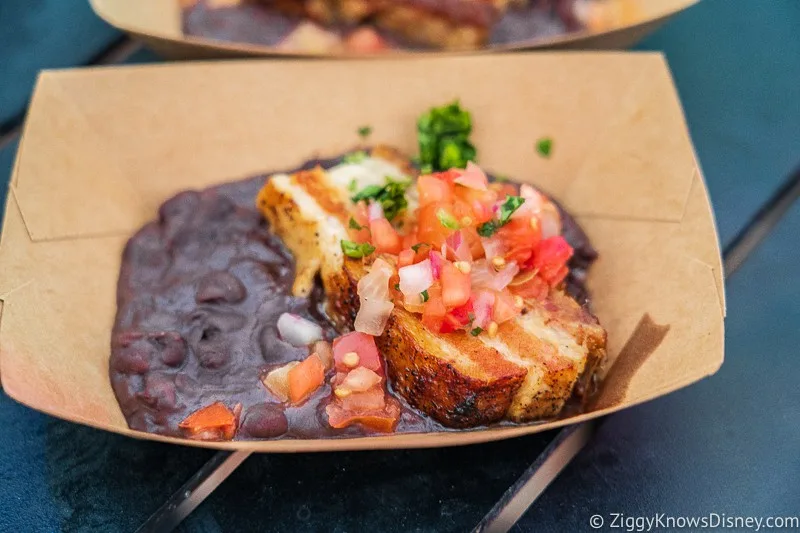 The pork belly was cooked perfectly, which though the name "crispy" is in it, it sometimes gets cooked a bit too much and can be on the dry side. This one wasn't like that and we loved every bite!
It's ridiculously good tasting, and it's bigger than the skimpy portion of pork belly I got last year which is always good to see!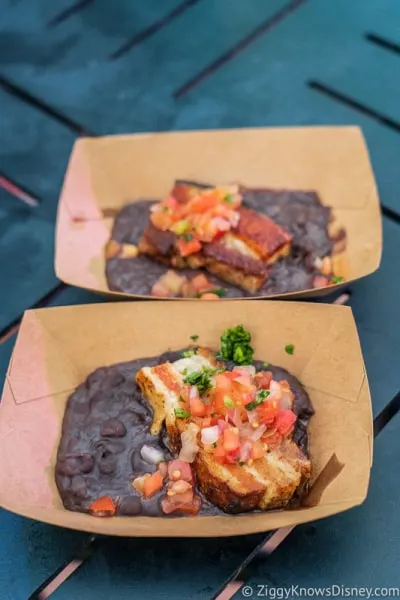 When doing a list of the Best Snacks at the Food and Wine Festival, the Pork Belly has to be right up there at the top of the list and something you really can't afford to skip!
Pão de Queijo Brazilian Cheese Bread ($4.50):
We could never leave the Food and Wine Festival without trying our beloved Brazilian Cheese Bread. It's one of our yearly favorites and has been on the menu like the Pork Belly since the creation of time! You get two lumps of bread which don't look like much on the outside, kind of a palish color and a little squished. But then you bite into this and you can hear angels singing…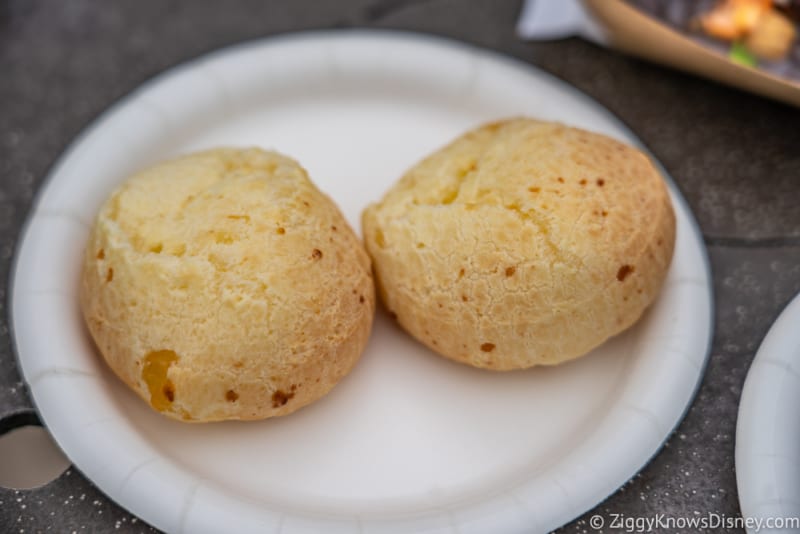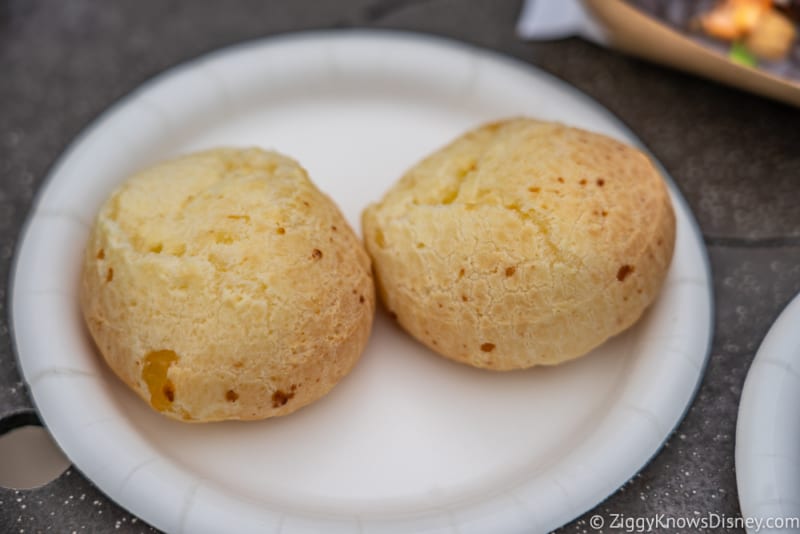 Pull that cheese bread apart and you can see below that crisp outside shell, is dense, rich cheese. I wouldn't call it stringy, but it's just gooey goodness, especially when hot! It packs a big punch in a small package and ends up being more filling than you think. At just $4.50 it's a great deal and deliciously good too!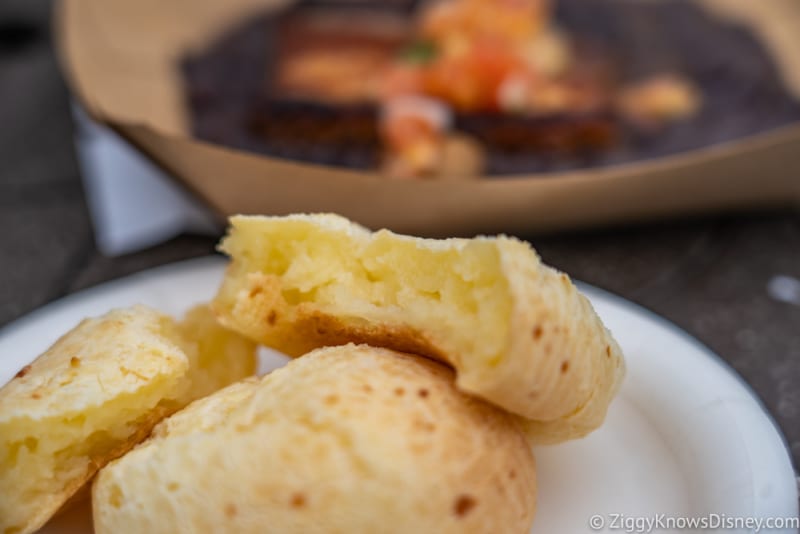 Booth Summary and Grade:
Brazil was one of the stronger marketplaces this year as it always is. The Pork Belly was super tasty, and gained back a couple points for the size. The Cheese Bread was incredible again, and it was a great value/taste option! Even the new Seafood Stew while not my favorite dish at Food and Wine, was still a solid option, and something I would recommend to seafood fans.
Overall Brazil has 3 really great snacks to try and this should be one of, if not the first marketplace you stop at while visiting the Food and Wine Festival!
If you have to get just one thing:
Brazilian Cheese Bread or Pork Belly!
Brazil Review

Overall Grade -

8.5/10
I want you to be able to have the best info on the Festival so you have a great time and don't waste your time! Take a look at all of my 2019 Epcot Food and Wine articles including:
Top Food and Wine Booths (Coming Soon)
Your Thoughts:
I want to know what you think about the Brazil Review at the 2019 Epcot Food and Wine Festival…
Which is your favorite item?
Which do you still want to try?
Let us know in the comments section below!
If you enjoyed this article, as always I appreciate it if you'd share it with others via social media. I work hard at making this website into a useful resource for you and your family to plan your visit to the Disney Parks and I hope it can help you! Thanks 🙂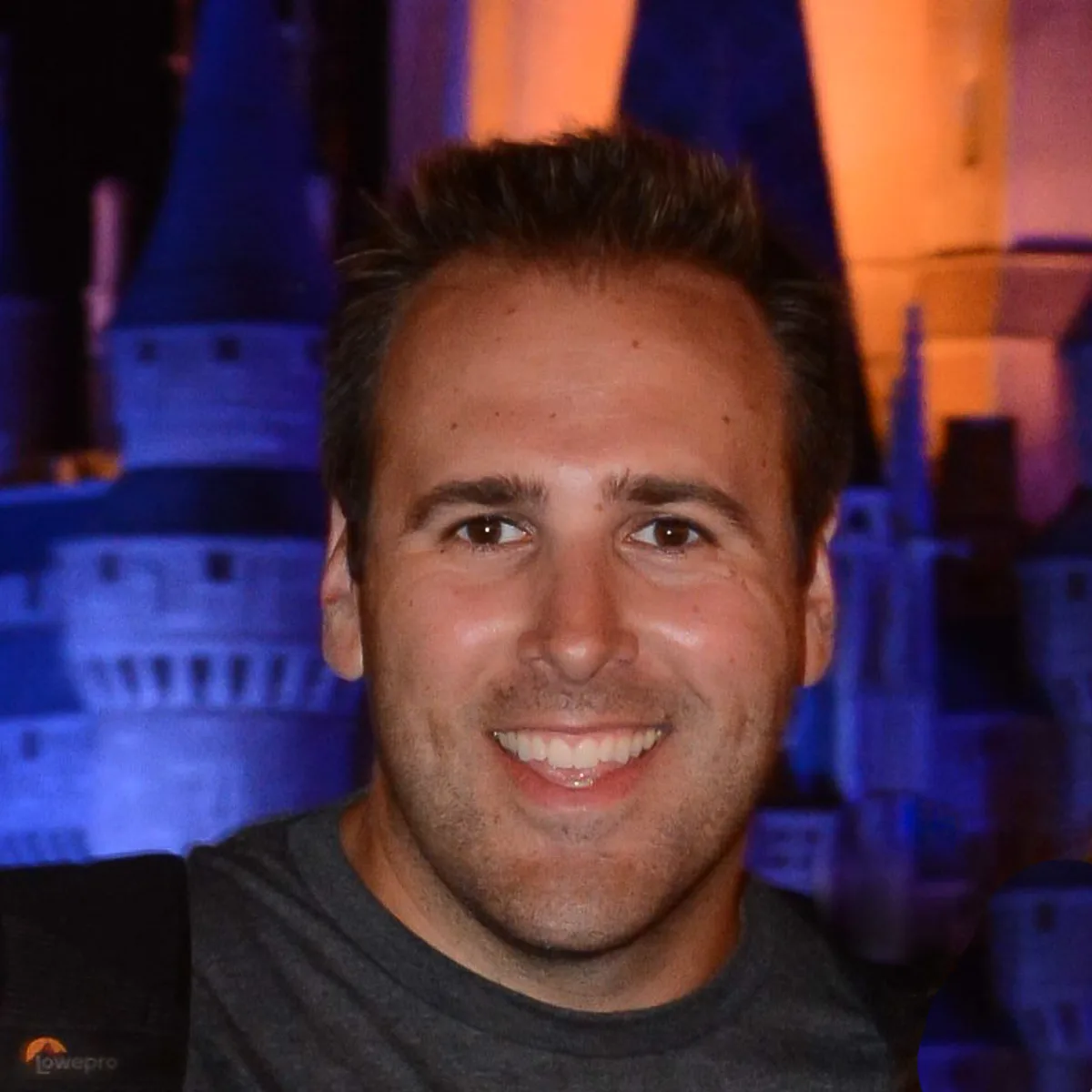 My name is Ziggy and I love Disney, everything Disney! I grew up on Disney and it has and continues to be a huge part of my life. I started young when my parents took me to Disney World when I was 18 months old. Little did they know that would be the first of an uncountable number of trips we would take. I have so many amazing memories going to Disney with my family and friends and it has been interwoven into my DNA.