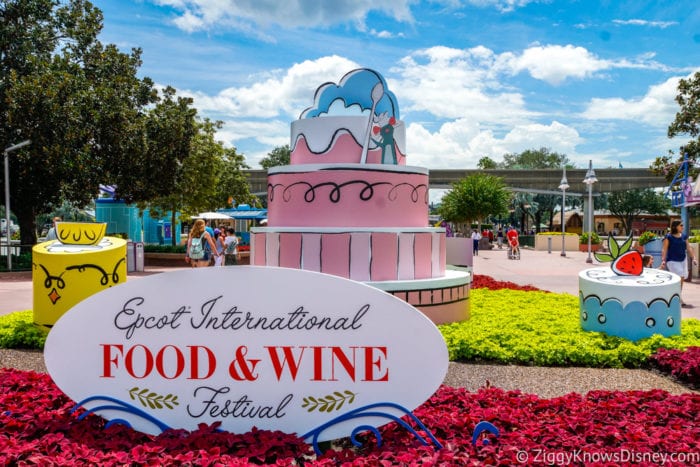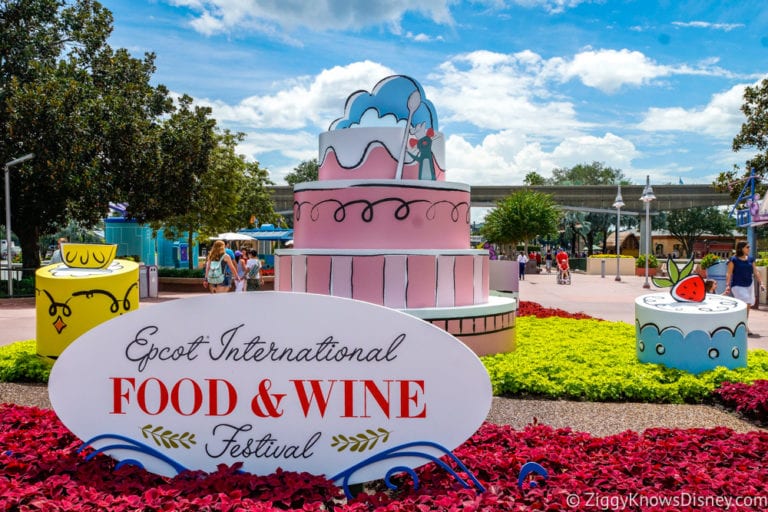 The Epcot Food and Wine Festival is my favorite Walt Disney World event of the year, it's something I look forward to all-year long, and I know you have been too. The question though is: What are the best dishes at Food and Wine in 2017? Well I recently tried ALL 35 Epcot Food and Wine Kiosks and nearly every item at the festival and I've put together this list of the Top 10 Dishes for 2017 Epcot Food and Wine Festival so you know the best snacks, food and drinks when you come! Ok, a sort of Top 10. I couldn't really limit myself to 10 because there's just too much good food and drink to try! 😉
Now this Epcot Food and Wine Best Dishes list is in no particular order, and includes the old stuff and the New stuff for 2017. I made a whole other list if you are looking only for the Best NEW Dishes for 2017 Epcot Food and Wine Festival, that way you just go right to the new snacks. I also have a Complete Food and Wine Information page with Full Menus, Reviews of every booth, Photos, and all the info you'll need to have a great time!
So here is my Top 10 Dishes from the 2017 Epcot Food and Wine Festival (FYI, don't ready this on an empty stomach!) ?
1. Lobster Roll – Hops and Barley:
This is one of my yearly favorites and it seems like it gets better and better every year. Everything about this is a win, from the the big quantity of lobster chunks on the roll, to the perfect mix of mayo-butter that the lobster is coated with. So fresh and so much quality lobster in here, no filler here whatsoever. Well worth the $8.00 price and something I have to get every time I go!
2. Bush Berry Shrimp – Australia:
I feel like this is one of the most overlooked and best bargains at the Food and Wine Festival. I'm always a sucker for a good shrimp dish, and the flavors here are out of control. This comes with 4 big shrimp at a cost of only $5.25 which is a great deal. The sauce they use, which is a tomato-based marinade has such a wonderful flavor. FYI, it is a bit spicy though, but if you like some kick this is perfect. Even the veggies are incredibly cooked, the peppers, onions and snap peas go great with the shrimp. It also is a very healthy food and wine snack, and Gluten-free as well!
3. Teriyaki-glazed SPAM Hash – Hawaii:
The Teriyaki-glazed SPAM® Hash was one of the surprise snacks of Food and Wine this year! I totally was not intending on liking this, I really tried my best not to, but everything about this dish was just perfect. The potatoes were cooked perfectly, not overdone or undercooked, it's full of peppers and scallions which give the dish a great roasted flavor. And the SPAM, it didn't taste anything like I remember SPAM tasting in the past. There were great teriyaki and mayo sauces mixed throughout it, and the whole thing just worked. This made my Best New Dishes for Food and Wine list, and is for sure on my best overall dishes list too! Skip with slider in Hawaii, and get the SPAM Hash instead!
4. La Passion Martini Slush – France:
A favorite from last year's best Epcot food and wine snacks list, is the La Passion Martini Slush. Somewhat my sister never tried this last year, but man was she happy she did this year! This is made w/Vodka, Grey Goose Le Citron, Cranberry and Passion Fruit Juice. They don't go skimpy on the alcohol here, yet at the same time it has a remarkable fruity taste, given by the passion fruit juice. It's also one of the most refreshing drinks at food and wine and is a perfect drink to take with you for a stroll around World Showcase. Don't make the mistake like my sister, get this next time you go!
5. Berbere-style Beef Tenderloin Tips – Africa:
Another one I wasn't really expecting to like, but turned out to be absolutely one of the best Food and Wine snacks, was the Berbere-style Beef Tenderloin Tips. This also should be a lesson not to judge ahead of time too much whether or not you'll like a Food and Wine snack, because my actual taste-buds proved me wrong dozens of times here. This dish is great, but probably the spiciest we tried the whole time at Food and Wine, so be prepared. If you like spicy though, you will find meat that is incredibly tender and delicate, with even a deeper layer of seasoning than only spicy. The pap was great, and mixed well with the sauce. Africa was great this year and this was the stand-out!
6. Grilled Beef Skewer – Patagonia:
Absolutely one of the Top dishes at Epcot Food and Wine every year, I literally can never go home without trying it at least once. The meat is really, really tender and flavorful, which shouldn't be a surprise considering the great reputation Argentina has for beef. But I think it's that chimichurri sauce that gets me coming back year after year. All that garlic, parsley, cilantro and oil makes the meat fantastic. I just want to eat this stuff with a spoon it's so good! Then when you soak the puree in that sauce….yeah just try to walk past it without getting one! I dare you! 😉
7. Liquid Nitro Chocolate Almond Truffle – Chocolate Studio:
Chocolate lovers beware, you will find yourselves coming back to the Chocolate Studio time and time again for this classic. Introduced last year, the Liquid Nitro Chocolate Almond Truffle is the stuff of legends! The presentation is amazing, make sure to watch as the chef dunks the smooth chocolate mousse into the liquid nitrogen which flash-freezes the outside immediately! Don't worry though as the Florida sun quickly does work on this masterpiece and while cold for a moment, that rich dark chocolate then melts in your mouth. To top it all off, it's then covered in a whiskey flavored caramel sauce and white chocolate crumbles. Did I tell you it's also Gluten-free? Life doesn't get any better than this does it?
8. Seared Scallops – Coastal Eats:
You know me and scallops, if there's a scallop dish at the Food and Wine festival, it's going to be one of the very first ones I go for! I can't believe the bargain on this specific dish either, because for only $6.00 you get 3 really good sized scallops! Mind you in many restaurants on WDW property you might get 4 of them at a slightly bigger size but be charged $40+ for them. The scallops themselves were incredibly tender, no knife needed, they cut like butter and melt in your mouth. Plus the butterbean succotash and chili-chipotle butter sauce is a great side not usually associated with scallops. Brand new in 2017, and a top Food and Wine snack that no seafood fan should miss!!
9. Loaded Greek Nachos – Greece:
If you had told me I'd be putting a vegetarian dish on my Top 10 Food and Wine snacks list, I would have told you you're had one too many La Passions in France! But yet here it is. Yes this awesome mass of nachos isn't even made with meat, although if I hadn't read it before eating them I would have been shocked. Everything was great here, the meatless sausage crumbles, the pita chips, feta cheese and tzatziki were all great together. The portion was also HUGE, look at the way it's overflowing from my dish. Being a vegetarian never felt this good in my life!
10. Classic Lime Margarita – Mexico:
The first thing I think of when we're talking Mexican cuisine are margaritas, yet there are so many bad ones out there. This is not one of them. There are other flavors of margaritas here, but The Classic Lime Margarita is quite possibly the best margarita I've had in my life, it's that good! The words escape me trying to describe just how delicious this thing is. You can tell all the ingredients are fresh, no bottled lime juice here, and it's a perfect blend of the tequila and juice. Lots of salt on the rim which is a must! This will get you forgetting that we're still waiting for that margarita stand to be built!
11. Spezzatino con Polenta – Italy:
Not a dish that an American immediately thinks about when thinking Italian cuisine, but a staple in the diets of millions of Northern Italians and quite delicious at that! Polenta if done right, is one of the best things you've ever tasted, and this one is pretty close to the real stuff in Italy. The spezzatino is basically a thick beef stew, served on top of the polenta, which has parmesan cheese mixed throughout, making it super creamy a smooth. It's a filling portion and best eaten on a cool Nov evening when you don't have the sun beating down on you. Go out of the box on this one and thank me later!
12. Apple Strudel – Germany:
I don't have too many desserts on my list, but the Apple strudel for me was a must. The dough it uses is flaky and crispy at the same time, and sprinkled with sugar. The inside is full of apples, and it has the right balance of tart and sweet. You can even find pieces of raisins mixed throughout which I LOVE in my strudels. Then as you eat it make sure to dip each bite in the incredible vanilla sauce that comes with it! My favorite from a standout Germany booth this year!
13. Black Pepper Shrimp w/ Garlic Noodles – China:
Always a Top Food and Wine dish for me, I never get tired of eating these! A very simple dish, shrimp, black pepper, garlic, yet so addictive! Cooked in the Sichuan style, it's another Food and Wine snack on the list though that's a bit spicy due to the chili pepper flakes used in preparation so be prepared. This combo though is one that never gets old and it's a must stop every year hands down!
14. Pomegranate Beer – Brewer's Collection:
I'm not a beer drinker, but the Pomegranate Beer from Brewer's Collection has me converted! If you're familiar with the equally delicious Grapefruit Beer also served in Epcot, then you are going to love this one too! It's a beautiful, deep red color, yet is light and refreshing to the palate. You can really taste the pomegranate flavors in there! Not too fizzy, nor frothy, it goes down smooth and leaves you wanting more. I never make a trip around World Showcase Lagoon without one now!
15. Crispy Pork Belly – Brazil:
I could just write: Pork Belly and it should be a good enough reason to stop here, but there's so much more to it. This is always one of the best Epcot Food and Wine dishes and again another I can't live without. The pork belly is perfectly crisp outside, but moist and tender inside. Plus the accompanying side of black beans and fresh tomatoes and onions put it over the top. Gluten free means healthy right? Don't even try to resist, it's futile…
You can also get it without the veggies and beans and maybe you'll be lucky enough to get extra pork belly like us!! 🙂
16. Smoked Corn Beef – Flavors from Fire:
This may be new, but it's climbing the list of the best snacks at Epcot Food and Wine Festival. Hearing the ingredients, it's impossible not to start drooling just thinking about eating this. Warm potato crisps, topped with tender, juicy smoked corn beef, then smothered in a creamy parmesan sauce…I had serious regrets to the fact that I had agreed to share this with others! This is the perfect Epcot Food and Wine snack and is enough to break the willpower of even the strongest willed dieter. But why would you even be on a diet in Disney World anyways? Don't you know calories don't count here? 😉
17. Carrot Cake and Cream Cheese Icing – Hops and Barley:
Since we started at Hops and Barley, why not finish out the Top 10 list there! Let's be clear, I don't even like carrot cake, but all's it took was one bite for me to change my mind. This is so moist and has chunks of nice caramelized, crunchy carrot in there. Then it's totally, and I mean totally, covered in a sweet cream cheese icing which is unbelievable! When your finished with your Lobster Roll from #1, make sure to finish your meal off and satisfy your sweet tooth with this amazing carrot cake!
That wraps up my Top 10 (or so) Dishes from the 2017 Epcot Food and Wine Festival. These are just some of the best snacks from the festival, there were dozens more that I could have mentioned that I highly recommend as well, check out my Reviews of each Epcot Food and Wine Booth for a more detailed look!
Here's a video of my Top 10 Dishes 2017 Epcot Food and Wine Festival you can watch on YouTube also:
This is the place to be for the 2017 Epcot Food and Wine Coverage, so take a look at my Food and Wine Info Page with links to Food and Wine Tips and Tricks, Full Menus, Reviews, Top 10 2017 Epcot Food and Wine Booths, and more… I want to make sure you have the best time possible during your visit and that you know exactly what to get! Stay tuned for more and have a great time!
Your Thoughts:
I want to know what you think are the Top 10 Dishes from the 2017 Epcot Food and Wine Festival. Do you have one absolute favorite? What is it that you can't leave Food and Wine without getting? Let us know in the comments section below!
If you enjoyed this article, as always I appreciate it if you'd share it with others via social media. I work hard at making this website into a useful resource for you and your family to plan your visit to Walt Disney World, and I hope it can help you! Thanks 🙂