Scotland is an Epcot Food and Wine favorite, and it's back again in 2017! Expect to find Traditional Scottish Lamb Stew, Fresh Potato Pancake with Scottish Smoked Salmon, and the Tipsy Laird. Let's see how the menu is this year in my Scotland Review: 2017 Epcot Food and Wine Festival….
Scotland Booth:
You'll find the Scotland Booth in between the Canada and Ireland booths on the World Showcase Lagoon side…
Scotland Menu:
The Scotland menu is almost identical from last year. The only change is a drink, they have the Belhaven Brewery Scottish Ale now instead of the Innis & Gunn Irish Whiskey. It's not a terrible thing as Scotland's menu is pretty good, but I just don't understand why so many Food and Wine booths remain so similar every year. I get that some dishes are Food and Wine classics you don't want to touch, but you can easily leave on or two items and at least bring in one new one to each booth every year. Rant over.
2016 Menu: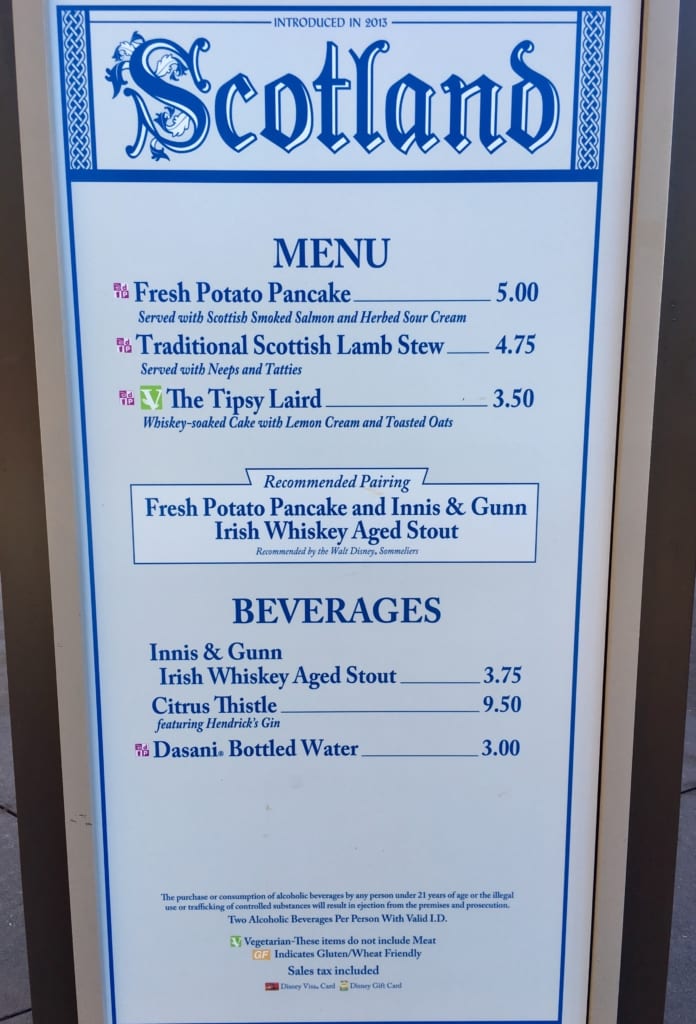 Here is this year's menu 2017:
Food:
Traditional Scottish Lamb Stew with Neeps and Tatties – $4.75, DDP Snack Eligible
Fresh Potato Pancake with Scottish Smoked Salmon and Herbed Sour Cream – $5.25, DDP Snack Eligible

*Ziggy Recommended

The Tipsy Laird: Whiskey-soaked Cake with Lemon Cream and Toasted Oats – $3.50, DDP Snack Eligible

*Ziggy Recommended
Beverages:
Citrus Thistle featuring Hendrick's Gin – $10.00
Belhaven Brewery Scottish Ale – $4.00
Menu Review:
Alright, I know I was ranting before about the menu changes, but man am I glad they didn't get rid of the Fresh Potato Pancake with Scottish Smoked Salmon and Herbed Sour Cream. This baby is a keeper! I hated potato pancakes when I was a kid, but I don't think they every tasted like this! The pancake itself was really good, not dry, but crispy with a tender middle, and actually tasted like potato! Was almost like a giant delicious hash brown! There was a couple slices of fresh lox on top, which added a delicate texture and flavor to the potato. Finally the sauce was great too, kind of had a tarter sauce consistency, but way better. I thought the whole thing worked great together and makes for a dish I enjoyed but otherwise would never have tried. See, it's always good to try new things! 🙂
Next is another holdover from last year, Traditional Scottish Lamb Stew with Neeps and Tatties. Like many others you'll find at Food and Wine, this is a dish made to be eaten in the cold, crisp Autumn air, something that doesn't exist in Florida. This definitely isn't one of my favorites, it has a strong gamey taste to it, unlike the lamb chop in Australia which is excellent. The portion of meat they gave me wasn't that big either, mostly potatoes and veggies. Potatoes seem like they are powered ones from a can, and just overall I'm not impressed. Can someone tell me why we have this and not the fantastic Scallop w/ cheesy spinach and bacon from 2 years ago?? That was only like the best Epcot Food and Wine dish of all-time and they didn't feel like keeping that one around huh?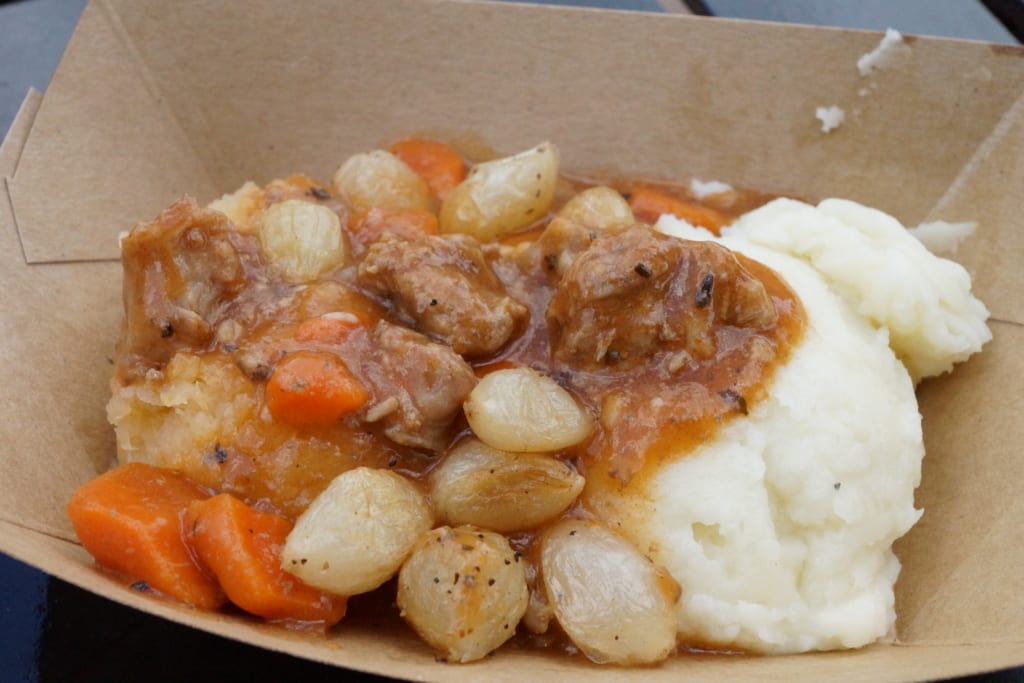 Lastly was a dessert that I was really surprised by and actually really liked this time: The Tipsy Laird: Whiskey-soaked Cake with Lemon Cream and Toasted Oats. This was really incredible and took me by surprise! I apologize for the lack of photo as we were so excited to eat it I totally forgot to get a pic. First of all it has a funny name, which it obviously gets from the whiskey-soaked cake. It's served in a plastic cup and has a sweet lemony flavor to it. Has like a raspberry jam mixed into it along with cream and oats. Everything mixed perfectly together! I normally don't like alcohol-based desserts, but this was great because you couldn't even taste the whiskey. Loved it and would order a bunch more next time!!
Booth Summary and Grade:
Scotland was a pleasure because I really liked the Fresh Potato Pancake, and absolutely loved The Tipsy Laird. The Lamb Stew has to go Imo, don't want to see it again next year. It's a solid booth, stop for the highlights, I just have to dock it a little for not mixing up the menu from last year. And also needs some better drink options, I know Scotland has more than just 2.
P.S. And I don't know who I have to blackmail to get that Scallop back, but I'm going to continue trying until I see it again.
If you have to get just one thing:
The Tipsy Laird
Grade:

7



Take a look at all of my 2017 Epcot Food and Wine articles. I have a 2017 Epcot Food and Wine Info Guide with a complete Index of the Food and Wine Menus, The Top NEW Items for 2017, Top 10 Dishes at Food and Wine, Top Food and Wine Booths and more…I want you to be able to have the best info on the Festival so you have a great time and don't waste your time!
Your Thoughts:
I want to know what you think of my Scotland Review 2017 Epcot Food and Wine Festival. Which was your favorite item? Where does it rand on your list of 2017 Food and Wine booths? Let us know in the comments section below!
If you enjoyed this article, as always I appreciate it if you'd share it with others via social media. I work hard at making this website into a useful resource for you and your family to plan your visit to Walt Disney World, and I hope it can help you! Thanks 🙂