The 2023 EPCOT Food and Wine Festival is here and with 29 different Food Marketplaces and many different snack options, it's hard to know what to get.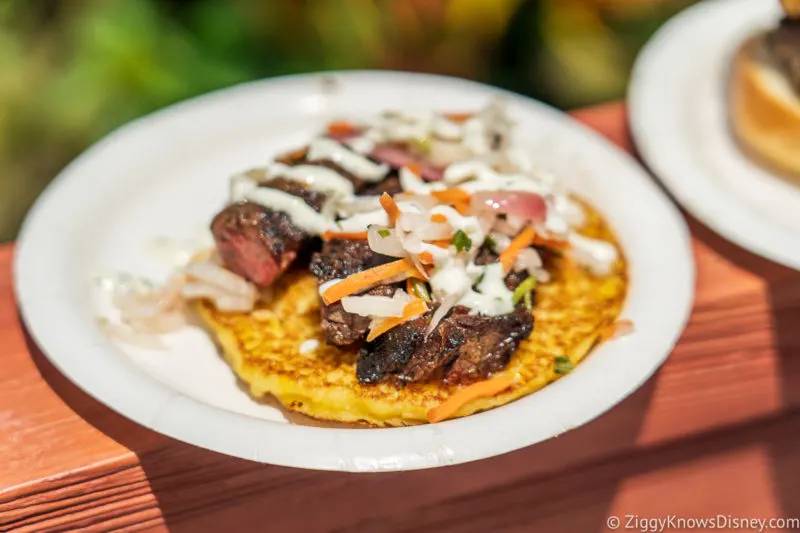 We always try every item at the festival, and we put together a list of the Best Snacks from the EPCOT Food and Wine Festival so you know exactly what to order and what to avoid when you head over to EPCOT!
Trust me, it was quite an effort, but we did it for you! 😉
This list of the Top 25 Best and Worst Snacks at the EPCOT Food and Wine Festival ranks the items in no particular order. Some of the best snacks from last year's list made it again, but since there were so many menu changes this year, some of our favorites from last year aren't coming back in 2023.
Not to worry, we added a bunch of new items that we also really liked! In fact, 9 new items made our list of favorites this year, though there are 5 others on our list to avoid!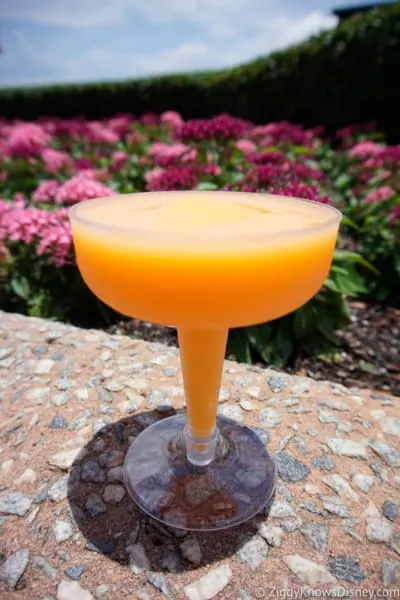 While the snacks at the EPCOT Food & Wine Festival are always good, we think this year they have really taken things up a notch from previous years. We are back up to a full lineup of marketplaces and there are even 4 new ones this year to try.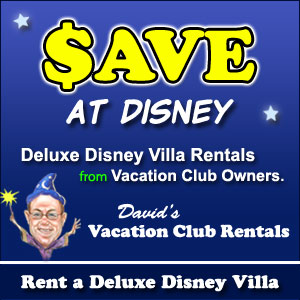 The overall quality of the festival has really improved over the last couple of years by bringing in many new marketplaces and more new snacks. We hope they continue to do this which makes it worth visiting all the more each year.
For more info on the Food and Wine Festival check out:
With that said, there are still a bunch of great snacks this year to enjoy, so here are my Top 25 Snacks from the EPCOT Food and Wine Festival (If you read on an empty stomach, don't blame me!) ?
Also, don't forget to sign up for our FREE Weekly E-Mail Newsletter. There we bring you the latest Food and Wine updates and other Disney vacation planning tips. You can sign up here: You can sign up here: Join our E-Mail Newsletter!
The Best Snacks at the Festival
1. Remy Liege Waffle (Connections Café & Connections Eatery)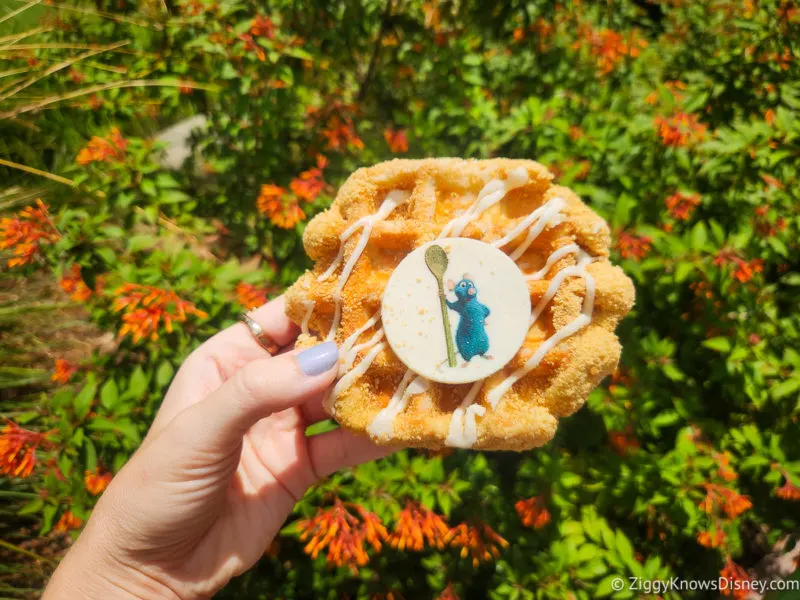 If you read our review of the best snacks at the EPCOT Flower and Garden festival earlier this year, you know we are HUGE fans of the Liege Waffle at Connections Café. That one was an Orange Bird version, but this Remy Liege Waffle may have even outdone that.
The actual dough of the waffle is pretty much the same. It still has that thick and crispy exterior, yet moist on the inside. Not dry at all and really the perfect consistency. The flavor here is more like a coffee cake with an amazing crumble on the outside. We also LOVE the cute Remy white chocolate medallion in the middle.
Some members in our group had never tried the Liege Waffle before and they said it didn't look special, but once they opened it they were like ravaging hyenas and bought 2 more to take home.
I'm going to go out on a limb and say this was our favorite item from the entire festival and we will be getting this every time we walk in the park from now until the end of Food and Wine.
2. Feijoada: Pork Belly (Brazil)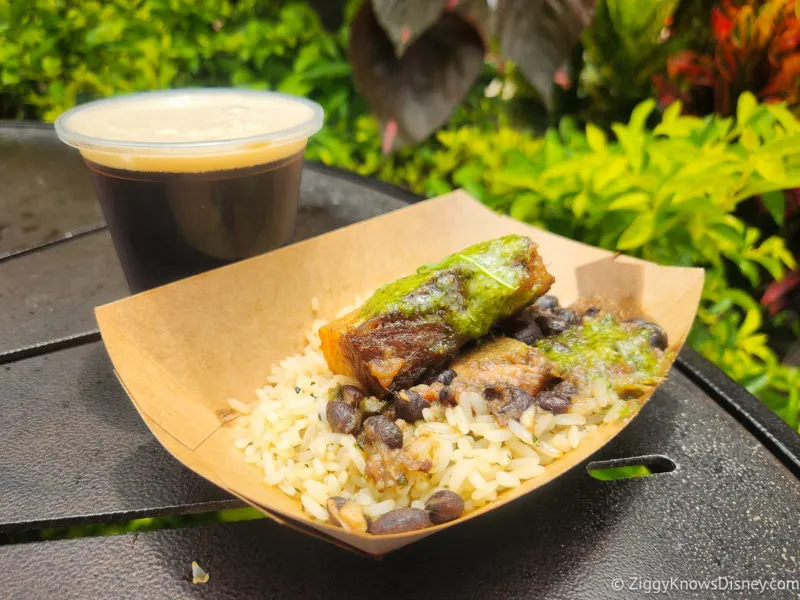 You can never go wrong with pork belly, and Brazil has been serving up mouth-watering pieces of it now for over a decade, and it is still a must-get! Honestly, it's like death, taxes and Brazil's pork belly are things you can always count on.
We especially like this version of it. In the past it was done with black beans and a tomato salsa on top. This time however, it has a nut pesto which added a really nice touch. I didn't know pork belly needed nut pesto until now!
The pork belly itself was done to perfection. A golden, crispy exterior, and a succulent and tender inside. The beans and rice are beans and rice, solid not spectacular. Overall though, it all worked and you can't skip this on your next trip.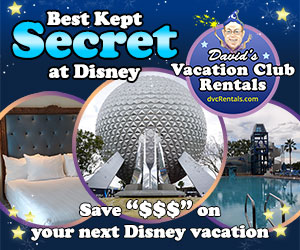 3. Smoked Corned Beef with Crispy Potatoes (Flavors From Fire)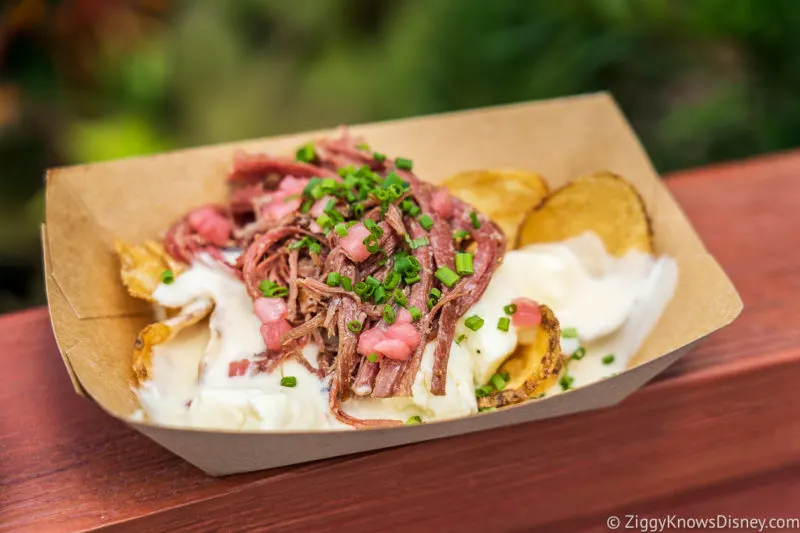 Let's go to what is now a Food and Wine classic and possibly my overall favorite snack every year: the Smoked Corned Beef with Warm Crispy Potatoes.
So I know I said at the beginning of the article that the Liege Waffle was my favorite, but who am I kidding, I love the Smoked Corned Beef the BEST! Just think of the best handmade potato chips, warmed up in the oven and topped with an incredibly juicy and flavorful corned beef.
This year they've taken this dish to a whole other level over at Flavors from Fire by keeping the cheese curds on top too! Then if that's not enough, it's absolutely drowned in a killer parmesan cream sauce and chopped red onion!
If for some weird reason you end up going to Food and Wine and only decide to get one thing….make it THIS, trust me!
4. Chicken Tikka Masala (India)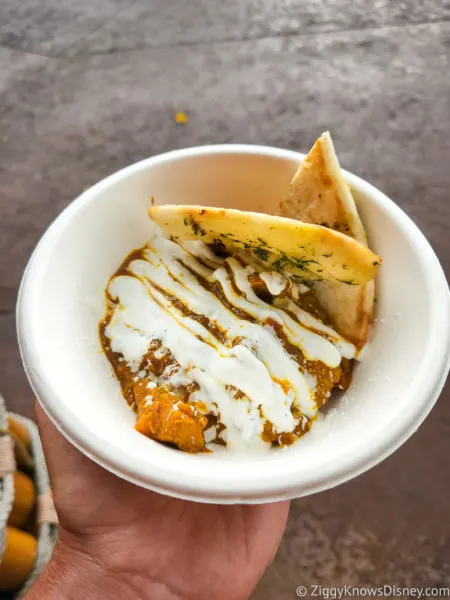 The India marketplace has never been a standout of the Food and Wine Festival, but that changed dramatically last year and it has continued to impress in 2023. It all starts with the incredible Chicken Tikka Masala. Honestly, we didn't know what to expect, but after one bite we were hooked!
One of our group members doesn't even like Indian food and she absolutely inhaled it. It's a big portion of chicken and served with fennel-spiced yogurt and two pieces of naan bread. The chicken was really tender and the sauce was very flavorful too.
All of these flavors mixed well together and the bread was a nice addition to soak up all that yummy sauce. It has a little hint of spice but it's not overpowering by any means if you don't like the heat.
This is comfort food at it's best. It's like getting a nice warm hug while eating it. It's not quite as gratifying when the temperature is 100 degrees out, but we will be getting this every single time we visit.
5. Italian Hot Beef Sandwich (Flavors of America)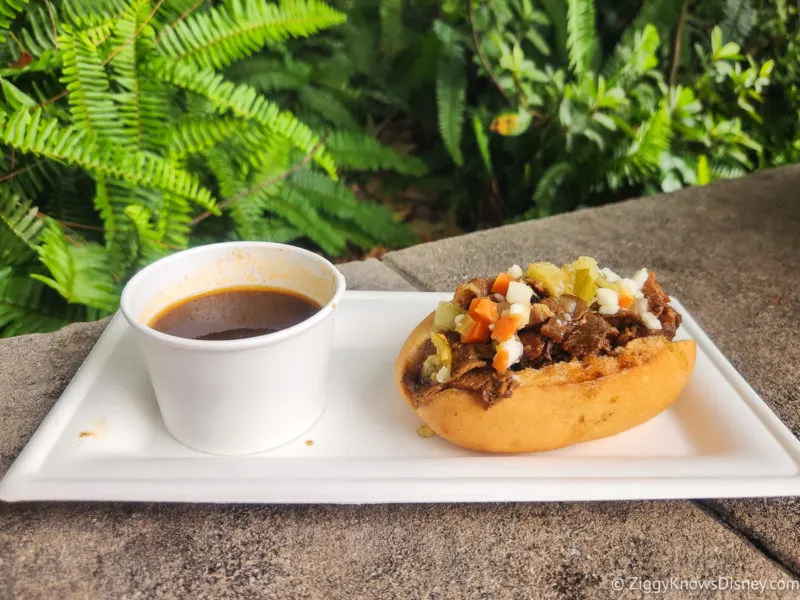 The Italian Hot Beef Sandwich was delicious and exactly like you'd get in Chicago. The shaved beef was very tender and flavorful, marinated in an Au Jus.
What we really enjoyed though was the roll is was served on. It was a crusty bun which held the juice from the meat well, not soggy like a lobster roll bun would be. It has a little kick to it, but we wouldn't call this "hot" by any means. In fact, the sauce was the best part.
French fries are easily one of our all-time favorite foods, so when we heard that The Fry Basket was coming back to Food and Wine this year, we were ecstatic. Last year the Fry Flight was one of the most popular snacks at the festival, and it got all the attention (and rightfully so!)
The sea salt and malt vinegar fries are an acquired taste and are not for everyone, but even though one of our group hates vinegar, she couldn't stop eating them. The malt flavor is there but it's very light, and the sea salt is super fine and perfectly coats the fries.
We also loved the sweet potato casserole fries and they were more like a dessert than a savory item. These were done just right, light and fluffy. The toasted marshmallow cream on top was like whipped cream, and so, so good. The caramel whiskey was another great touch. We'd love to order a huge portion of these by themselves!
Lastly, we had the barbecued bacon fries. We thought these would be our favorites, but in the end we liked them the least out of the three varieties. There was hardly any bacon on our portion and the bbq seasoned salt was a little overpowering for our taste.
One thing to keep in mind with all the fries at The Fry Basket is that you should wait and go when they are fresh. We went too early once and they had a bunch of fries already made and ready to go, however, they tasted soggy. When we got them fresh they were unreal. Also, don't go too late because they do sell out for the day and when they are gone, that's it.
7. Beignet aux Trois Fromages (France)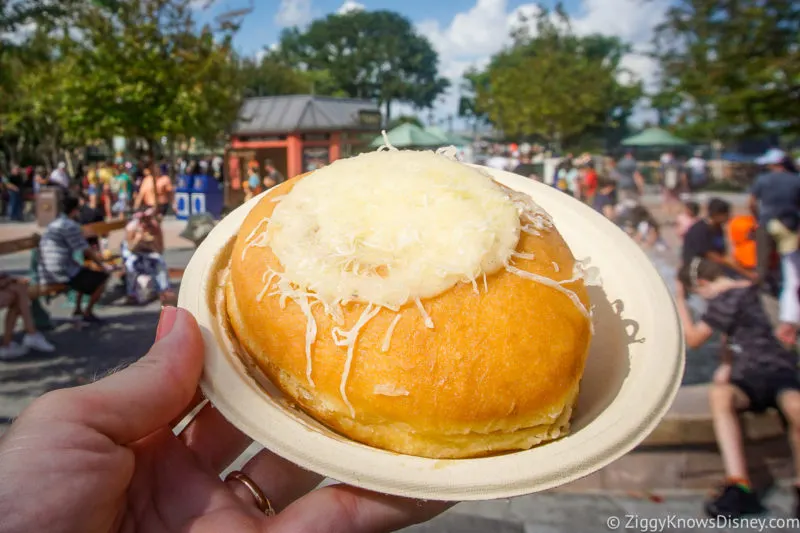 Who doesn't love a nice beignet? Although this one is probably not what you are thinking and it's actually savory and not sweet. The Beignet aux Trois Fromages is a warm beignet filled topped and filled with cheese!
We loved everything about this. The texture is similar to a donut but instead of cream inside it's filled with warm cheese. It's not exactly what we were expecting and it's more like a southern gravy than straight-up cheese sauce, but it was amazing! It's huge, rich and very filling. One of the best snacks to share with others.
As is the theme in this post, it's not the best snack to eat in Disney World in July, but it's soooo good!
8. Dark Chocolate Fondue with Berries (The Alps)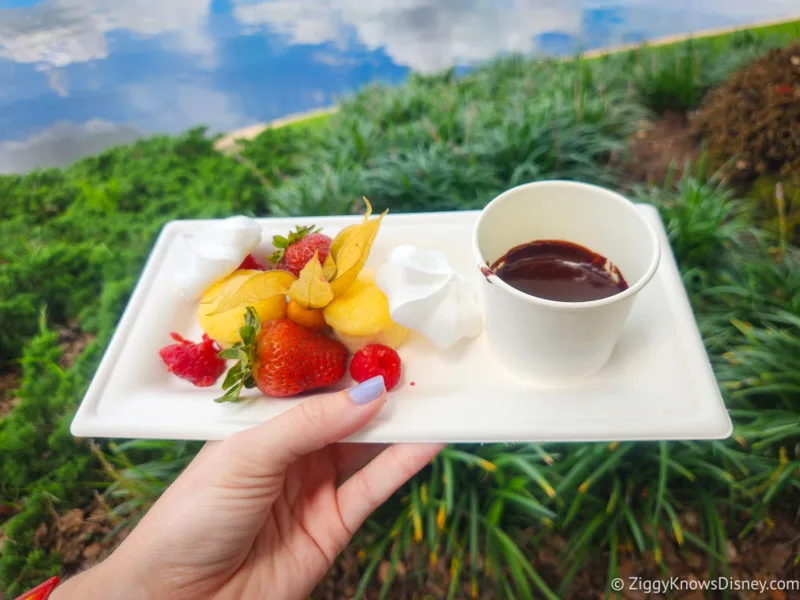 The Food and Wine Festival always has amazing desserts, and the Dark Chocolate Fondue with berries was no exception.
It was everything we want from a Food and Wine dessert. The chocolate fondue is rich and creamy, and easy for dipping the myriad of items you get with this plate. Raspberries, strawberries, pound cake, meringues, and even a cape gooseberry.
The fruit is light and refreshing and the whole thing is easy to share and take on the go with you. Plus it's colorful and great for your photos.
This one is a winner and one of the best desserts at the festival this year.
9. Tostada de Carnitas (Mexico)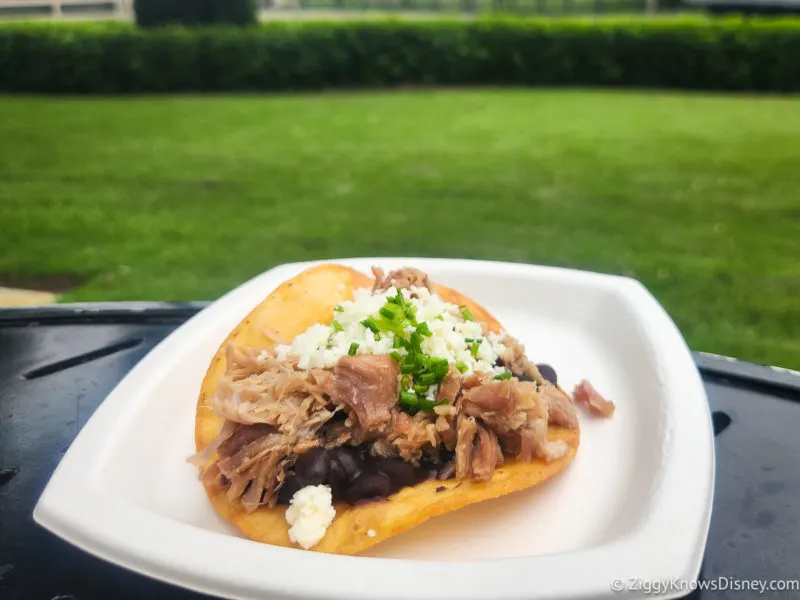 We always look forward to the Mexico marketplace each year as it very rarely disappoints. This year we would recommend all three food items, but our favorite was the tostada de carnitas.
It always seems like Mexico has a tostada at every festival to try, they just rotate the toppings served in each one. Not that I'm complaining or anything, it's amazing!
It's a braised pork served on a crispy fried corn tortilla, and the pork is very tender and falls right apart, not dry at all. It's also not runny or overly saucy which would make the crunchy shell turn soggy. No worries here.
The rest of the ingredients (black beans, queso fresco and avocado mousse) are a perfect accompaniment to the meat and tostada. The proportions of everything are perfect, with nothing overpowering the other ingredients. It's literally all the flavors of Mexico and all pieces of the puzzle fit together perfectly.
Definitely one of the best snacks this year and a must-get for any fans of Mexican cuisine.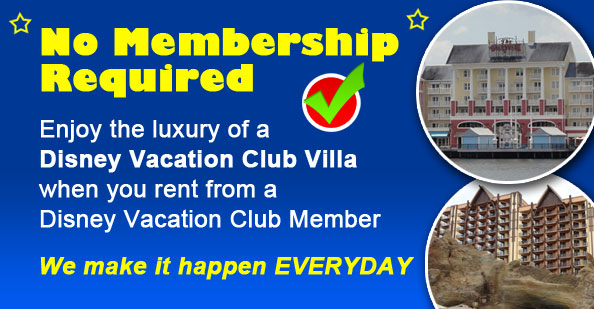 10. Lamington (Australia)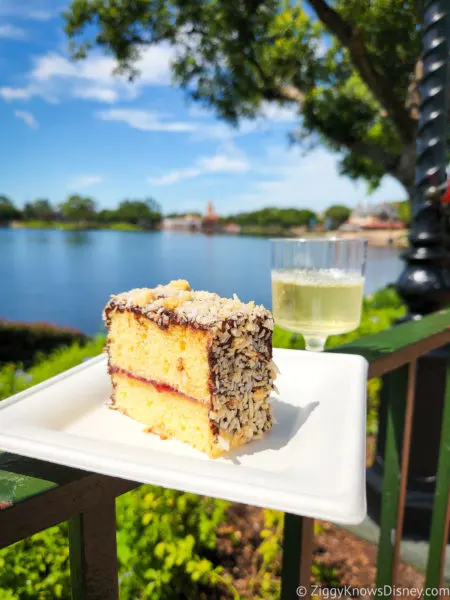 The Lamington is an old favorite at the Australia marketplace that is back again in 2023, and back in a big way. I had forgotten how much I love this dessert, and this year it's better than it's ever been!
It looks heavy in the photo, but in reality, the cake is super light and moist. This isn't your normal yellow cake. It's sweet and packs so much flavor.
On the outside, it's covered in a chocolate glaze with shaved coconut all around. The chocolate is not too sweet or bitter, it's just right. It also has a thin layer of raspberry jam in the middle which has a strong raspberry flavor and is not too sticky.
This is hands down our favorite dessert at this year's festival and a must-try for everyone.
11. Wild Mushroom Beef Filet Mignon with Truffle-Butter Sauce (Canada)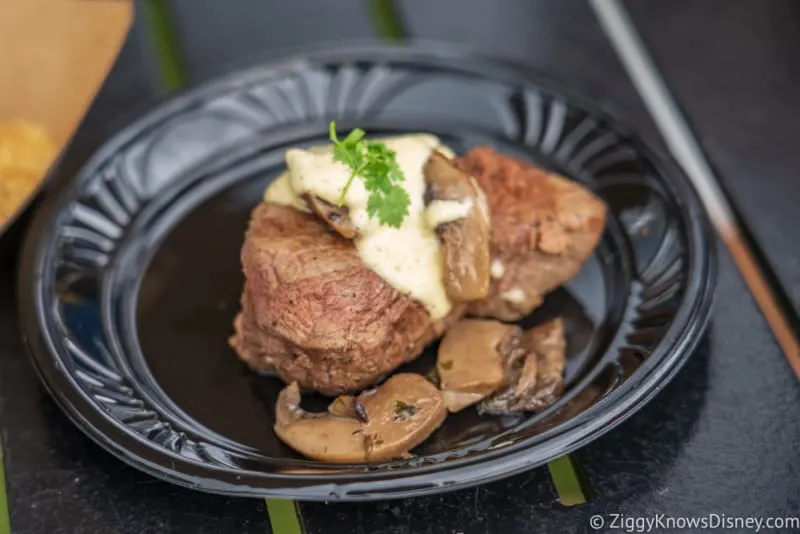 The Canada Marketplace only has two food items but both of them are stellar and things you absolutely have to get. While the Cheddar Cheese Soup is one of my favorite things ever at Walt Disney World, it really depends on what mood I'm in when deciding between that and this Filet Mignon.
You might recognize this filet from Le Cellier, and it is in fact a smaller portion of the delicious meat you'll find there. Succulent and perfectly cooked, then covered in a rich truffle butter sauce is enough to make angels sing!
12. Crispy Duck Bao Bun (China)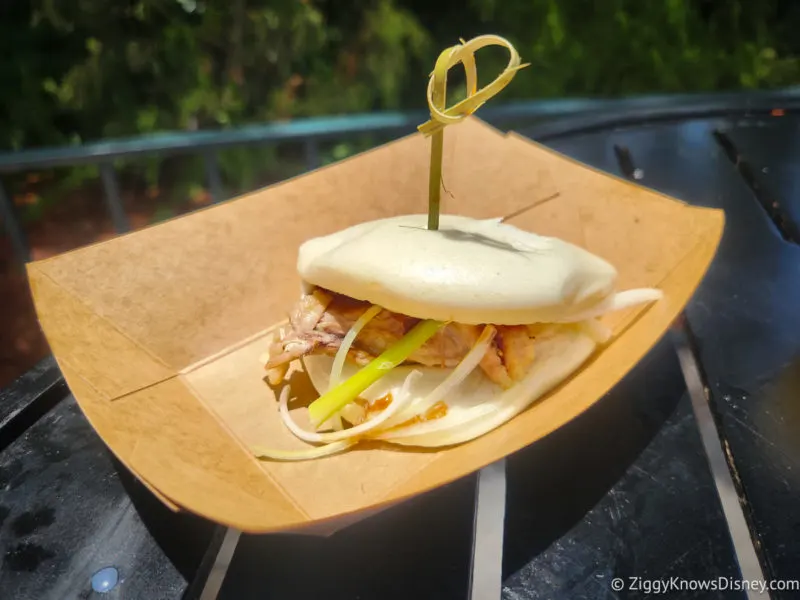 We've always been fans of the duck bao bun in China, and now that it's back, it easily finds a home on our best snacks list. Sure, there isn't a lot of color going on here and it looks a little pale, but you will want to try this for sure.
The duck itself was sensational, very tender and the hoisin sauce adds a lot of flavor to it. We like that they didn't drown the duck in sauce, so you can actually taste the other flavors. Just the right duck to sauce ratio.
The only small complaint we have about this dish is that is was a little on the smaller side.
On one hand we are very happy they brought back the duck bao bun to the China marketplace, but I can't say it's quite as good as the old one. I think a lot of that had to do with the amount of duck in our serving, so hopefully the next time we order it the person serving will be more generous.
13. Fig Cocktail (Tangierine Café: Flavors of the Medina)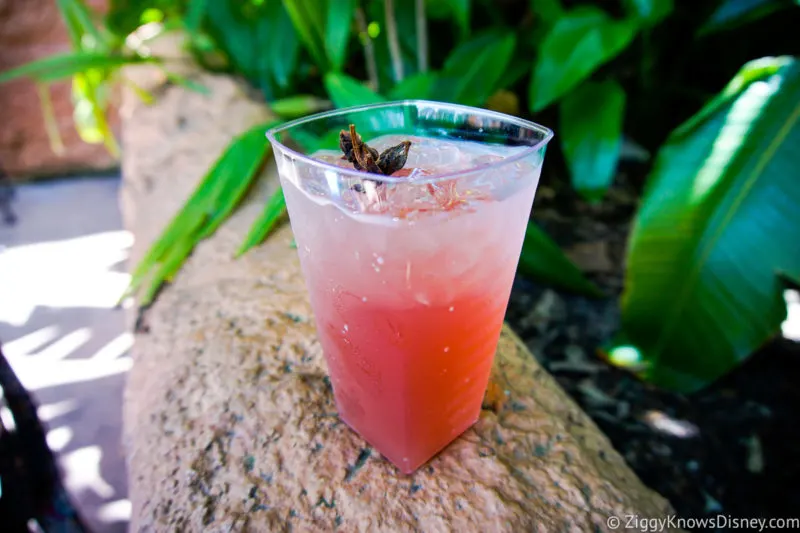 Anything with fig in it and we are ordering it so you can imagine how pumped we were to try the Fig Cocktail from Tangierine Café: Flavors of the Medina.
This was in our opinion the best drink at Food & Wine this year and a wonderful addition in Morocco. Even though you are paying $11.00 it was a good size, not like some of the others around World Showcase.
We always love the Flavors from Fire marketplace at Food and Wine, and we can't wait each year to see what new inventions the chefs here have come up with, and the Chimichurri Marinated Skirt Steak Taco doesn't disappoint.
Sure, we already had a taco over in Mexico, but this was equally as tasty so we couldn't leave it off our list. Just like with the tostada, all the flavors were perfectly balanced here too and we loved the grilled corn salsa with the queso fresco and cilantro-lime cream.
The difference here is this one is made on a soft corn tortilla, and it has marinated steak instead of pork. The steak was delicious, and not overcooked, thankfully. It also wasn't soggy or runny, which made it easy to eat.
When visiting Flavors from Fire, you definitely don't want to skip the corned beef and crispy potatoes, but make sure you also grab a steak taco while you are there too!
15. Adobo Yuca Fries (The Fry Basket)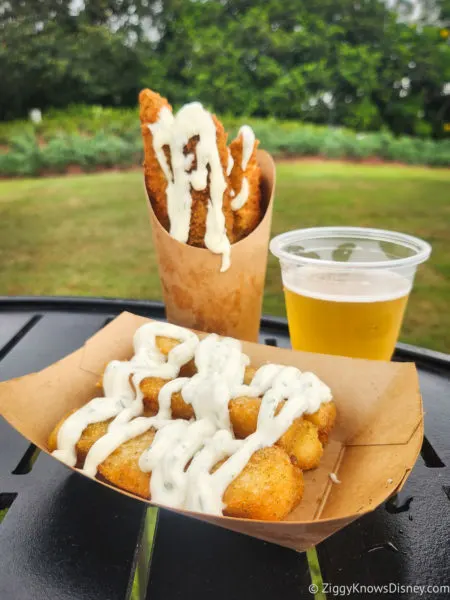 We tried the adobo yuca fries last year and were very critical of how soggy and underwhelming they were. It looks like Disney listened to us because they made some big changes to them which is why they landed on our best snacks list.
The fries are perfectly done, crunchy on the outside and fluffy on the inside and they were really addicting. They are loaded with a garlic-cilantro aioli, even though to us it was more like a garlic mayo since there wasn't a strong cilantro flavor to it.
The adobo fries are so much better than last year's fries and you won't want to skip them.
16. Pickle Milkshake (Brew-Wing)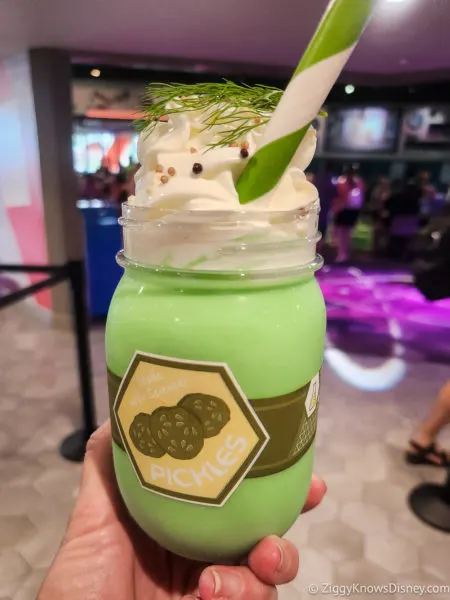 Yes, you read that title correctly, we actually drank a pickle milkshake. And you know what? We absolutely LOVED it! It's one of the most unique snacks at the festival this year and there were two lines out the door to try it.
Seriously, it's all that people wanted to get and they were pumping them out the door like nobody's business. Honestly, we didn't know what to expect. When you see it it looks like the shamrock shake from McDonald's and it definitely stands out.
It was very weird, but it's not what you expect. We were thinking it would have a vinegary taste like pickles do, but it was more dill than anything else. It was more like a salad than a pickle and it was sweet, but not overly sweet.
I will say though that this is definitely a love-it or hate-it item and the group we were with were split. There is no middle ground here. Be adventurous and give the pickle milkshake a try. You will be surprised either for the better or you will say "what did I just put in my mouth?"
17. Potato and Pea Samosa (India)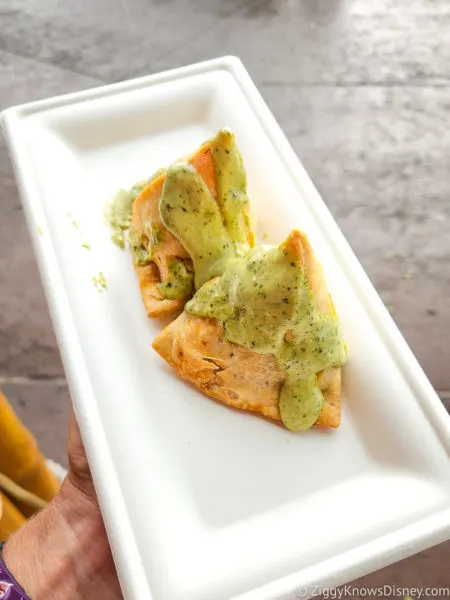 The India marketplace continues to wow us, and we just loved the Potato and Pea Samosa this year and think it's a great addition.
Think of these as little dumplings, except they are anything but little. In fact, it's a really generous portion size for the money. The filling had great flavor and was actually a bit spicy, so if you like the heat they are perfect, though they were a bit too hot for some.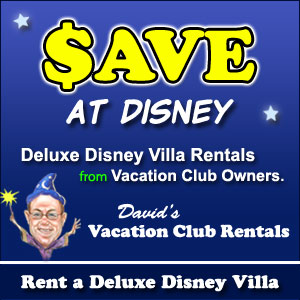 The crust isn't always as crispy as we'd like to see, but overall they are one of the best vegetarian snacks at the festival and a must-try.
18. Pistachio Cake (Tangierine Café: Flavors of the Medina)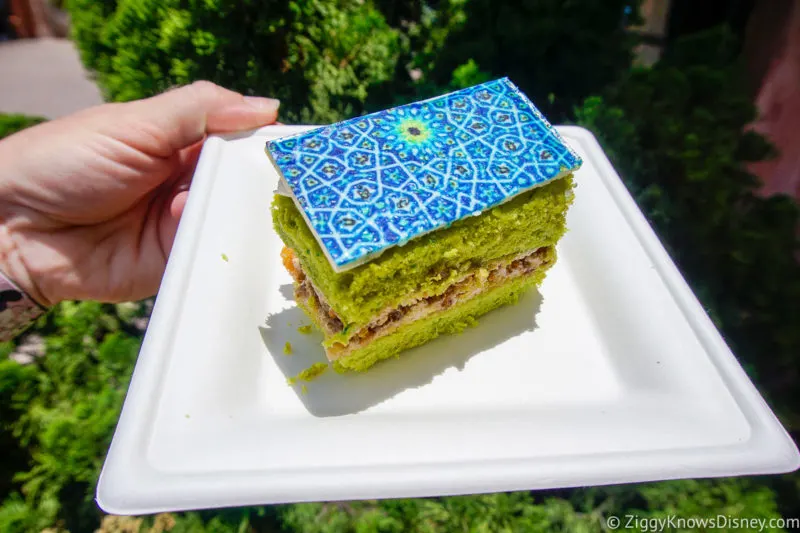 This is the epitome of a good dessert and one of the best sweet snacks this year. Living in Italy for many years, pistachio is one of our favorite flavors and we jump at the chance to get anything flavored with them.
The cake here was incredible. Moist but not dense. It had a fluffy texture to it that was just delightful and didn't crumble into pieces. Even though it looks like you would get a major toothache eating it, surprisingly it wasn't overly sweet.
Everything including the presentation here was awesome and yet another dessert that we'll be coming back for again.
The Worst Snacks at Food and Wine
Now while we do love the EPCOT Food and Wine Festival, that doesn't mean that everything is outstanding. The Food and Wine Festival is expensive and if you are going to spend your hard-earned money here it better be worth it.
That said, while there are tons of great options, there are some snacks you can skip too, so here is our list of the Worst Snacks at Food and Wine you should avoid at all costs:
1. Focaccia Ripiena (Italy)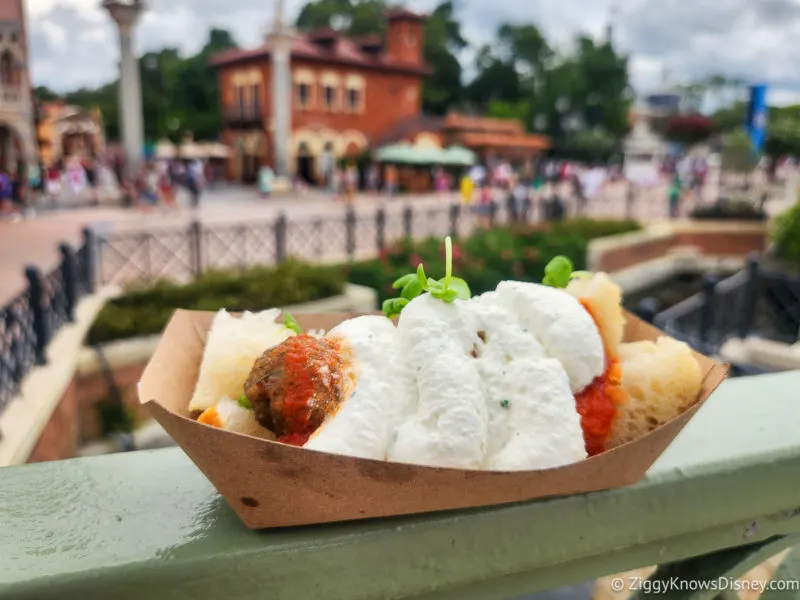 My wife is from Italy, and we've lived there for years, so it's not a stretch to say that I'm a snob when it comes to eating Italian food in the United States. While I tend to be overly critical and compare everything to the incredible meals you get over there, the focaccia ripiena was on another level of bad.
I guess you can describe this as a deconstructed meatball sub, or at least that is what they were going for here. To be honest though, Subway does it better and you get 4x the food for about the same price.
First of all, the meatballs were about the size of large marbles and not overly flavorful. It was served on two skinny strips of focaccia that I had no idea what to do with. They were too thin to use as bread and pick up the meatballs with, and too chewy to cut with a knife.
Also, it describes the cheese on top as "burrata", but trust me, this is NOT burrata, and it's more like a whipped ricotta than anything else. There was also way too much cheese that it drowned out everything else. It should have had half the amount of cheese.
Even though it looks pretty good in photos, everything is too small, too messy, and way too expensive for me to recommend. Skip this please.
2. Salty Dog Cocktail (The Fry Basket)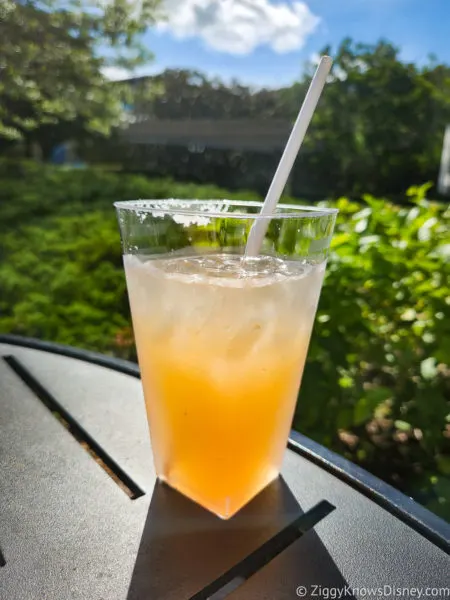 Since we loved the fries options over at The Fry Basket, you would think that the Salty Dog Cocktail would go along with the great. We were disappointed to find out how terrible this drink is.
The ingredients sounded good at first: vodka with grapefruit juice, ginger, simple syrup, and lime with a salted rim. Too bad it tastes like straight poison. If you remember the Singapore Sling from years ago, that's exactly what it tasted like too. There was no ginger flavor at all, no simple syrup, and we couldn't taste lime either. It was like drinking turpentine.
It looks pretty and refreshing, but we took one sip and threw it out. It's too bad because the portion was big and it could have been good if prepared differently. This is probably the worst drink at the Food & Wine Festival this year and we wouldn't recommend it to anyone.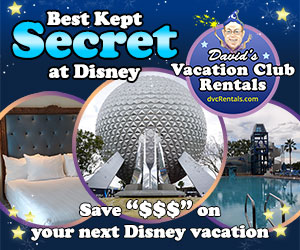 3. Lump Crab Cake (Coastal Eats)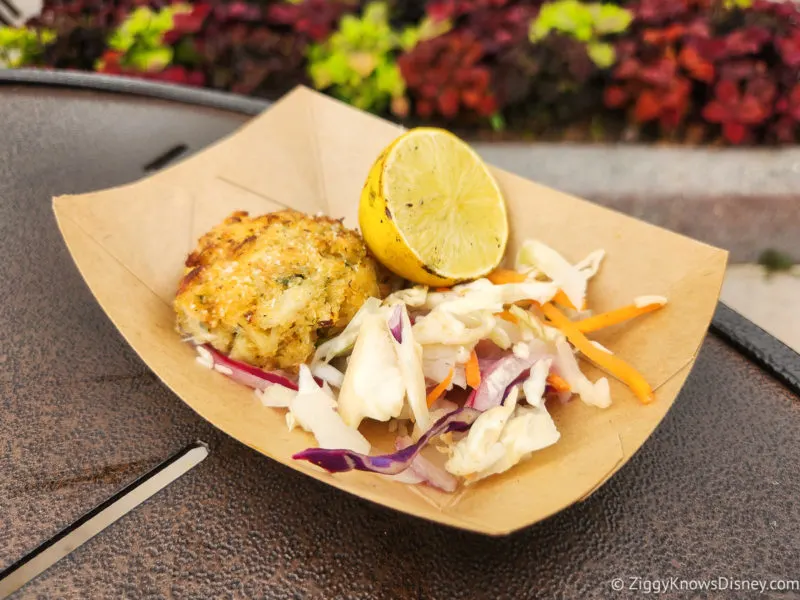 When we saw the lump crab cake on the menu at Coastal Eats this year, we knew it would be a challenge since one of the guys in our group is from Maryland and has been eating crab cakes all his life. In fact, he's a crab snob, so it was going to be no small task to win him over.
Mission failed, and failed horribly!
The crab cake had no flavor and was very dry, dry like a cracker. In fact, we needed a drink of water right after to wash down the rest. It was also a tiny portion, the same size as the half lemon it came with. The coleslaw that was on the side was pretty amazing bad too. It tasted just like chopped cabbage and that's it.
The only good thing I will say about it was that it wasn't full of fillers and had lots of real crab meat. Also, we noticed that they were having problems getting everything up and running in the kitchen on Day 1 when we went, so I would be willing to return again and see if that is what led to it being overcooked and dry.
4. Cioppino: Seafood Stew (Flavors of America)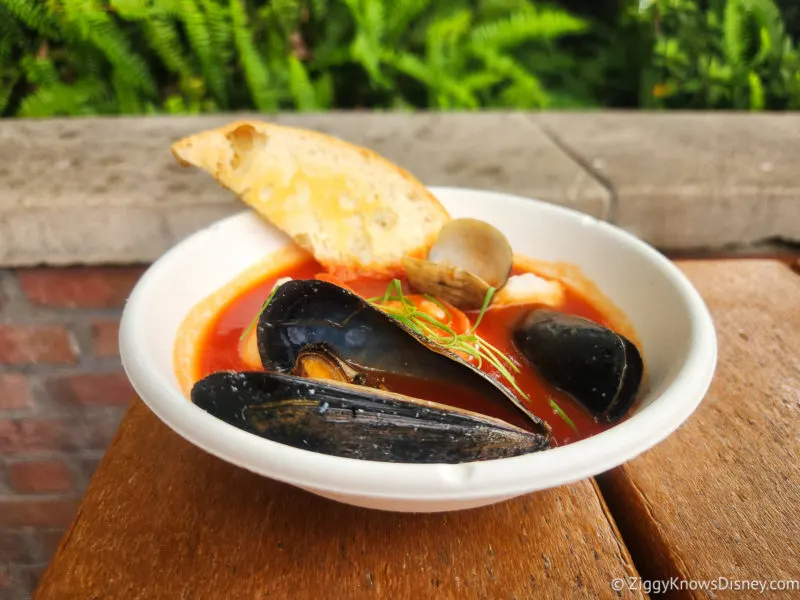 Another snack that sounds like a good idea but is poorly executed. Ok, most of the time I love cioppino, but this one is really terrible. It was a glorified tomato soup and NOT cioppino.
The first problem was the broth tasted like they opened up a can of tomato soup and straight poured it in. It wasn't brothy or flavorful as it should have been.
The next problem was that the seafood was very dry. You can tell it had been sitting there for too long and it just continued cooking. I would not order this again as there are too many good things to try this year.
5. Fiery Dream (China)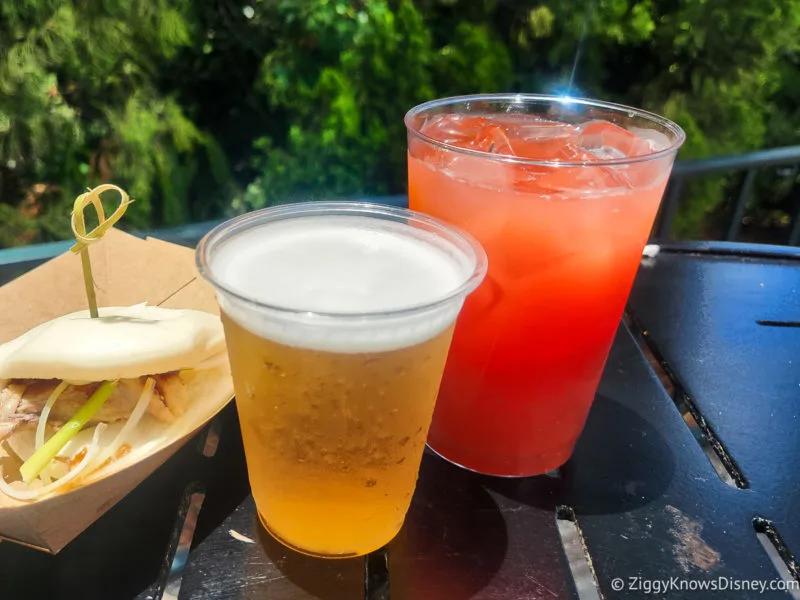 This is just a NO on every level! When you see the list of ingredients for the Fiery Dream, it actually sounds amazing. Citrus vodka, triple sec, guava nectar, and spicy hot honey syrup. We love them all.
But when you put them together, something extremely terrible happens. I can't understand the aftertaste that it leaves in your mouth when it goes down, but it seriously makes you question your life choices.
It's one of the only drinks we've ever bought anywhere and just thrown out, but we did it again here. It's like when you order something on Amazon and you want to give it 0 stars so you can warn other of how bad it is, that's what you are dealing with here. I'd definitely give it 0 out of 10 if possible.
Don't do it!!!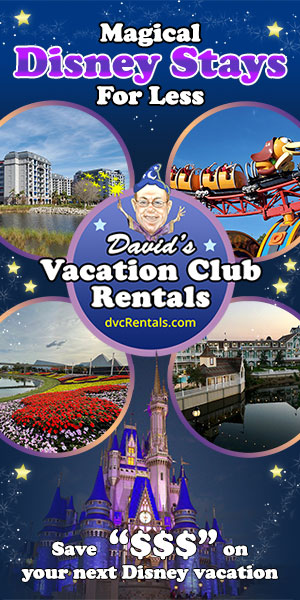 6. Fried Falafel Pita (Tangierine Café: Flavors of the Medina)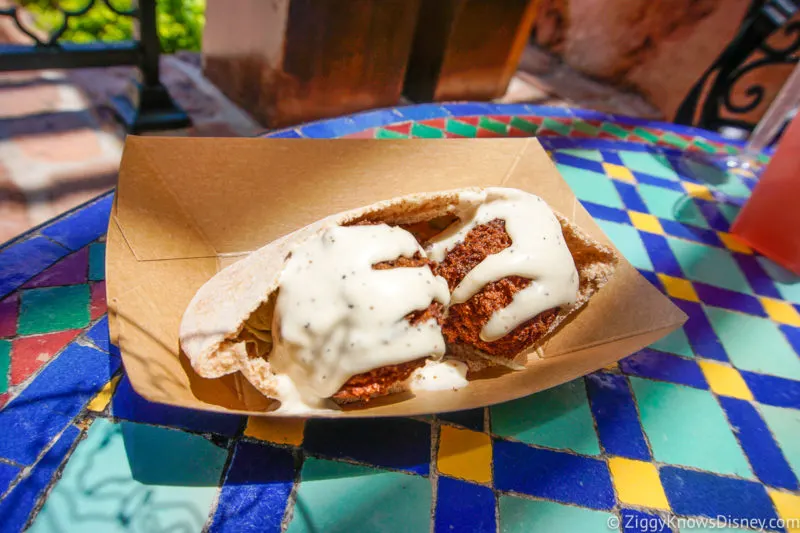 We have nothing against the falafel themselves, they were actually quite good. We just don't get the point of the pita bread. I mean it's almost like eating bread stuffed inside bread, and it was way too much.
It would be different if they stuffed the pita with meatballs they have had in the past, but if done like this we will avoid them.
Anything else at that Tangierine Café is a better choice than these. Try the kebabs, all of which are a good size and have meat that is very tender and flavorful.
7. Passion Fruit Bubble Tea (China)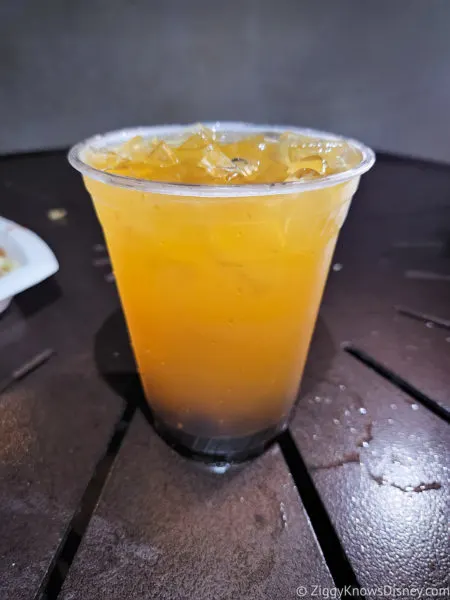 We had a bad experience years ago with the bubble tea from the China marketplace, but we thought we'd let bygones be bygones and give this one another try. I guess we won't be making that mistake again.
First of all, it was almost impossible to get past the fact that this cocktail is brown and yellow and looks exactly like toilet water. It was refreshing and they give you a good size for the money you are paying, but the drink is just blah. It tastes pretty much what it looks like.
I guess at least it has those fun boba balls Disney loves putting in drinks. Do me a favor and remind me next year to stick with my instinct and skip anything similar.
8. Impossible Buffalo Chicken Tenders (Brew-Wing)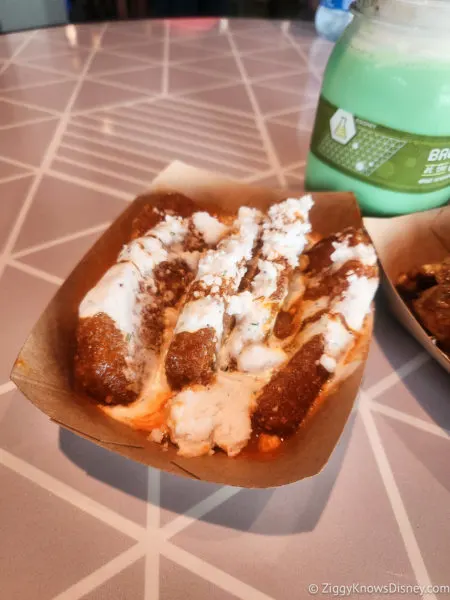 Last up on our list of the worst snacks at Food & Wine this year are the Impossible Buffalo Chicken Tenders. We really liked the wings at Brew-Wing as well as the pickle milkshake, but we draw the line with this dish.
Honestly, it tastes like manufactured cardboard, and that's being generous. Food & Wine gets many of the plant-based items right, but this was beyond terrible.
It kind of tastes like you'd remember a tv dinner from the 1970's, like stale chicken nuggets or something. Even the buffalo sauce was not saving this dish, and we love anything buffalo-flavored. Unless you specifically must eat from a plant-based menu, don't try this, and even then, you are better off skipping it.
That concludes my list of the Top 10 Best and Worst Snacks at the 2023 EPCOT Food and Wine Festival. I hope you enjoyed it and hope I gave you some good ideas of what to get when you get there yourself. Write to me and let me know what you thought of the food! 🙂
I want you to be able to have the best info on the EPCOT Food and Wine Festival so you have a great time and don't waste your time! Take a look at all of our EPCOT Food and Wine articles including:
Top Food and Wine Booths (Coming Soon)
Ready to Start Planning Your Disney Vacation?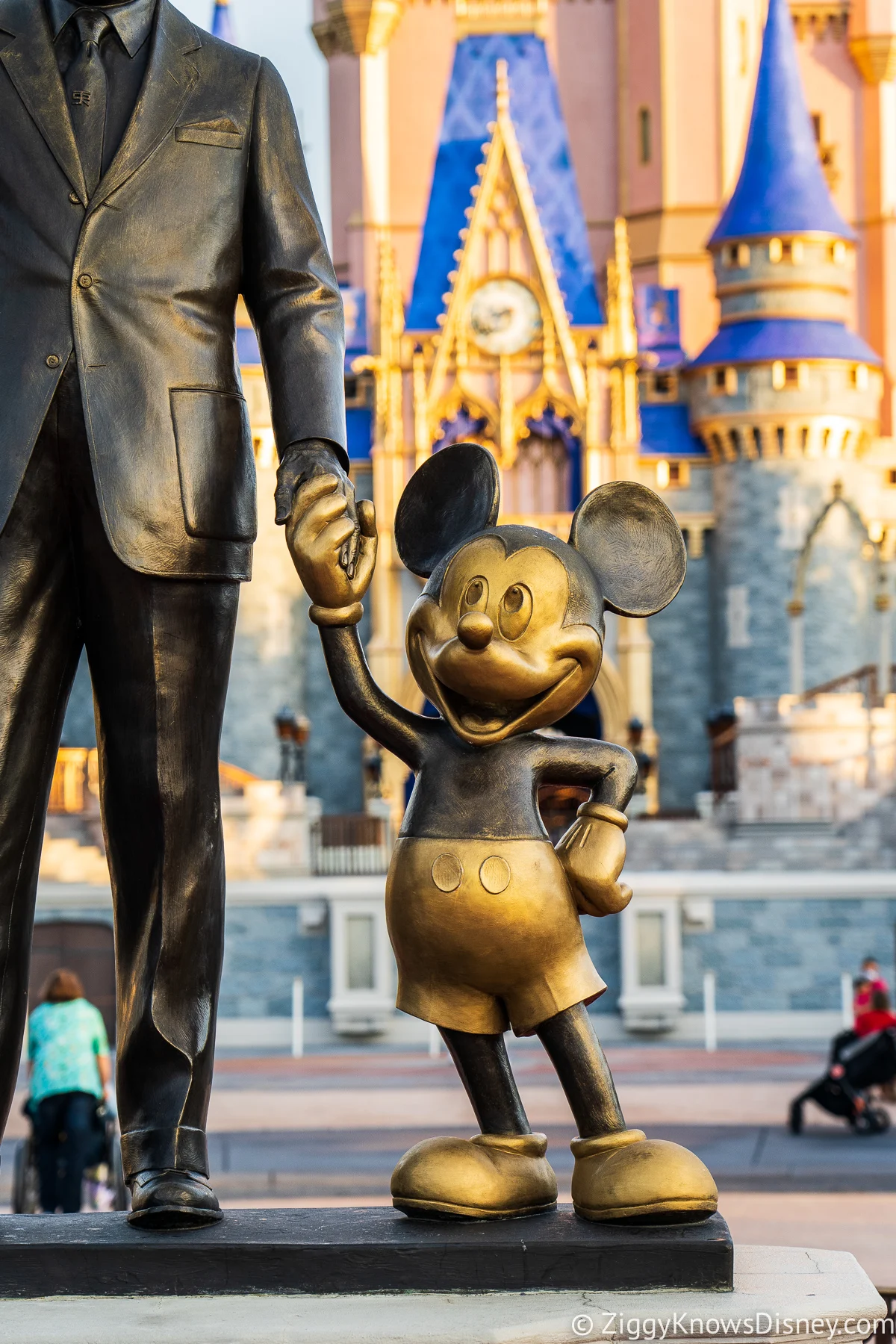 Your Thoughts:
I want to know what you think about my Best and Worst Snacks from the 2023 EPCOT Food and Wine Festival…
Which is your favorite item?
Which is the worst?
Let us know in the comments section below!
If you enjoyed this article, as always I appreciate it if you'd share it with others via social media. I work hard at making this website into a useful resource for you and your family to plan your visit to the Disney Parks and I hope it can help you! Thanks 🙂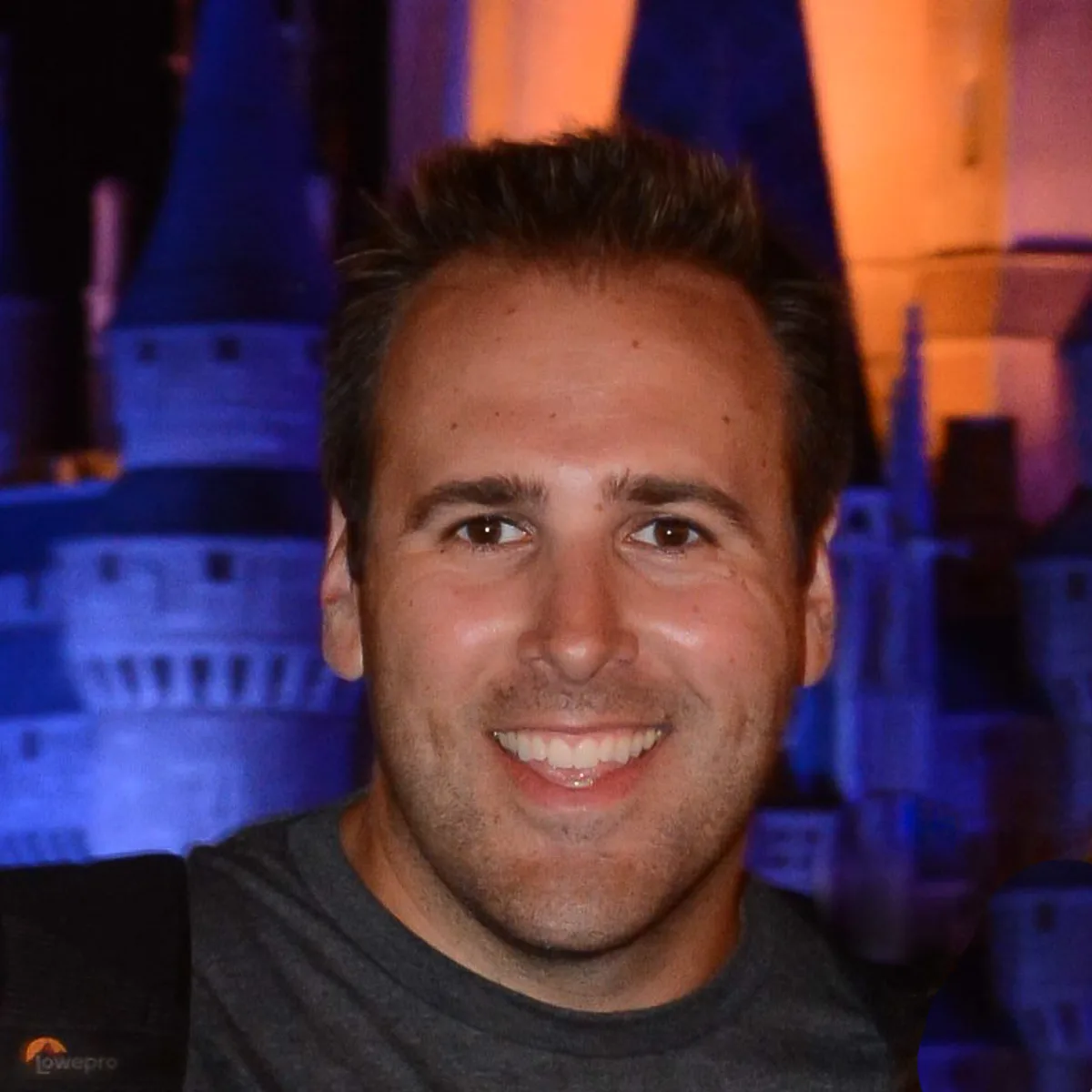 My name is Ziggy and I love Disney, everything Disney! I grew up on Disney and it has and continues to be a huge part of my life. I started young when my parents took me to Disney World when I was 18 months old. Little did they know that would be the first of an uncountable number of trips we would take. I have so many amazing memories going to Disney with my family and friends and it has been interwoven into my DNA.