When visiting Walt Disney World, sometimes you don't want a fancy sit-down meal and you want something fast to eat while on the go. That's why we came up with the definitive rankings of the Best Quick Service Restaurants at Disney World!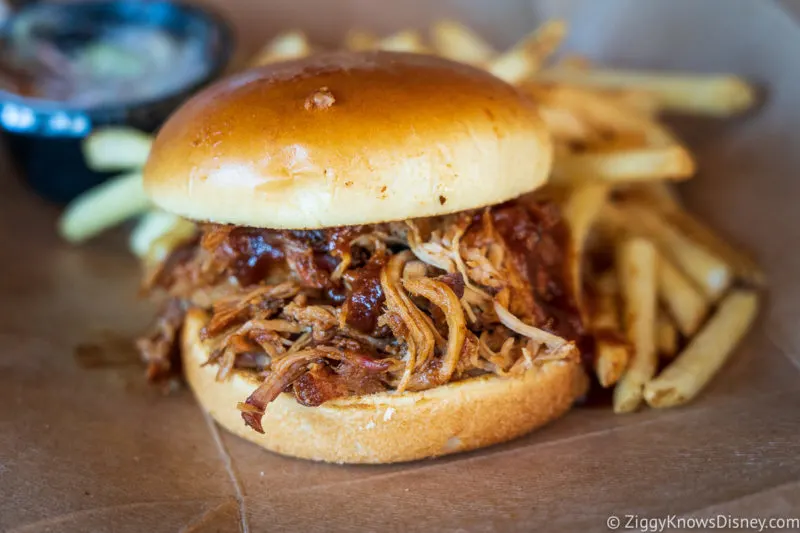 After visiting Disney World countless times in the last 4 decades, we've eaten our share of burgers and hot dogs. Thankfully, those aren't your only counter service meal choices nowadays and since we've tried it all, we want to share our recommendations with you.
We've included our Top 17 which should give you more than enough places to try on your next trip and following visits.
In this post, we will discuss the best counter service meals at Disney World and what to order at each restaurant. There are over 200+ places to choose from which would be impossible to cover well in this article. Many of them are just "Ok" and not really worth your time and money, so we want to share with you the very top ones.
Besides the best, we'll also show you the worst quick service restaurants and where you should avoid eating at all costs.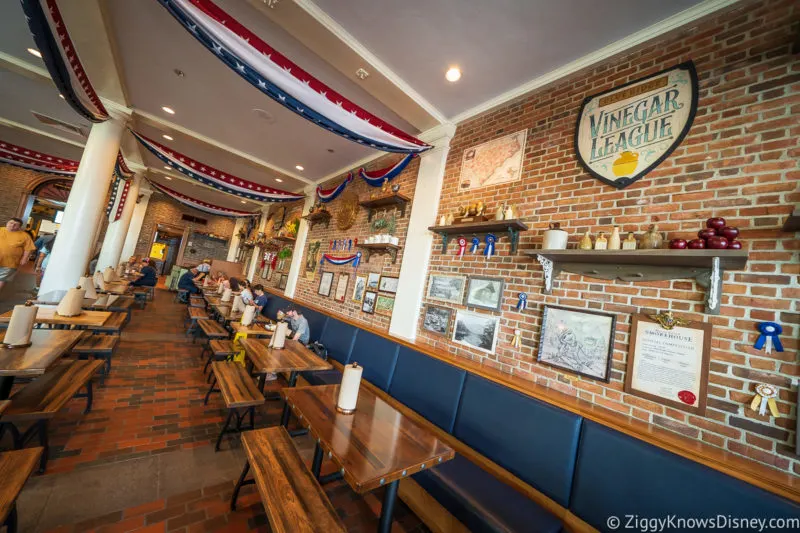 The counter service locations we've included are from all 4 Disney World theme parks are in our rankings, as well as at Disney Springs, and the Disney World Resort hotels. So wherever you want to get a meal, you can find a solid choice here.
We will keep updating our rankings in this post as new quick service restaurants open up each year and as menus and food quality change. Don't be surprised to see 2-3 drop out every year to make room for the newcomers.
As with any "Best list", our rankings are totally subjective and are our opinions only. You probably will have a totally different list than us, so drop us a comment below and let us know if you agree with our choices or not and where your favorite places to go are.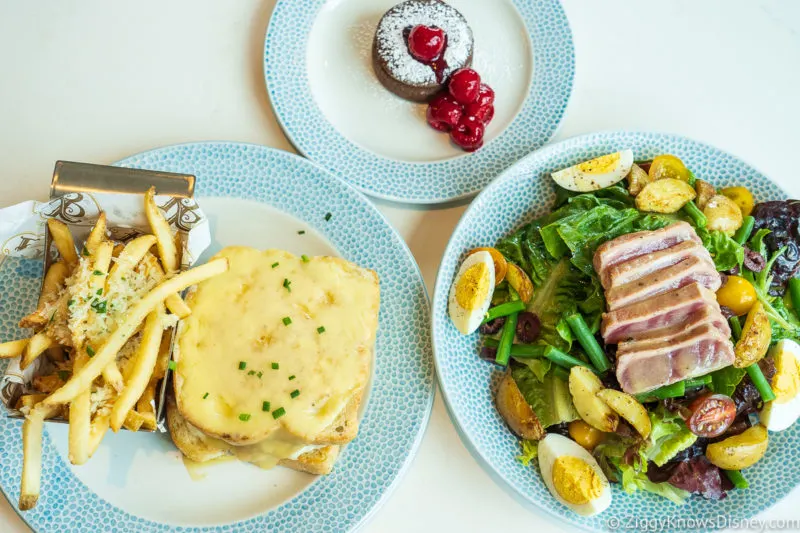 Remember, the restaurants in this ranking are quick service only and don't include any sit-down restaurants.
If you are looking for table service restaurants to eat at Walt Disney World during your vacation, make sure to read our rankings of the Best Restaurants at Disney World for the ultimate rankings guide.
Also, don't forget to sign up for our FREE Weekly E-Mail Newsletter. There we bring you the latest updates on all the restaurants at Walt Disney World as well as vacation planning tips. You can sign up here: Join our E-Mail Newsletter!
Disney World Counter Service Restaurants Overview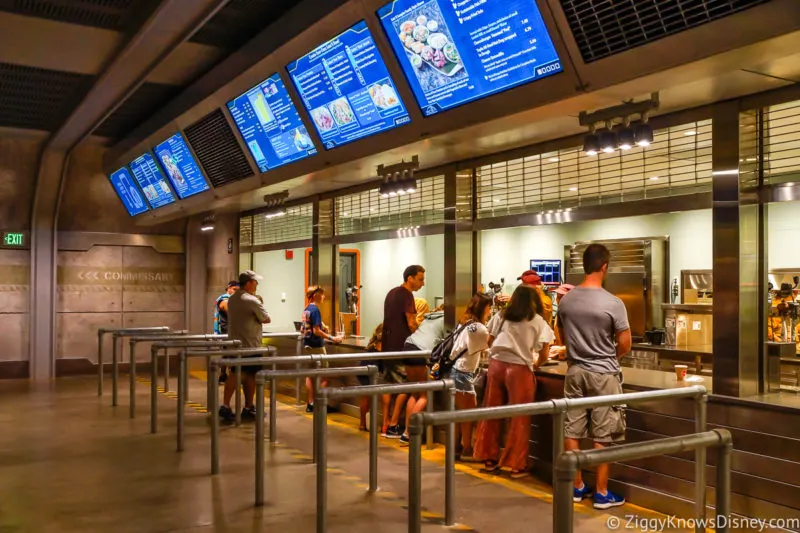 Before we look at the rankings for the best counter service restaurants at Disney World, here is some basic info you need to know to properly make your choices.
Why Eat Quick Service?
Think of quick service restaurants as Disney World's version of fast food. As the name implies, the food comes out quickly and you generally don't have to wait a long time until you eat.
Another advantage is that quick service restaurants are much cheaper than eating at more expensive table service restaurants. This will save you a ton of money. Let's face it, a Disney World vacation is expensive so any way we can save money is always welcome!
Unlike table service restaurants, the nice thing about quick service dining is that it requires little to no planning to eat there. Many you can walk up to at the last moment or place an order using Disney Mobile Ordering.
This makes eating at a counter service restaurant a much better option for people who are not planners.
What Type of Food Can I Get at a Quick Service Restaurant?
While many people think of quick service meals at theme parks as only burgers, hot dogs, and pizza, Disney has changed this in recent years and has added much more variety to the menus.
Besides the above-mentioned theme park fare, you will find food of all cuisine types such as fajitas, rice bowls, ramen noodles, sushi, BBQ ribs, pulled pork, shrimp tacos, or a meatball sub.
There are also plenty of healthy options like salads, roasted chicken, salmon, or tuna poke.
The menus will depend on the restaurant's location and theming. They also are updated often so from one trip to the next you may find completely different food and beverages than the last time.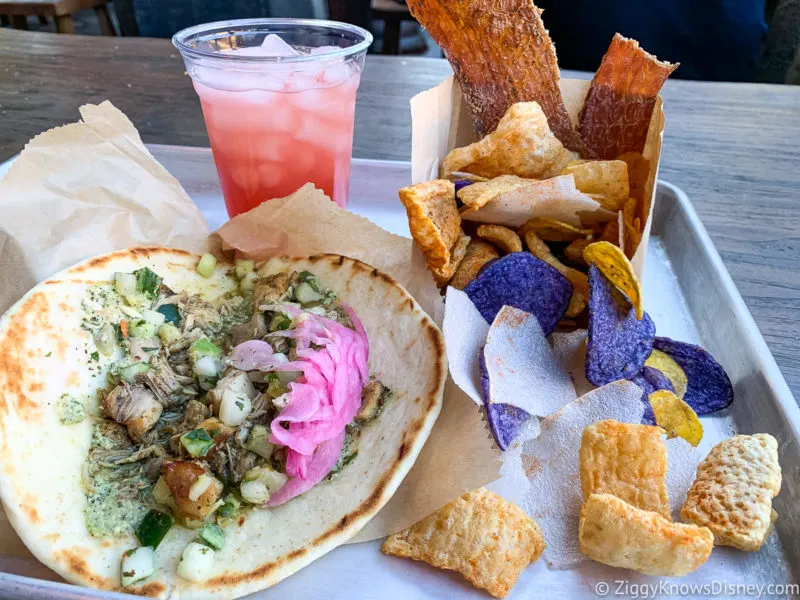 What Do You Get with a Quick Service Meal at Disney?
What you get with a quick service meal depends if you are using the Disney Dining Plan or paying for the meal out-of-pocket.
If you are paying for your food, a quick service meal comes with an entrée and usually a side. So for example, if you get a burger, it comes with French fries or a healthier option like apple slices as a side. If you are getting fajitas it likely comes with rice and beans. A soft drink costs extra, as does a dessert.
If you are using the Disney Dining Plan, a Quick Service meal includes an entrée (plus side), a dessert, and one non-alcoholic beverage. Guests 21 and older can get an alcoholic beverage including a choice of beer, wine, or a cocktail.
How Much are Counter Service Meals at Disney World?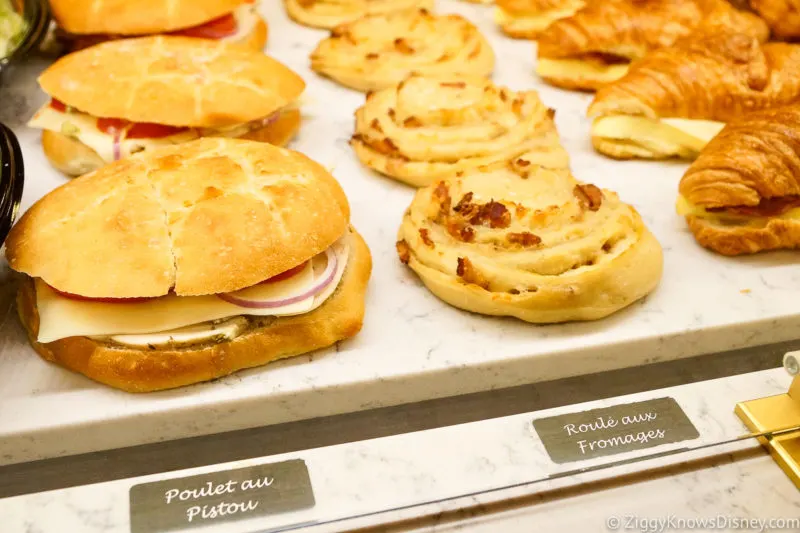 The price for quick service meals at Disney World varies greatly and it depends on if you are paying for the meal out of pocket or using the Disney Dining Plan.
If you are buying your food, most quick service meals will cost between $12-$20. That includes an entree and most likely a side. A drink is extra and will cost approximately another $4-$5. There are also much less expensive items like a grilled cheese sandwich which costs approximately $10. Breakfast items are also $2-3 less than lunch and dinner.
If you are using the Disney Dining plan it's harder to calculate the exact cost of a quick service meal since you pay for all your meals ahead of time and then use dining credits to pay for them.
The Quick Service Dining Plan cost per night is $57.01 per adult and $23.83 per child ages 3-9. That includes 2 quick service meals per day plus 2 snacks. Also since a drink and dessert are included with every meal, it increases the value of each one.
Our Ranking Factors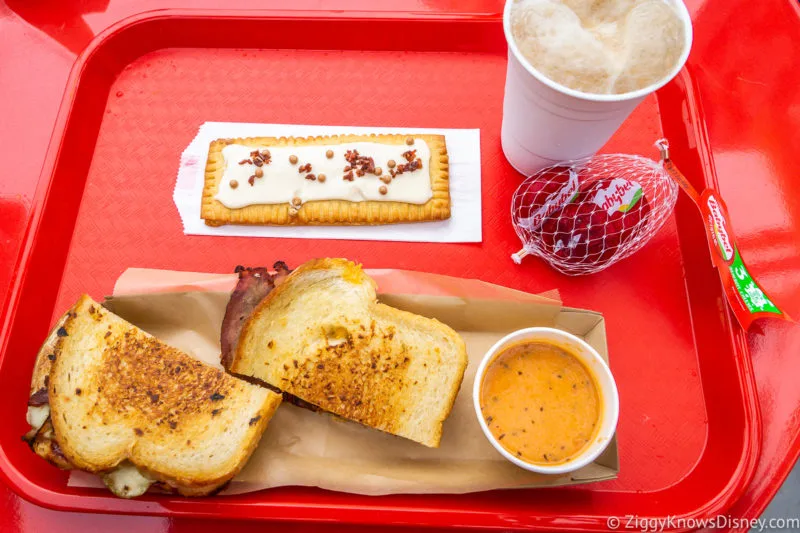 Writing an article like this sure seems fun, but you quickly realize how hard it is to narrow down all these restaurants into a definitive list.
With hundreds of quick service locations to choose from, it's inevitable that some are great, others mediocre and some are just plain terrible that we would like to never return to. Our rankings will sort all this mess out for you so your job is easy!
Some of the ranking factors we considered are:
Food Quality
Price to Quality Ratio
Portion Sizes
Restaurant Theming and Ambiance
There were plenty that had good food but terrible theming or vice versa. We tried to weigh all these factors and make the list as well-rounded as possible.
We also included only quick service restaurants that serve at least some savory items. It has to be a place where you can get an actual meal. That means locations that only sell sweets were not considered for this list.
Best Quick Service at Disney World Ranked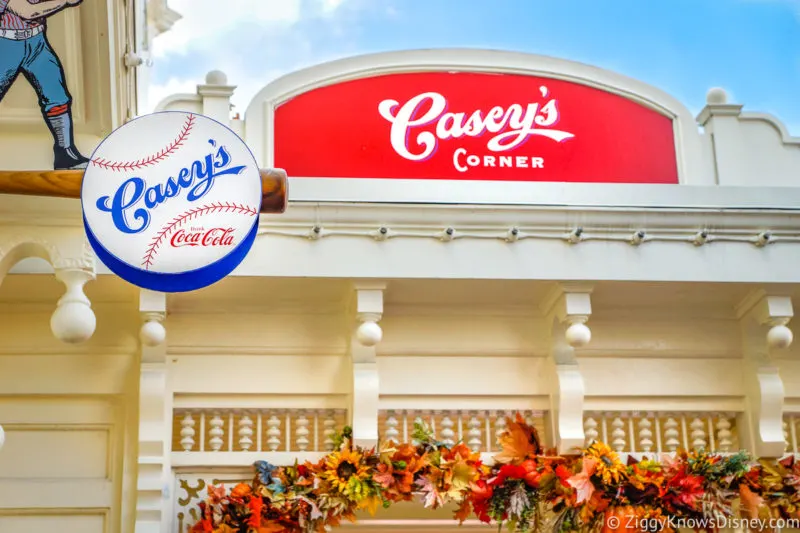 Besides the name of the restaurant and location, we've also included the approximate price, type of food, and our favorite food items at each one. This should help you out in deciding what to order.
We encourage you to branch away from the classic American theme park food as much as possible on your trip and be open to new things. We recommend trying all of the restaurants on our list at least once so you have a more well-rounded idea of the food Disney World has to offer.
Just Missing the Cut
There were way too many restaurants to choose from and honestly when you get into the 15-30 range, they are almost all interchangeable. There are plenty of counter service locations we left off our rankings that you could make a good argument that they belong on it.
Here are the ones that just miss the cut:
Columbia Harbour House (Magic Kingdom)
Yorkshire County Fish House (EPCOT)
Kringla Bakeri og Cafe (EPCOT)
La Cantina de San Angel (EPCOT)
Ronto Roasters (Hollywood Studios)
Harambe Market (Animal Kingdom)
Restaurantosaurus (Animal Kingdom)
Chicken Guy! (Disney Springs)
Crêpes À Emporter by La Crêperie de Paris (EPCOT)
The Mara (Animal Kingdom Lodge)
Contempo Café (Contemporary Resort)
Gasparilla Island Grill (Grand Floridian Resort)
El Mercado de Coronado (Coronado Springs Resort)
One that definitely would have been in the Top 5 is Be Our Guest. This used to be a quick service restaurant at lunch and then sit-down at dinner. However, it switched over to a table service restaurant only with a fixed price, eliminating the counter service.
Ok, now on to the Top 17…
17. Gideon's Bakehouse (Disney Springs)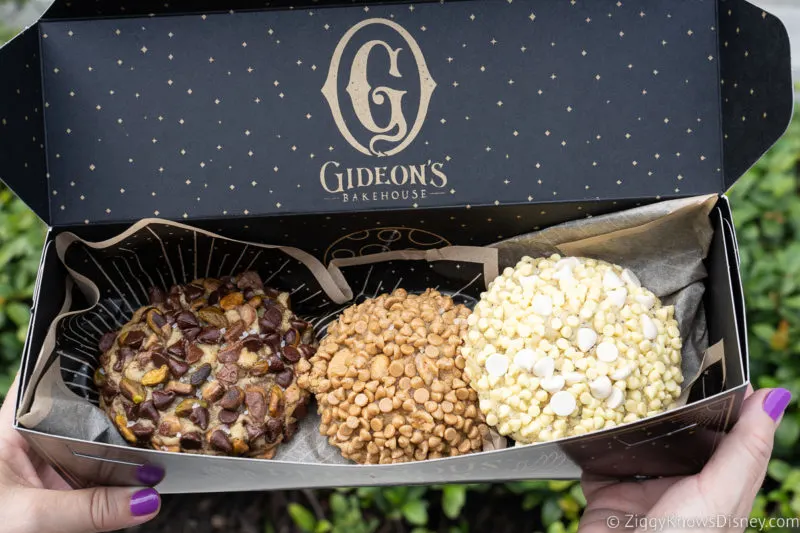 Cost: $6 each cookie
Cuisine: American, Dessert (Cookies, Cakes)
I know what you are thinking. "How can a place that only serves cookies and cake make the list of the quick service restaurants in Disney World? Didn't you say you weren't including places that only serve sweets in your list?"
The answer is simple. While I did bend my own rules just a tad to get Gideon's into this rankings, these cookies are so good, it doesn't matter if there aren't any savory items on the menu. They are THAT good! Plus these things are so big, they are a meal all by themselves. Heck, people wait in line for 5+ hours for these things, no joke.
These cookies are carefully crafted, handmade, and weigh in at almost 1/2 pound each. That's not a typo, 1/2 pound cookies people! These things take almost 24 hours to prepare and are perfection in every bite.
The main menu is made of a core of cookie flavors, then special, limited-time flavors are added each month to supplement the normal cookies. They also have amazing coffee too!
So get to Disney Springs early in the morning, put your name down in the virtual queue and enjoy some of the finest sweets ever to arrive at Walt Disney World!
What to Get: All of the baked goods are amazing here, but let's face it, you came for the Cookies! There is no beating around the bush, these are quite possibly the best cookies we've ever had in our lives and we have a serious addiction problem now. Even if you aren't a huge cookie person, you will be blown away by Gideon's and they are like nothing you've ever tasted before!
16. ABC Commissary (Hollywood Studios)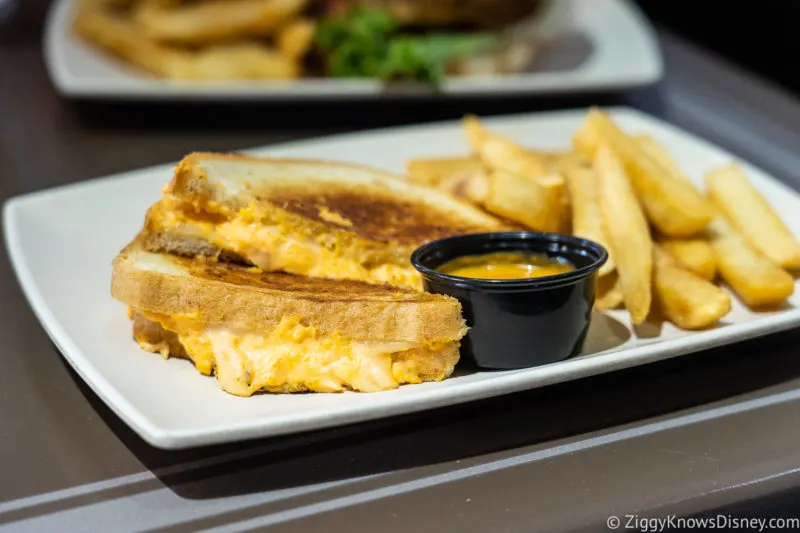 Cost: $ ($10-$13 per entrée)
Cuisine: American (Sandwiches, Tacos, Salads)
Man the ABC Commissary sure has come a long way through the years. It has gone from a place we wouldn't dare step foot inside to our new favorite for an inexpensive, quality meal.
The menu has recently been overhauled and offers more balance and much higher-quality food than the prior version. Prices are reasonable and between $10-$13 for any of the wonderful entrees.
The theming was made to resemble eating lunch at ABC Studios. We know, it isn't as impressive as what you will find over in Galaxy's Edge, but we aren't here for the decor and we are happy it has an entire menu we like at cheap quick service prices.
What to Get: The Buffalo Chicken Grilled Cheese Sandwich is our go-to here and it's the perfect blend of cheesy and spicy goodness on perfectly toasted bread. Either of the Tacos (Pork Carnitas or Shrimp) are excellent and come with Mexican rice and black beans, and queso fresco.
15. Pecos Bill Tall Tale Inn and Café (Magic Kingdom)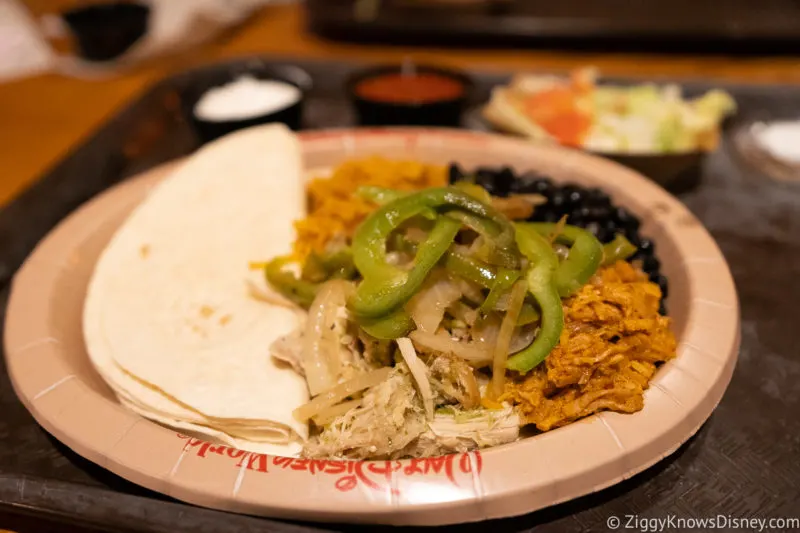 Cost: $ ($11-$16 per entrée)
Cuisine: Tex-Mex (Tacos, Nachos, Fajitas)
The Magic Kingdom is slim on really good quick service, but Pecos Bill Tall Tale Inn and Café never lets us down. It has a combo of a good menu and its Old West/Cowboy theming is one of our overall favorites of any quick service restaurant.
The menu changes often but it's mostly made up of Tex-Mex favorites like tacos, fajitas, rice bowls, nachos, a southwestern salad, and burgers. You also have to make use of its famous salad bar where you can load up your food with cheese, salsa, guacamole, and sour cream to your heart's content.
The portion sizes are huge making it a great value for your money too!
We've been coming here for decades and there is no reason we are going to stop anytime soon. Consistently a winner and serves up a solid counter service meal.
What to Get: You really can't go wrong here but we tend to order the Taco Trio, each with a different meat filling. If you are looking for something really filling, we recommend the Fajitas or one of the Rice Bowls which are loaded up.
Pecos Bill Tall Tale Inn and Café Menu
14. Katsura Grill (EPCOT)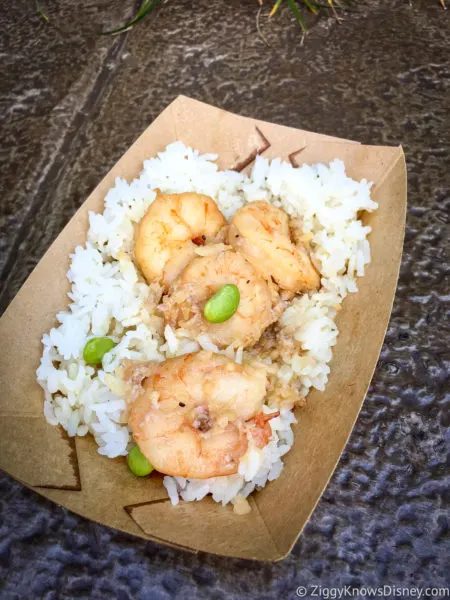 Cost: $ ($10-$16 per entrée)
Cuisine: Asian, Japanese (Sushi, Noodles, Ramen)
Katsura Grill has two things going for it: great food that's different from standard theme park fare and being located in one of the quietest spots in World Showcase.
Seriously, if you need to get away from the crowds and just unwind, this is it. You will love the lush garden atmosphere and the Koi pond.
The menu is solid with Japanese food such as sushi, noodles, or teriyaki. Many of the items are much healthier-feeling if you aren't in the mood for burgers, pizza, or ribs. The menu has been recently updated, so if you haven't been in a while now is a good time to get back there.
What to Get: We like the Tonkotsu Ramen which is served with pork and vegetables, but all the noodle dishes are solid choices. The various Sushi selections are all good and again great if you want something light and not a heavy meal.
13. Roaring Fork (Wilderness Lodge)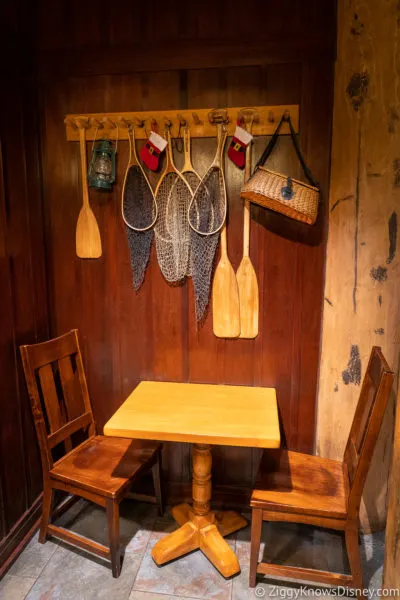 Cost: $ ($10-$17 per entrée)
Cuisine: American (Burgers, Sandwiches, Salads)
We love the vibe over at Roaring Fork and it does an excellent job with the rustic, fishing-theming throughout the restaurant. It has both indoor and outdoor seating, we personally love grabbing a seat outdoors and listening to the babbling creek as we chow down.
The food here is made to order so you won't find a line of burgers already made to go. Place your Mobile Order and then grab a seat while you wait for our food to be done.
The menu generally consists of burgers, sandwiches, and salads. Even something simple like the turkey sandwich is made fresh and uses high-quality bread and meat that you might not expect from a quick service.
Even though not many people bother to make the trek out to Roaring Fork, we suggest hopping a ferry and heading to the Wilderness Lodge for this hidden gem.
What to Get: The 10-Hour Smoked Pulled Pork Sandwich is one of our favorite sandwiches and we love that sweet brioche roll it comes on. Roaring Fork is also a great place for special cupcakes, our favorite of which is the Campfire Cupcake with chocolate cake and marshmallow frosting.
12. Woody's Lunch Box (Hollywood Studios)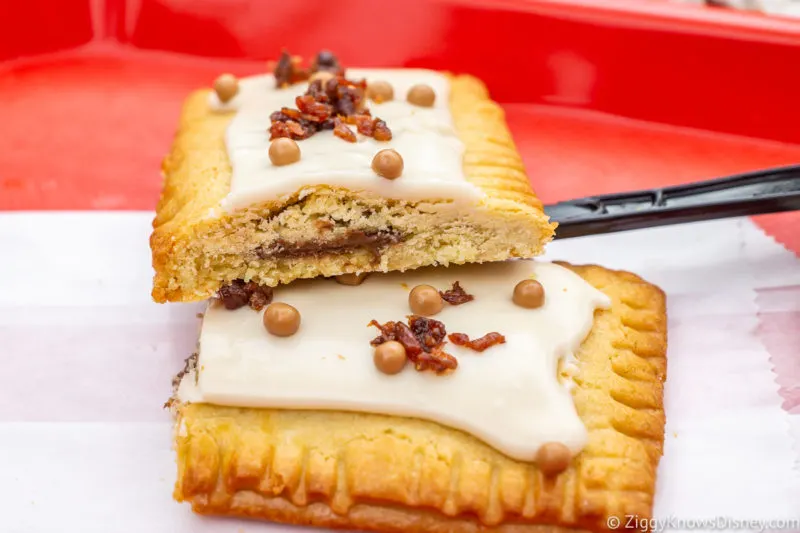 Cost: $ ($10-$14 per entrée)
Cuisine: American (Sandwiches, Potato Barrels)
Going to Woody's Lunch Box at Toy Story Land is like being sent off to school again with a lunch packed special by mom. The menu is comfort food from your childhood such as sandwiches, soup, potato barrels, and their own house-made version of Pop-Tarts.
Menu options include the Grilled Three-Cheese Sandwich, BBQ Brisket Melt, and Smoked Turkey Sandwich. There are also a couple of plant-based options such as Plant-based Totchos and Plant-based Toasted Cheddar Sandwich.
We love all the hidden Easter eggs and nods to children's toys of the past and it fits the overall theming of Toy Story Land well.
The only thing holding Woody's down from going even higher on the list is the somewhat limited menu and lack of indoor seating. If you go on a hot day then it's not a fun experience as all the tables are out in the open and exposed to the sun.
What to Get: If you visited Woody's Lunch Box without getting the Totchos, you need to march right back over there and get back in line because they are da bomb! You can't resist potato barrels smothered in chili, cheese, and sour cream so why even try?! We are also huge fans of the Lunch Box Tarts, a light dessert and perfect for eating on the run.
11. Sleepy Hollow Refreshments (Magic Kingdom)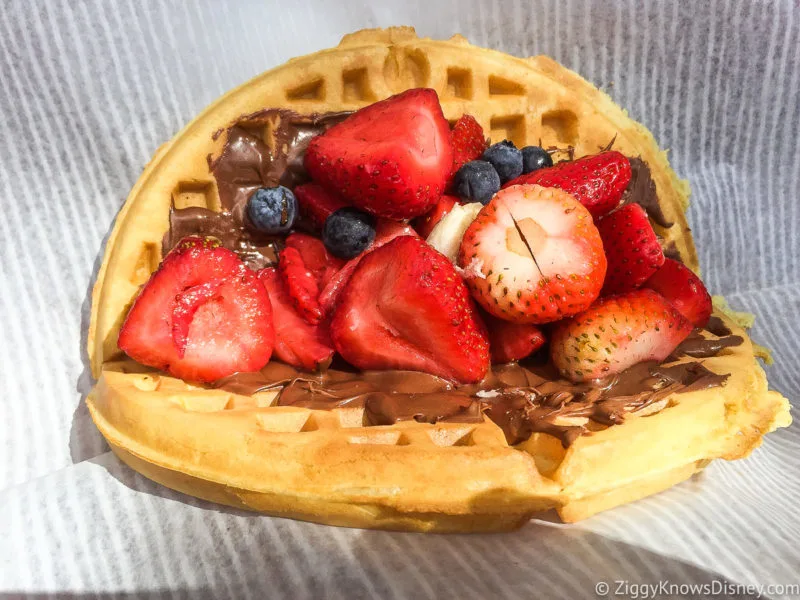 Cost: $ ($10-$13 per entrée)
Cuisine: American (Seafood, Steaks)
Hands down Sleepy Hollow is the best quick service at the Magic Kingdom and one of our favorite spots for something savory or sweet. It may not be the biggest or have incredible theming, but it makes up for all that with the incredibly flavorful food options.
The Sleepy Hollow waffles have reached legendary status among fans and they are offered as a sweet and spicy chicken waffle sandwich or with fresh fruit and Nutella spread. They also have corn dogs and turkey legs if you are looking for something savory or funnel cakes with strawberries or powdered sugar.
Whenever we are at the Magic Kingdom and looking for something quick and not too expensive, Sleepy Hollow is our choice.
What to Get: We sound like a broken record, but the two best items on the menu are the Sweet-and-Spicy Chicken-Waffle Sandwich with a honey-sriracha glaze and house-made chips or the Fruit Waffle with Nutella for dessert.
Sleepy Hollow Refreshments Menu
10. Flame Tree Barbecue (Animal Kingdom)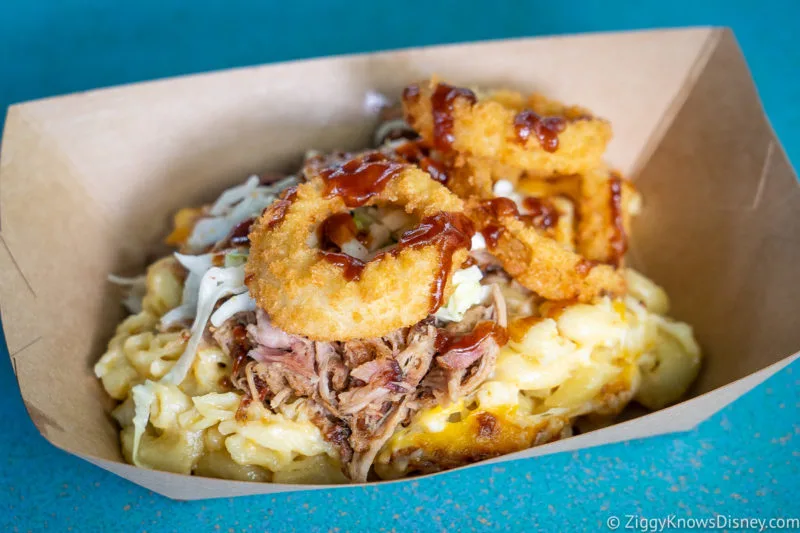 Cost: $ ($12-$19 per entrée)
Cuisine: American (Ribs, Pulled Pork, BBQ Chicken)
It isn't always easy to get good BBQ at a theme park, but Flame Tree Barbecue does a nice job in offering some of the most classic BBQ dishes at reasonable prices.
We love the setting behind the restaurant where you will find dozens of tables throughout the isolated garden. It's very calm and peaceful back there and there is plenty of shade. Just be aware it is outdoor seating so no air conditioning.
All of the menu items are good to great and include BBQ ribs, mac & cheese, pulled pork, smoked chicken, and a smokehouse salad. They are all a good size and one of the best values at the Animal Kingdom.
While it isn't the top BBQ at Disney World, it comes close and it's a steady, reliable option that never lets you down.
What to Get: The St. Louis Rib Dinner is one of our favs, or if you are really hungry, the Ribs and Chicken Combo is even better. We are always looking for a new Mac & cheese to eat at Disney World, and the Baked Macaroni & Cheese with Pulled Pork here is one of the best. It's even topped with onion rings to give it a little crunch!
9. Tangierine Cafe (EPCOT)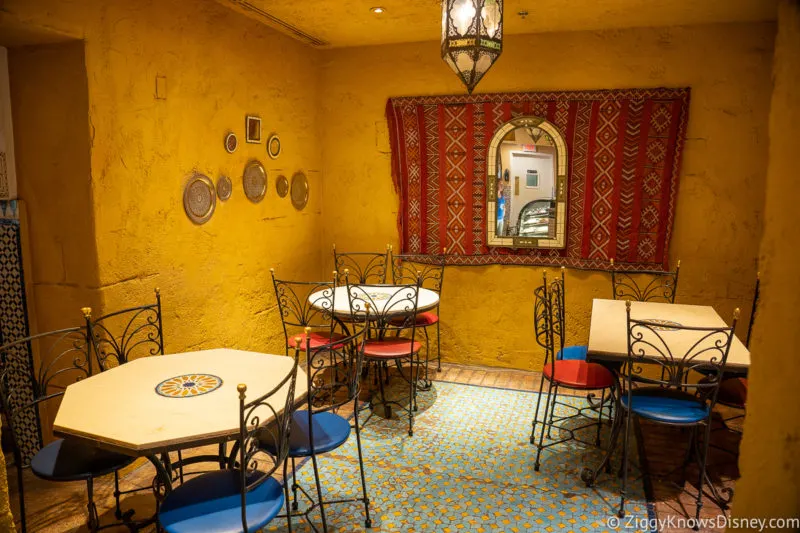 Cost: $ ($10-$14 per entrée)
Cuisine: Moroccan, Mediterranean (Kefta, Shawarma, Baklava)
The Tangierine Café is currently being used for EPCOT festivals and it's not the normal quick service restaurant it usually is, but as long as it eventually comes back, it easily belongs among the top counter service meals at Disney World.
In our opinion, it is THE place to eat in the Morocco pavilion and it has garnered a massive following throughout the years for its hearty and flavorful dishes that are easy on the wallet.
This is high-quality Mediterranean food for a counter service meal with an emphasis on huge portion sizes and premium ingredients. Menu staples include lamb or chicken shwarma as well as kefta. The dessert counter in the back is wonderful and a good ending to your meal.
We didn't even mention the incredible level of detail that went into the building with gorgeous mosaics and stained glass. You could make an argument this is the best quick service in EPCOT and we'd have a hard time talking you out of it.
What to Get: Just like The Avengers after the battle of New York, the thing to get here are the Shawarma platters. Choose between chicken, lamb, or a combo, both of which are tender and bursting with flavor. The platter comes with fresh Moroccan bread plus hummus, tabouleh, and tangierine couscous salad. Don't miss all the flavors of Baklava at the counter in the back. Just the right level of sweetness.
8. Connections Eatery (EPCOT)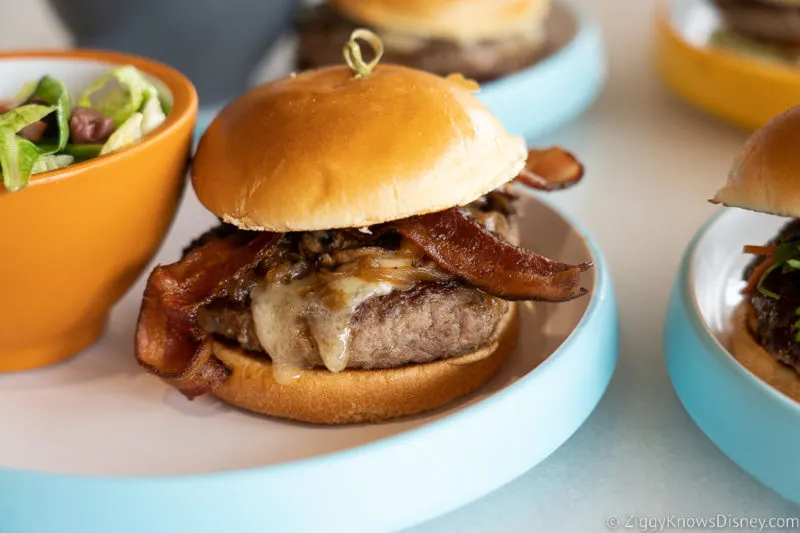 Cost: ($10-$14 per entrée)
Cuisine: American & Mediterranian (Burgers, Pizza, & Salads)
The Connections Eatery has quickly become one of our favorite quick service restaurants in EPCOT, and there is an abundance of them to choose from. It's really two dining locations in one as it's split between the Connections Eatery (lunch and dinner) and the Connections Cafe (Starbucks).
Everything about it is excellent. First, we love the location. It's a huge open space with plenty of seating and lots of windows and light, and great views of World Celebration. The cuisine is American, with plenty of salads, burgers, and pizza to choose from.
The quality here is really good, and the burger meat is thick and juicy, a much better quality than what you find at most WDW counter service locations. There are a bunch of flavors to choose from between all the sandwiches and pizza toppings. EPCOT has needed a good quick service option in this end of the park and it's going to be a popular one for years to come.
What to Get: Honestly, there isn't anything bad here so you can't go wrong no matter what you order. Our favorite burger was the French Bistro Burger with its caramelized onions, bacon, brie, and mushrooms. The General Tso Chicken Salad is one of the best salads we've ever had at Disney World. The huge pieces of chicken are crispy and tender, and we love the General Tso's dressing.

For dessert, don't forget the Liege Waffle. Its brioche dough is sweet and great even without the homemade whipped cream and strawberries on top.
7. Primo Piatto (Disney's Riviera Resort)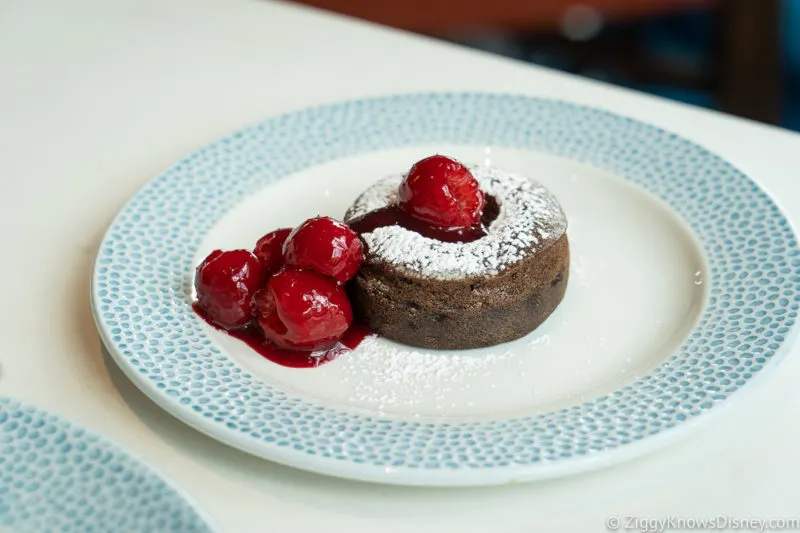 Cost: $ ($11-$14 per entrée)
Cuisine: American, Italian (Burgers, Pizza, Salads)
Primo Piatto is one of the newest entries on this list, but that doesn't hold it back from being the best counter service meal at any of the Disney World Resort hotels. It's located at the Riviera Resort and is just a Skyliner ride away from EPCOT or Hollywood Studios making it easy to reach.
The food quality here is just so much higher than what you normally find at a quick service restaurant in Walt Disney World. The pizzas are artisan hearth-baked and nothing like the garbage at places like PizzeRizzo. The sandwiches are all excellent and the Tuna Niçoise Salad might be the best quick service salad we've had yet.
The nice thing is that Primo Piatto also has very reasonable prices for food of this quality, and generous portion sizes to match. Even if you aren't staying here, we highly recommend stopping by after a day at one of the nearby parks.
What to Get: All the burgers use a signature-blend patty made from Brisket and Chuck ground beef that is super juicy and more flavorful than standard Disney burgers. Our favorite sandwich though is the Croque Monsieur, which even rivals its counterpart at the #4 restaurant on this list.
6. Regal Eagle Smokehouse (EPCOT)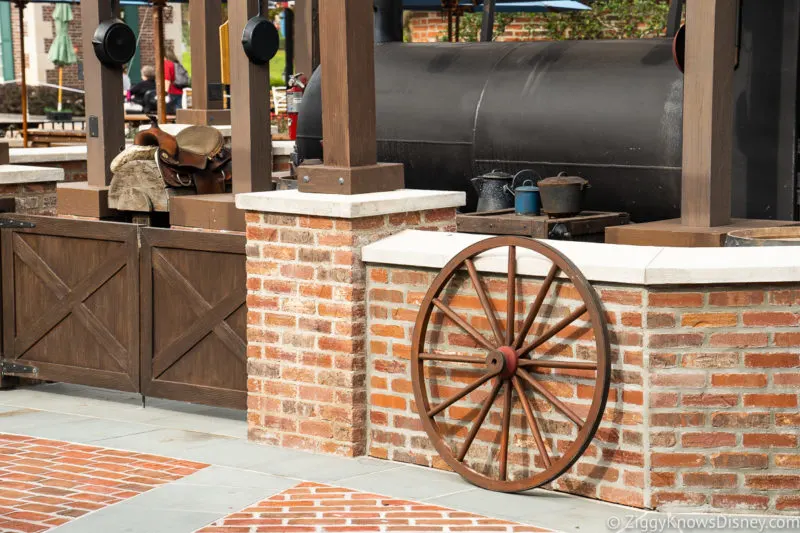 Cost: $ ($10-$16 per entrée)
Cuisine: American (Barbecue, Ribs, Chicken, Pork)
Regal Eagle Smokehouse is another new restaurant to make our rankings but firmly belongs in the Top 10. It's located in The American Adventure (in the old Liberty Inn) and it is the perfect location for a restaurant serving up America's greatest culinary gift, BBQ.
It has all the classic American BBQ dishes such as BBQ ribs, smoked chicken, and brisket. All of them are done really well for a quick service restaurant pumping out hundreds of orders per hour. Each plate comes with garlic toast and sides such as baked beans, Mac and cheese, coleslaw, onion rings, and French fries.
Look throughout the restaurant for hidden Easter eggs of The Muppets and their unmistakable humor.
Besides the food being really tasty, the portion sizes are very big and should be more than enough even for big eaters. We'd rate this as one of the best value meals in EPCOT and not to be missed.
What to Get: The ribs and brisket are good, but by far the best item on the menu is the Smoked Burnt Ends. It is absolutely packed with flavor and doesn't even need help from any additional sauces. While it's not always there, when it is, it's SO good!
5. D-Luxe Burger (Disney Springs)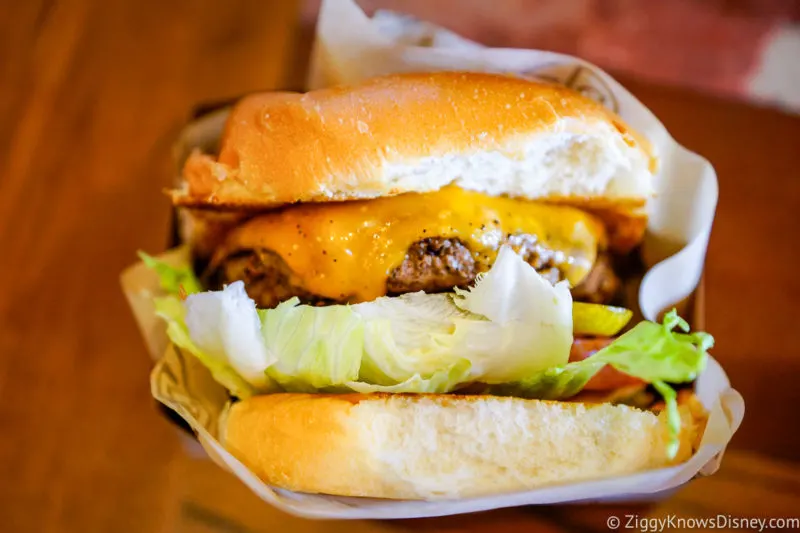 Cost: $ ($11-$15 per entrée)
Cuisine: American (Burgers and Shakes)
Just about every counter service restaurant in Walt Disney World serves burgers, but non do it nearly as well as D-Luxe Burger. They have the biggest, juiciest burgers around (outside of a sit-down restaurant), as well as hand-cut fries and creative milkshakes to wash everything down with.
The thing that separates D-Luxe Burger from the rest is the high-quality ingredients that go into everything. Each burger uses a signature blend of meat that you won't find anywhere else. No thin, dried-out burgers here. They are all served on warm brioche buns taking the experience to an even higher level.
The atmosphere is relaxed with seating both inside and outside, and great to bring kids. The prices are higher than most counter service burgers in other places, but the superior taste makes it worth the extra $1 or $2.
What to Get: You came here for a Burger, and that's what you should definitely get. All of them are great but the Barbecued Burger or the Bacon and Blue Burger with blue cheese are our two favorites. We never go without getting our S'mores Gelato Shake which has marshmallows, whipped cream, graham crackers, and a dark chocolate drizzle.
4. Les Halles Boulangerie-Patisserie (EPCOT)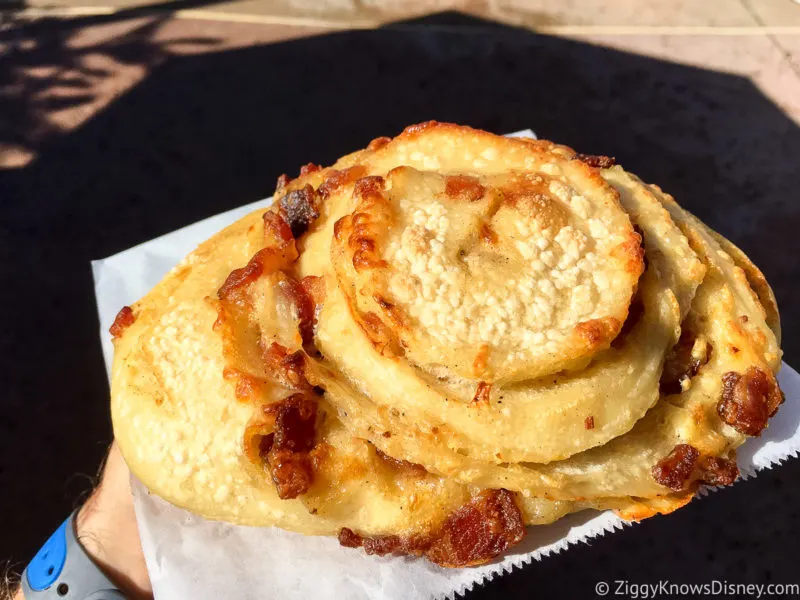 Cost: $ ($8-$12 per entrée)
Cuisine: French (Pastries, Sandwiches, Baguettes)
At Les Halles Boulangerie-Patisserie, we've died and gone to heaven as it has the perfect combo of both savory and sweet items. Can you really walk through the France pavilion without at least poking your head through the door to see what freshly baked goods are coming out of the oven?
Once the smell of fresh baguettes and croissants hits your nose, you are done for.
If you are looking for something savory you can choose from quiches, lobster bisque, a vast selection of sandwiches, or something as simple as a cheese board with bread.
Dessert though is where Les Halles really shines. It has a vast array of incredible pastries, tarts, mousses, cookies, and more.
Either in the morning for breakfast, at lunch, for an afternoon snack, or after dinner for dessert, you have to stop here at least once. It will change your life!
What to Get: I could go on for days with this one. The Croque Monsieur is our favorite sandwich and is essentially a toasted ham and cheese sandwich with creamy béchamel sauce in the middle. The Framboise is perfect if you like raspberry and chocolate. The Eclairs are also can't-miss or you can grab a pack of Macarons and bring them back to the room for later.
Les Halles Boulangerie-Patisserie Menu
3. Docking Bay 7 Food & Cargo (Hollywood Studios)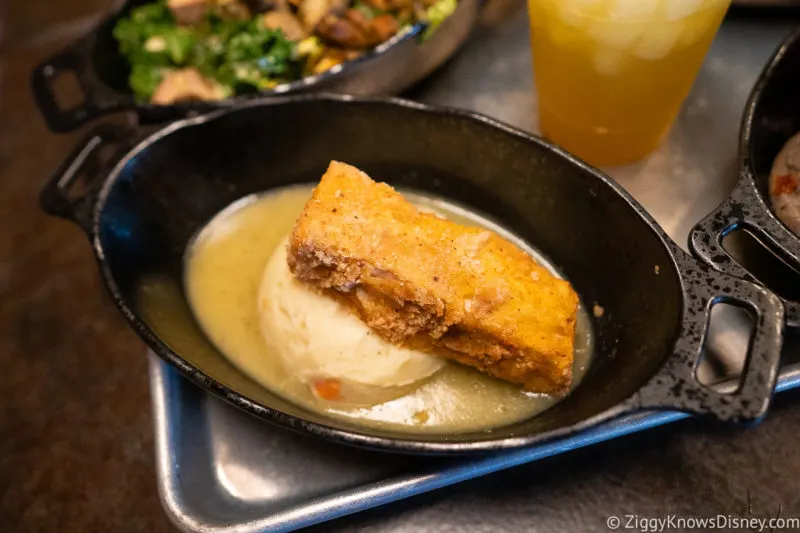 Cost: $ ($13-$20 per entrée)
Cuisine: American (Ribs, Fried Chicken, Salads)
Docking Bay 7 Food & Cargo could easily be the #1 quick service on this list and it's really a toss-up with the other 2 ahead of it. From the day it opened we fell in love with this counter service restaurant in Galaxy's Edge and it checks all the boxes of what we are looking for.
The theming is amazing and the restaurant is designed to be a cargo warehouse where shipments come in and out of Black Spire Outpost. One look onto the roof and you'll see the spacecraft that ships the goods, then when you step inside you can see the containers being lowered down. Some of the tables are even set inside these containers really selling the story.
As for the food, it's quite possibly the best combination of variety and quality on our list. Each item on the menu is unique and creative, fitting right into the Star Wars universe. Menu options include fried chicken, ribs, beef stir-fry, and very tasty plant-based options too.
The only thing keeping Docking Bay 7 out of the top 2 is that it's the priciest location in our rankings. However, the location and food quality still make it one of the best counter service restaurants in Walt Disney World!
What to Get: Everything on the menu is great but our favorite is the Smoked Kaadu Pork Ribs. We just love that tangy BBQ sauce and the blueberry cornbread is super addicting. Even though we rarely go for the plant-based options on Disney World menus, the Felucian Kefta and Hummus Garden Spread is incredible and you would never know the "meatballs" are in fact meatless.
Docking Bay 7 Food & Cargo Menu
2. The Polite Pig (Disney Springs)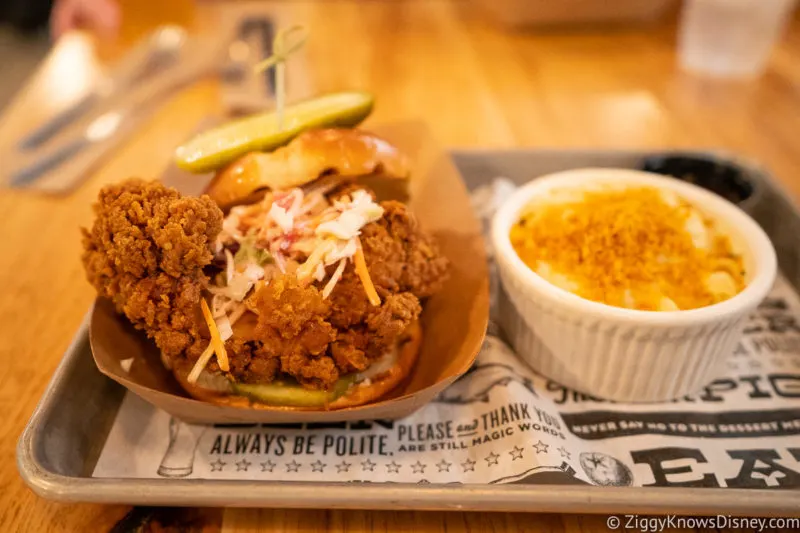 Cost: $ ($11-$15 per entrée)
Cuisine: American, BBQ (Ribs, Brisket, Sandwiches)
If we were making this ranking on the food alone, The Polite Pig would come in first place as the best counter service meal at Disney World. Since we are also considering atmosphere and theming, we couldn't push it ahead of the #1 restaurant, but it's very close.
There are no frills here, it's just straight-up, finger-licking-good BBQ. In fact, if you are looking for BBQ in Walt Disney World, there is no better place than right here.
Expect all the usual BBQ favorites such as brisket, ribs, pork shoulder, sausage, smoked chicken, and a slew of excellent sandwiches. Sides include Mac & cheese, coleslaw, baked beans with burnt ends, grilled street corn, and crispy Brussel sprouts with whiskey caramel.
The menu has all the standard BBQ classics like beef brisket, pork shoulder and smoked chicken, and baby back ribs. It also has a variety of tempting sandwiches like pulled pork, fried chicken, or bbq sausage. Don't forget the delicious and unique sides such as bbq cauliflower, roasted beets, and mac & cheese.
Prices are similar to all Disney Springs restaurants, but the generous portion size and the absolute deliciousness that is The Polite Pig make it worth it.
What to Get: Our favorite thing at The Polite Pig is the Baby Back Ribs. They are tender, fall right off the bone, and are covered in Layla's sweet bbq sauce. Maybe the best ribs in Disney World! The sandwiches are all great too, and the Slider Trio is a great way to try a bunch of flavors. Included are the fried chicken, brisket, and pulled pork sliders, each better than the last.
1. Satu'li Canteen (Animal Kingdom)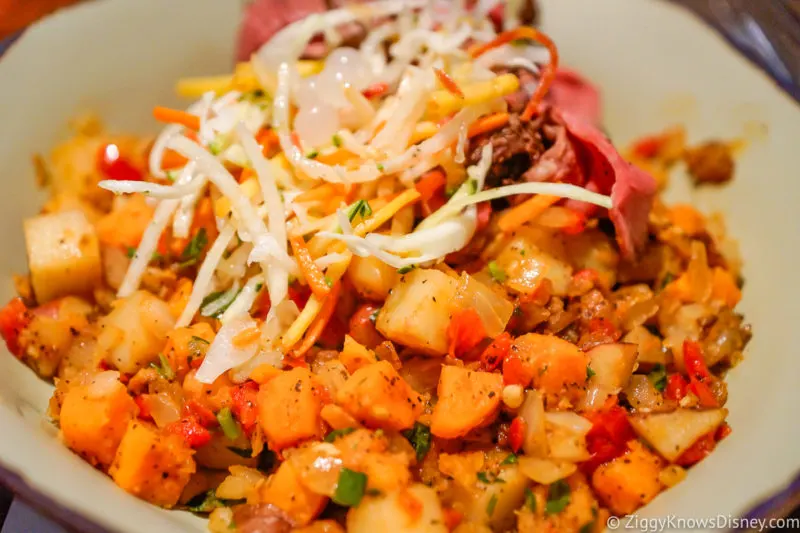 Cost: $ ($12-$17 per entrée)
Cuisine: American (Mixed Bowls, Bao Buns)
Here we are at #1, and that means Satu'li Canteen is our top pick for the best quick service restaurant at Disney World. It was a tough decision over numbers 2 and 3 but ultimately we think it has the best combo of price, food quality, and location of all the others.
This used to be a mess hall for Alpha Centauri Expeditions and it fits in nicely in the middle of Pandora: The World of Avatar. There are tables inside or outside and plenty of space.
You won't find traditional theme park food here. Instead, the "create your own bowl" feature is one of the most popular entrees in Disney World and it allows you to customize your own meal with healthier options than most locations, or load it up with creamy sauces for more flavor.
To us eating a meal at Satu'li Canteen is the perfect way to spend a lunch or dinner and it just gets everything right. This is the pinnacle of counter service dining and should stay here for years to come.
What to Get: You absolutely must try the "Create Your Own Bowl" entree from the menu. Each one lets you choose your base, protein, and sauce and there are limitless combinations you can make. They are very filling and a great value for the money. Looking for a burger? We've got something even better…the Cheeseburger Steamed Pods. These are bao buns with cheeseburgers filling inside and are can't-miss.
Worst Counter Service Restaurants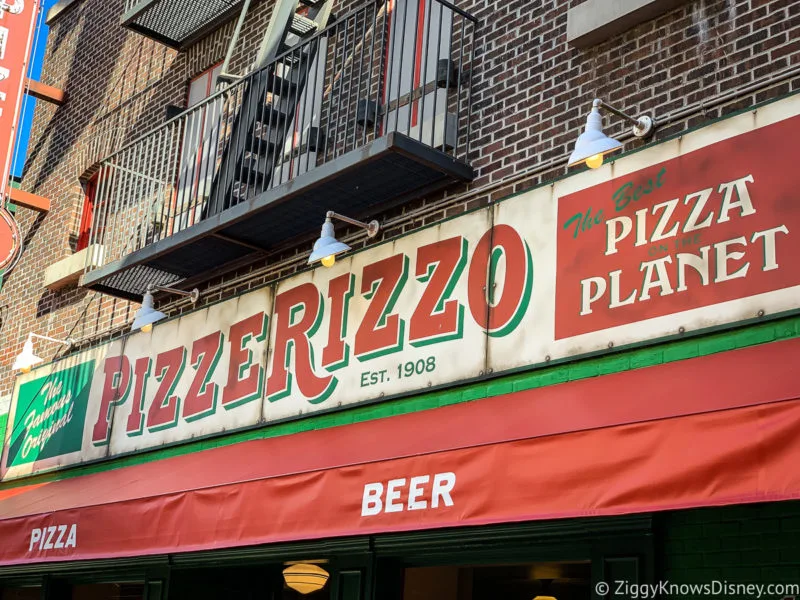 Some Disney Quick Service restaurants are just better to avoid altogether. Even though there aren't a ton of them, here is our list of the worst counter service restaurants at Walt Disney World:
PizzeRizzo – This is the quick service worst restaurant in all Walt Disney World. The pizza is inedible and and "Muppets theming" non-existent. There is no good reason why anyone would want to go here.
Lotus Blossom Cafe – Surprisingly an EPCOT restaurant landed all the way at #2. Imagine the worst Chinese fast food restaurant at our local mall and you've got a good idea of what to expect here.
Pinocchio Village Haus – This is the worst quick service at the Magic Kingdom and should be skipped. The food is just bad and the theming limited. It needs a complete overhaul if it's to be saved.
Pizzafari – Can you sense a theme here? At most counter service restaurants in Disney World specialize in pizza, that should be a clear sign to run the other way. Go to Flame Tree instead of this place.
Catalina Eddie's – Can someone tell me why we need another bad pizza place at Hollywood Studios? Yeah, I didn't think so.
The Lunching Pad – The menu here is limited and mostly consists of hot dogs and some sandwiches. The only thing we recommend here are the stuffed pretzels. Other than those you can skip this place.
With so many better options to choose from at each park, stay away from the above restaurants at all costs.
Which Disney Park Has the Best Quick Service?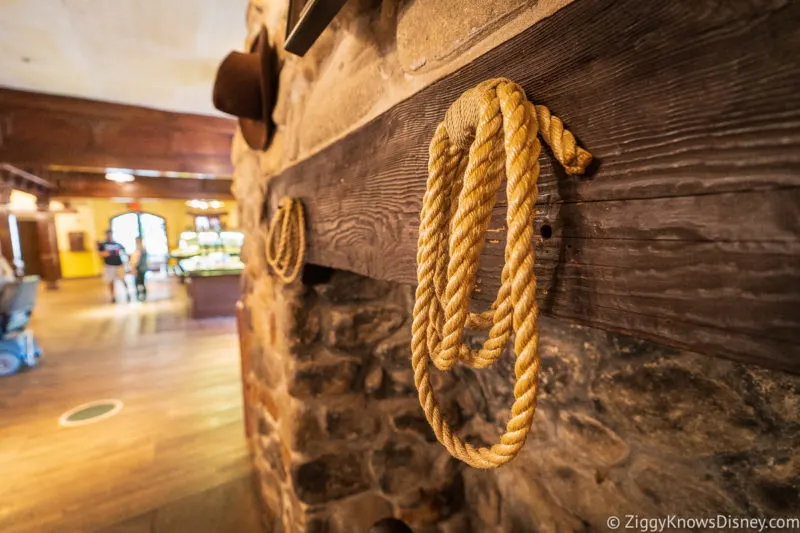 All 4 Disney World theme parks have plenty of counter service restaurants to choose from, but the quality of those choices is definitely not the same at each park.
The Walt Disney World theme park with the best quick service restaurants is EPCOT. This is without a doubt as EPCOT is by far the superior park for food and drinks in general. In almost every country in World Showcase, there are solid quick service locations to choose from and it's hard to go wrong.
In fact, EPCOT scored 5 of the top 15 spots in our rankings and there were others we had just on the outside looking in.
Hollywood Studios and the Animal Kingdom are a close 2 and 3 to us. Hollywood Studios is more top-heavy and had 3 spots in the top 17 compared with only 2 from the Animal Kingdom. However, the Animal Kingdom has more depth and a ton of great locations to get snacks.
Disney's Magic Kingdom has the worst counter service restaurants in Walt Disney World. It has a large selection to choose from but they are the most disappointing and we'd like to see make some upgrades to its premier park in this category.
Which Disney Resort Has the Best Quick Service?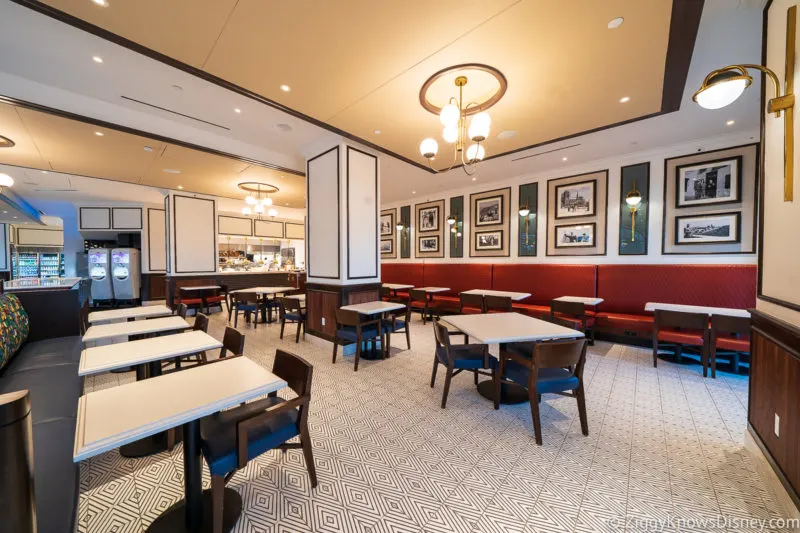 After looking over all the counter service restaurants at the Disney World Resort hotels, it was hard to nail down one resort that we could say had the best overall quick service. Most of the hotels only have one real counter service restaurant along with a pool bar and bakery of some sort.
Because of this we finally came to the conclusion that there isn't really one definitive resort with the best quick service restaurants but there are a handful of them that are all in the same group.
If we were forced to choose we say that Disney's Coronado Springs Resort has the best overall counter service options. The El Mercado de Coronado didn't make our overall top 17 list but it was just on the outside looking in and we consider this the best overall food court at any of the hotels. It also has Cafe Rio which is great for pastries, donuts, and sandwiches.
Disney's Riviera Resort is also high on the list with our favorite Disney resort quick service (Primo Piatto) and Le Petit Café which has awesome croissants and pastries.
Others to make the list would include Disney's Grand Floridian Resort (Gasparilla Island Grill), Disney's Contemporary Resort (Contempo Cafe), and Disney's Animal Kingdom Lodge (The Mara).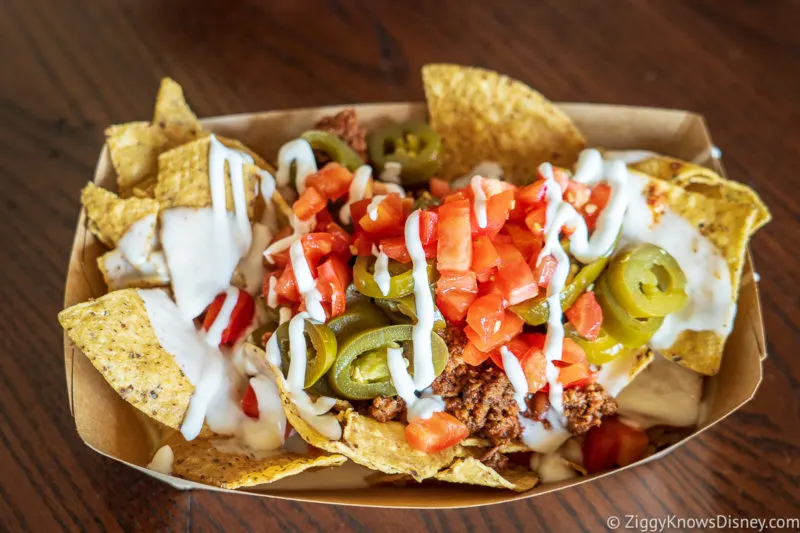 That wraps up our rankings of the best counter service restaurants at Disney World. We hope you enjoyed it and that you aren't too hungry after seeing all the pictures! It was one of the hardest, yet most fun articles we've written so far.
For more list of the top quick service restaurants at Disney World, check out our other guides coming soon:
Best Hollywood Studios Quick Service Restaurants
Best Animal Kingdom Quick Service Restaurants
We want to hear what your top quick service restaurants are, so drop them in the comments!
If you are going to Disney World soon, make sure to read our Disney World Planning Guide for all the tips and info you will need to cover everything! Also, check out our Disney World Crowd Calendar so you know when the best time to visit is!
Your Thoughts
I want to know what you think about our list of the best quick service meals at Disney World…
What are your Top 10 Restaurants?
What is the overall Best Counter Service Restaurant at Disney World?
Let us know in the comments section below!
If you enjoyed this article, as always I appreciate it if you'd share it with others via social media. I work hard at making this website into a useful resource for you and your family to plan your visit to the Disney Parks and I hope it can help you! Thanks 🙂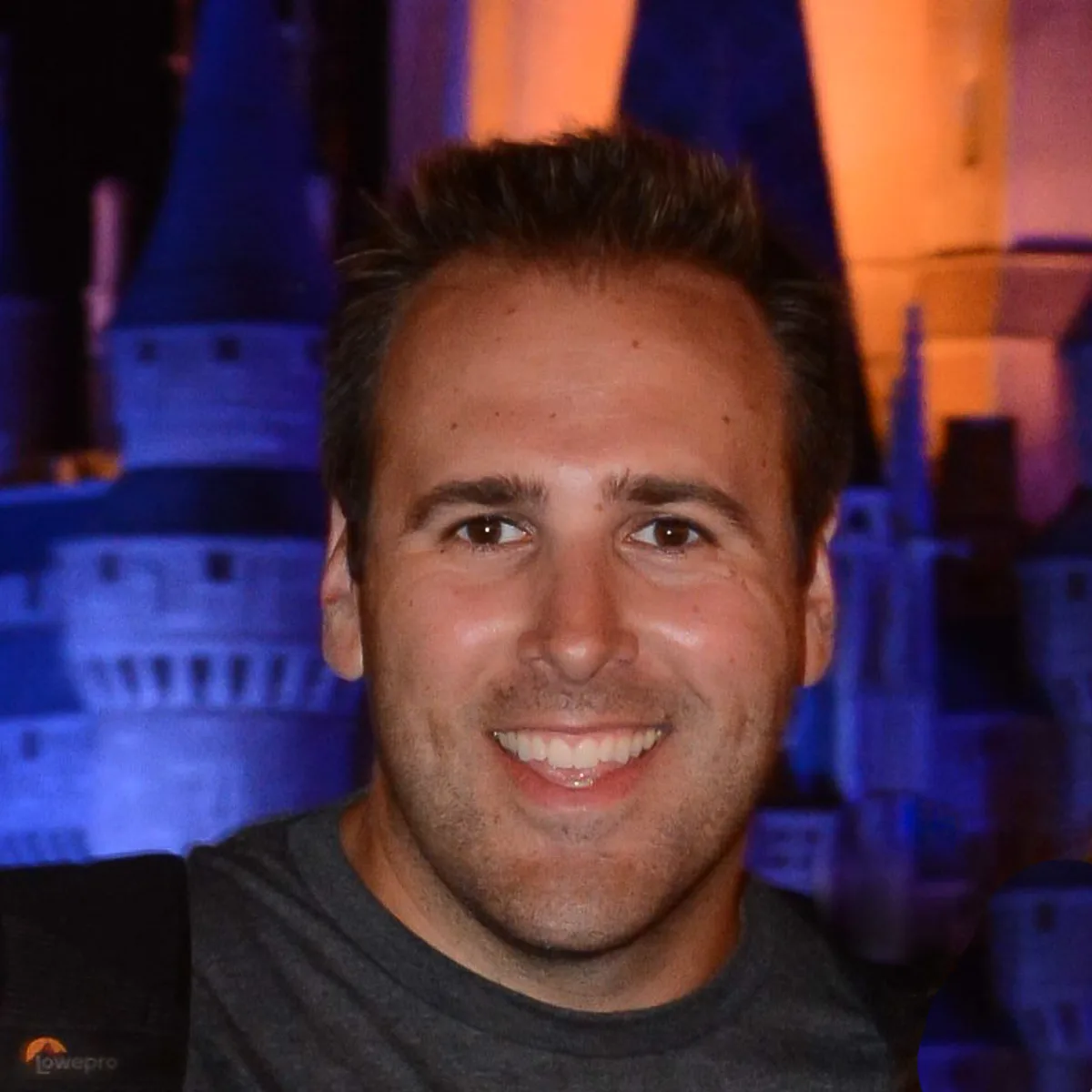 My name is Ziggy and I love Disney, everything Disney! I grew up on Disney and it has and continues to be a huge part of my life. I started young when my parents took me to Disney World when I was 18 months old. Little did they know that would be the first of an uncountable number of trips we would take. I have so many amazing memories going to Disney with my family and friends and it has been interwoven into my DNA.